The Analysis: Jonny Bairstow likes The Hundred and it loves him... it is such a shame he is off to carry England's drinks
SAM MORSHEAD: The Hundred as a concept encapsulates what Bairstow is in white-ball cricket: energetic, brash and quite a lot of fun to watch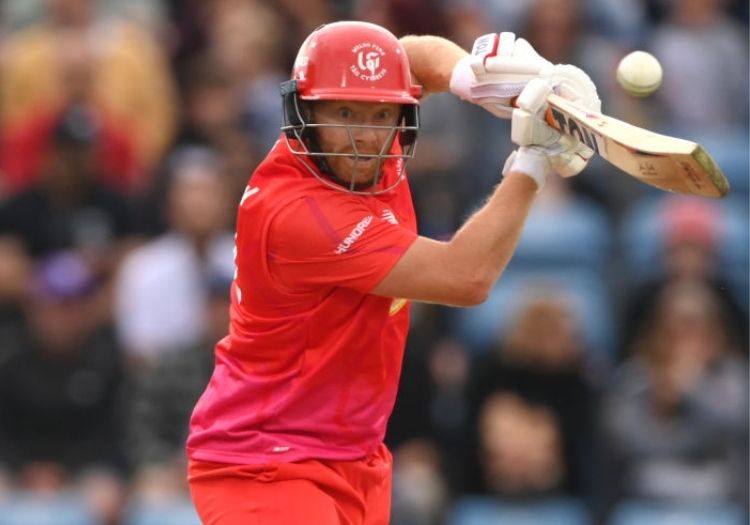 If you were to make a list of English players for whom The Hundred just makes sense, Jonny Bairstow's name would take up most of the first page.
This ought to have been a chance for Bairstow to not only dominate a competition, but captain and keep wicket in short-form cricket for four straight weeks.
It would have provided an outlet for him to be as hyperactive as he liked, to hit the ball as hard and as far as he wanted, and to go to DRS at every possible opportunity.
It was tailor-made for him to become the household name learnt first by any member of the "new audience" organisers hope are inspired by this demob happy thrashabout.
And for good reason.
The Hundred as a concept encapsulates what Bairstow is in white-ball cricket: energetic, brash and quite a lot of fun to watch.
And it is a terrible shame that instead of taking his rightful place as the tournament's best, most destructive and most entertaining batsman, he will instead spend the vast majority of Welsh Fire's matches running the drinks for England's Test team.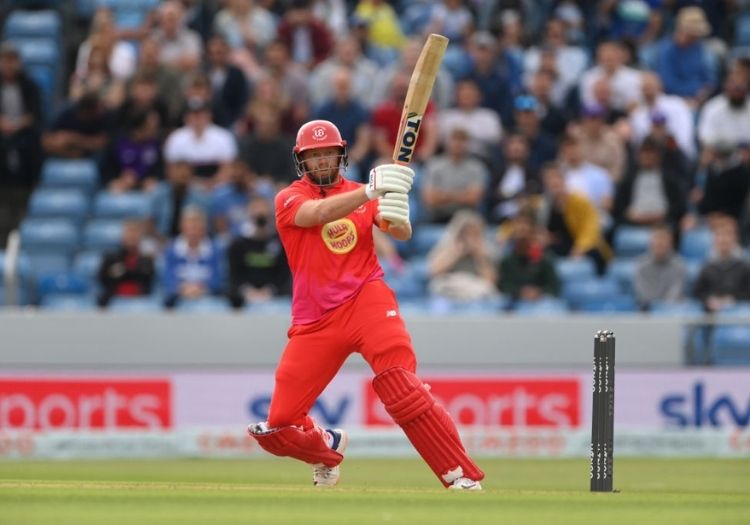 Jonny Bairstow began The Hundred in scintillating form on Saturday
Against Northern Superchargers on Saturday, there was a glimpse of what we might have expected of Bairstow in most of his appearances in this competition.
Throwing his arms through the line of the ball, he picked off a 28-ball half-century as Welsh Fire set the biggest total in The Hundred so far.
It was a blistering display of clean-hitting, the rifle-like crack of ball on Bairstow's bat filling Headingley as he pumped three sixes and five fours, evidently loving every second of the experience. He continued that enthusiasm into his new leadership role in the field, the stump mic picking up his increasing exuberance at the fall of each wicket. One game in, it's abundantly clear that Bairstow likes The Hundred, and The Hundred loves him.
Welsh Fire built their team around the Yorkshireman. Gary Kirsten made him captain, and expected him to bulldoze a path for a side that relies heavily on its batting.
The call-up to the Test squad, then, came as a surprise: not so much a curveball as an anvil falling from the sky. Kirsten's embittered words on a radio interview - "we're hearing Jonny Bairstow is suddenly a Test cricketer again" - spoke volumes.
In this particular instance, Chris Silverwood played the role of Wile E Coyote.
The England coach was empowered with total jurisdiction over squad selection when Ed Smith was relieved of his duties last year, and was ultimately the authority behind the decision to summon Bairstow to Loughborough as part of a 17-man squad.
Even if that party looks a little bloated - the Covid protocols around sports teams are very different to the airtight bubbles of last summer, and six reserves just feels greedy - it may not be a surprise that he wants a backup keeper.
Ben Foakes would have been that man, if he wasn't mid-rehab from a nasty hamstring injury.
But for Bairstow, in these circumstances, to be the automatic choice - having not made a home Test appearance since September 2019 and having not made a home Test fifty for three years - ought to come with a little scrutiny.
Naturally, ECB suits will have been hesitant about leaning on their head coach from above, especially after very publicly boasting about the autonomy he enjoys, but if ever there was time for a little more consultation between different parts of the governing body, this was it.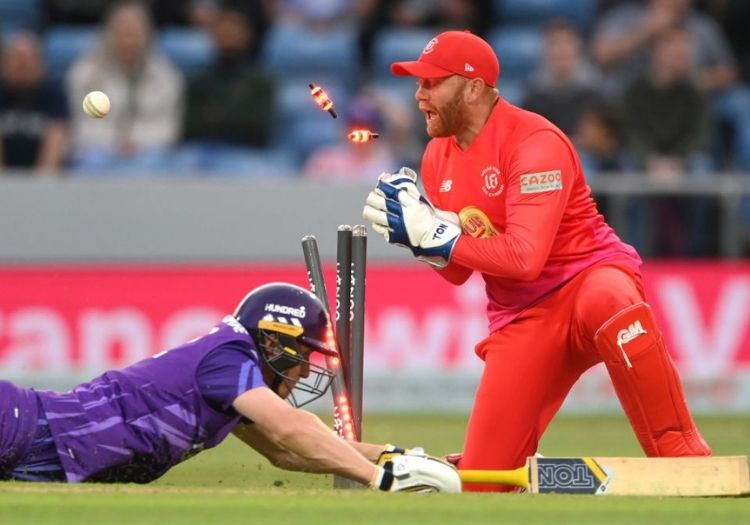 Bairstow will only be available to Fire for one more game
Because Bairstow staying in The Hundred makes a lot more sense.
He could have been playing regularly, honing white-ball skills ahead of a World Cup in which he will be crucial, and wowing spectators into either buying tickets or buying into the format.
Instead, he'll get to net against a red ball, and watch Jos Buttler in action.
There were alternatives.
James Bracey does not have a Hundred team, was capped by England last month, and was included in the original County XI to face India at Durham before being forced into isolation by the NHS Covid app. His international debut was desperately disappointing but he knows what it is to be in the camp.
Rory Burns is competent with the gloves, should things take a desperate turn, Ollie Pope too (though he too is still recovering from a knock).
Maybe in a non-Covid world, the need to pick another keeper in an enlarged squad wouldn't be there, and in the event of injury to Buttler, Bairstow could have just jumped in his car from wherever Welsh Fire found themselves and hotfooted it back to Nottingham or London. He is, after all, the next best wicketkeeper-batsman available to Silverwood.
But, in this particular instance, a cost-benefit analysis would point in another direction.
The Hundred will not reach its 2021 potential without Bairstow, and it is such a shame that he is being called away not to play.
Visit The Hundred Hub: News, analysis, features, stats and much more
Welsh Fire
|
The Hundred
|
1Banner
|
Please ensure all fields are completed before submitting your comment!