Thank you Scyld!
HUWZAT ON WEDNESDAY: I know of so many other journalists and players he has encouraged with their writing. So from me and also on their behalf, thank you Scyld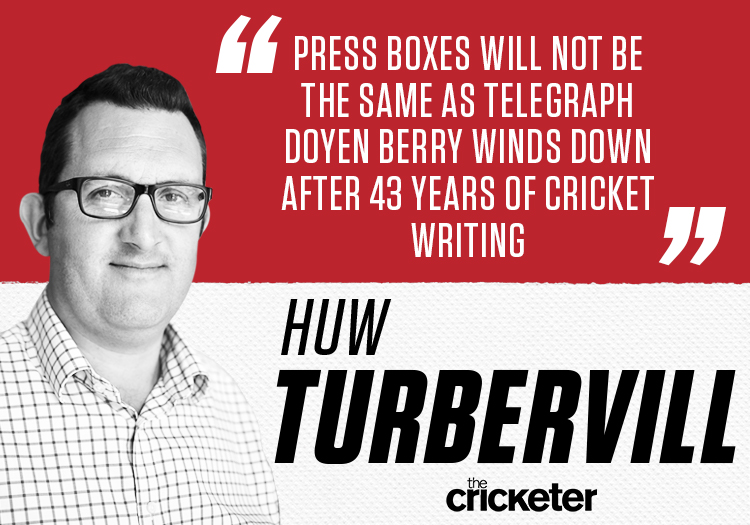 While there are cricketers who may be having their final summers curtailed, it was also meant to be one last glorious full-time campaign for the most distinguished cricket writer of the age.
Scyld Berry, the Telegraph's cricket correspondent, announced at the end of last winter's trip to South Africa that his touring days were over; after 43 campaigns for The Observer, Sunday Correspondent, Independent on Sunday, Sunday Telegraph and Daily Telegraph, going back to 1977.
He will still be writing for the paper, but Nick Hoult is the new chief cricket correspondent, and will be backed up, one assumes, by Tim Wigmore and Isabelle Westbury on overseas assignments.
I owe Scyld (pronounced Shild, the first recorded name in English, from the poem Beowulf) a great debt. In late 1999 I wrote to all the national newspapers offering my services as a cricket writer, along with two unpublished pieces.
The first was written just before central contracts. Our fast bowlers played so much domestic cricket that they had to bowl within themselves. I totted up the scores of overseas sides' tails to highlight England's lack of potent pacemen who could (reliably) bring innings to a swift conclusion (Devon Malcolm could do it sometimes but not always – see Newlands 1995/96). In the other article I did an audit of all domestic cricket played by our overseas competitors. The paper didn't hold the back page for these shattering exposés, but sports editor Jon Ryan decided that they had earned me the chance to sit next to Scyld at some Tests and ODIs in the summer of 2000.
It was thrilling and scary. He would pass me his laptop and request that I recommend five ways of improving an article!
He also taught me how to analyse the game more closely. England lost to West Indies by an innings and 93 runs at Edgbaston in the Test series opener. What did I think of it, he asked? I was cross at what I saw as England's ineptitude. "Terrible! Dreadful!" "No," urged Scyld. "The surface was uneven, particularly on a length at either end. It played directly into the hands of Curtly Ambrose and Courtney Walsh, who had that crucial extra height, as opposed to Darren Gough and Ed Giddins."
Of course I should have known that, recalling the treacherous surface that faced Mike Atherton's side in Birmingham against the same opposition five years earlier. West Indies won that one by an innings and 64 runs.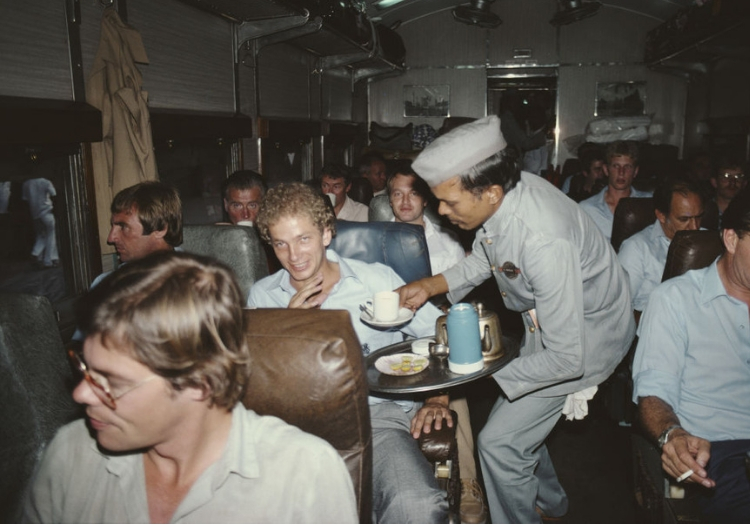 Berry, sat in front of David Gower on England's 1981/82 tour of India
Don't write this England team off, Scyld told me. It was clear that he held captain Nasser Hussain in the highest regard. They fought back to win the series 3-1 on more suitable surfaces.
While he was in his zone after 4pm, honing his match report, I was despatched to press conferences. When I played the tape back he had an observation to make. He told me to keep my questions short. Long questions allow the interviewee to reply with short answers which are not as much use when you are trying to fill an 800-word slot!
I can claim one thing mind you, I did teach him how to use Statsguru on ESPNcricinfo… I was a teeny bit more au fait with the internet.
That first summer I was like a jack in the box on amphetamines. Press-box scorer Wendy Wimbush, sitting behind me, was infuriated. Scyld was a little amused in his avuncular way, however. He tolerated me until 2006, when I took a staff job elsewhere for a bit of security.
Quite a few of my most vivid memories of working with him came at Edgbaston.
In 2002 England were playing Sri Lanka there and news arrived mid-afternoon that Hansie Cronje had perished in a plane crash. We looked at each other with that sense of anticipation/dread (and a degree of sadness at Cronje's demise of course), knowing that almost everything we had been preparing would have to be consigned to the desktop wastepaper bin. "Events, dear boy, events!"
One of my most wonderful memories of any time in any press box is the Saturday afternoon of the Edgbaston Test in 2005. It was the first time I had covered a complete home Test. Days one, two and four (five not needed) for the Daily Express, then the middle day alongside Scyld for the Sunday Tel. Australia were not giving England an inch. Every run was precious. Although England had a first-innings lead of 99 they had slumped to 131 for 9 in the second innings. Shane Warne had five wickets. It did not look enough.
I remember sitting hunched in the packed press box, frozen in a slightly foetal position all through Andrew Flintoff's last-wicket stand with Simon Jones. Scyld was the same. I was loving every second of this unbelievably tense drama. Flintoff played so bravely, so brilliantly. Helping Michael Kasprowicz over midwicket for six with power and timing. Hitting Brett Lee straight for six. "Hello!" proclaimed Mark Nicholas. Scyld and I occasionally looked at each other with disbelief, like youngsters thrilled at the generosity of Father Christmas. We realised the significance of this passage of play: one of the greatest in Test history, our fortune to witness it in the flesh. The duo put on 51 in 49 balls. England had enough now… didn't they? Well, only just!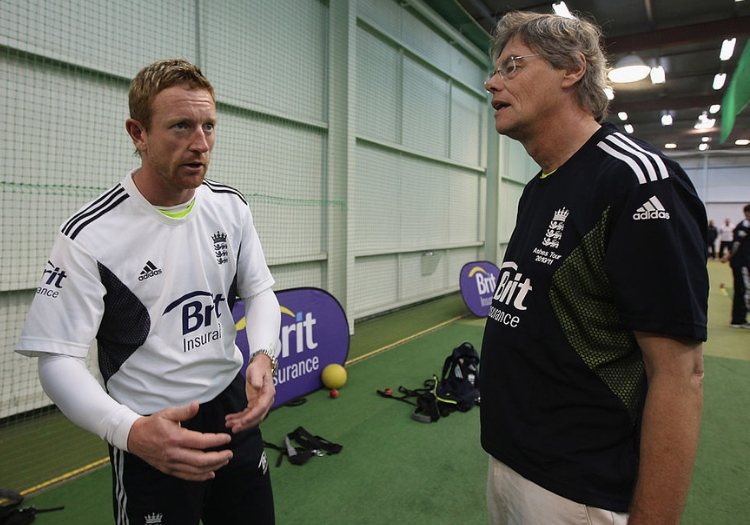 Berry alongside Paul Collingwood
I also had the privilege to do sections of tours that Scyld missed – Zimbabwe (2001), the one-dayers in New Zealand (2002) and a bit of Sri Lanka (2003). Wonderful. The only downside was that he wasn't there to keep me company in the press box and restaurants.
He is so generous with his time. He proof-read my book, The Toughest Tour, in 2010. He didn't want any payment. "I enjoyed it!" he insisted. He also wrote the foreword.
He has also written half a dozen books of his own. I have read several including Cricket Wallah – with England in India in 1981/82, and Train to Julia Creek (experiencing the 1982/83 Ashes series in Australia by rail). His The Game of Life is my favourite – a luscious celebration of cricket.
He was also editor of The Wisden Cricketers' Almanack between 2008–11. They wanted somebody to succeed him who was more digital savvy apparently, but he should be proud of his stint there. It is a rare privilege and there have been editors who have only edited for one year – the George Lazenbys of the Almanack (with four Scyld was a Pierce Brosnan!).
England tours will certainly not be the same without him.
We interviewed him for a The Cricketer's Cricket Club podcast and he told us how touring had changed. They used to be so much more informal, friendly and fun. Scyld even umpired in one match in Pakistan 1977/78 after the local official needed a sit-down after watching a sedate Geoffrey Boycott century.
Just because he will not be at every match does not mean Scyld will stop thinking about cricket – he lives and breathes it.
He will still be bowling leg-spin, and trying to perfect his googly, for his beloved Hinton Charterhouse CC (he is president) in Bath, and – hopefully – Gloucestershire Over-60s.
The label 'deep thinker' doesn't quite do Scyld justice. In hotels after a day's play he can be spotted in the corner of the restaurant with a notebook and pen, perhaps mulling over the best fields for Jack Leach.
I also know of so many other journalists and players he has encouraged with their writing. So from me and also on their behalf, thank you Scyld.
Save 30% when you subscribe to The Cricketer's print & digital bundle. £35 for 12 issues
Features
|
1Banner
|
Please ensure all fields are completed before submitting your comment!