Test Match: A love letter to the lockdown hero we always knew was there
MIKE NEVIN: Limited overs is a great entertaining guest - as we all know - and pays our cricket it's rent but only playing "test match" can again make my Dickie Bird sing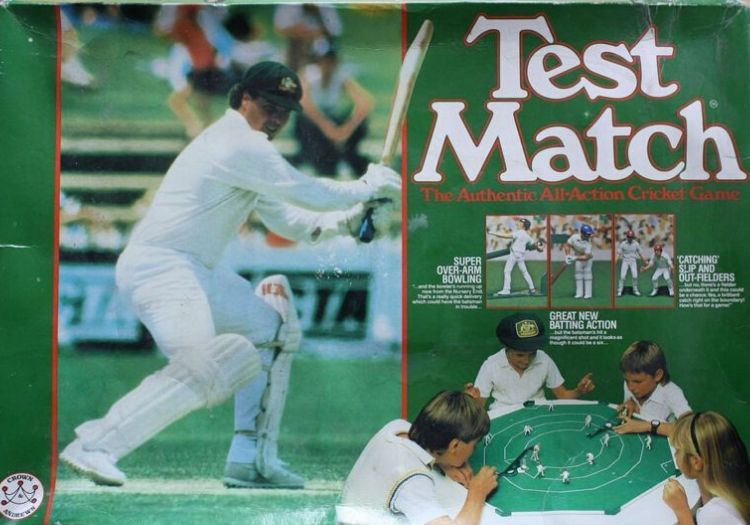 Old Father Times; I hope you're well - and reading. While the nets lie empty and pitches dry but unworn, space and anti-social distancing; two (not 22) yards apart afford us the headspace to create.
In my last piece on these last pages, I reviewed the contrasting merits and frustrations of Owzat and Subbuteo Cricket. Dextrous cricket games of miniature dice and tiny figures we found in our virginal white trousers and red-stained pockets through which we tampered with our almost-new balls.
I wanted to double up again with another pair of reviews of two more games we played once we heard the "umpires call" of twenty overs after left after six bells
But I only have one review this time but it will suffice for it is so explosive a double whammy it rivals Stokes' aerial Ashes bombardment at The Oval. If you haven't yet guessed the obvious missing link and final cricket simulation it is the great game of "Test Match".
Be patient though reader, because - to quote John Motson, the doyen of the airwaves broadcasting to the working classes and that winter passion for bigger, bouncier balls, "More of that in a moment!"
Back to the subject matter then, concluding I'm retiring hurt with three write-ups to my name, adding a languid single to my earlier scampered brace. I do, however, intend to resume this innings and leg a fine extra single to the crease at a fourth base. I'm working on that right now - an extra column on the reality of playing actual cricket with willow and leather props so we have everything covered.
I'm probably scribing the final piece of the trilogy while you peruse this. For now, I'm stuck; lame on three and only because I never played another cricket SIM. I'd had enough of a pretend IVA, a DIG, a RGDW (RIP, Brother of the wild ways, you caustic old swinger) or even an ITB. Once the make-believe flicking of fingers was put inside damp draws and cobwebbed attics, I wanted to imitate for real, inspired by seeing those Gods in the flesh. At the Test Match.
I fib, or actually did I forget? I flirt harmlessly a little - that's me all over with the fair maidens I craved as a teen - with whatever the cyber cricket versions came to rival Association Football's fabulous FIFA - a global bedroom pandemic if ever there was one. I didn't like them. Too real by half but still a sham. 
Not for me a virtual Harold Bird sticking up his finger firing me a blank on the electronic scorecard. I had no passion for exhuming a microchipped Larwood to scare the living daylights out of a resurrected, flickering Bradman. Besides, in this clinical worldwide web, the mobile device and laptop would have Harold teetotal, The Don a vaper of camomile tea, Jardine celibate and Fender impotent. Balls to that!!
So, back to the Test. Back to the Test Match. After a brief interlude for the 3.20 at RoyalAscot. Good Lords wasn't that a pain in aris? Shame on you Aunty Beeb you old harlot. Was it not cruel enough you left us to dine over lunch with sinister Finger Bob and weirdo Bod? A dinner-time scran spoiled by unseen, uncovered wickets. Batsmen skittled while we fumbled for our knob on the wireless follow our sporting porn; clumsier than and gauche as, a tipsy John Arlott.
I've gone round the houses as ever, circling the point. No more. That game Test Match though was King. King of the summer nights after dark. In winter, an ice Queen. Test Match; aptly named in salute to the perfect form of something beautiful.
To my shame - seduced by an antipodean back-Packer called Kerry- I bastardised my bristling white fielders in their red caps. Ruined them temporarily by painting them gold and green. However, thick luscious cream rises to the top and my men were soon back in off-white for the ultimate Test.
Limited overs is a great entertaining guest - as we all know - and pays our cricket it's rent but only playing "test match" can again make my Dickie Bird sing. "One day like this a year will see me right." Thats'not from a forgettable group called Limited Overs but instead from "Elbow" - a great Manchester band of brothers.
The Lancastrian Elbow Troupe are not to be confused with elbow joints not pointing back at the bowler. Geoffrey in his verbal pomp emitting filthy guff and further polluting a smog over the South London Gas Cylinders. Yorkshire expletives filling already rancid Capital air. So, we're agreed. 
Return once again to fictional play, I am head of this Kangaroo Court. I hear no other side of this argument in pursuit of MY truth that Test Match IS king. Master of the board games that never bored. Queen of all she surveyed; during the reigns of Randall, Gatting and Gooch, Hendrick and Old.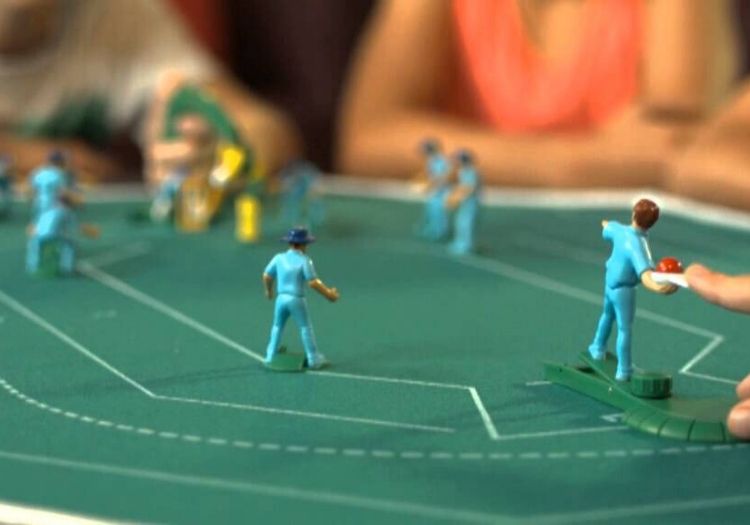 Who could forget the metronomic bowling action?
Skittish like Nottingham coal "Rags" in the covers, a green baize thick as Fat Gatt's marzipan cake. A surface better prepared than fitness zealot Goochie - who never forgot his virgin pair in '75. As brilliantly repetitive as Michael's luckless off-stump probing, and flamboyant with the bat and mean with the ball as butterfingers Chris. The "Old" stager most fondly recalled- not for his dropsies and monotone delivery, but instead in '81 - for his buckling Headingley blade - pre-Dilley (RIP, Oh Flaxon-haired child)
Let's move on again with another aside before depression sets in. Along with their brilliant table-football imitation, "Togger" fans also had "Shoot" a game of tiddlywinks with scaled plastic goal draped in miniature fishnets.But we must quickly return though to our cricketing teammate impersonator. Don't shoot the messenger but it was the Test Matchbowlers' "chute" that bamboozled even the scale-model professional opening bat.
Benders were en vogue on table-top pitches with slopes steeper than in St John's Wood. As befits the gin and underpant sodden gentleman of the Long Room, nasty bouncers were out. Bumpers outlawed - not by Bodyline - but a plastic Demi-tube as long as an Elephant's wang at the non-striker's end.
Despite the ugliness of the green mammal-like phallus, it could curve and duck and bob and weave like Arlott's naked Lords "Freaker". The birthday suit streak leaving the stumps' appendage intact and giving the bloated police the slip with aplomb.  A sunlit flit for which there's a lot to be said. Nobody deserves a cell and just one phone call for whiffing too close in The Tavern on the barmaids apron.
Time's moved on since Arlott but as those French cricketers might say: "Plus ca change."
Now; down to the detail of our Marylebone coaching, E-Manual (sic.) and our Test Match-Batting. Despite the TM bat resembling a massive Hoover on a drawstring the skill and grace required to smite the ball to all parts was down to any bona fide player's gift - timing.
Late on the ball and you were yorked. Well and truly death rattled. Given a good seeing to by a dominant chuck. Too early on the ball and you could spoon a catch.
Again though a flat-earther, flat wicket anomaly here. A dolly drop would only run aground before cradling in the "hands" of a greedy mid-on or square leg. What was the point of that shot, we muttered- our metaphorical bat tucked down under the shoulder for our walk of shame. Sent back by our domineering parent to our pavilion boudoir.
Roxanne, put out the red light. The Police are here and this is going to Sting.
England v West Indies, First Test: TV times, streaming weather, team news, odds and more
*I should note at this point I've omitted to mention that the red raw leathery spheres we pick at all weekend are no such thing in Test Match. They were definitely our balls but bearing the name of a metal cousin. That metal. Made of steel. Metal not mental. Big difference as us hard as nails lads always show our mettle.
The abovementioned close bedfellows mental and metal; are just as close as Messrs Genius and Insanity as our fellow bipolar cricket buff Stephen Fry might attest. And remember, as the once new balls get older they can swing both ways in a life less ordinary.
As footnotes go. That was War and Peace.
Onto our Test Match Fielding. These two-inch high moulded sharks in that vicious circle are a great catch. With that super snatch "basket" between their legs, there is no case for the players' defence.
Back to the crease. Get into the batting groove as Madonna might holler. Clubbing flair must be sprinkled not liberally but at a premium. "Find the gap" skipper might say after I leave the gate open on my way out, leaving behind my cigarette, my emotional crotch. Only the very best wands escape the Test Match diktat of Tory constriction
Control divides and rules. If obeyance is in abeyance and your sticky wicket will be split akimbo as while that right-arm quickly lauds it over. Jeopardy is everywhere as you fight eleven pursuers tooth and nail. One has even donned leather gloves like a savage pugilist.
Another two are lobbing grenades and the rest prey on your looming batting corpse like bloody vultures. One slip and you're gone. Something to take the edge off? A wee dram perhaps, number eight before the bar closes and the judge appears?
The nick might seem preferable and at least a safe haven for the night. Bring in a night watchman. Even if he is a bit of a stiff called PC Plod.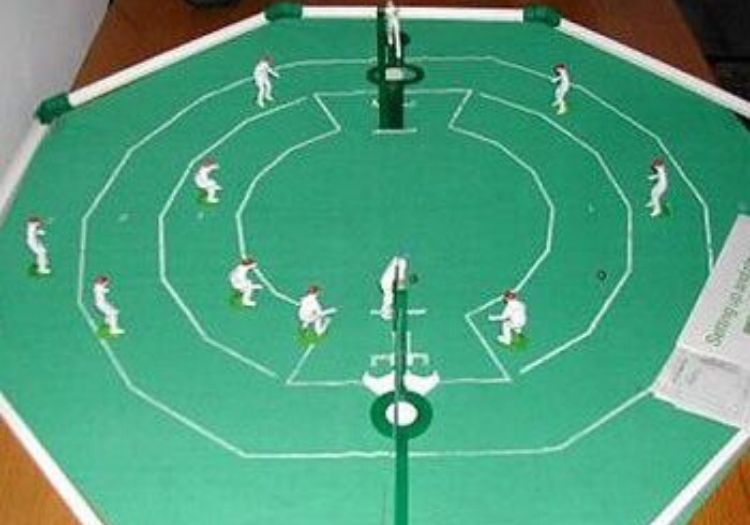 Setting your field was among the many thrills
These fielding buggers never spill a drop of your claret but if your timing is right and a swing of your thick (John) Dyson you can clatter them into the boundary wall. It feels good. For the TM bat is mightier than the sword to remind your enemy it is they who exist in a vacuum. Eventually, your talent with your trusty Henry and your (WG) Grace will see you clean up.
Test Match is beautiful. I no longer have it. Another love lost but she's out there somewhere and can be won back. A varsity girl from Cambridge perhaps. or if you're a girl, an Oxford Mafia Don with style and words as slick as his hair.
Maybe the ghost girl will be on eBay now buying new silky whites or seeking amour nouveau on Test Match.com. I hope not but I fear so and my fear I have seen in her eyes. We've all been pulled down and ditched - just like The Cavern Club in my home town.
One day, like at the crushed seat of the Four lads who shook the World, they'll rebuild us. Probably an Android version of ourselves in our constant virtual reality. Build us back and they will and they will flock to us. And then will be so excited by our rebirth they will come.
And we will feast on lush green marzipan and Scouse washed down with the finest wines known to humanity. But never will our naive guard slip again as we harden and change for the worse forever. But we will quaff and get tipsy with my hero, Guy the Gorilla. 
Thanks, Ian Terrence, Hail Hail my fellow maverick Merseysider. I owe most of it to you, and of course, to the (Thomas) Lord. Jesus, that sounded mad but not as mad as those who don't believe in love and life after death and that second innings.
Take note EA Sports. It's in the game. The greatest game. Night night, sleep tight Test Match. Don't the buggers bite. 
Features
|
1Banner
|
Please ensure all fields are completed before submitting your comment!