Intelligent, erudite and improving with age, Stuart Broad has made a habit of proving us all wrong
SIMON HUGHES - THE ANALYST: He's like a smouldering barbecue. Just when you think its lost all its heat a sudden gust reignites it and within minutes it is roaring again. And look at Broad's tally now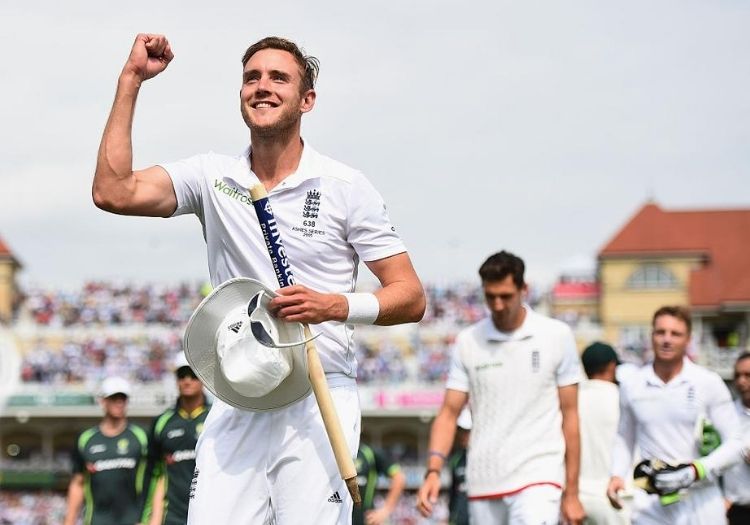 Stuart Broad was presented with his first Test cap by Michael Vaughan; it's one indication of his longevity (Vaughan played his last Test 12 years ago).
In fact, Broad has outlasted four Test captains. No one would have predicted that after his first appearance, whereas they might have for Jimmy Anderson.
That debut was in Colombo and I remember thinking that, despite the unhelpful conditions at the SSC ground where the Sri Lankans' first innings lasted 186 overs, he wouldn't be overly successful in Test cricket.
I thought his action was ungainly, his front leg collapsing on delivery losing him height, he fell away on release and didn't have enough pace to be a serious threat. He said he modelled himself on Glenn McGrath. I reckoned he'd be lucky to be a poor man's McGrath.
Broad has made a career out of proving people wrong. That is not his underlying motivation, but there's no doubt that he is stung by criticism or misgivings. He's like a smouldering barbecue. Just when you think its lost all its heat a sudden gust reignites it and within minutes it is roaring again. And look at Broad's tally now. Half a thousand Test wickets and only 63 away from the man he idolised who, within 12 months or so, he is bound to overtake.
Broad is not as repetitive or miserly as McGrath, who had a high, efficient action and was robotically accurate. While McGrath was a metronome, Broad's rhythm rises and falls, sometimes tambourine, sometimes timpani.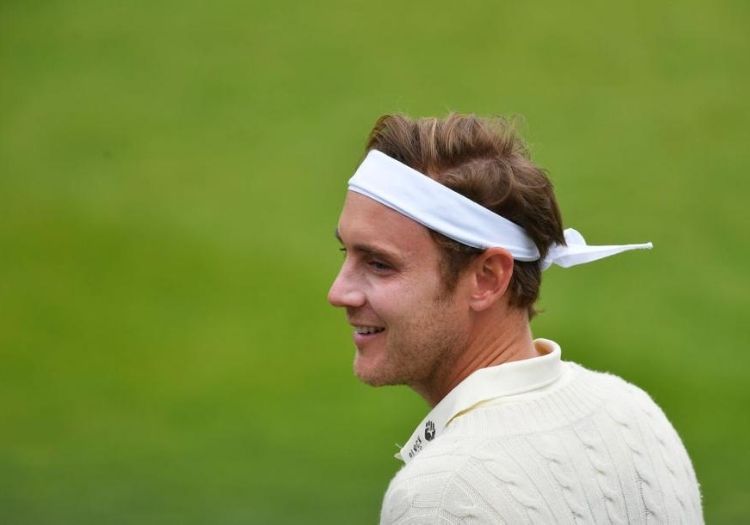 Stuart Broad has taken 500 Test wickets
He is less ruthless and cold-blooded than McGrath, who had an intrinsic hatred of batsmen and pinned them to the spot before administering the fatal blow. Broad is a mood bowler. He toys with batsmen. He gives them more of a chance. But he is cleverer, and more versatile.
That wasn't immediately obvious when he started out. He looked a little too plain a bowler early on, a workhorse without many tricks. It took him 16 Tests to get his bowling average below 40. The first time he really stood out was in the final test of the 2009 Ashes (his 22nd) when, in an attack containing Steve Harmsion, Andrew Flintoff and Anderson, he routed Australia for 160 at the Oval with 5 for 37 using a clever combination of swingers and cutters to wriggle past Australian defences on a flat pitch.
From then on he has taken a five-wicket haul every four or five Tests. He tends to take wickets in clusters, when the force is with him.
Usually fast bowlers like to field at fine leg, on the boundary, away from the action where they can relax during or after a spell. Not Broad (or Anderson). They like to be in the thick of it at mid-on and mid-off, watching, cajoling, strategising. Anderson loves having his new-ball partner close by for constant advice and encouragement, ditto Broad. They really do operate as a pair.
Broad defies the idea that fast bowlers lack grey matter. He is always thinking. Every morning of a Test match he will air his theories on bowling to interested parties, pointing out how he deliberately went wider of the crease at Lord's Nursery End to angle the ball back up the slope, or illustrate the leg-cutter style he employed on a dead pitch, or how he used a cross-breeze to coax the ball past the outside edge. His variations of wrist position and angle are subtle but effective. He reads a pitch well.
He reads a situation even better. The wicket that encapsulates his skill and cunning was Michael Clarke's at Chester-le-Street in 2013.
It was the fourth Test of the Ashes and England were leading 2-0, but Australia sensed a golden opportunity to make it 2-1 chasing 299 to win. They were 174 for 3 at the drinks break with Clarke well set and plenty of batting to come.
First ball on the resumption Broad stood at the end of his mark and made a big play of posting a leg gully to Clarke. The intent was clear. He was going to try some rib ticklers. Broad surged to the wicket, Clarke eased back and across. Broad unleashed the perfect leg-cutter, pitching on a length on middle-and-off and jagging sharply away to kiss the top of off-stump as Clarke groped forlornly. An hour later Australia were bowled out, Broad had six wickets and the Ashes were regained.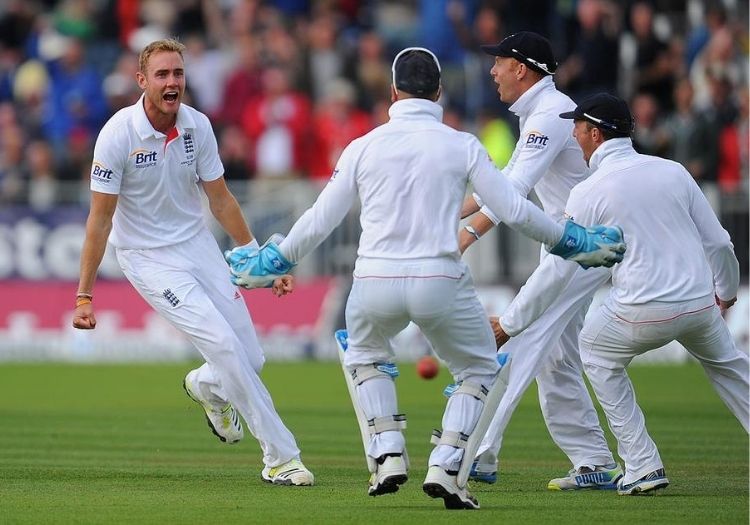 Broad has had a knack of taking wickets in clusters throughout his career
Mid-decade he began to exploit his natural ability to bend the ball away from left-handers from round the wicket, climaxing in that amazing spell of 8 for 17 against Australia at Trent Bridge. He preyed on left-handers, but the strength became a slight weakness as he tended to drift the ball in to leg stump for right handers. He wrist had become 'floppy.'
But, maximising the opportunity of being spared the endless treadmill of one day cricket since 2016, he sought to correct that minor flaw. He worked for hours on his own to improve his alignment, and now, without having the perfect action, he has found a way of moving the ball away from the right hander without losing his lethal potency against the lefties, as David Warner, who averaged 9 in last year's Ashes, will testify.
In the last two years Broad has taken his wickets at 22 (and only 10 against left-handers). He is definitely improving with age.
This series we've seen another evolution. Stubborn to a fault, he and Anderson were both sometimes guilty of bowling a fraction short on helpful pitches, reluctant to give batsmen easy drives. But now Broad is prepared to speculate more, firing down another full delivery to West indies John Campbell the ball after being driven for four. The result – an edge to slip. 
Fifty-five per cent of his wickets in England since 2018 have been bowled or lbw compared to 33 per cent in all the years before, indicating that he is pitching the ball up more. There were four more classic examples of that in this match. It will typify his restless spirit if he finishes up as man of the series having been left out of the first Test.
Five hundred Test wickets, each one achieved through great endeavour and planning as well as laboriously-refined skill. It is a triumph of ambition over pure ability.
For unrivalled print coverage of the county season, subscribe to The Cricketer and receive four issues for £15
Opinion
|
England
|
1Banner
|
Please ensure all fields are completed before submitting your comment!