Reverse sweeps, hockey and me: The story of Tom Banton, the Somerset batsman with the world at his feet
SAM MORSHEAD - SPECIAL REPORT: The sight of Banton slicing and dicing opposition bowlers over backward point with the grace, precision and poise of a sushi chef has become something of a fixture this summer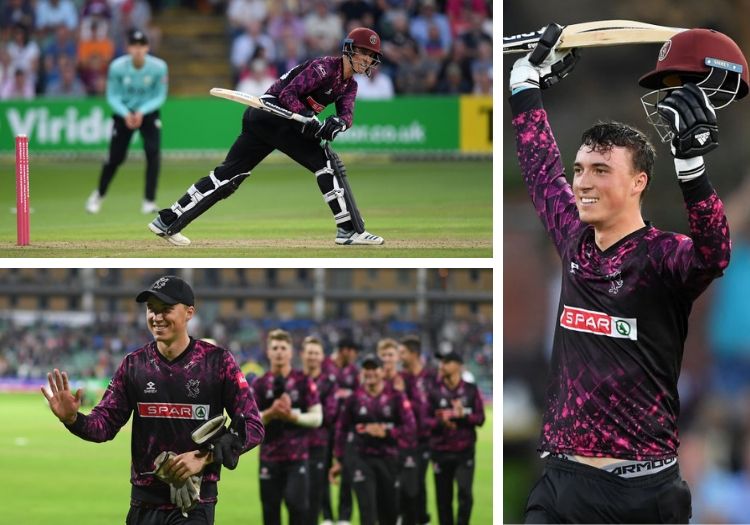 For Tom Banton, the reverse sweep really isn't a big deal.
It might seem totally alien to the village cricketers among us who struggle with even the most basic skills of the game, but what at first looks like an intangible knot of arms and legs comes perfectly easily to the 20-year-old, no more difficult or taxing than tying his shoelaces or brushing his teeth.
Banton's capacity to play this highly technical stroke originated on the hockey pitch - he very nearly represented England at age-group level, only quitting when presented with the prospect of juggling six-hour Sunday training sessions and a blossoming cricket career.
A centre forward, Banton hated the feeling of vibrations running through his stick and into his hands when striking on the openside. Approaching the ball with a reverse stick, however, left him in minimal discomfort. In time, it just became the way he played - and that skill transferred itself into cricket.
"I honestly think it's all come down from hockey," he tells The Cricketer as we look out over the playing fields at his old school - King's College in Taunton.
He points to two astroturf pitches a stone's throw from the first XI square.
"I played my last hockey game down there.
"Whenever I played I would always try to reverse stick hit. Over the years my confidence playing the reverse sweep just grew a lot higher than other shots."
Quite.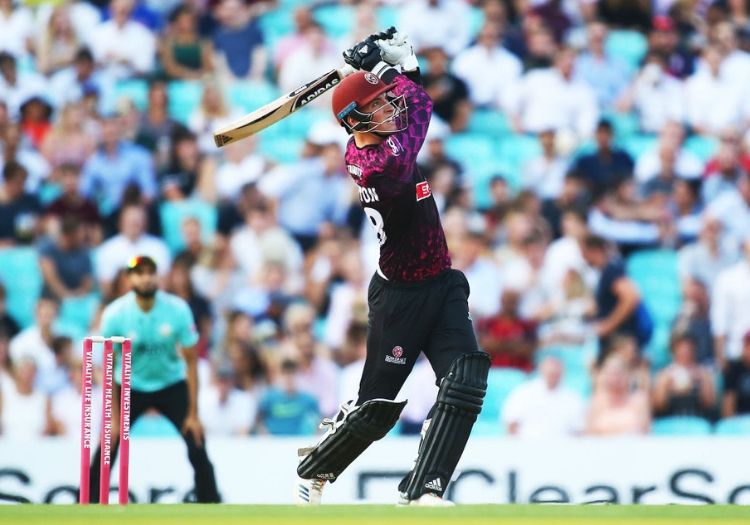 Tom Banton has been in excellent form for Somerset in 2019
The sight of Banton slicing and dicing opposition bowlers over backward point with the grace, precision and poise of a sushi chef has become something of a fixture this summer.
He pocketed 549 runs in the T20 Blast at an average of 42.23 and a ferocious strike rate of 161.43 - no one else managed more than 400 runs at that speed or better in the group stages - to go with a crucial half-century in Somerset's Royal London One-Day Cup triumph at Lord's in May.
It is no exaggeration to say he has been the breakout player in English domestic cricket in 2019 and the winter promises so much more, with likely contracts in the Afghanistan Premier League, T10 League, Bangladesh Premier League and Pakistan Super League there for the taking. That's if he is not selected for England's T20 internationals in New Zealand in November - and the ECB have already been in touch to discuss how he plans to look after himself during the winter months.
At least one IPL franchise is known to have made their interest in Banton known, as has a Big Bash team. The kid is on so many radars it's entirely possible he's showing up on the screens at Cape Canaveral.
The reasons for Banton's rapid rise are two-fold: his own electrifying talent and the elastic tentacles of social media.
Never have young players been so exposed to a global audience quite as quickly as in 2019. With Twitter at their disposal, counties can show off their entertainers to the world in an instant, and no other cricket club does Twitter quite like Somerset.
So, over the course of the past four months, Banton's slightly hunched stance, extraordinary rubber wrists and seemingly unlimited hitting potential have been relayed to millions via 10-second video snippets - tweeted and retweeted hundreds of thousands of times over by ordinary fans and high-profile former players alike.
Michael Vaughan and Brendon McCullum are among the most notable names to have predicted great things of Banton, both highlighting similarities between the youngster and two of England's most brilliant white-ball batsmen of all time: Kevin Pietersen and Jos Buttler.
With Pietersen, the likenesses end in Banton's appearance at the wicket: the bent knees as the bowler enters his delivery stride, the step to off that opens up the legside, the flashbang flamboyance that starts with Sam Curran sending down a good-length ball and ends with a crowd catch at deep point.
With Buttler, the comparisons are more than technical: both men are 360-degree shot makers, both keep wicket, both benefited from multisport backgrounds.
Although separated by nearly a decade, the two men went to the same school, even staying in the same rooms in the same boarding house, Tuckwell.
Furthermore, the pair were both coached by the same schoolmaster - Phil Lewis, now the King's College director of sport.
"I've seen 10 to 15 years of cricket here and cricketers coming through, and I stand by my judgment of him - he's the best I've seen here since Jos," Lewis tells The Cricketer.
"He's got everything there, all the building blocks you need to kick on not just as a county professional, not just as an international but as an international superstar."
Lewis remembers Banton as cocksure schoolkid when he arrived in Taunton ahead of sixth form, having transferred from Bromsgrove School.
He was his housemaster, and got to know the then-teenage Banton closely, learning what made him tick.
"I think he really benefited from coming into a slightly smaller school environment where he got a lot of attention and found his way into a really good cricket environment. It really benefited him being surrounded by other players who wanted to play at the top level. That really rubbed off on him."
"It's quite a small school. Everyone knows what everyone's doing so you have to be careful," says Banton, who had to be even more careful given his BTEC tutor at King's is the wife of a Somerset teammate: James Hildreth's partner Aimee.
"I had to be on my best behaviour otherwise Hildy would find out," he says.
"Sometimes I talked too much in class, like any 17-year-old, but nothing worse."
Banton was a house prefect and went on to captain the King's first XI but, according to Lewis, never sought out any further positions of responsibility.
Instead he chose to focus on sport.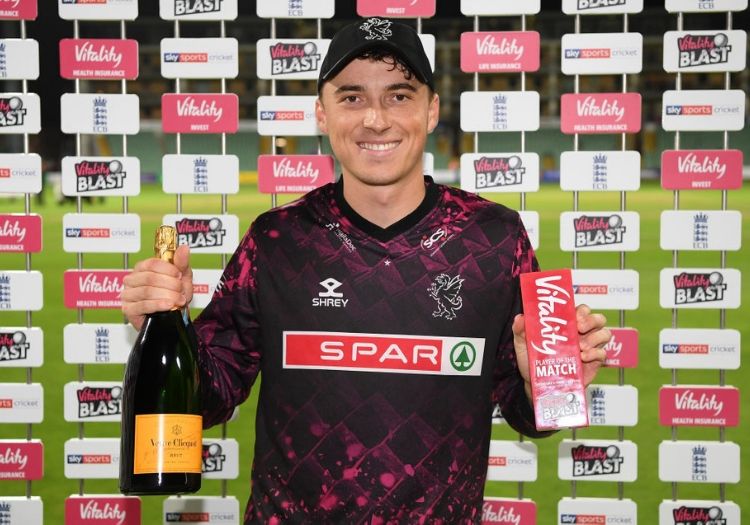 Banton is being tracked by several T20 franchises
"Tom managed it in a way where it felt at times like he almost would go laid back about it, almost to the level where he'd show he didn't care too much," Lewis says.
"Even though he massively did care, it was as if he needed to show he didn't. When there were fewer people around is when he would train the hardest. He was never too fussed about what people thought of him or how he came across, he was focused on what he does best."
That's another trait Banton shares with Buttler, according to their old coach, though Lewis says Buttler was a much quieter presence around school grounds.
"(Banton) was really popular. Lots of people wanted to be like him. The younger kids would look up to him like a god.
"He started as a tougher character to deal with but quickly got he didn't need to be anything other than a solid guy who played and trained hard.
"The teachers would hate him one minute just because something he'd say that was chippy, but they also loved him for it.
"If someone told him off for not doing his tie up properly, it would be the body language more than anything. He had an aura about him."
It is hard to see this aura during our conversation on the pavilion steps overlooking Banton's old stomping ground.
At 20, he is perhaps wary of saying the wrong thing - very much a sportsman reared on PR etiquette and the importance of perception.
He brushes the fluffier questions about his childhood and school-life aside as if whipping a half-tracker to the legside boundary, but speaks with conviction about his game, future, and most pertinently those comparisons to Buttler.
"I've heard it quite a bit but I don't really think too much of it. If you think too much about it you can end up getting ahead of yourself," Banton says.
"Keep your two feet on the floor, carry on what you're doing and don't change too much."
It is a script which he has learnt by heart this year - a pre-programmed response to a question he is being asked an awful lot. But that's not to say he doesn't mean it.
Banton's entire schtick requires calmness of mind and clearness of thought, creating for himself an environment in which failure does not really register.
"I'm pretty basic. If I go out and don't get any runs, I don't come off feeling like it's the end of the world for me," he says.
"Don't overthink it, see the ball, try to hit it and if you get out it's not your day."
That thought process might grate with traditionalists, and certainly clashes horribly with the old adage of placing value on your wicket, but it has seen Banton's stock rise exponentially in recent months.
The man who brought him to Somerset as a 17-year-old - academy director Steve Snell - says Banton has always had something of the outrageous about him.
Snell recruited Banton - then on the books of Warwickshire - after he made a century for King's against the Somerset academy. The next week he played him for Somerset 2nds against Middlesex. Batting at No.4, Banton made 96 and was caught on the legside boundary attempting to reach three figures with a six.
"He was so far ahead of anyone else in the game in terms of how he hit the ball, the shots he played - really strong shots for a 17-year-old," Snell tells The Cricketer.
"I was wowed by the general quality of what he could do."
Like Lewis at King's College, Snell largely allowed Banton to develop at his own pace, refusing to dilute his natural talent with too much strategic input.
"There have been some people who have not been that encouraging for his unconventional shots," he says.
"It's testament to his strength of mind that he keeps going with them.
"He has an unshakeable belief in his own ability and that's a key definitive."
"If you got Tom in the nets all year round and tried to hammer home drills and skills, you'd drive him loopy," says Lewis.
"It was about managing his time, making sure he trained really hard and well and not overdoing it.
"He's not a cricket badger but he's found a way to use that laid-back attitude to his advantage."
Ask anyone who has been involved in Banton's development and they will tell you the same story - of a kid who loves the game but not so much that it dominates his everyday life.
Banton really isn't a cricket badger - "I won't sit down and watch a whole day of The Ashes, I might catch the highlights in the evening" - and will instead play golf, spend time with his family and walk his dog. Recently he has been helping his close friend James Clark, the son of former Somerset chairman Charles, after the sad passing of his father.
"In the winter, I'll come and do my gym session, have lunch and then get myself away from the ground," he says.
"Otherwise you spend your entire life there and you can get sick and tired of everything."
Banton has benefited from the expertise of several important role models at various stages of his development.
His father, Colin, knows what it takes to be a professional cricketer, having been on Nottinghamshire's books for two seasons in the mid-nineties. He also knows the pain the game can inflict, given his first-class career was curtailed by a broken arm sustained facing Allan Donald in the County Championship.
Banton Jnr was coached by Dougie Brown and Ashley Giles at Warwickshire, and Marcus Trescothick has played the mentor role in the south west. Throw in mum Jayne, Lewis and Snell, and the support network has been there to allow Banton to evolve as a cricketer. No one has forced him to be someone he is not.
And that has been crucial.
Where some teenage cricketers might freeze in their first-team auditions, Banton thrived.
Critical to his success so far has been that ability to temper failure with perspective, so rare for young professionals starting to make their way in the world, in any walk of life.
He managed it last year, when he received criticism for reverse sweeping to slip as England's Under-19 World Cup campaign collapsed around them. And he managed it earlier this season, during a lean run in 50-over cricket.
"I went through a tricky stage where I didn't do too well at all and I did see some things on social media which weren't nice to read," he says.
"I spoke to mum about it and she said 'you're just going to have to not look at stuff like that… there will be times when you fail and there will be people who will say bad things about you and it will get to you'."
It certainly didn't get to Banton. By the end of the One-Day Cup campaign he was lifting a trophy at Lord's - "the best day of my life" - and at the age of 20 he has become a household name among those who watch county cricket.
"The more exposure, the bigger the game, the more stimulated he is," says Snell. "He wants to show people what he can do.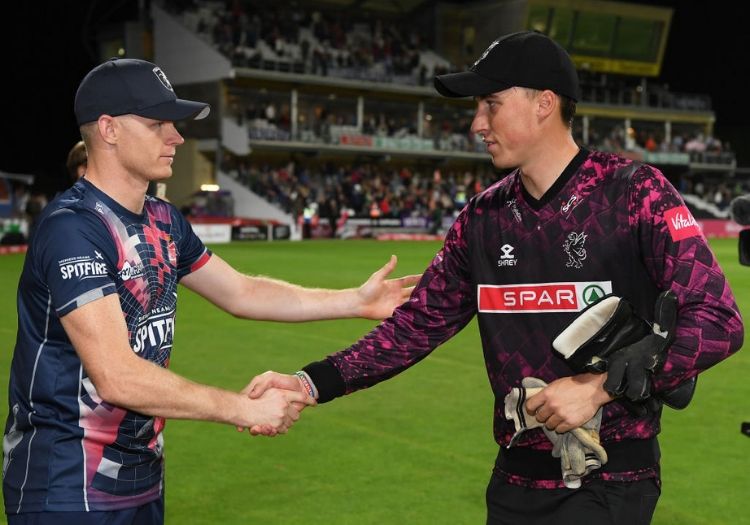 The 20-year-old has dazzled in the T20 Blast
"His performances in under-17 cricket for us were pretty poor. Those games didn't necessarily have the interest for him.
"His point of difference is he has funky shots but his basics of the game are improving - defending in red-ball cricket, playing down the ground, hitting through mid-on and wider. That makes his unconventional shots more dangerous."
Banton tells me "a forward defence, straight out of the middle" is the shot that gives him the most satisfaction. That's telling. Perhaps it is because that is the stroke that comes least naturally, and executing it perfectly is the product of hard work over instinct.
He is an intriguing interviewee - a young man who must surely know just how good he is but is either fighting very hard not to show it or simply has not quite realised the extent of his talent and profile.
I settle on the former, and respect his humility.
How easy it will be for Banton to remain quite as humble if his career continues along its near-vertical trajectory is another matter.
He wants to play Test cricket for England but right now would quite happily "do drinks for however long they wanted me to". He has told Somerset he no longer wants to be considered a wicketkeeper in red-ball cricket to focus on his batting - and his performances this Championship season (an average in the high 30s, with a considered strike rate of 58) are hugely encouraging.
"I've done pretty well this year but I don't think too much of it. I want to keep getting better every day - on or off the field, as a person," he says.
Presuming he does, fame and perhaps even fortune await, along with all the accompanying scrutiny. The prospect does not flusters him one jot.
"When I'm batting it doesn't feel like anyone is even watching. I know that sounds weird but I'm just off with the fairies."
Please ensure all fields are completed before submitting your comment!