Steve Smith's knock for the ages was an exercise in the expulsion of regret
SIMON HUGHES AT EDGBASTON: He brought up his 24th Test hundred with a walking cover drive. The celebration was emotional and extensive. This was 16 months of pent-up humiliation and regret being expelled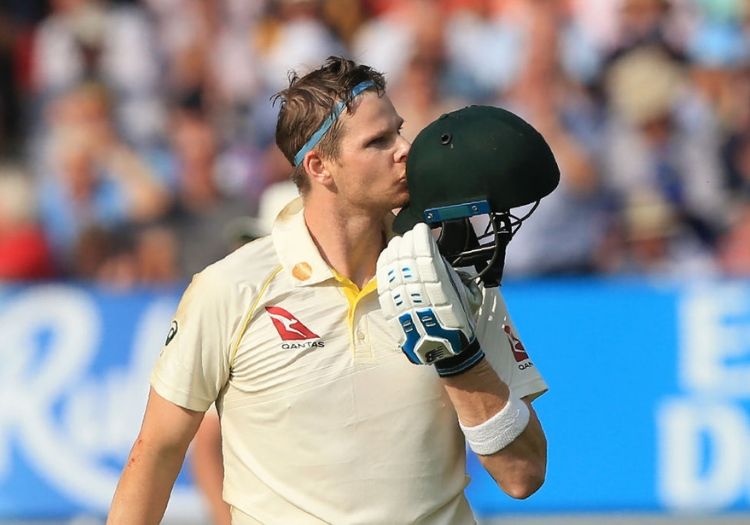 Steve Smith was predictably booed by the Edgbaston crowd when he walked in to bat at 17 for two. Other fans wore Smith-in-tears masks. Even though Smith is used to it now, it hurts. In spite of his horrible miscalculation in March last year - tacitly allowing the Australians' attempts to attempt to tamper with the ball - he is a thoroughly decent man.
I spent some time with him at the IPL in April, watching him in practice, travelling with him to matches, chatting in bars afterwards. He is polite, modest, considerate, enquiring, empathetic. Belying his impregnability at the crease, he is a sensitive soul. He does not crave universal approval, but he'd like at least to be respected. He is human.
Pre-match England focussed considerable attention on their tactics to Smith. You could see it in their tactics. Stuart Broad bowled a fairly conventional fifth stump line from the pavilion end with three slips and a gully. This was plan A. It beat Smith's edge a number of times.
From the City end, Chris Woakes tried Plan B, a much straighter line with a short mid wicket, a deep square leg and a leg gully, trying to induce a chipped catch or an lbw.
This was thoughtful cricket from England - bowling in partnerships - and briefly Smith was confused. He fished at a couple of wider ones from Broad that he could have left. Then he left one that he should have played. He was given out by Aleem Dar. A review saved his bacon (by millimetres).
It was the closest England came to dismissing Smith. Despite his jerky, jumpy, fidgety technique, he is usually in the perfect position to address the ball when it is a third of the way down. He might look unorthodox but he conforms to the adage that the best players see the ball early and play it late.
He has an uncanny ability to score runs off straight balls. He adopts a thoroughly common-sense approach to wicket-to-wicket bowling, keeping his front leg out of the way so he can get his bat to the ball and turn it deftly into spaces.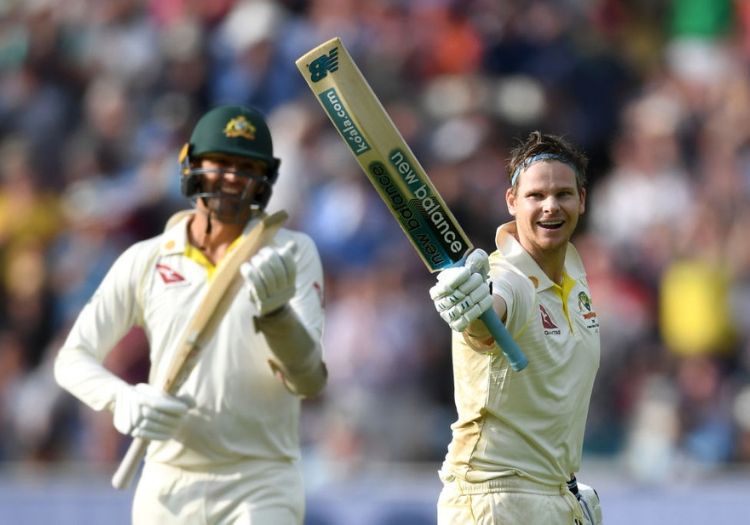 Steve Smith ended with 144 before being bowled by Stuart Broad
He glides, he steers, he coaxes, he nurdles. He checks the fielders' locations every ball, counting round the field meticulously, consigning it all to his photographic memory. He bats with a mathematician's precision.
He knows his angles (unlike the umpires who gave at least five erroneous lbw decisions). He chides himself when an aggressive shot finds a fielder. Later in his innings England had three men on the hook. He waltzed across his stumps and calmly paddled the ball for a single.
When he had reached his 48th Test fifty (24 of which he has now converted to hundreds), his Test average had gone back past 62, overtaking Adam Voges to regain his second place in the all-time test batting averages.
His neat, resourceful partnership of 88 with Peter Siddle pulled Australia out of trouble. During it, Smith had faced more balls than Australia's other eight batsmen had survived in the match put together.
The closest England got to getting him out was a shy at the stumps from Stokes when Siddle called Smith for a sharp single and he aggravated his elbow injury diving in. The throw missed anyway.
Once Siddle was dismissed, Smith was a little more expansive, attempting to swat Stokes through the offside or slicing him over gully when he implemented plan C (incessant bouncers), smiting Moeen Ali for six over long on from his round the wicket approach (plan D.).
In company with the no.11 Nathan Lyon, he brought up his 24th Test hundred with a walking cover drive. The celebration was emotional and extensive. This was 16 months of pent-up humiliation and regret being expelled.
There was no booing now. Only applause for a man who made a serious mistake but whose remorse and unselfish dedication to his art deserves ultimate forgiveness. But England better find a plan E and F.
To celebrate England winning the World Cup you can subscribe to The Cricketer for just £20.19. Click here to learn more
Please ensure all fields are completed before submitting your comment!