It's not how they'd imagined it, but Somerset are ready to defend their Royal London Cup title
NICK FRIEND: Only four counties have been hit harder by player absences to The Hundred, but Somerset are better-placed than most to plough on regardless. Stand-in captain Ben Green and interim head coach Paul Tweddle look ahead to an intriguing month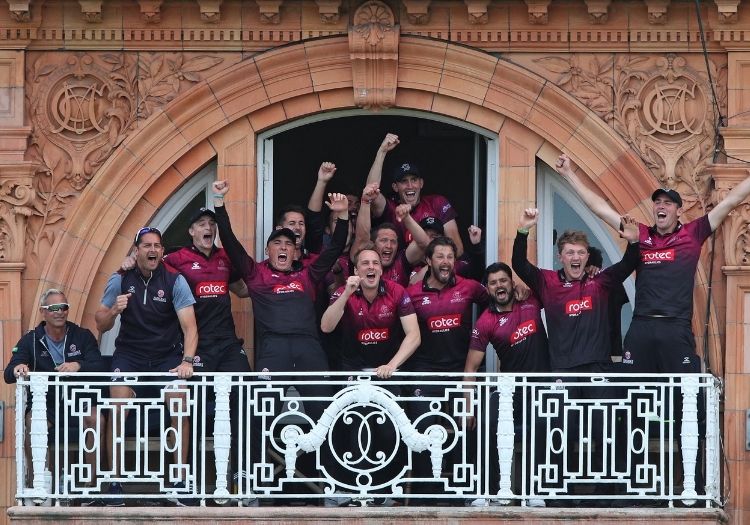 So much has happened in the intervening two years that to remember Somerset as the last winners of the Royal London Cup is to recall a different world.
The final – then held at Lord's on a Saturday in May 2019 – will this time take place at Trent Bridge on a Thursday in mid-August. The player of the match, Jamie Overton, now plays for Surrey.
In those halcyon, pre-pandemic days for English cricket, the 50-over tournament remained a valuable commodity: Eoin Morgan's men would become world champions in the format two months later on the back of a four-year plan based around revolutionising England's approach to the one-day game.
This time, however, it finds itself in an apparent purgatory of sorts, a concurrent partner to be played in the background while The Hundred takes its long-awaited place in a crowded summer calendar.
For Somerset, proud of their status as title-holders, it has led to a reshuffle: head coach Jason Kerr is assisting Gary Kirsten at Welsh Fire, while captain Tom Abell was a signing for Birmingham Phoenix in February's redraft.
Enter, Paul Tweddle and Ben Green: for the next month, Somerset's leadership team as coach and captain. "It's an exciting time," Green tells The Cricketer. "I'm going to have to learn quite a lot as a captain quite quickly, I think." He put himself forward in a pre-season appraisal as keen for the role if a situation like this arose. Barring some experience as skipper in the second team – a different kettle of fish, he knows – this is a new experience for the 23-year-old.
Tweddle adds: "I have done games in the past, so I have been in charge as a one-off, but I've never done a competition. That is uncharted territory for me, but I've been assisting Jason for the last few years, so in terms of what the expectations have been from his point of view, I've got a good idea of what that looks like. I guess it's my role to continue that and put my own stamp on it."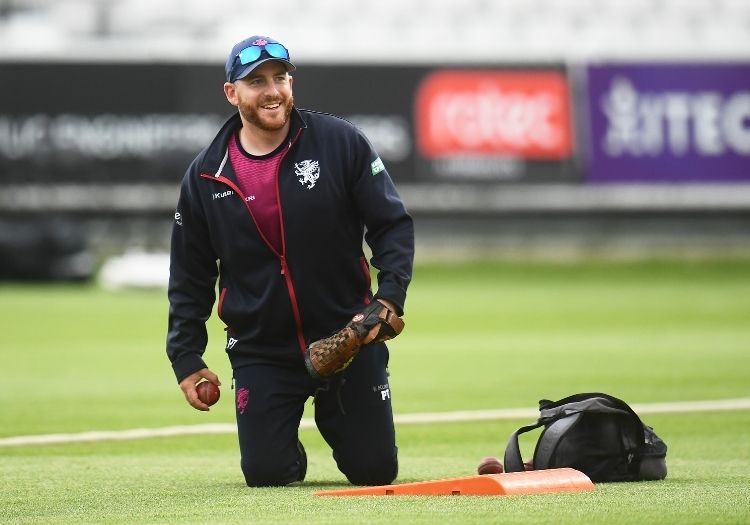 Paul Tweddle has stepped in for Jason Kerr as Somerset's interim head coach for the next month
The pair are looking ahead to an intriguing month, which begins for Somerset on Sunday against Derbyshire at Taunton, where a decent crowd is anticipated. Somerset have suffered more than most from the clash between competitions, even if it feels wrong to paint it as a negative when, for those involved, a huge opportunity awaits.
As well as Abell, they have lost Tom Banton, Lewis Gregory, Craig Overton, Will Smeed, Tom Lammonby, Roelof van der Merwe and Max Waller from their ranks. Even the deepest squads – and few have a richer production line than Somerset – would do well to negotiate those absences.
But Green is casting his eye forward nonetheless; one of the fascinations of the next month will be in how sides cope – and who steps up – when respected pillars of the dressing room environment disappear en masse. No county has been let off lightly, though just Nottinghamshire, Yorkshire, Surrey and Sussex have been depleted to a greater extent. And while Leicestershire are only missing two players, they are Colin Ackermann and Callum Parkinson – captain and vice. It means that different counties will face different challenges, not that Somerset's overall philosophy will shift.
"The landscape has changed but our expectations and the way in which we go out to play the game definitely haven't changed," says Tweddle. "The plan is still to try to win every single time we step onto the field. The processes and the players involved might look different but in terms of the expectation of what we're trying to do, that won't have changed at all."
Green adds: "Our intent is still to win. That's the club – the club is after trophies. Even with those guys who've left for The Hundred, we've still got the quality in the changing room to do that.
"It gives great opportunities to guys who are here. For the more experienced players in that changing room and for some of the younger guys who are going to have to step up into leadership roles and offer more on and off the field than they have previously when we've had those other guys present. But also, for the young guys in the first or second year of their contract, it gives them a great opportunity to play professional first team cricket."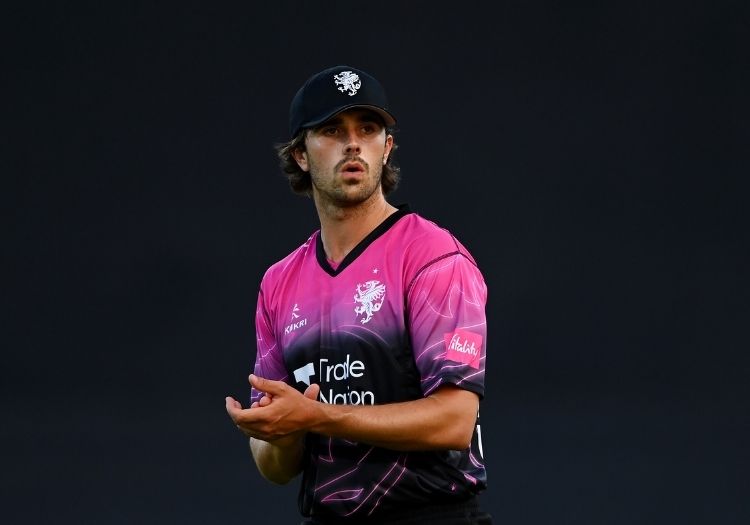 Ben Green, who raised the prospect of captaincy in his pre-season appraisal, has got his wish...
Somerset have players in all three of those categories: James Hildreth and Steven Davies are both widely respected figures on the domestic circuit, ideal for Green to lean on as he makes his way as the man in charge; Lewis Goldsworthy, George Bartlett and Ed Byrom all fit into the secondary group as youngsters now with enough first team experience behind them that they can be expected to shoulder more responsibility for the next month; as for the novices, much is thought of seamers Kasey Aldridge, Sonny Baker and Ned Leonard, while George Thomas made 68 in a defeat on Tuesday by Cornwall.
"That's what it's about through the competition," explains Tweddle, who spent the 2019 winter in Australia as part of the backroom staff on England Lions' unbeaten tour.
"It's about those guys being able to find roles for themselves and potentially do things that they might not have had the opportunity to do before. Whether that's leading in certain areas or taking a different role with bat or ball or in the field, that's what's really exciting. You're hoping that they've got enough experience from seeing Craig Overton or Tom Abell operate to be able to do those similar things but in their own way, while still being their own person."
The key, he says, is belief: a belief from the staff transferred onto the young players stepping into the first team that they have what it takes. It has worked remarkably well in recent times: Lammonby made his first-class debut in the Bob Willis Trophy and ended the summer with three hundreds in six games; Smeed smashed 82 in just his second senior appearance; Banton made his international bow just two years after his introduction to professional cricket.
"These opportunities are a huge positive of the competition," Tweddle insists. "One of the things that we've done over the past when these guys have come in is that it hasn't just been an opportunity to come and play, the expectation has been that they're playing because there's a backing that they're going to do well. I think that's why they've done well when they've come in; they've been backed that it's just another game of cricket for them.
"That's the overriding message to the guys who might be new and a bit less experienced: it's still the game that they played a month ago, regardless of where that was. The surroundings might be different and the people that they're batting against or bowling at might be different, but it's still the same game at heart."
Any similarities to second team cricket will be outweighed by the pressure of decent-sized crowds and "the intensity that those surroundings bring". Tweddle adds: "It will become quite clear quite quickly that it's not second team cricket. The intensity and expectation are there in front of you."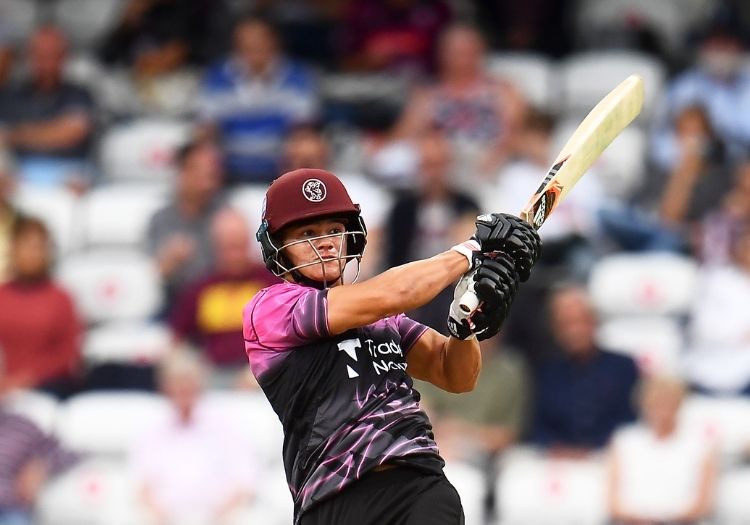 Will Smeed is one of eight Somerset players on Hundred duty for the next few weeks
Green agrees – and he believes that any lingering irritation among those missing out on The Hundred will dissipate once the 50-over competition begins in earnest.
He acknowledges: "I know that there are frustrated guys in the changing room, but there are also guys looking at it, thinking: 'Wow, I want to do that.' It's a great opportunity for them to showcase what they can do. If they go well, it's a real showcase for them in their career.
"In my head at the moment, I just want to be communicating with them as often as I can to see how guys are travelling and see how everyone is doing, trying to make sure that they're in a positive mindset to try and perform when they're on the pitch."
The scheduling of the competition will help in that regard: Somerset play eight games in 19 days from Sunday with little time to stop for breath, meaning that most non-matchdays will be spent mixing recovery with travel rather than in training. Instead, he anticipates any coaching taking place in short bursts.
"Once we get going, we will be looking to grab windows of opportunity where we can actually impact on development, whoever that's with. We will find times where actually some really good learning can take place during the competition, but it won't necessarily be a structured coaching session."
And if those players are better cricketers by mid-August than they are now, then part of Tweddle's goal will have been achieved. But as reigning champions, winning games remains the most straightforward barometer of success.
"It comes down to players developing over the competition," he explains, describing the constitution of a job well done. "However, this is first team cricket. Ultimately, we'll be stepping out and trying to win every game, but the side-impact of that is that we're looking for players to develop and grow, whether that's just as a cricketer or just in their ability to communicate on the park or in the changing rooms.
"I'm under no illusions that this is first team cricket, and we'll be looking to make sure we put in the best performances. It's about doing those small things really well a lot of times, and hopefully the results will come from there."
Somerset
|
Features
|
County Cricket
|
1Banner
|
Please ensure all fields are completed before submitting your comment!