Seven reasons why we should all love Stuart Broad (unless you're an Australian)
June 24. The day of Henry VIII's coronation, the start of the Napoleonic invasion of Russia, the first reported sighting of a UFO, and - most critically - the birth of Stuart Christopher John Broad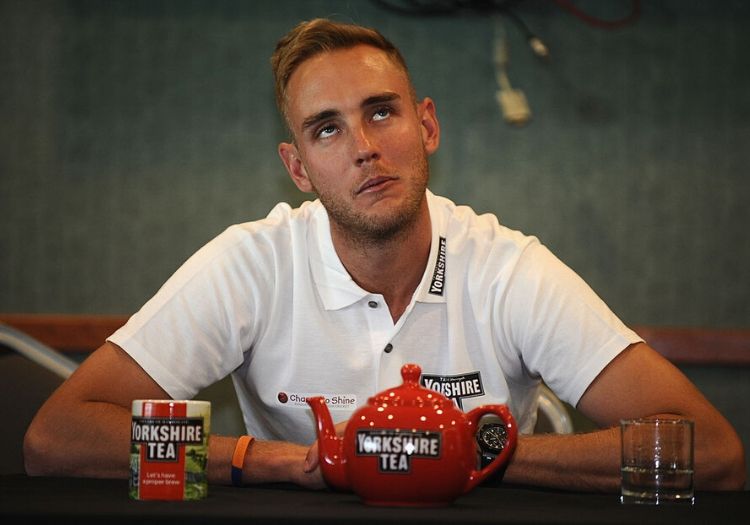 June 24. The day of Henry VIII's coronation, the start of the Napoleonic invasion of Russia, the first reported sighting of a UFO, and - most critically - the birth of Stuart Christopher John Broad.
England's mischief-making wicket-getter turns 34 today all by himself, cooped up as he is in a hotel room on the outskirts of Southampton, waiting to find out if he is Covid-19 negative.
And this seems somewhat unfair. Because Broad's birthday should not be allowed to pass without grand fanfare. Or at the very least a collage of David Warner nicking off.
With this in mind, The Cricketer presents seven reasons why you should love Stuart Broad, unless you're Australian.
1 - The Celebrappeal
Arm raised, wheeling away towards fourth slip, Stuart Broad has not yet taken a wicket but he's sure as hell going to make you think he has.
Over the years, Broad has perfected the art of the Celebrappeal (patent pending) to minute detail: the glee in his eyes, the wagging finger of a Motown backing vocalist, knees pumping like a hurdler warming up by the starting blocks.
Umpires now need only check whether or not Broad has turned to face them to determine what decision they should make. Is he actually asking for an lbw, or is he telling you it's out? He's not halfway to the pavilion? Not out, then. Such a tell cannot possibly help the bloke around a poker table.
But it is essential Broad - cheeky, slightly divisive, self-confident, theatrical. Cricket would be poorer without it.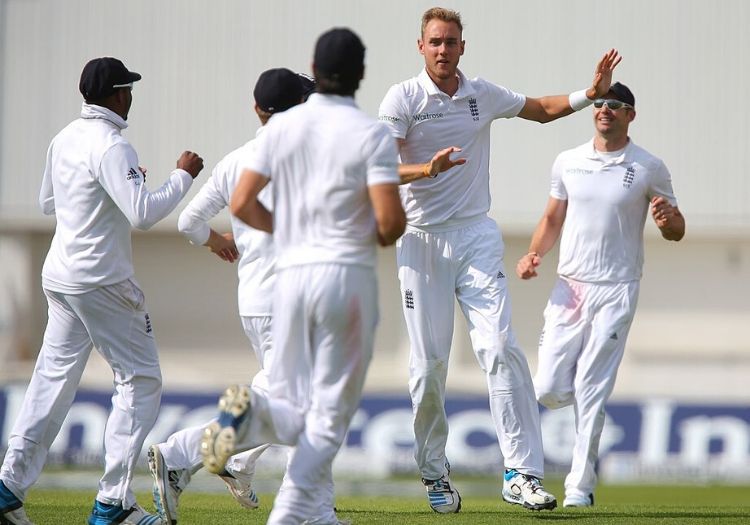 Stuart Broad celebrates his birthday on June 24
2 - The batting
If you were at Lord's over that hot, hot weekend in August 2010, you will remember a punchy, compact allrounder making his pitch for a lifetime spot in England's lower middle order.
On days two and three of the fourth Test against Pakistan, Broad straight drove his way to a memorable 169, sharing in that absurd world-record stand of 332 for the eighth wicket with Jonathan Trott.
It was a classy and composed knock, played in its majority through the famous V between midwicket and cover. Listen back now, and you'll hear Geoffrey Boycott purring on commentary.
In the first five and a half years of his Test career, Broad averaged 26 with the bat (and over 34 in England). His top three Test scores all came in that time.
In 2014, however, he was hit in the head by Varun Aaron at Old Trafford, and everything changed. Yet, Broad the batsman now is more loveable than Broad the batsman of yesteryear.
His career trajectory with the bat - from prospect, to elegant slogger, to flotsam - is one of modern cricket's more peculiar conundrums.
Still, there are few tailenders who can empty bars quite like him - a random swing here, a thumping connection there, getting his bat stuck behind his back leg... he might only be at the crease for 10 minutes but those will almost certainly be the most entertaining 10 minutes of the session.
3 - The longevity
Broad made his England Test debut in Sri Lanka in 2007 (white-ball bows had come 18 months prior), alongside the likes of Michael Vaughan, Steve Harmison and Matt Prior.
Since then he has represented his country on more than 300 occasions, and overall he has contributed a total of 728 wickets across formats.
Between the summer of 2012 and today, Broad has not missed a home Test. And he is the only bowler to have returned 30-plus Test wickets in each of the last nine calendar years, not including 2020.
For a fast bowler, with more than 85,000 recorded deliveries in competitive cricket to his name, that is quite an extraordinary feat, requiring both a commitment to strength, conditioning and fitness in the second half of career and remarkable consistency with ball in hand.
Sometimes, given Jimmy Anderson's huge haul of Test wickets, it is possible to forget just how integral Broad has been to this England side - that's why, on occasion, you'll hear the daft claim that the two should only play on rotation. Stuff that. Broad's evidential durability would suggest he has several years left to keep us all in thrall.
4 - The bursts
..W24W...W..W…..W…..1….12……..W1W………….4W
Broad's one-man dissection of Australia at Trent Bridge in 2015 was typical of a cricketer who gets things done in bursts.
Fans of 21st century England cricket will be able to rattle off the list on a whim: Johannesburg 2016 (10 overs, 5-16), Trent Bridge 2011 (5.1 overs, 5-5), The Oval 2009 (12 overs, 5-37), Headingley 2012 (6.1 overs, 5-33), Lord's 2013 (11 overs, 7-44), Durham 2013 (9.3 overs, 6-22) and the aforementioned mayhem in Nottingham five years ago.
All single spells. All crucial in altering the flow of the game. You get the impression that Broad would have been the student who partied all semester, retreated to the library three days before deadline and pumped out a first-class dissertation.
It takes a generational sportsman to compile a best-of album quite as dramatic, quite as impulsive, quite as edge-of-your-seat fantastic.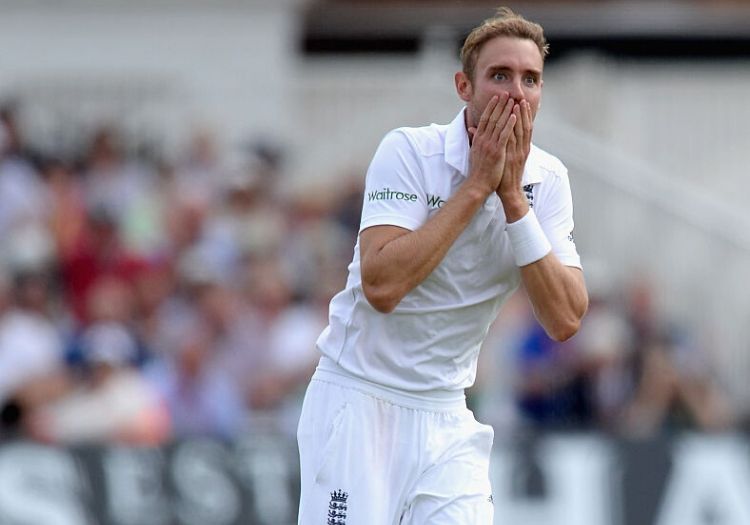 Broad has taken 728 wickets for England
5 - The incident
July 18, 2013. Trent Bridge (he just loves Trent Bridge).
Broad chops at Ashton Agar, thick edges through Brad Haddin's gloves and into the hands of slip. He doesn't walk. Umpire Aleem Dar doesn't spot the quarter-cherry on the outside half of Broad's bat. Australia have no reviews.
What followed was a typically cricket-like moral panic. Broad did what many batsmen do, and asked the umpire to make a decision. Dar made one, and got it wrong. The subsequent huff-and-puff headlines and follow-up stories seemed to stretch on for weeks, twisting tangentially like a particularly weak M. Night Shyamalan movie.
At the centre of it, Broad never looked particularly bothered.
While elements of Australian society lost their heads - actual adults printing "Stuart Broad Is A Shit Bloke" T-shirts, a Facebook page by the same name gathering tens of thousands of likes, and Brisbane's Courier Mail opting to name him only as "England's medium pace bowler" - Broad just let them keep blaming it on him.
He strolled through crowds during that 2013-14 Ashes down under, and posed for pictures with the aforementioned adults, and wandered into the evening press conference after taking five wickets on day one of the series with a copy of local paper tucked under his arm.
There are few in the cricket world who know how to get under the skin not just of an opponent but an entire opposition fanbase. Broad has an uncanny understanding of what it takes to troll effectively, and that sort of knowledge is golden.
6 - The bunny
No words, just this video.
7 - The daftness
Beyond the accomplishments, the long, long career, and the headline-grabbing antics, Broad continues to entertain.
Remember the time he suffered a lacerated fat pad, whatever the heck that is?
Or how he claimed a hat-trick against Sri Lanka without even realising it.
Or when he rose to the top of the world rankings in Fantasy Football?
Happy birthday, Stuart Broad. And thank you for being part of our lives.
Save 30% when you subscribe to The Cricketer's print & digital bundle. £35 for 12 issues
Features
|
England
|
1Banner
|
Please ensure all fields are completed before submitting your comment!