TALKING POINTS: Do England have (or want) a Plan B and what was Gayle batting on?
West Indies recorded an emphatic victory in the fifth ODI to level the series at 2-2. OWEN RILEY addresses some of the main talking points to come out of the game...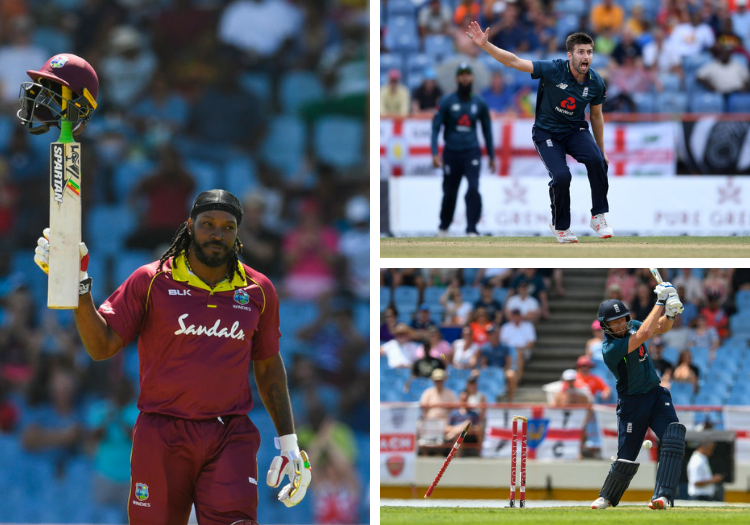 England's Plan B?
When England's batsman are firing, they are the best in the world. They boast a star-studded line-up capable of reducing opposition attacks to gibbering wrecks, but when the bowlers bite back, or the pitch is stodgy, do they have an alternative option?
It could be argued that a formula that has yielded record score after record score is a formula to stick with. And if doubt creeps in to that approach, then that ultimately will cause England's downfall more often than their expansive style.
But when faced with the fact that Eoin Morgan's men have just posted their lowest ODI total against West Indies - falling to 113 all out in 28.1 overs, questions should be asked.
Post match, Trevor Bayliss said: "We didn't adapt at all, bouncy wickets are our achilles heel.
"We just kept making the same mistakes."
What was Chris Gayle batting on?
Did the Universe Boss sneak out there and roll down a separate wicket when it came to his time to wield the willow?
Gayle battered a 19-ball fifty on his way to 77 from 27 as the hosts made light work of the chase at the Daren Sammy Stadium. And that was all was done with someone else's stick apparently, with Gayle claiming to have picked up the wrong bat on his way out to the middle.
The 39-year-old finished the series with 424 runs to his name, coming at an average of 106, with two hundreds, two fifties and 39 sixes. Boss indeed…
Woakes' worst birthday?
Well, many happy returns to Chris Woakes who turned 30 years old on Saturday. But my word, he's had better days on the field.
After falling to Oshane Thomas second ball, Woakes opened the bowling for England only to see his first two overs go for 39! To make matters worse, he had Gayle caught at fine leg only to see the wicket chalked off for a no-ball on height.
A tough day at the office. Go and get yourself some cake lad.
Could the Windies upset the odds in England?
Some bookies have the Windies at odds as long as 20/1 to win the World Cup. Will those be shrinking in light of how they have performed against the world's best?
Can they go and win the whole thing, maybe not, who knows? But can they slam the breaks on some of the other favourites' campaigns? Don't bet against it. This is a side who are performing above expectations, even with the likes of Andre Russell on the sidelines.
Wood World Cup bound?
Has Mark Wood booked his place in England's squad for the 2019 World Cup?
The Durham man has played in every match of the series, bowling more overs than any other and picking up seven wickets. Only Adil Rashid (9) claimed more.
When fit, Wood's aggression in variation is a vital tool in England's attack. With it sounding increasingly likely that England want to fit Jofra Archer into their plans, someone has to miss out. Wood may well have shown enough to make sure that's not him.