Patel's timeout comes up trumps as 100-ball cricket trials continue
JAMES COYNE AT TRENT BRIDGE: It was hard to spot too many profound differences between T20 and The Hundred in the second day of trial matches at Trent Bridge, though Samit Patel's calling of a strategic timeout paid immediate dividends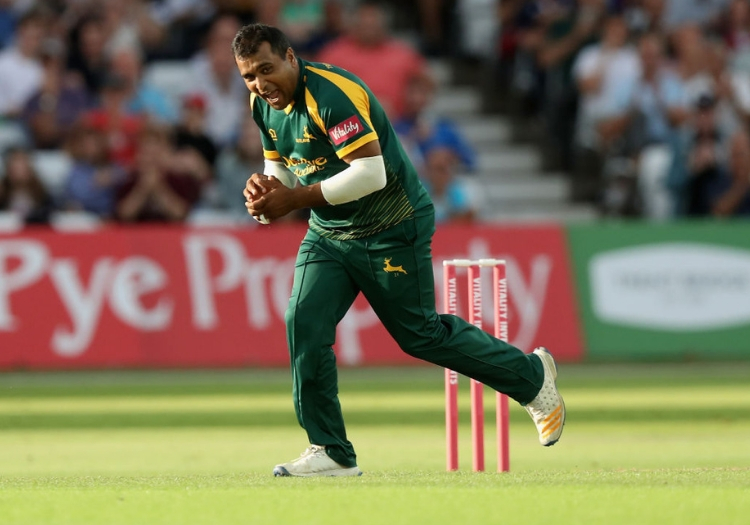 Samit Patel captained the North against the South at Trent Bridge
Samit Patel could claim to be the first tactical genius of 100-ball cricket – though his tongue was lodged slightly in his cheek – as he reflected on leading his side to victory in one of the first trial matches for The Hundred.
Patel was captaining the North in the first of two trial matches for the ECB's new competition held at Trent Bridge on Monday. There was another day of trials yesterday, and for women's players at Loughborough on Friday. More are to follow.
Patel's team were sliding to what seemed like a certain defeat, defending just 137 in those nice round 100 balls. South, with the towering Essex left-hander Paul Walter well set and hitting the young seamers around Trent Bridge, were breezing to the target on 66 without loss after 25 deliveries.
Then Patel called for the timeout synonymous with US sports and, more recently, the IPL (though not by motioning the T-sign, to avoid confusion with a call for a DRS review in a televised game).
Lo and behold, South subsided from 75 without loss off 35 balls shortly after the two-and-a-half-minute break, to 128 all out.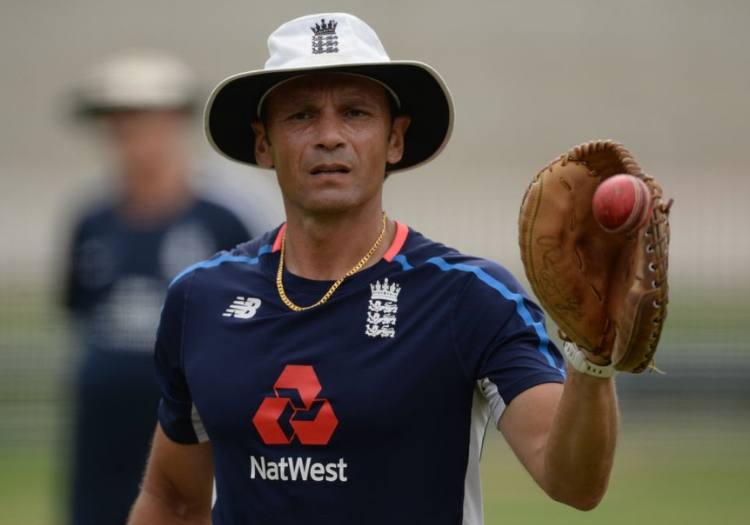 Mark Ramprakash was in attendance on Monday
Patel was asked about the words of wisdom he imparted in those 150 seconds to a bunch of county 2nd XI players and some recently released from their contracts, who were reportedly paid £100 a day for their time.
"Yeah, absolutely," quipped a grinning Patel afterwards. "Put it down to a momentum shift, we stopped their momentum.
"It was pretty much all on me. Ramps [Mark Ramprakash, coaching the North] said what he thought too.
"I thought we needed to bowl, if the bowler was comfortable with it, wide to the lefties, because they had two lefties in… to make sure they're hitting to the bigger side of the ground and bowl wide yorkers. If they hit it past third man for four or squirted it past point for four, it was fine for me. Tactically it's pretty much the same [as a T20 game]."
That, indeed, was the overriding feeling. ECB personnel circling round the boundary's edge were quick to leap on the apparent success of Patel's timeout. The Hundred has, after all, come in for widespread criticism from so many angles since it was first unveiled by the ECB in May.
Timeouts have been a staple of the IPL since its second season in 2009, though after much criticism – including from Sachin Tendulkar, who said it broke the batting side's momentum – it was cut from an initial period of seven and a half minutes to two and a half. Currently, IPL fielding teams can take theirs between the sixth and the ninth over; the batting side between the 13th and the 16th (though there are not set to be batting timeouts in The Hundred). It cannot be called mid-over.
To be frank, it is generally just another opportunity for an advert break, though Daryl Mitchell, the Professional Cricketers' Association chairman, who was playing here today, said one hope was that it would stop constant drinks-runners coming on.
Trent Woodhill, the Australian coach who the ECB have brought in as a consultant for this competition, has worked with Royal Challengers Bangalore and other franchise T20 outfits. Woodhill said that IPL captains were often seen motioning to the dugout, uncertain whether they or the coach should call timeout. That has led to the BCCI changing the rules in 2018 so that they can be called by the captain alone.
That was the case here, where captain Patel seemed to initiate it, rather than coach Ramprakash. That will please the purists who think on-field decisions should be made on the field; though fresh tactical input in a frantic game could potentially make for good cricket.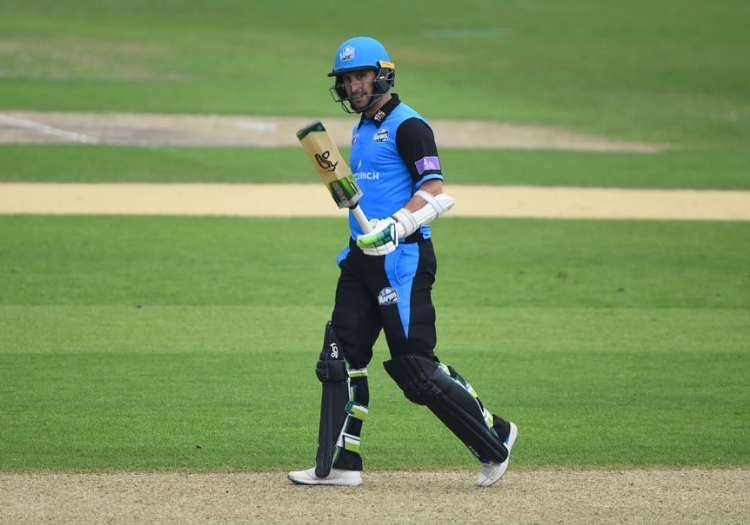 PCA chairman Daryl Mitchell took part in the trials
The other big decision for Patel was deciding when to opt for a straight set of 10 balls for a single bowler. Otherwise, it was five balls apiece, with ends switched after 10.
Patel gave 10 early on to Rob Sayer, an off-spinner who has had an eventful few days - he was released by Leicestershire just this week - from the Radcliffe Road End. With Walter hitting hard to the short square boundary on the western side, it went for 21. But Sayer came back for two more batches of five and claimed four wickets, including Walter for 40 off 24 balls.
Who should make the decision to use the 10-ball option: the captain alone – or consult the bowler to see if he's had enough?
Patel said: "Spinners-wise, I judge it [myself] because I'm a spinner, but seamers-wise, I never know their body and if they want to have a breather for five balls, longer runs-ups, this kind of stuff. You've basically just got to put it in the seamer and see how they go."
That was one of the points, made a while back by Mitchell. Is it realistic for Tymal Mills – with his run-up and exertion of energy – to bowl 10 balls in a row without risking damage to his body? Surely the last thing The Hundred should be doing is hurting the cause of genuine fast bowling.
It was an easier decision for Patel today: "It just depends if we're going well or not. If a spinner's on and he's looking threatening then we keep him on for 10 balls. And obviously it was a pretty tired wicket and we had a lot of spinners in our team. The difference will be when you get in on a good wicket and you don't have many spinners – because normally in a T20 game you have three spinners max... OK, Lancashire have had four in some games, but most counties would have three."
But if a batsman was to hit six off the last ball of the over – which is the fifth, remember – Patel said he would change his opinion.
"I think I'd change the bowler if that last ball went for six. I think you have to be like that, just to keep people's minds fresh. If that fifth ball goes for six, the rest of that over, or the next five balls, could change the momentum of the fixture."
Patel's overall feedback of playing 100-ball cricket was more favourable than he had envisaged, though he subscribed to the consensus among players that they might as well be playing T20. He said 100 balls was certainly much more similar to T20 than the T10 League in Sharjah – which is 10 rounds of six-ball overs.
"It was pretty good actually, it was different to what I was expecting. You don't feel any difference to a T20 game really. From a player's point of view, something similar to T20 is what we want. We're playing 20 balls less but there's not really much difference, to be honest.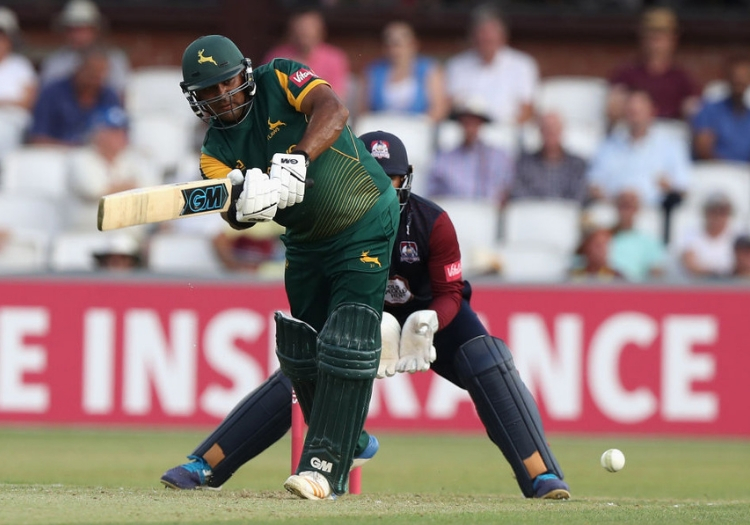 Patel gave his thoughts on the 100-ball format
"Yeah, I do [think we should be playing T20]. But we've been told to give it a crack. These trial games are just to see where we're at. I'm sure there will be different rules and regs that may come into it but, for this bit, I think it's been pretty good, to be honest."
It certainly does save time bowling two five-ball overs in a row from the same end before switching.
Patel said: "It did feel shorter timewise, actually. Especially bowling. I know I bowled a lot of spinners, the interesting fact would be when I have to bowl the seamers, and how much time we would have between overs, that kind of stuff.
"I can imagine [T10] is a lot more chaotic. Clearly a lot less balls in a shorter timeframe, everyone's coming in swinging. Everyone that we saw today didn't come in and swing straight away. I think in T10 cricket you need to come in and swing [the bat] from ball one."
Patel was also happier with sets of five and 10 balls, compared to the much-derided initial ECB plan of 15 six-ball overs then one mandatory death over of 10. Though he said that in future the scoreboards at the ground need to make the 100-ball countdown clearer.
Surely even the most sceptical of cricket followers can see that the 100 countdown is the big plus of The Hundred. It's just all the other contrivances it takes to achieve it - and the sense that cricketing considerations come secondary to commerce.