Ollie Rayner: A most relatable cricketer
SAM MORSHEAD: Middlesex's Ollie Rayner is caught between two generations, reared by a nineties lifestyle now all but defunct and left to play catch-up with the new breed of player - clean-living, weights-wielding, kale-crunching, tee-totalling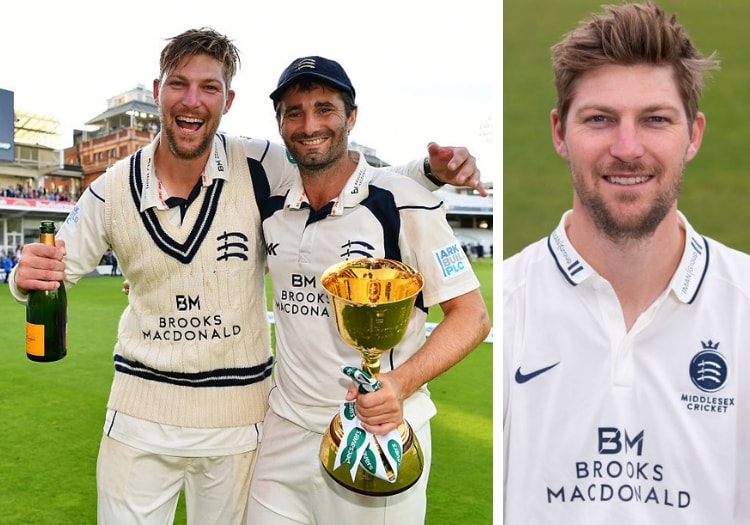 For those of us who can be found cramming excess bulk into lycra every other evening and browsing calorie-counting apps on morning commutes, Ollie Rayner is a mighty relatable cricketer.
Middlesex's offspinner is caught between two generations, reared by a nineties lifestyle now all but defunct and left to play catch-up with the new breed of player - clean-living, weights-wielding, kale-crunching, tee-totalling.
Rayner will never fit that mould, and that is not meant as a slight on his character. Quite the opposite, in fact.
Because Rayner's story - that of an overweight 30-something who reevaluated life and emerged a happier, healthier person - will resonate with anyone who has looked in the mirror and immediately downloaded Strava.
"I go to the gym so I can eat and drink, I don't eat and drink so I can perform in the gym," he tells The Cricketer, in a refreshingly candid conversation about food, alcohol, culture and cricket.
It is a very different mindset to many of his teammates.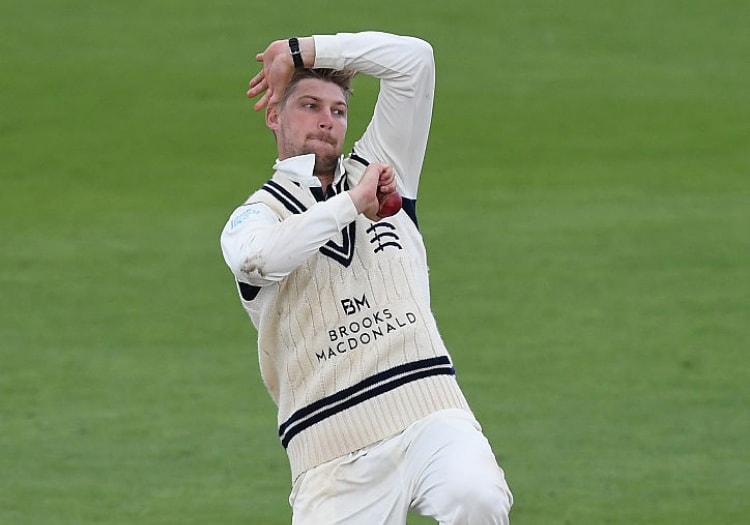 Ollie Rayner in action for Middlesex
"It seems addictive for these guys," he says. "As much as maybe you or I like to go down the pub and have a few pints, they're just as addicted to having a protein shake and going to the gym.
"Some people like to totally immerse themselves in the cricket, I need time away from that and take my mind off the job. My way of doing that is going down to the pub or having a nice meal somewhere."
Just a few short years ago, Rayner took a dimmer view of gymwork and nutrition. By his own admission, he did not look after his body properly and that ultimately resulted in a knee injury - the first major medical issue of his career - which derailed him for the best part of two seasons.
"I always enjoyed my food and drink - that's how it was when I started," he says. "I've always been overweight but I wasn't really too concerned because my cricket was doing what it did. The minute that it started not doing that, I decided it was time to put it right."
The issue arose the season after Middlesex's 2016 title triumph, during which Rayner starred with 51 wickets at 23s. It was a sucker-punch.
"I handled it really badly at the start," he says of his reaction to the knee problem, which a series of injections failed to fix.
"It knocked me. It knocked my confidence and my performances started to dwindle."
Rayner shed 10 kilogrammes in the summer of 2017 through a combination of fasting and intensive work on the bike, a lifestyle shift sparked by a frank conversation with his wife of six years, and partner of 16, Beth.
"She sat me down a couple of years ago when I was really unhappy with my injury and performances. It had completely consumed me. It was really unlike me and Beth sat me down and basically nailed me," he says.
"I needed it. She shook me up and I tried to change my focus. It's hard not to feel sorry for yourself when you're not performing and you want to do better and you know you can't because of something external.
"To have someone throughout it all who is constant and solid has been really important. I often joke that if I hadn't met my wife I could be a star in the IPL or in a ditch. I'm pretty happy I've taken the middle road, had a solid county career and have a family. I'm very happy."
That dose of tough love left a lasting impression on Rayner, whose attitudes towards strength and conditioning work have changed markedly.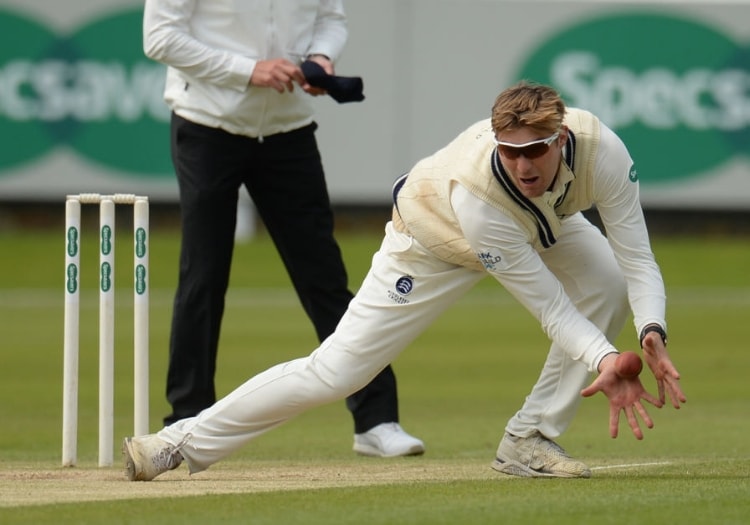 Rayner won the title with Middlesex in 2016
He still has his vices - "I enjoy a drink and the odd doughnut, but slightly more in moderation now" - but he is looking after himself in a way that the 28 or 29-year-old version of himself did not. And, in doing so, he is setting an example.
"I realised I want to have more longevity in the game," he says. "It's a lot more athletic and I don't want to get left behind.
"I'm still not a gym nut and I'm still not eating kale all the time but everything in moderation."
The Cricketer asks Rayner whether it would be a reasonable assessment to brand him as an intergenerational cricketer when it comes to outlook on fitness and diet.
"I think that's very fair to say, and it's purely circumstantial," he says. "I was brought up with Jason Lewry, Murray Goodwin and Chris Adams - very good cricketers who did their fitness but certainly enjoyed themselves in and around the game.
"The game has moved on and a lot of these guys are in a lot better condition than I was at their age. There were enough guys who were in a good condition when I was starting out, I just wasn't of them.
"We went on pre-season to South Africa a couple of seasons ago and it was all water and salads, and we were like 'hang on a minute, it's pre-season… have a few pints, play hard and work hard.
"Times are certainly changing and they need to. Twenty20 and limited-overs cricket dictates that. The athleticism you see is totally different to when I started knocking around as an 18-year-old."
The imminent arrival of his first child - the Rayners are expecting little'un in the very near future - has also given the spinner a new focus.
"I'm going to be very hands-on with it all. I think it will help me personally," he says.
"Over the last few years I've had a lot on my mind with my performances and my injuries and it's been quite selfish of me, really.
"Having a kid might just take my focus off other things and put things in perspective when I've had a bad day."
Don't ask Rayner for recommended reading on paternity, however.
"I'm more of a suck it and see kind of guy, and I find in today's society the more you read, the more you find wrong and the more there is to panic about.
"I know it's a bit of a medieval look at it but people have been doing this for a long time with far less resource than we have now… and the fact I don't read so well helps too.
"The boys always take the mick for me not reading. If Stephen Fry releases the audiobook I might give it a listen. I'm hoping my missus is going to be more switched on."
As he enters the final year of his current contract, with a family to support and a point to prove to an all-new coaching setup at Lord's, Rayner finds himself in a fragile position.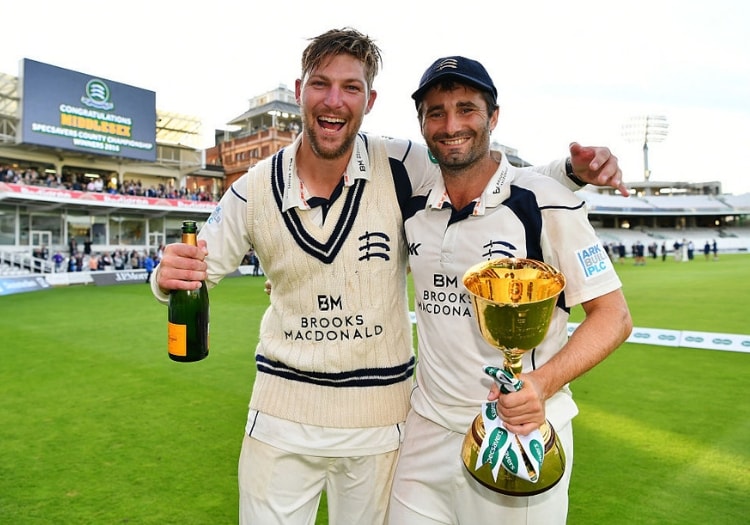 Rayner is looking to prove himself again this season
He has tried his hand at beyond-cricket sample workshops run by the PCA in an effort to prepare cricketers for life after their playing days have ended, without finding anything that particularly grabbed his attention.
Friends have told him he would fit seamlessly into a sales team, but Rayner is more inclined to go into coaching - he has spent time teaching the kids at Harrow School in recent months.
So plenty is still up in the air, which might feel a little precarious.
Physically and mentally, though, Rayner is in the best shape of the past three seasons.
"You can't get too uptight with it otherwise it's going to go the other way. You have to free yourself up and try to enjoy the game," he says.
"The decision is taken out of my hands a little bit. If I do well, it'll help, but ultimately someone else has to make the decision not me. How will they see the side going in the next three years? Who are they trying to bring through?
"If I don't get another contract I'll be absolutely mortified, of course, but I'll have to go out and find something else and that's exciting in itself.
"At the moment I'm doing the EuroMillions every other week and I'm buying the Lotto on a direct debit."
Please ensure all fields are completed before submitting your comment!