THE GOOGLY: Enough about Nish Kumar, let's talk about Sam Alderson
HUW TURBERVILL: Stormy Lord's Taverners Christmas lunch should not detract from the work the charity does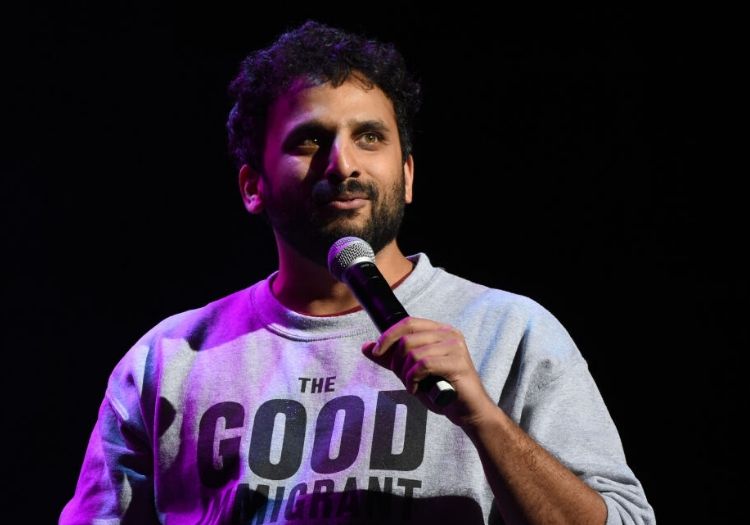 It is fair to say there has never been a Lord's Taverners lunch quite like it.
If you have not heard of them, they are a youth cricket and disability sports charity, "dedicated to giving disadvantaged and disabled young people a sporting chance". They have raised £4m in the last year, helping 12,000 youngsters.
This was their Christmas lunch, at London's Grosvenor House hotel, and it had all started so well. We'd pulled our crackers, were wearing our paper hats, and everyone was having a good time.
Harry Redknapp went up on stage and shared some funny anecdotes with Jacqui Oatley; about Sir Alex Ferguson, Peter Crouch and Yakubu (OK it wasn't much to do with cricket, but it was entertaining).
Then we heard uplifting stories about the Taverners. The inspirational Sam Alderson came on (more of him later).
And then we had Nish Kumar. You may have read about it. If not, which planet have you been living on?
I wasn't overly familiar with the comedian's material. I have not seen The Mash Report. By reputation, I was expecting some Brexit and Boris Johnson jokes. I certainly didn't expect them to provoke the reaction they did though.
Mr Kumar was not paid for his time, so that was good of him. He was booked for a 20-minute set. He lasted 16. The compère politely persuaded him to leave the stage, rather like Graham Gooch did to Chris Broad at Lahore in 1987 when he was given out caught behind off Iqbal Qasim.
Kumar was adamant he was not going to walk. No one had ever driven him offstage before, he said. He wondered if people should donate more so "they could afford some right-wing comedians" instead. Alas, like Broad, he eventually had no choice. The raffle was about to start.
The first 10 minutes had been OK. About how he did a stand-up routine in a church. And a joke about sitting next to Robert Powell. Then he turned to politics. There was some nonsense about 'not being alive in the second world war', and the Luftwaffe. Or something.
There was one comment (not sure I could call it a joke as such: it bore no resemblance to anything I have ever considered a joke before, and it did not seem to have a punchline) about how Brexit hadn't happened because the people in charge of it were incompetent. He also said Johnson had been sacked from every job he'd had (sic – he did the full eight years as London Mayor for starters) and... wait for it... "now he was PM!"
When a few people started slow-hand clapping," he said "they were behaving like p****s."
The whole routine didn't make me laugh much. But I didn't boo. I certainly didn't throw the bread roll (my arm went a couple of years ago anyhow, so I struggle to reach the keeper).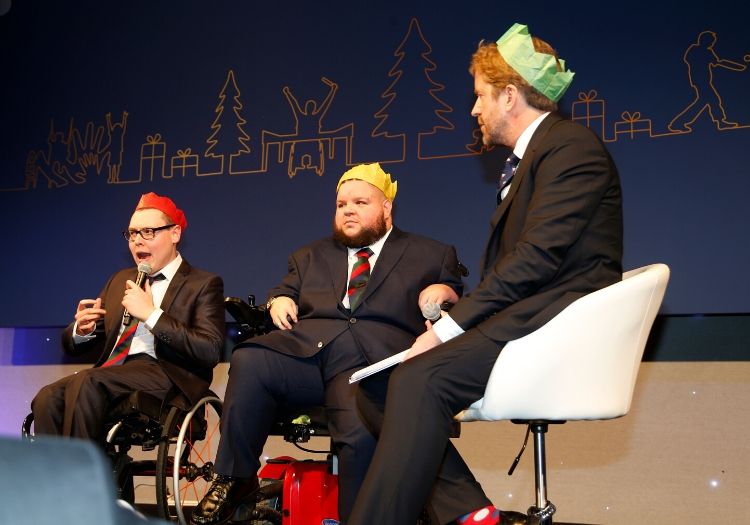 Marcus Buckland (right) leads a Q&A with Bradley Donovan (left) and Sam Alderson (centre)
I was in the majority – content to sit out the 20 minutes. Finish the pot of coffee. Chat to my friend. I am sure only a few tables booed and heckled, out of 1,000 guests.
I can assume what most people were thinking. It was a Christmas lunch. Raising money to help youngsters, many of whom are disabled, get exposure to cricket. It cost about £170 a head. Those who had voted Brexit, or intend to vote for the Prime Minister, did not want to be insulted at such an occasion. They wanted a few jokes. Not an unreasonable request to a comedian. They are probably sick of the election and want it over.
If Kumar mentioned cricket, I cannot recall it (it was becoming noisy by then). Did he play himself, I wonder? I'd like to have known...
He was on a table with Miles Jupp, who I have interviewed for The Cricketer. A really funny man: he wrote a book, Fibber in the Heat, about how he'd pretended to be a member of Her Majesty's cricket press corp on the England tour to India in 2005/06. He would have been good, talking about that. Ditto Chris Addison (were there any cricket fans on the set of The Thick Of It?), and the brilliant Robert Bathurst (Cold Feet, Dad's Army, Hattie etc). All were friendly when I spoke to them.
Radio 1 presenter and cricket fanatic Greg James then took the stage and lambasted the hecklers and boo boys (and girls?). He is a good guy, and he was right. It had been discourteous. Throwing the bread roll was not on. But he used the F word. Again, it wasn't the time and the place for it. Shame. There were hundreds of people there who didn't deserve to hear it. Didn't deserve to be sworn at (I daresay someone on Twitter will now ask me: 'Am I all right, Hun?').
Then we all made our excuses and left.
"The compère politely persuaded him to leave the stage, rather like Graham Gooch did to Chris Broad at Lahore in 1987 when he was given out caught behind off Iqbal Qasim"


It took a while for the world to catch on. A few hours later there was one tweet about it by an attendee. It was noticed however, and stories soon appeared on the Mail and the Telegraph websites.
And then Twitter lit up. And we had to contend for the next 36 hours with the type of nonsense – from both sides – that has become a regular staple of life since the 2016 EU referendum: 'snowflakes v gammons'.
Excuse me for joining the Sybil Fawlty school of the bleeding obvious. But this is a great shame if it detracts from the great work the Taverners do (the lunch alone raised £160,000)… a point Kumar himself made, to be fair.
Take the case of Alderson, 28, from Bexley, south-east London. He has a rare genetic condition called thrombocytopenia-absent radius syndrome, which means he has a blood disorder that disrupts clotting. He does not have a radius bone in either forearm. He is in a wheelchair. But he loves his cricket. He is a spinner, gives it a real rip. He is now coaching – level 2 so far. He is so into the Tavs' Super 1s coaching programme that he has had the logo tattooed on his arm. His Q&A with host Marcus Buckland was funny, honest and uplifting.
Super 1s is being delivered in all 32 London boroughs and is now spreading around the country. The idea is to develop the physical and mental well-being of players, help them make friends and engage with positive role models, and provide an environment for competition among peers.
This lunch was about Alderson. And the Taverners. And how they develop independence, confidence, leadership and communication skills in thousands of youngsters.
It wasn't about Nish Kumar. Or the person who chucked a bread roll at him.
Do not let this unseemly episode detract from the work the Taverners do. Please.
To find out more about Super 1s, the work of the Lord's Taverners, or to make a donation, visit lordstaverners.org
Opinion
|
1Banner
|
Please ensure all fields are completed before submitting your comment!