Denly gives England scant encouragement during dismal defeat... TEST MATCH TALKING POINTS
England were comfortably beaten by New Zealand on day five at Bay Oval. SAM MORSHEAD takes a look at some of the key topics of discussion which emerged...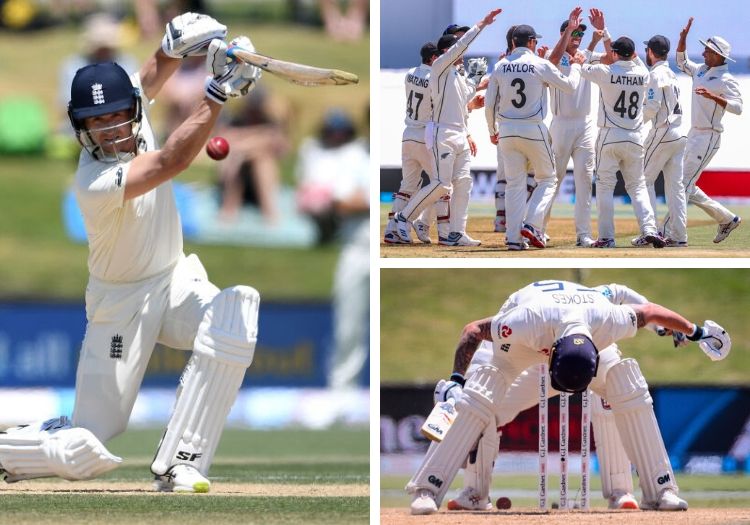 Oh Joe
Joe Root will have been hoping for a much, much better start to his Test winter.
In both his roles - as captain and lynchpin batsman - Root fell well short in Tauranga.
His use of his seamers was peculiar at times, he came close to overbowling his spearhead Jofra Archer and he gave his wicket away twice.
The two dismissals were similar - going back, bat dangling like an angler's line in the wind, the ball ending up safe in the hands of Kiwi fielders behind square.
In the second innings, he was caught in two minds trying to play a Colin de Grandhomme bouncer and could only divert catching practice to Tom Latham in the gully.
Root is so far from his fluent best. No longer is he playing the ball under his eyes, his trigger movement lacks its necessary conviction, and lately his shot selection has been worse than that of a prohibition nightclub.
Form is of course temporary, and Root's career record is very hard to argue against, yet in 2019 he has encountered the biggest rut of his international career (he averages 27.40 in Tests this calendar year).
With his dismissal on Monday, Root's average as England captain dropped below 40 for the first time. That makes for uncomfortable reading by itself; when you learn that in that time only Ben Foakes (41.5) averages more, the team-wide issue becomes even clearer.
Hamilton is taking on increasing importance.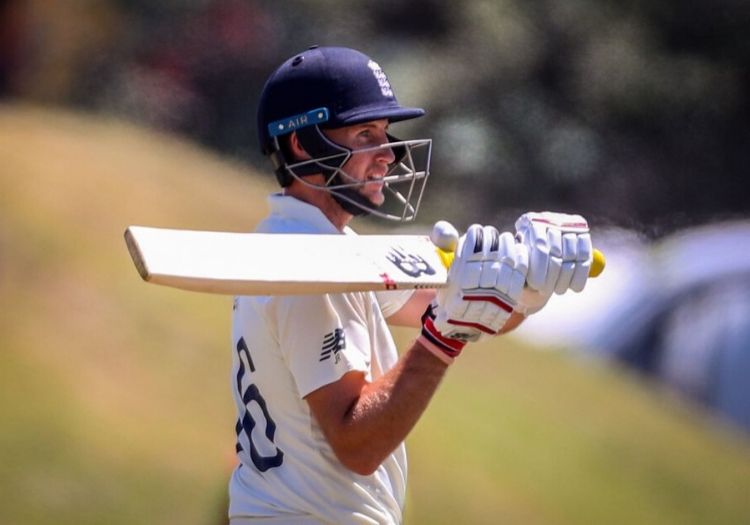 Joe Root was dismissed cheaply once again
Boult from the blue
New Zealand's cause on day five was hampered by the absence of Trent Boult for the vast majority of the first session.
Boult - who has a lethal fifth-day Test average of less than 17 over the course of his career - bowled just one over before heading off the field for treatment.
He had earlier required attention from the Kiwi physiotherapist during the warm-up, and New Zealand later confirmed he was suffering pain below his right ribs.
The problem piled extra work on the three remaining members of the Blackcaps' seam arsenal - Tim Southee, Neil Wagner and Colin de Grandhomme; hardly ideal as the hosts looked for sharp bursts to create wicket-taking chances.
But the dilemma extends beyond this match for Boult and New Zealand.
With the second Test of this two-game series coming up on Friday, there is not a great deal of time for him to recover. Lockie Ferguson will be winding his arm up in preparation.
Determined Denly
If England can take one major positive out of this hugely disappointing Test match, it is the continued form of Joe Denly.
The Kent batsman's place in this squad has been questioned since he first got a call-up last winter, seemingly off the back of runs in white-ball cricket.
Yet, since the middle of the Ashes series, he has been critical to England's chances.
He played a major, and quite underrated role during the remarkable, Ben Stokes-led chase at Headingley; he made a bullish 94, having just become a new dad, at The Oval; he anchored the first innings here with a composed 74; and he was the man who showed the most application in the attempt to save the match.
And all while being asked to be the team's batting plug as an opener, three and in the middle order.
Denly has now faced in excess of 100 balls in five of his last seven Test knocks (and an impressive total of 857 in total in that time).
Here, he was unafraid to take on Neil Wagner's short ball in the first innings, and was observant against New Zealand's variations second time around. He played the game situation well and did not look flustered at any time.
His was one reputation enhanced rather than diminished by England's week in the shadow of Mount Maunganui.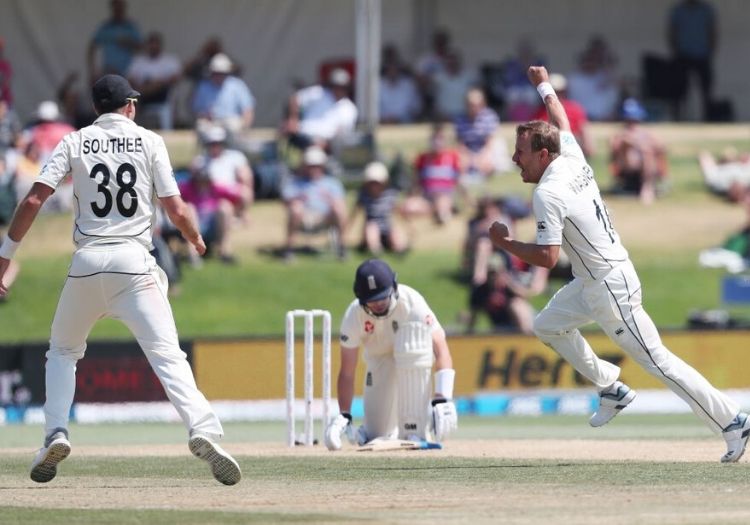 Ollie Pope played a poor shot to be dismissed on Monday
Pope's problems
Anyone who has watched Ollie Pope play for Surrey will speak of a compact, intelligent cricketer, unlikely to gift his wicket away in first-class cricket.
His record for his county speaks volumes - a whopping average pushing 60 and eight centuries in 44 innings is not born out of a carefree attitude at the crease.
Yet, in England whites, Pope has been a fraction of that player.
In both innings at Bay Oval he was out driving at wide deliveries which could easily have been left alone.
The dismissal in the second, leaning haphazardly on one knee towards a full toss, was particularly ugly.
England must stick with Pope, who has all the signs of a generational talent, but this will not have given either the selectors - or those fans who have seen little of him in action - much encouragement.
Beautiful Bay Oval
The Bay Oval is Test cricket's 120th venue and it has provided quite the backdrop over the past five days.
Not that far away, in Brisbane's Gabba, crowds of 13,000 for Australia's clash with Pakistan were utterly consumed by the concrete enormity of a stadium that is far too big for that purpose.
More people were present there than at Bay Oval, but you would never have known. Low-lying stands and grass banks offered a much more informal atmosphere for fans - and presented a much better perspective of the sport for TV audiences.
With the docklands and the beautiful Mount Maunganui adding to the local scenery, the Tauranga venue was picture-perfect. Surely it won't be long before Test cricket returns.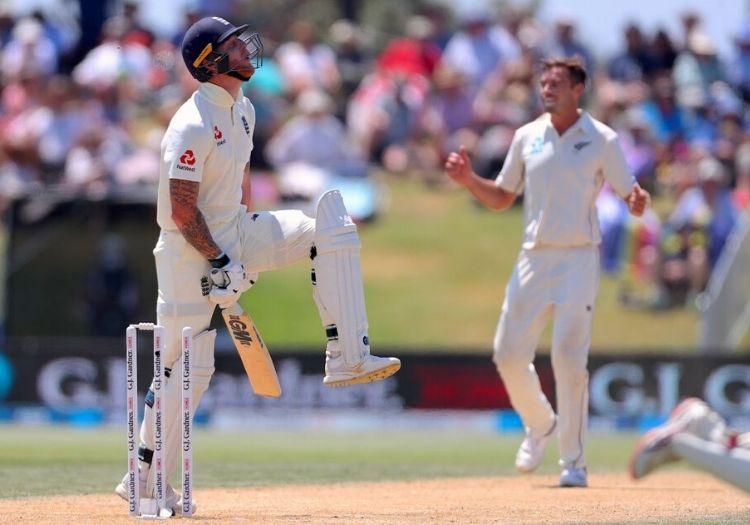 Ben Stokes could not hang around
A great example
New Zealand Cricket could easily have charged a fair whack for entry on the final day of this Test, with a good chance of three full sessions prior to the start of play.
They resisted, and how - throwing the gates open for free for anyone who wanted to head down to Bay Oval on Monday morning and watch the Blackcaps attempt to get the job done.
It is proactive decision-making like this that will benefit the sport as a whole as it competes for attention, rather than relentless focus on profit margins.
Well batted, Kiwis.
Subscribe to The Cricketer this Christmas and receive a £20 John Lewis voucher or Alastair Cook's autobiography. Claim your free gift here
Testing
|
New Zealand
|
England match centre
|
England
|
1Banner
|
Please ensure all fields are completed before submitting your comment!