Good to talk? Naomi Osaka stance reminiscent of Mike Atherton and Duncan Fletcher
HUW TURBERVILL: One moment you're enjoying life on tour, the next you're scrolling through the social media history of your athletes - the job of the average press officer is constantly changing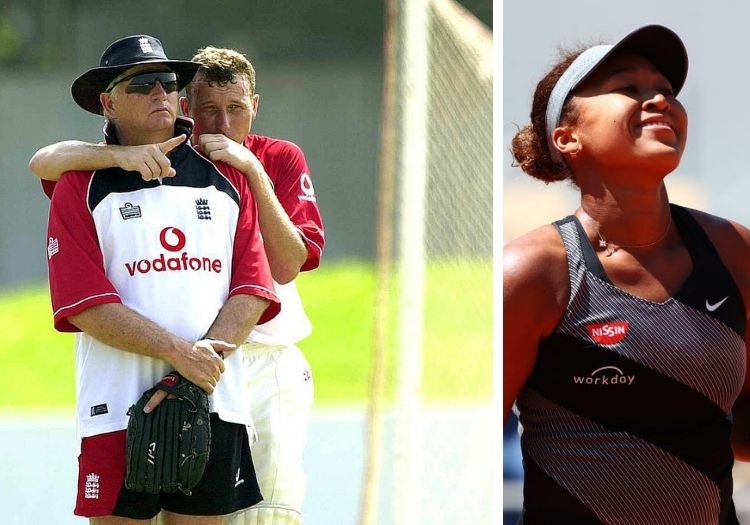 Tennis ace Naomi Osaka's decision to keep schtum – and no longer do press conferences – brings to mind a debate I used to have with my mother.
When Mike Atherton was England captain, he was not known for giving away lots to journalists. The worst example of that was when he called a reporter in Pakistan "a buffoon" in 1996 (he apologised). As an aspiring member of the Fourth Estate myself, I thought that – on balance – this was poor form.
Mum thought it was commendable, however: "Why should he say anything? It's his job to lead the England team, not give reporters stories."
It used to make some cricket writers cross, and they said that they wouldn't talk to him when he entered the press box on a full-time basis. When Atherton went from poacher to gamekeeper, he appeared to make the transition in unduly comfortable fashion, and of course, that threat to send him to Coventry turned out to be hot air.
For all of my 27 years of cricket writing I have been on this same side of the fence, but I often wonder what it would be like to be a press officer or spin doctor.
Their job – as I see it – is to try to coax writers into saying nice things about their teams. They want publicity for them and their sport. To encourage people to watch, either on TV or in person. To buy merchandise. And so on.
There are some sports, like boxing and its trash talk, where that is integral – the pre-fight press conferences are often more dramatic than the actual bout, for instance.
As to how proactive press officers are is down to them, I guess. I have known ECB media departments, for example, who never question a word you write; and others who are quite critical. Sensitive even.
When I was starting out as a writer covering England, there were two fascinating case studies for this subject.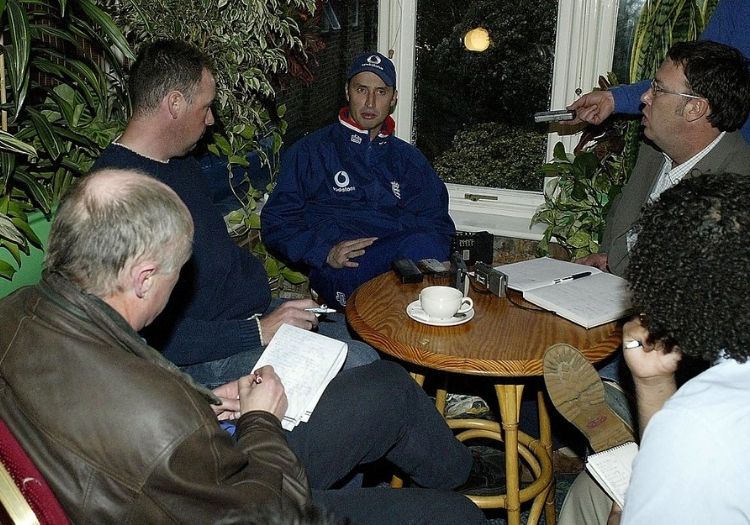 Nasser Hussain had a genial relationship with the press during his spell as England captain
The first was Duncan Fletcher. To my mind, he has been England's best coach, just about pipping Micky Stewart. The home win over West Indies in 2000, followed by one of England's finest winters, 2000-01 and the triumphs in Pakistan and then Sri Lanka, and of course the Ashes of 2005, were majestic highs.
Most of the players, albeit more the batters than the bowlers, speak highly of Fletcher's methods. He did not say much to the media, though, only to a selected few like Steve James, who he coached at Glamorgan, and Scyld Berry. He accompanied me on an excruciating perambulation of the picturesque Queenstown ground in New Zealand in 2001-02. I was hoping for his help in writing a piece about cricket in his native Zimbabwe, where England had just played five ODIs. Mistrust seeped from his every pore. I don't think he received the credit that he deserved from some of my colleagues, because of that reticence.
There was also the case of Jon Lewis, now England's bowling coach. He seems much happier these days, his work is being widely lauded; but when he broke into the team as a player in 2005, he didn't say much to the media. Writers said that although he was a redoubtable county performer with Gloucestershire, he did not have the pace for international cricket. I think Fletcher agreed with them. Lewis didn't appear to be happy at this.
I put myself in the shoes of the press officer. I think my advice would have been: "Give them something to write about. If you are annoyed that they think you don't have enough pace, win them over, tell them about your hobbies. Or that you have dreamt of winning an England cap since you were six. Or that your parents named you after Jonathan Agnew. Anything. Be cheerful. Control the narrative. Don't leave their notebooks empty, as that will antagonise them."
Mum would have disagreed, of course…
The cricket pack is pretty friendly, I think. I am told the tennis crew can be pretty full-on, though. It is male-dominated, some of the questions are often weirdly random, and can be quite aggressive. Remember Andy Murray becoming hacked off at the interrogation regarding his hip? There was also the mischievousness when he, a Scot, made an entirely justifiable joke about the England football team.
So you can see where Osaka is coming from.
There are those who insist that she has to talk to the media, that's part of her job; see Jeremy Clarkson in The Sunday Times of June 6. And others who say that her mental health is the only thing that matters.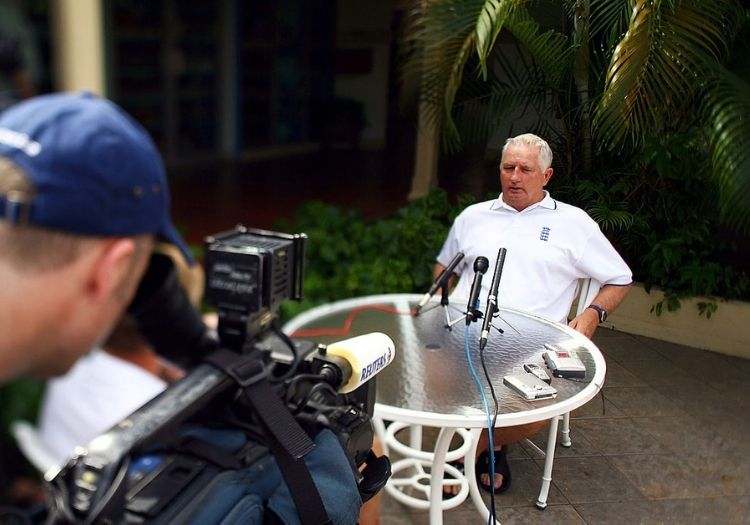 Duncan Fletcher rarely confided in members of the media
I put my theories to the test by contacting one of my best friends in journalism, Mel Henderson. The Scot left Edinburgh in the 1970s to become Ipswich Town's public relations officer. He timed it well, working with Sir Bobby Robson, who led the club to the FA Cup (1978) and the Uefa Cup (1981); they also pushed Liverpool hard in the league most years, finishing third, second and second between 1980 and 1982. Henderson wrote a funny book about that era called Mr John, based around the club's legendary chairman John Cobbold.
"In my time at Ipswich the players would regularly get together with the journos and they built up trust in that way, usually with copious amounts of alcohol fuelling the friendships," he said. "There was plenty of stuff that was overlooked and, frankly, brushed under the carpet, which was probably why the news guys were called in for the big events.
"There is something to be said for the argument that the last thing you want to do is leave the reporter with an empty notebook and when I sat in on interviews I often fed the press guys lines, before and during interviews, because I knew what they were after, while I knew not to raise a topic that might reflect badly on the player or the club.
"We made a big thing of Ipswich being the most hospitable club in the country – see Mr John – and I also fed some lines to Bobby at times, but he didn't really need a lot of help. He was press and PR savvy, hence his immense popularity, still, with just about every media outlet.
"If I'm honest my job was made a lot easier by several things – the club's success, and the willingness of just about everyone to provide interviews. I noticed a big difference when Robson gave way to Bobby Ferguson, whose first meeting with me saw him suggest that we banned the media from attending games. That became an item on the agenda for a board meeting that was dismissed in seconds without even being discussed.
"I should mention that Bobby regularly told journos he was really busy but would give them 20 minutes. Over an hour later they were still going strong and it was the journos who were looking to get away to catch a train back to London. There was also a joke in Fleet Street that Ipswich press passes should carry a health warning because of Mr John's notorious skills as a host!"
The famous saying about the club is that there was only ever a crisis when they ran out of whisky in the boardroom. As the club's fanzine is now called: Those Were The Days!
Of course, a new element has been introduced to the press officers' brief. In light of the Ollie Robinson-Twitter affair, critics are saying it was the England press officers' jobs to check what he had written in his past. Now a second player is under investigation.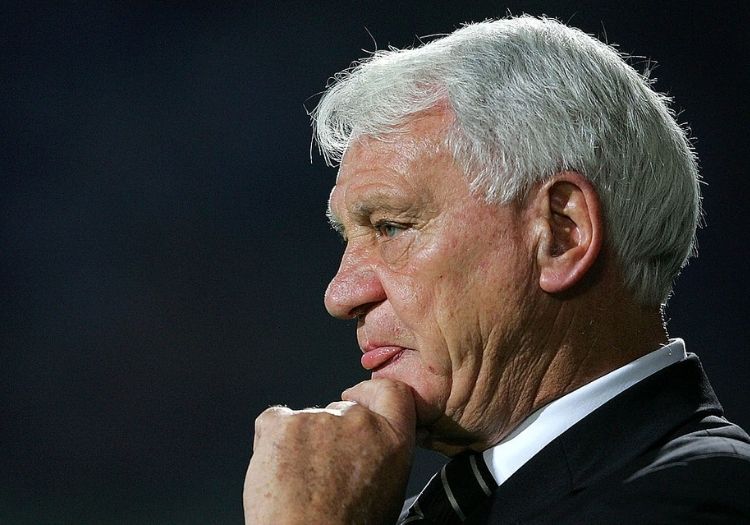 Sir Bobby Robson managed Ipswich Town between 1969 and 1982
My first thought was that it would be like looking for a needle in a haystack. There are glamorous aspects of being an England cricket team press officer, like staying in stunning hotels, watching cricket, knocking around with the greats and travelling the world, but that task definitely isn't one of them.
But if it must now be done, it must. Time rarely stands still.
In the 1970s, journos drank with the players.
In the 1980s, the tabloid news hacks ruined that.
In the 1990s, press officers controlled the message.
In the 2000s, Twitter removed that conduit, and sports stars conversed directly with the fans again.
Then press officers started controlling their clients' social media – see Joe Hart's disastrous congratulations to his Tottenham teammates after they had lost to Dinamo Zagreb in March.
Let's see what comes next.
Opinion
|
1Banner
|
Please ensure all fields are completed before submitting your comment!