My favourite No.11: Bunnies, bulldogs and bravado all feature in our writers' picks
The Analyst: Inside Cricket podcast is asking listeners to send in their stories of No.11s doing wonderful or wretched things. That inspired The Cricketer team to nominate the jacks of the pack who have a special place in our writers' hearts...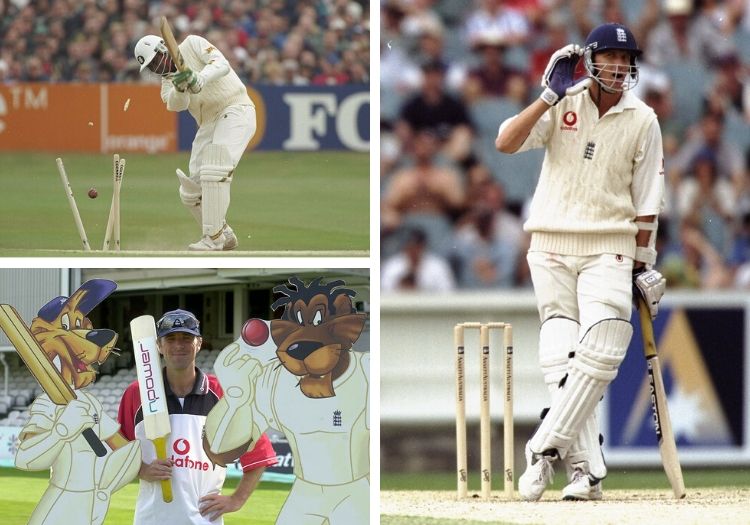 My scariest moment in cricket: Our team relive their nerve-shredding memories
HUW TURBERVILL - DIVINE DEVON
It's always stunned me how terrible some professional No.11s are – how can you be so inept when you have been around a cricket environment for that many decades? Malcolm Gladwell's 10,000 hours of practice to make perfect applies to their bowling, of course, but even so…
I was tempted to go for the gloriously dire New Zealander Chris Martin, and his Aero bat – so fitting because, like the chocolate bar, it might as well have had holes in it.
Devon Malcolm wins my vote instead, though.
He was tremendous value.
He used to get his feet in a terrible tangle – watch his dismissal as the clinching wicket in Shane Warne's hat-trick in the 1994/95 Ashes Test at the MCG.
When he did connect he hit a long ball, though.
I had the pleasure to be there for his Test-best, 29, in the first innings of the next match, at the SCG.
Warne was summoned to see him off again. A tremendous inside-out drive along the ground through extra cover stunned everyone, however, then two huge slogs over midwicket and long-on left the great leggie utterly bemused.
The innings caused Australia maximum irritation but it gave the crowd maximum entertainment.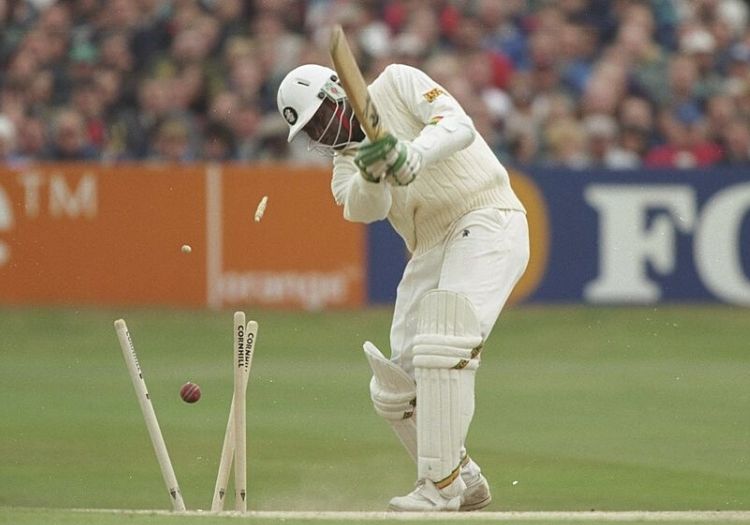 Devon Malcolm has his stumps rearranged in 1985
SAM MORSHEAD - A TAIL OF NO.11s
Why have one, when I can have three... all in the same match.
In 1999, England fielded perhaps the most eye-catchingly terrible tail you will ever likely see in Test cricket.
That Alan Mullally (first-class career average: 8.59) batted at No.9 for his country in that match against New Zealand is a true Twilight Zone moment of English cricket.
Then followed Phil Tufnell, who by my back-of-a-fag-packed calculations averaged more cigarettes than runs per innings, and Ed Giddins - so abject with bat in hand his own county supporters took to lovingly nicknaming him 'Ed the Duck'.
That they were, in some loose sense, supposed to be their country's last line of defence in that particular Test match, gave off tremenous echoes of Dad's Army. Hapless misfits flailing about in a field, totally ill-prepared for attack.
England lost by 83 runs. There was something quite beautiful in the episode's absurdity.
NICK FRIEND - ASHES HEROICS
Simon Jones' exploits at Edgbaston in 2005 were everything and more that you'd want from your No.11. Across two innings of varying significance, he added 29 unbeaten runs.
In the first, he slapped Jason Gillespie over mid-off for six at the end of a day that had begun with Ricky Ponting's infamous faux pas at the coin toss and by the close had descended into a carnival. When Jones had come to the crease, four England batsmen had already cleared the ropes nine times between them – Marcus Trescothick the first, Steve Harmison the fourth. It was left to Jones to add the 10th of the day.
Second time around, the state of play was fraught with greater danger. You all know the story, but Michael Vaughan's were in danger of chucking away a fairly handy first innings advantage. They were 131 for 9 when Jones strode to the crease to join Andrew Flintoff; the pair added 51, with the Welshman adding three boundaries of his own to Flintoff's oft-feted display of thwacking.
England added 83 runs in the match with Jones at the crease – a game-winning contribution of the least likely sort.
Special mentions, too, for Trent Boult – services to innovation; Chris Martin – extraordinary, beguiling consistency; Monty Panesar – genuinely had a technically sound setup, but managed to miss so many balls; Steve Harmison – sharing Jones' defiant recklessness; Tino Best – splendidly daring; Nuwan Pradeep – the worst Test dismissal I've ever seen; Graham Onions – Jack Leach before there was Jack Leach, but without the tuck off the hip; Leach – for Test cricket's greatest single.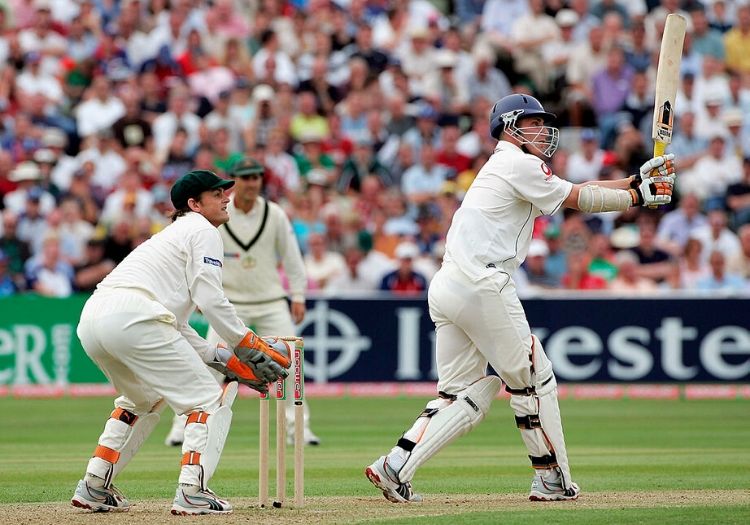 Simon Jones has a dart at Australia in 2005
OWEN RILEY - THE ANGEL, GABRIEL
The more cavalier the better is the simple equation with No.11s. Don't pretend you are something you are not. I don't want to see technique and temperament from them, I want to see reckless abandon and a level of mickey-taking. Think Courtney Walsh's extravagant leaves.
Who wants to see someone bunting leather around for three deliveries then being smashed plumb in front? Go out swinging as if it's the last time you'll ever hold a bat.
Think Jimmy Anderson carting Kagiso Rabada for six at Lord's, Stuart Broad and Mark Wood slapping it to all parts of Johannesburg in January.
No.11s - in nearly all circumstances - should replicate a rogue uncle who has had too much Pimm's at a family barbecue. He's clearly not a sportsman but he's throwing caution to the wind and before you know it he's smashed a shuttlecock into your grandma's eye socket. Not always pretty but certainly memorable.
Breaking my own rule; if we are talking last-ditch, match-saving situations, I'll forgive a more restrained approach. But try telling Shannon Gabriel that. He has done more for the 'No.11s are loose cannons' movement than most.
JIM HINDSON - FAST STARTER
Kevin Cooper – Nottinghamshire CCC in 1980s.
The curly haired swing bowler was better known for bowling the other end to Richard Hadlee. He profited from both his accuracy and the oppo's tendency to have a swing at Coops to get 'what they could' before another grilling by the Kiwi but…it was Cooper's batting that had me transfixed.
His average of 10 in first-class cricket simply did not do justice to the aura created when he came to the crease. A tall left hander, using a Gunn & Moore bat with a unique red grip, he would play his shots from the off.
His flails through the off-side were greeted with hands on hips by the fielders, with point and cover wearily staring each other out at the end of the day, to decide who would collect the ball. Cooper would walk down the pitch, prod and then resume. Lock and loaded to swing once again.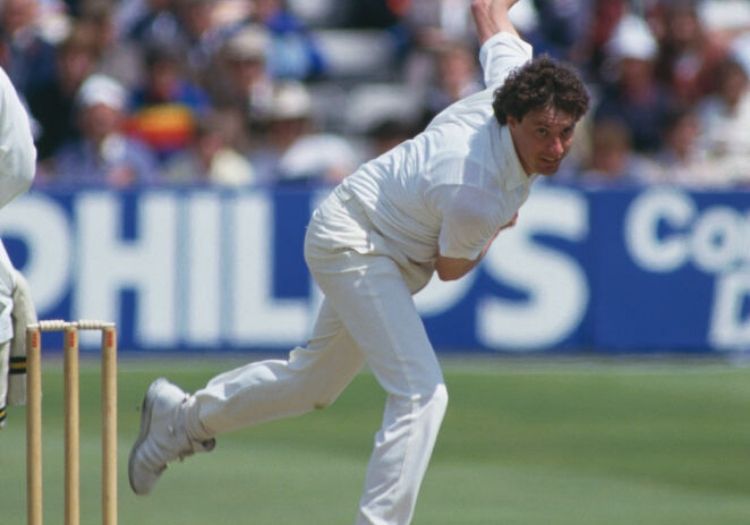 Kevin Cooper in his stronger suit, bowling
THOMAS BLOW
This should not even be up for debate. When Jack Leach came to the crease at Headingley last summer, all hope had been lost. But his over-my-dead-body, Australian-esque attitude, which has helped him overcome so many challenges during his career, defied the Aussies and kept English hopes alive for a little while longer.
What is most interesting about Leach is that he is actually quite a good batsman. His record might not seem great on paper, but as Rob Key always says – stats are for prats.
Leach showed against Ireland that all those years working with Marcus Trescothick at Somerset have helped him develop a very nice, simple technique that should serve him well during his blossoming international career. After all, England will probably need him to save the day again in years to come.
ED KRARUP
For me it's Ashton Agar. Perhaps not the most creative choice but the way he came out on debut as a teenager, and as a late call up, and biffed it about was superb.
He played some proper shots too. I was genuinely heartbroken when he shelled out just shy of three figures. But the fact that he tried to reach a ton in that manner, instead of doing it in singles, was ballsy. I respect that.
His little shrug as he walked off the field resonated with me. He wasn't going to head back to the dressing room and throw his kit about, angry he was two runs short of a century. He had just had a bloody good time out there and kept his country in the game.
The Analyst: Inside Cricket podcast is asking for your favourite tales from No.11.
Did you witness an incredible rearguard resistance? Were you part of a last-wicket stand that won a match against the odds?
Or do you want to nominate a truly dreadful jack of the pack for special mention? Email simon.hughes@thecricketer.com or comment below and have your story read out on the next episode.
Testing
|
Features
|
1Banner
|
Please ensure all fields are completed before submitting your comment!