The final that ended an era: List A cricket's goodbye to Lord's leaves bitter taste
SAM MORSHEAD AT LORD'S: Those at the top of the game bark about fears for county cricket's future yet allow it to become so peripheral it's now at risk of being seen only by parrots and owls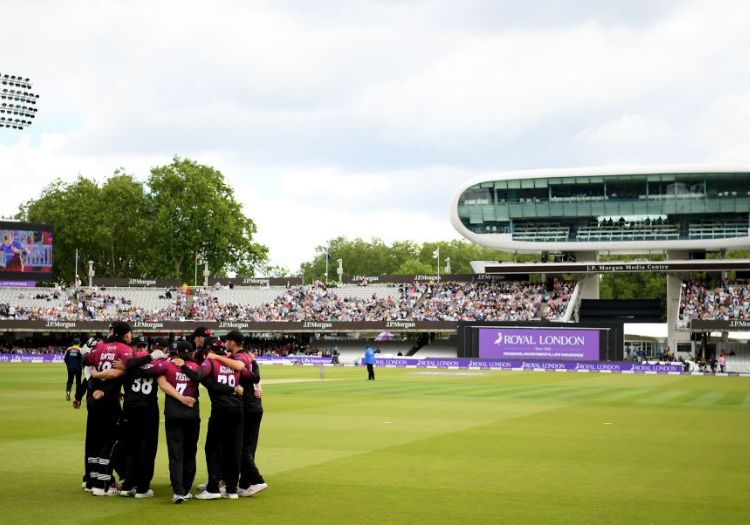 Lord's: Hampshire 244-8, Somerset 245-4 - Somerset won by six wickets
Lord's was bathed in sunshine, but it was impossible to avoid the lingering cloud of the governing body's own creation.
This was the major List A occasion in English cricket's domestic calendar, yet somehow it had become a tribute act to its own significance.
Just down the road at The Oval, India and New Zealand were squaring off in a World Cup warm-up, and in Hampshire's own back garden, of all places, England were facing Australia.
It's still not quite clear who bears the most responsibility for the skew-eyed scheduling which left Hampshire headlining a domestic final while their own ground was being used for a game of, rightly or wrongly, more substantial billing, but between them the ICC and ECB had cackhandedly conspired to turn what used to be a national showpiece into an afterthought.
When Somerset last won a trophy at Lord's, in 2001, their victory over Leicestershire was screened live in its entirety on Channel 4.
Today, even behind a paywall on a channel designated for cricket, the fairytale story of county stalwart James Hildreth hitting the winning runs to claim his side's first trophy in 14 years had to compete with the best English white-ball side of all time taking on their arch rivals five days out from the World Cup.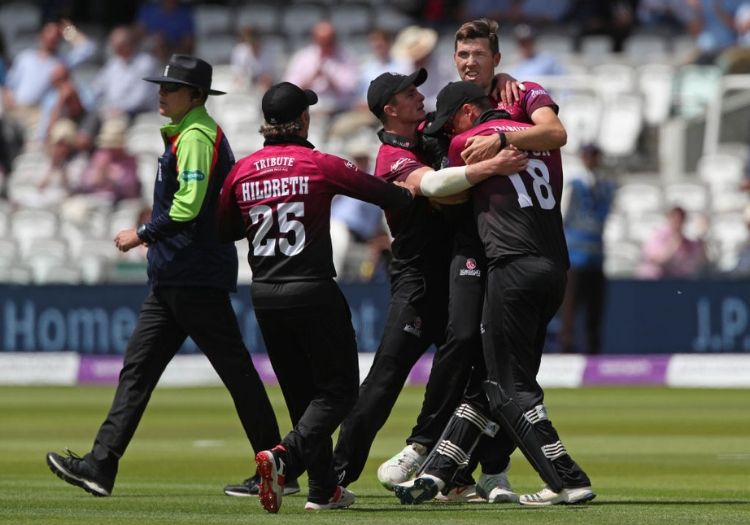 Somerset's players celebrate a wicket
The men and women at the top of the game bark about their fears for county cricket's future yet willingly allow the domestic structure to become so peripheral it's now at risk of being seen only by parrots and owls, or via a convoluted system of mirrors.
This lack of care is not an isolated incident; it was evident with the huge decrease in weekend county cricket in the initial 2019 schedule, it is evident in the disregard for existing supporters when it comes to the rhetoric around The Hundred, it is evident in the degrading of List A cricket to "developmental" to make way for the ECB's bold new beast in 2020.
Cricket fans in England and Wales are uncomfortable with the way the competitions they love are being manhandled; pushed about the board like pawns. Most feel frustrated, many feel angry, just about all of them feel ignored, and being here for the Home of Cricket's last List A final for the foreseeable future only went to underline those emotions.
That Hampshire were without two of their most important players as a direct result of the fixture clash also emphasised the point.
James Vince had scored 509 runs in the competition to guide his team to the final; he is also the club captain, by the way. Liam Dawson had taken 18 wickets and added 274 runs with the bat.
After both were called into England's World Cup squad, ICC regulations made them unavailable for their county during a timeframe quite ironically named "the support period".
Hampshire and the ECB lobbied the global governing body to allow special dispensation for the pair to play but it was denied - a decision which will have come as some relief to England, given their players have been melting in the gentle heat of early summer.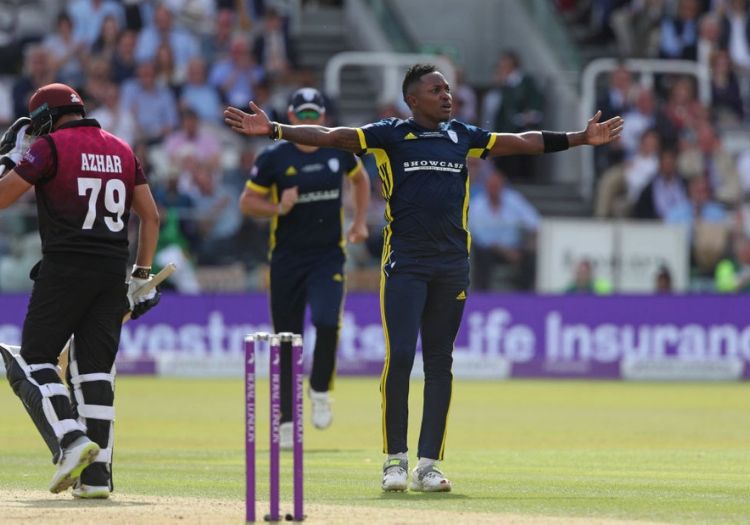 Fidel Edwards impressed for Hampshire
Still, that will have been of scant consolation for Hampshire, particularly when their top order struggled through quicksand against the new ball, and when they needed Dawson's reliable left-arm control as Tom Banton and Azhar Ali sprang from their traps. Banton's quite a player, more on that elsewhere. And for at least the next decade.
At best, the administrative process which led to such a scenario is clumsy. At worst, it is callous. Either way, it does not reflect well on those entrusted with the wellbeing of the sport in this country.
Organisers did their best to fill stands in the run-up to this final. PR agencies pushed interviews with competing players to the national press in an effort to remind the cricketing public that tickets were indeed still available, while Lord's social media accounts pumped that same message out late into the night on Friday.
In the end, the ground was around half full - an attendance just below 16,000 (11,500 turned up for England's warm-up in Southampton), with good representations from both clubs at the beginning of a summer during which fans are being expected to spend much more on the game than they ordinarily might.
The Somerset faithful had boarded coaches in Taunton at around 6am to make the trek - half-a-dozen travelling up the M5 and M4 in convoy. They had drunk the Nursery Ground bars dry of cider by 5pm and were singing their hearts out in the Edrich Stand for a good hour as the moment of victory approached.
Prior to that, the Lord's hum had still been there, albeit diluted by several blocks of the Tavern Stand being closed off, and there was excitement in the air. But everyone was distinctly aware of the wider theme of the day.
"It's a shame. It makes you think the ECB don't really take pride in this competition," said one Hampshire fan, Chris, sipping on a pint at the innings break.
"I don't understand why we're making 50-over cricket secondary when we might be world champions," said another.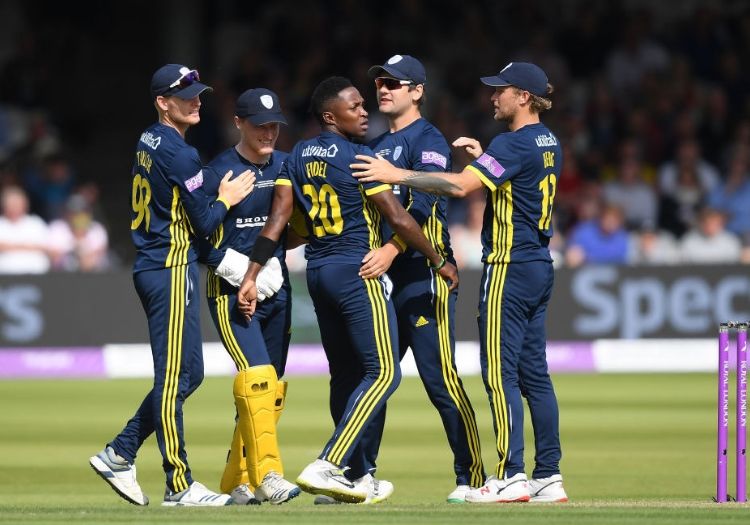 The game was the last List A final at Lord's for the foreseeable future
Those sentiments are not confined to the paying public, either.
It was poignant to see several current and former professionals remarking about the inspirational potential of Lord's finals.
"Grew up watching Lord's finals and dreaming of playing in one," Nottinghamshire opener Chris Nash posted on Twitter. "Privileged to have had the experience I'll never forget but also sad this is the last one and two fantastic players aren't out there who worked so hard to get Hampshire to the final."
"What a day this was," Chris Adams wrote, alongside a picture of him lifting the C&G Trophy with Sussex in 2006.
"I would hope this isn't the last domestic final to be held at Lord's long term," Somerset captain Tom Abell told the media in advance of the game.
"For us as players, achieving a Lord's final is a massive thing."
The outpouring of emotion in the stands, at the crease, on the team balcony and even, yes, in the media centre, when Hildreth guided Fidel Edwards through midwicket for the winning runs was testament to that.
Some things, those in power have decided, are bigger.
For more outstanding county coverage, try The Cricketer for three issues free this summer. Click here to sign up today
Please ensure all fields are completed before submitting your comment!