A tour through cricketing history: Laura Marsh's journey through the eras
NICK FRIEND: The colossus of the MCG is a long way from the modesty of Shenley; a lovely, picturesque club venue with its leafy surroundings and fine pavilion, where Marsh made her England debut. It is a reminder of how far the women's game has come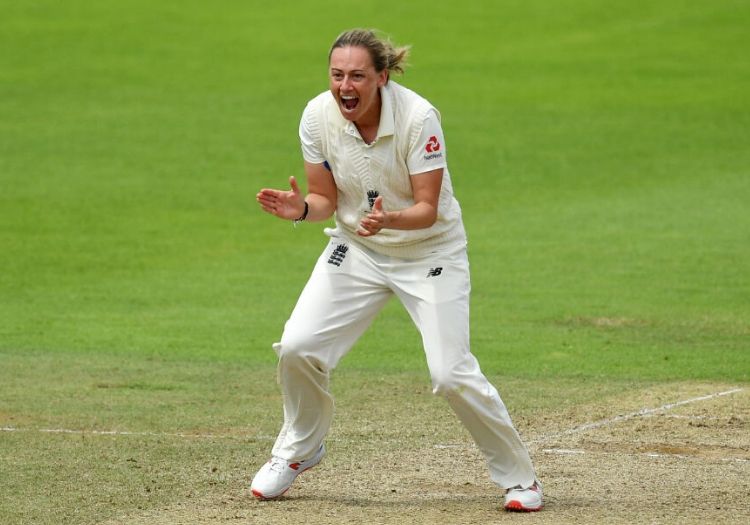 You can never win too much or too often; indeed, elite sport doesn't come with a checklist. But if it did, Laura Marsh might just have completed it.
This is not the first time that she has been sat on the outside looking in. There have been injuries, competition for places – some that she's lost and others that she's won, periods spent on the fringes. On each occasion, she has worked her way back through the door – there are 179 international caps and 217 wickets to show for it.
Now, though, is different. As of December, the 33-year-old exists as a former England cricketer – a veteran of just about everything: from the amateur era through to the cusp of a T20 World Cup, the final of which may well take place in front of the biggest stadium audience that women's sport has ever seen.
The colossus of the Melbourne Cricket Ground is a long way from the modesty of Shenley; a lovely, picturesque club venue with its leafy surroundings and fine pavilion, but also a symbol of a different time and the pasture that gave Marsh her international white-ball debut as a right-arm seamer.
The match was aborted due to rain without the then-19-year-old ever stepping foot onto the field. That was the 570th ODI in the history of the women's game; there have been 610 since – and Marsh played in 103 of them, some as a seamer, on occasion as an opening batsman and latterly as England's most successful spinner of all time.
"I suppose you don't really realise while you're playing quite what you've achieved," she smiles. This is the first time that Marsh has sat down to reflect on it all – it is no longer raw, perhaps, but it still feels as though until now, she has scarcely allowed herself to properly flick back through an archive of glorious memories.
"Everything happens so quickly and comes thick and fast. You turn your attentions to the next thing. Sometimes, you don't fully appreciate all the finer details. But now that I've stopped and am able to look back on my career and the different things I experienced – being able to travel around the world, make some amazing friends and win some World Cups, it's something that not many people get to experience.
"I'm sad in some ways to walk away from that, but at the same time it wouldn't have made me any prouder of what I've achieved if I carried on. I can walk away quite comfortable."
There were Ashes series wins on home soil and away in Australia, World Cup glory both before and after the introduction of central contracts and two separate Lord's finals – in 2017 and eight years beforehand in 2009.
It has been some journey; Jenny Gunn and Sarah Taylor – both constants in Marsh's 13-year career – also called time on their own England careers in 2019, leaving Katherine Brunt as the last woman standing from the team that drew with India on Marsh's Test debut in 2006.
"It wasn't an easy decision to make," Marsh stresses. "I guess when you do something for such a long period of time and you throw everything into it, it's been a huge part of my life. But at some point, it had to come to an end and, as well as all the great things that you get from playing cricket at international level, there are other things that come with it that take their toll – physically and mentally as well.
"When you're committing so much time and effort into something, you always want to feel like you're competing at the best of your ability. I still felt I was, but I guess being on the receiving end of a few phone calls where I wasn't selected, you can come back from those things a few times but they take their toll after a while."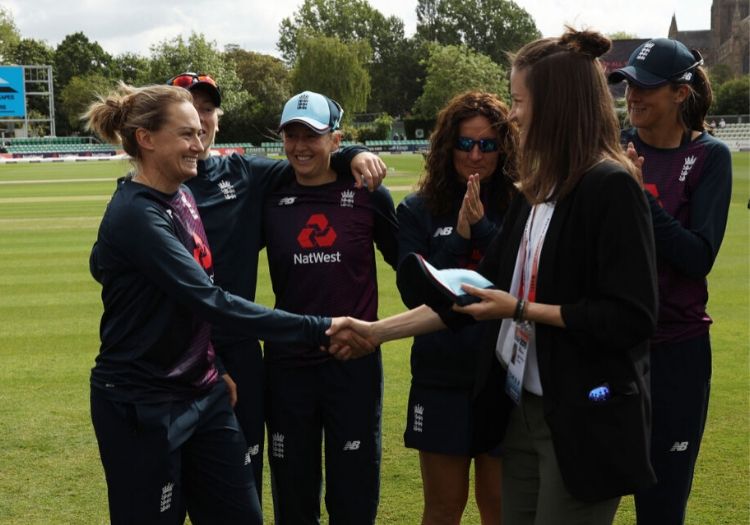 Laura Marsh won her 100th ODI cap in June 2019
The England setup is a curious beast; for some time, it has been a settled unit – in no small part because of the domestic structure in place and the difference in what is required at international level.
Yet, as the game has grown, so too has England's wealth of young spinners: Sophie Ecclestone, Sarah Glenn, Mady Villiers and Kirstie Gordon have all been part of squads in the two months since her retirement – the quartet have an average age of just 20 and three quarters. Marsh's final international wickets came in the summer's drawn Test against Australia; she dismissed Rachael Haynes twice, Ellyse Perry and Alyssa Healy – decent company.
"But I don't have to look back and remember that Ashes," the off-spinner laughs, offering a wry smirk.
The summer of 2019 was different; the scrutiny was ramped up while the criticism and question marks hovered like never before. In many ways, it was a perfect storm of increased expectation, greater coverage and a rare on-field struggle.
"You certainly noticed a difference in the pressure," Marsh recalls. "With the TV coverage and things like that, it's obviously the broadcaster's job to give as much insight into the game.
"It's something that never happened previously; you'd be sat on the balcony waiting to bat and they might be putting the microscope on someone's technique, which is very normal in the men's game and is what you're used to. But in women's cricket, it's not something we've experienced a huge amount of."
What begins as a discussion about moving on – she is doing some marketing work for her father's business as she explores the real world – and England's T20 World Cup chances descends into this: something more meaningful, a spot of reminiscing for old times' sake.
This seems as good a time as any, ahead of a tournament with the potential to shatter records and blow open the gates to the women's game even wider. Thailand's presence alone will achieve the latter.

Marsh is a reminder of how far the game has come – she began her England career with no evidence or inclination that a career was what it would become. That she – and her contemporaries – were able to move with the times for so long is a tremendous accomplishment in itself.
"There weren't that many people watching at first – probably a couple of hundred," she remembers. "Playing for your country brings its own challenges – nerves and things like that. Compared to walking out at a home World Cup final at Lord's, it's a quite different proposition and I think it's something that certainly the players who transitioned from an unprofessional era into the professional era had to learn to deal with – the expectation, the pressure.
"It feels like the same game because ultimately it is still a game of cricket, but in terms of the broader scale of it, it's very different. For those youngsters coming through, this is normal for them in the same way as what we had was normal for us when I first started.
"Youngsters can approach it now and have the mindset that if they get into the England squad, they can be full-time cricketers and make a really good living out of it."
One of the great misnomers carried into the rhetoric of the modern women's game is the idea that the sport's professionalisation means that those who came before were any less professional, any less committed.
The great Australian side of the late 1990s won 17 consecutive games, while arguably English cricket's finest hour came in an unprecedented 2009, five years before the first raft of 18 professional contracts were unveiled and almost a decade before an obstacle-bursting Lord's sellout. If they were amateur by name, they remained professional by nature.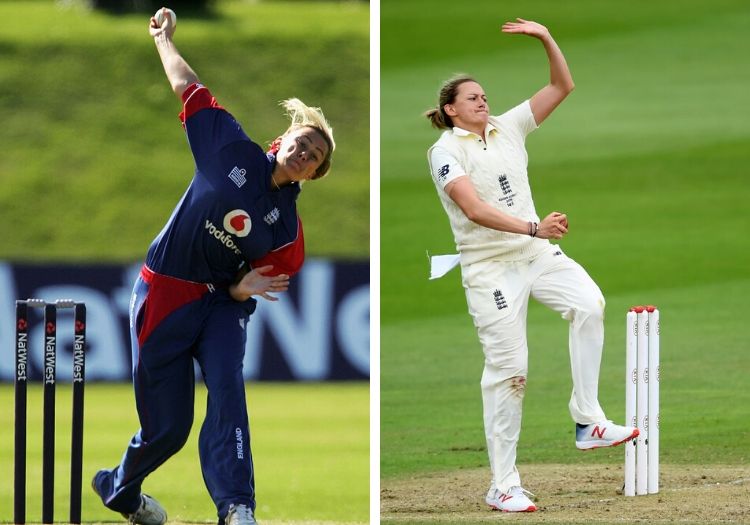 Then and now - Marsh's days as a right-arm seamer, before becoming England's most successful spinner
"Professionalism as a label brings funding and opportunity, but it's not necessarily got anything to do with your attitude, your work ethic or anything like that," Marsh explains. "In 2009, we had the most unbelievable year – to win two World Cups and the Ashes. We were 100 per cent professional in our own right.
"The main thing that sticks out was just the group of players. We were just a brilliant team, really. Everyone knew their role. We had a brilliant run of wins. At that point in time, it felt as though we were breaking the boundaries moving forward.
"You look back now and it feels a long time ago. But at that point in time, it was important that we did that. A lot of us are still really good friends. We often have catch-ups and chats about things that happened. They were some of my fondest memories.
"I think it's important now but it's something that's always been important to me – to always remember some of the players that came before and had a huge impact on my career when I was coming into the side, but who played cricket when there was no funding and not much opportunity. It's important not to lose sight of that.
"I think I've been lucky to have experienced a lot of the different eras and changes within the game. There are players – the likes of Claire Taylor, who was a senior player when I was coming into the side. She would never have experienced the professional era. She trained so hard, she put in some incredible performances to win games of cricket for England. I remember just sitting in team meetings and listening to her speak; I looked up to her and respected her massively.
"And then you had Charlotte Edwards. I remember being quite reliant on her early in my career. She was a fantastic captain. She really led from the front in terms of her own performances, but also her knowledge of the game. It was – compared to mine – hugely different. I just tried to learn as much as I could.
"I always think how fortunate I am to have come at the right time, where I could experience professional cricket. A lot of those other girls and players who played in eras before mine, they paved the way for us to get to the point that we're at now."
The 2009 team sticks out – as well it might. Edwards' side won 17 games across three formats in a single year, retaining the Ashes and claiming a World Cup and World T20 double. More than its on-field accomplishments, Marsh holds a distinct pride in what each individual has done since.
It was, of course, a different time, when players had to think about their post-cricket lives without the relative financial cushion of today. Ebony Rainford-Brent has forged dual careers in media and coaching, while Isa Guha has become a household name as an acclaimed broadcaster and Holly Colvin is the ICC's women's cricket manager. Lydia Greenway, Danielle Hazell and Charlotte Edwards will all coach Hundred franchises later this year.
"It always makes me laugh when I'm sat at home and I flick the television on while I'm making a coffee and I'll hear Isa Guha's voice in the background on Sky."
Marsh played a key role in the England side that won the 2009 World T20 - she was named in the ICC team of the tournament
Marsh knows how fortunate she is to have played when she did and, in truth, to have survived for so long. After starting out life as a medium-pacer, she became an off-spinner long before shoulder problems flared up, culminating in an 18-month absence.
But even converting, she admits, was "a leap of faith". Her time on the sidelines was crucial – not only as she developed her off-breaks, but in reassessing her existence and coming to understand her career.
"The injury was the first time since I'd made my debut that I spent a significant amount of time not involved," she reflects. "At that point, I remembered feeling like I was just a cricketer. I didn't know what my life was outside of cricket.
"I remember at that point knowing that I had to think about what else I had in my life apart from cricket. The nature of sport is that anything can happen at any time. I knew I had to be in a position where if I did stop playing, I wasn't going to fall flat on my face without anything to fall back on.
"It's quite scary really. It can be quite scary – it's all you know. In the last few years of my career, I really saw the importance of having more balance in my life. I committed the same amount to cricket, but I tried to use my time a bit more wisely when I had the opportunity to do that.
"It's really important to have things you identify yourself with, other than just cricket. I remember distinctly thinking when I had my shoulder injuries that I basically identified as a cricketer.
"It's quite easy to get wrapped up in winning a game or losing a game, when actually I wanted to make sure that I walked away from the game, having really enjoyed the process and the journey."
Marsh still has the summer to look forward to. She and Gunn were named as Oval Invincibles' England players for the inaugural edition of The Hundred before they left the international stage. They will play under Greenway, a long-time teammate of both.
There was some brief external uncertainty about whether the pair would take part in the new competition once they had called time on their England careers. Yet, Marsh is excited by the prospect. It is an unusual position for her; it will represent the first time in her career that there is no bigger picture.
"Subconsciously, you're always trying to fight for a spot or fight for international selection," she adds.
"The England team is always hanging over you. It will be nice to play in a tournament where I won't have to think: 'If I don't perform, I might not get picked.'
"I'm excited to see what happens next."
Women's Cricket
|
Women's T20 World Cup 2020
|
Features
|
England Women
|
1Banner
|
Please ensure all fields are completed before submitting your comment!