Kyle Jamieson possesses all the tools to be New Zealand's next great Test allrounder
NICK HOWSON AT LORD'S: His status as the fourth most expensive IPL signing misses the point. Greater things beckon for the 26-year-old
What are the greatest sights in sport? The single-handed backhand in tennis, a sweet volley in football or a clean knockout in the boxing ring.
Richard Gasquet, Mark Hughes and Mike Tyson, if you're asking.
Hours go into honing those outstanding displays of technique and precision and few emerge as masters.
I think cricket is lucky that it possesses several. The fluidity of the cover drive requires a special kind of grace and execution. A spectacular diving catch is veiled in drama and shock. Both are made for the highlight reel.
There is something about watching a sinister, snarling fast-bowler rolling in, though, that pricks a different part of the consciousness.
It can be as balletic as any punch through the covers, as thrilling as a full-length leap in the slips, with all the recklessness of a Catalonian bull-run.
And with no disrespect to Kemar Roach or Harold Larwood, the picture is only fully complete by a broad, tall frame charging in. The batter should be left guessing if what is released is the ball or a stiff uppercut.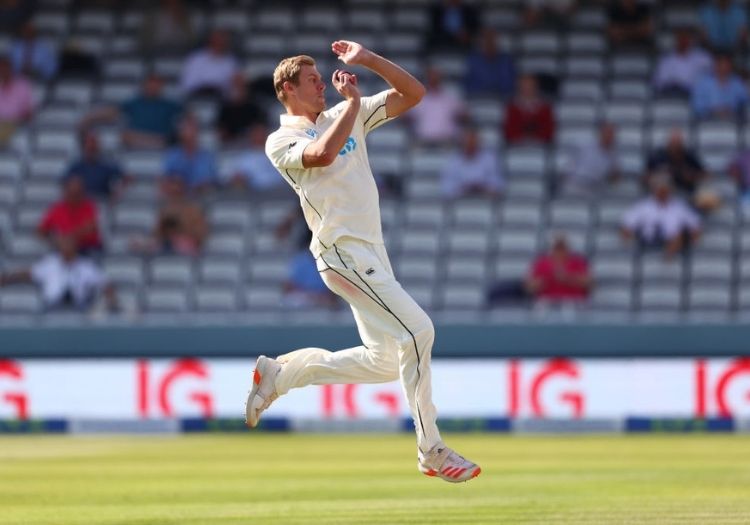 Jamieson is an intimidating presence at the crease
Kyle Jamieson fits the bill perfectly. Six foot eight inches high, and wide, with the wingspan to rival anything at North Norfolk Owl Sanctuary. He has the physique of a henchman in a James Bond epic. If his burgeoning international and franchise cricket career fails, World Wrestling Entertainment will be in touch.
Running up the slope on the fourth morning, Jamieson produced an imposing spell of quick bowling, the kind which smacks you round the chops, blows away that hangover and gets you sat bolt upright. And there isn't an in-law in sight.
The newspaper supplements can wait. That Instagram filter will still be there. Just hook me up to the adrenaline line that is this ferocious onslaught.
Prior to the Test, Jamieson had spoken about soaking up all aspects of the Lord's experience. Players had been drinking in the tradition and grandeur of the occasion. Most of this group wasn't here two years ago. But nothing about their display suggests they're here to tick off an item on the bucket list. They have meant business since ball one.
Many would have missed the dart which dismissed England captain Joe Root to the first ball since Thursday evening. On top of Jamieson's height, he is deceptive in his approach. Banging the ball in short probably feels like the obvious approach but it is his natural, slightly fuller length than most, which gives batters the greatest headache. Root was caught between two stools and helplessly edged to Ross Taylor.
The Aucklander's tail was up, and he ratcheted up the aggression. On a pitch with a tad more pace he would have been nearly unplayable, instead he was just a nightmare. Next summer when Kane Williamson's men return for a three-Test series he might be damn-right dangerous. How he fares on a turgid Southampton pitch in a few weeks, if selected, will be intriguing.
Rory Burns prodded forward and was caught out by length, Ollie Pope was squared up and narrowly survived. It was an examination that deserved better. Tim Southee might well attribute an assist following his five-for.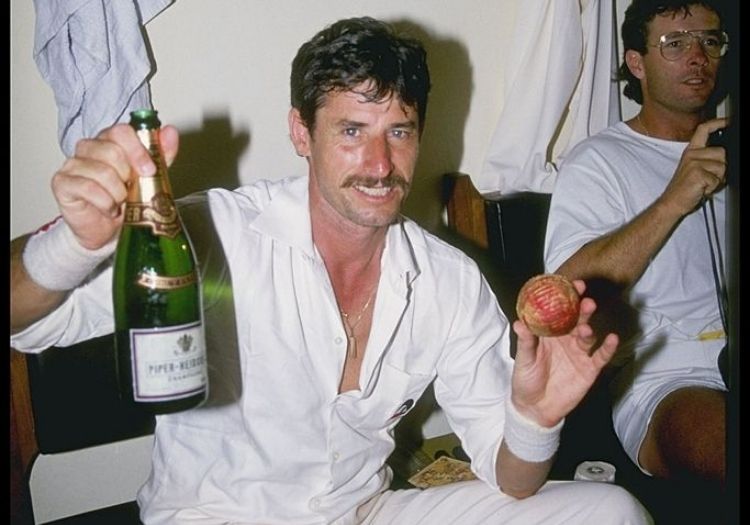 Jamieson has some big shoes to fill
There was a genuine punch to his opening spell of 6-2-19-1, not numerically stunning but it broke England down. Their defences had been softened by the time Pope, Dan Lawrence and later James Bracey all departed.
And there was skill, too. Varied lengths. In-swinging deliveries which tested pads and stumps. Even when he swapped ends, returning from the Pavilion End, he did so with admirable vigour as the sun shone and without complaint, though it was a fourth spell which looked tired. But that is to be expected.
This is his seventh Test and 20th international. Bar seven Indian Premier League outings for Royal Challengers Bangalore this is virtually his first senior game away from home. You would have to go back to the Under-19 World Cup in 2014 for his last exposure to foreign climes, though England is hardly a grand departure from New Zealand.
Having been signed for 15 crore in the last IPL auction, becoming the fourth most expensive signing in history, the writing for the rest of his career might be on the wall. Jamieson does not strike you as being money-motivated (he had no idea his final price equated to NZD 2.9 million as he watched the bidding war unfold) but overseas leagues still have an undoubted allure.
Some are convinced something more significant than an impressive bank balance is at stake for Jamieson, who supercharged New Zealand's run to the top of the Test rankings (India have since replaced them) and inaugural world final at The Ageas Bowl.
Alongside his 39 Test wickets at 14s there is a former top-order batter, from his days at Auckland Grammar, lurking beneath. It was not until mentor Dayle Hadlee - brother of Sir Richard - acknowledged his height that he transformed into a bristling quick. Scores of 44, 49 and 51* in his first three Test innings and a T20I strike-rate of 151.85 suggests the Kiwis might have a credible allrounder on their hands, rather than an accomplice to the Trent Boult-Tim Southee axis.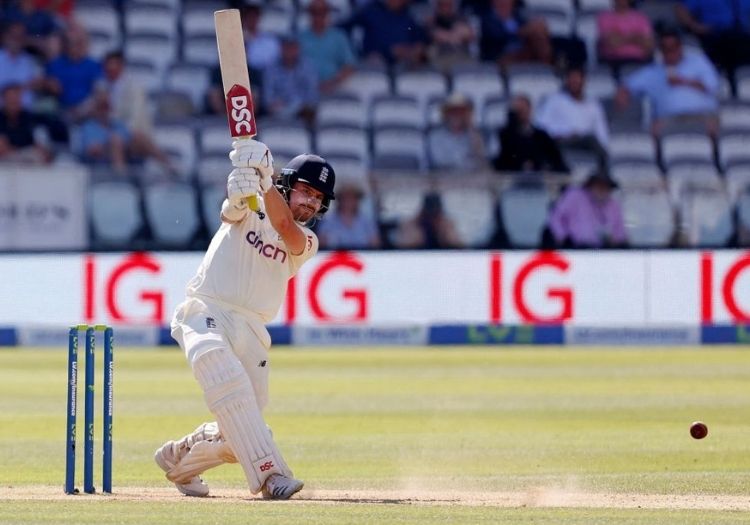 Only Rory Burns could quell Jamieson
New Zealand cricket is of course not without a stellar group of allrounders. Sir Richard leads from Daniel Vettori and Chris Cairns. And yet Dayle believes Jamieson could eclipse them all.
"I meant it genuinely when I told him that he was a much better bowler than Richard was at the same age," he told ESPNCricinfo of a young Jamieson. "Richard had major technical issues [in his early days] and was inconsistent. Kyle was much more consistent and had the extra bounce that Richard didn't have. Richard had to bowl shorter to get that bounce. I patted Kyle on the back and said he was doing extremely well for his age and said it was onwards and upwards for him."
Speaking on the BBC's Test Match Special, Jeremy Coney said: "He has some natural attributes that will help him become a star. I loath to make a very early judgement about him. This is a very slow pitch and once they are a bit harder he will be more difficult.
"Like all very tall bowlers, they push you onto the back foot. It is hard to pick up the length of the delivery. Awkward is probably the best description."
We are some distance from Jamieson encroaching on the coattails of those legends. We have seen enough Test careers drift into anonymity to start making ridiculous comparisons.
But if the last 15 months has taught us anything it is to cherish the here and now. The scorecard, record books and social media will tell a story of Southee, Burns and an England collapse, but that is ok.
This saturated era makes the spectacular sometimes hard to decipher. Jamieson produced a display that will have connected with anyone who saw it. Thank goodness some did.
New Zealand
|
International
|
ENG v NZ
|
England
|
1Banner
|
Please ensure all fields are completed before submitting your comment!