Kohli lays the foundation as India remember how to bat at Trent Bridge
SAM MORSHEAD: When the ball swung, they were watchful. When it seamed, they were respectful. When it was there to be hit - and there were plenty of opportunities, with England's attack not firing on all cylinders - they were clinical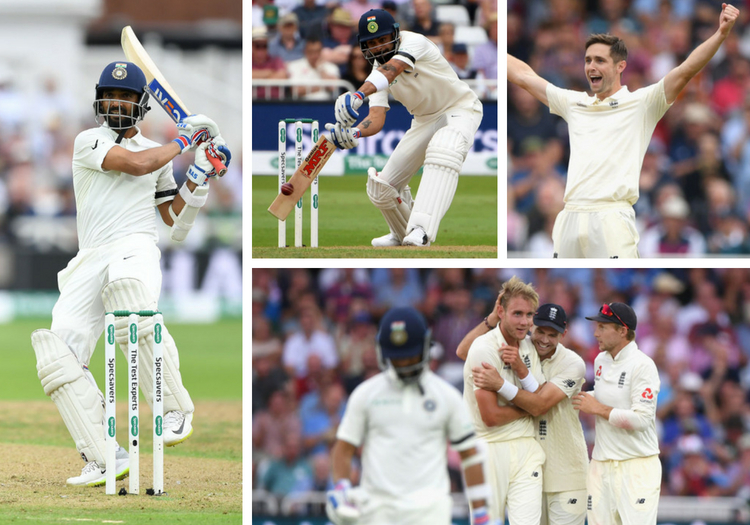 India had the upper hand on day one at Trent Bridge
Trent Bridge (first day of five): India 307-6 vs England
Oh India, how we missed you.
After the misery of Lord's, the tourists rediscovered the art of batting on day one at Trent Bridge and, in doing so, laid the groundwork from which they might just be able to drag themselves back into this series.
As enjoyable as it was for England fans to see Jimmy Anderson and his seaming circus make a mockery of the tourists' high-calibre line-up at the Home of Cricket last week, it did little to show off the dramatic potential of Test cricket as a whole.
In Nottingham, it was a different story.
India, who would have jumped off the team coach on Saturday knowing that another top-order capitulation was not even worth thinking about, found a formula that worked.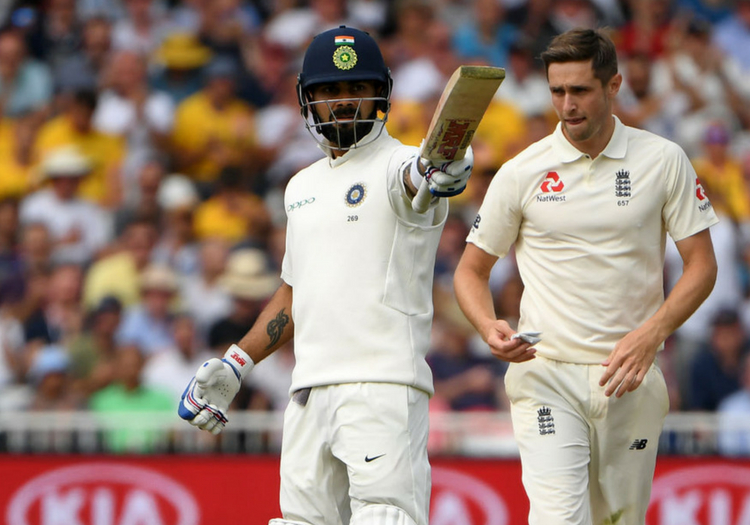 Virat Kohli made 97 for India on day one
When the ball swung, they were watchful. When it seamed, they were respectful. When it was there to be hit - and there were plenty of opportunities, with England's attack not firing on all cylinders - they were clinical.
At the heart of it was their captain.
Virat Kohli marked the 10th anniversary of his international debut with another masterclass of distinguished batsmanship.
Never flustered and rarely fallible, he came within three runs of his 23rd Test century, mixing those classic cover drives with intelligent running between the wickets and a steadfast refusal to simply weigh anchor.
That on this occasion he received support from the majority of his top order can only have energised his performance. Unlike at Edgbaston and Lord's, there was no reliance on the skipper for runs to make this contest competitive.
Shikhar Dhawan and KL Rahul made a very convincing case that they should continue as the opening pair indefinitely, batting as they did through tricky conditions early on and putting together India's best overseas opening stand of 2018, before Ajinkya Rahane came together with Kohli to make England feel like they haven't felt all series: A little helpless, sometimes hapless, most definitely second best.
By the end of the day, the tourists had not only gone past 200 for just the second time in 10 knocks on these shores, they had pushed on past 300. But for Adil Rahid's dismissal of Kohli, India may have been considered to be in a position of control at the close.
A proper Test, then. Thank heavens for that.
Having seen off the new ball, and the threat of Anderson and Stuart Broad, Dhawan and Rahul were each undone by England's back-up seamer in quick succession.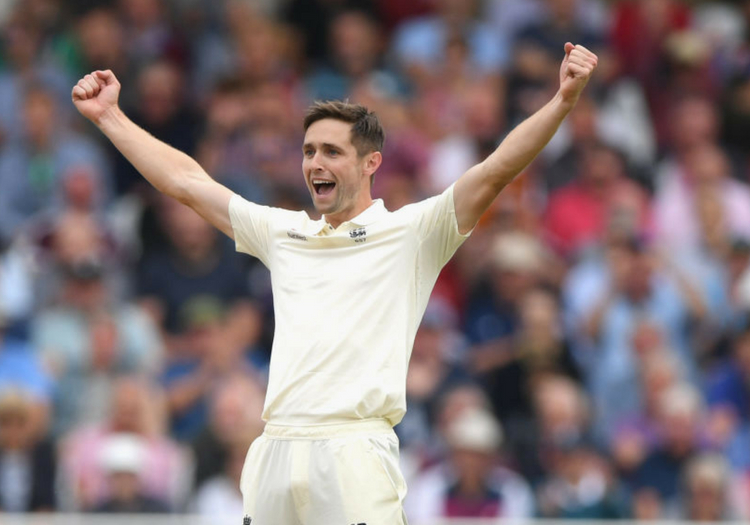 Chris Woakes took three wickets in the first session of the day
Woakes got Dhawan with a delivery which enticed the batsman into a gentle prod. The opener might have been expecting more swing and played slightly inside the line; the subsequent edge was eagerly gobbled by Jos Buttler at second slip.
Rahul was outfoxed by a Woakes inducker at the end of an over of outswingers, all of which the Indian was quite happy to leave or play with soft wrists through point and gully.
Trapped on the back foot and rapped on the pads right in front of middle stump, Rahul's use of DRS - at the behest of Che Pujara - was wildly optimistic.
Optimistic might be a polite way of describing Pujara's shot, off what turned out to be the final ball of the session, which picked out Rashid at deep backward square leg.
Pujara's miserable summer in England continued with a headless hook, poorly timed both in terms of the stroke itself and the situation of the game, handing Woakes three wickets before lunch.
Since making an unbeaten 75 for Yorkshire in the Royal London One-Day Cup on May 27, Pujara's wretched run has seen him collect 167 runs from 13 innings at a miserly average of 12.85 for club and country in English conditions. A mindless swipe here will not have done his chances of keeping his place for the fourth Test at Southampton much good whatsoever.
From a position of quiet authority, India's middle found themselves queueing up for lunch with their pads on, wary that another collapse felt imminent under grey-ish skies and with the ball starting to bend wholeheartedly in the hands of Broad and Ben Stokes.
Kohli marched back to the pavilion with a look of familiar fury etched on his brow.
By the time play resumed, however, the tourists were blessed with parting and rising clouds. Kohli and Rahane cashed in.
Patient perseverance steadily gave way to elegant accumulation. Stokes struggled for lines and lengths - somewhere, Sam Curran could be forgiven for uttering a grumble or too - and Rashid, handed the unenviable task of controlling run rate as a relatively raw Test match legspinner on a day-one Trent Bridge pitch, plated up one too many long-hops.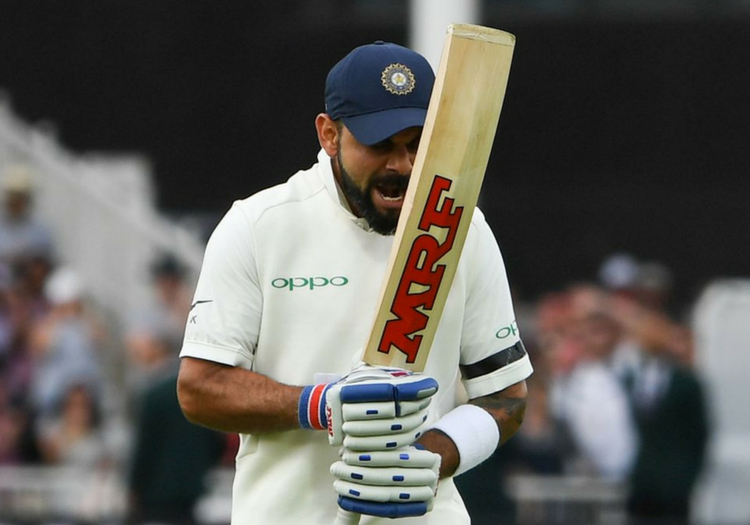 Kohli was livid with himself when dismissed by Adil Rashid
By the end of the second session, both Kohli and Rahane had reached their respective half-centuries, India had enjoyed their first hundred-plus stand of the series and the pair walked in to refuel having collected as many runs in two hours as the entire team had been bowled out for on that grim second day at Lord's.
Rahane was denied what would have been a hugely deserved century by a one-in-a-hundred take by Alastair Cook at first slip - low to his left and with a reaction time of less than half a second, no wonder the England opener bounced back up from the turf with his chest puffed like a courting cockatoo - but Kohli pushed on, unperturbed, rarely troubled.
Such was his command of the crease, three figures seemed a nailed-on certainty. But Rashid had other ideas.
The legspinner, who went through four days at Lord's without having a bat or bowl, or indeed taking a catch, had been whipped all over the park in his first spell but returned with seven overs to go until the new ball and picked up the vital wicket.
Kohli, trying to drive with the spin, only got an edge through to the safe hands of Stokes at slip. The India captain was furious with himself, slapping his pad with his bat. Rashid has now dismissed him more times than any other batsman during his all-formats international career. Justification, perhaps, for Ed Smith. Perhaps just a happy coincidence.
Regardless, it felt like a crucial intervention at a crucial moment.
There was still time for action in the dying light, as debutant Rishabh Pant launched his second ball in Test cricket down the ground for six and Keaton Jennings spilled a routine chance at third slip, diving forward after Broad's rising delivery had taken a flake of Hardik Pandya's glove.
Oh, and there was time for Anderson to notch his 100th Indian victim in Tests with the final ball of the day, Buttler making the claim at second slip.
Ebb and flow. Ebb and flow.
This match is set up superbly.