Kohli cannot turn the tide as England claim series victory at the Ageas Bowl
SAM MORSHEAD AT THE AGEAS BOWL: Virat Kohli, a proud and fiercely competitive man, will be hurting tonight. This was his year yet, somehow, it has turned out to be England's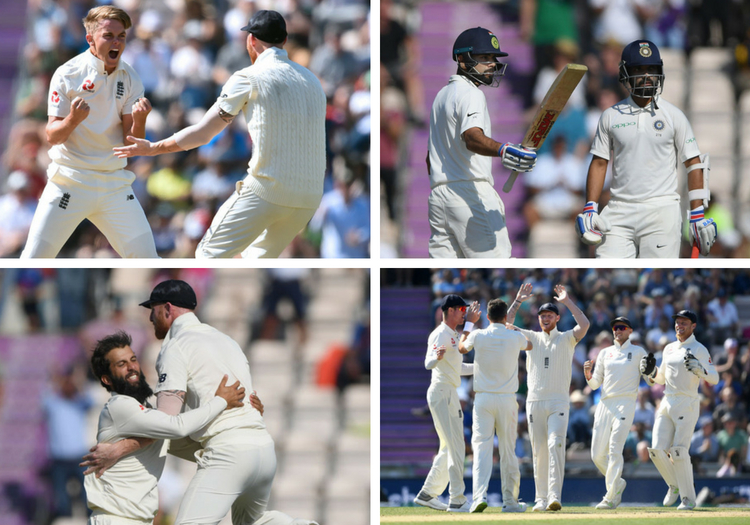 England beat India by 60 runs at the Ageas Bowl
Southampton (fourth day of five): England 246 & 271, India 273 & 184 - England won by 60 runs
This will sting Virat Kohli.
The great man has toured England in the form of his life, against an opposition blowing hot and cold like a boiler on the blink, and still not come away with a captaincy-defining series victory.
He may well get another opportunity - at 29 there is at least one, maybe two more trips to these shores left in him - but who knows if it will be as clear and obvious as this.
At 123 for three chasing 245 for victory at the Ageas Bowl on Sunday, and all the time they needed to get there, it seemed for all the world as though India would make sure the circus trundled on to the Oval next week alive and very much kicking.
Instead, south London will play host to a dead rubber.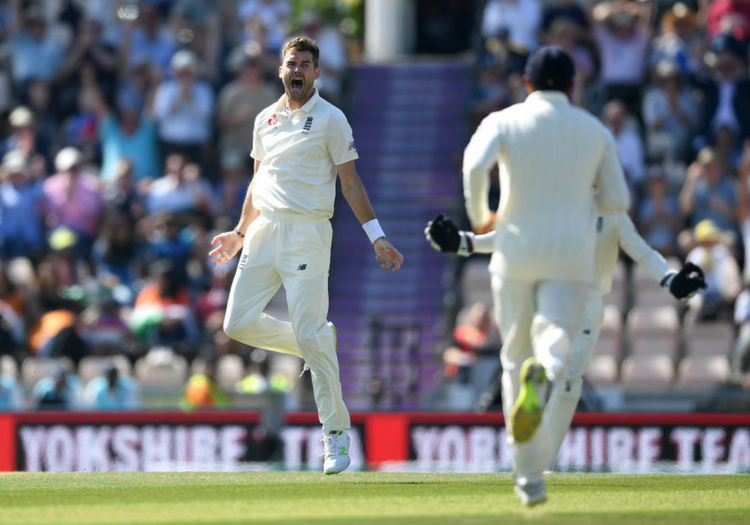 Jimmy Anderson celebrates won of two early wickets
India lost their final seven wickets for 61 runs, starting with the captain, and as a result there will be no winner-takes-all spectacular at the famous old Kennington amphitheatre.
It was hard at the end, when a hobbling R Ashwin was trapped leg-before by Sam Curran, not to feel a sense of anti-climax. With no Premier League football scheduled for next weekend, an opportunity was available for cricket to steal the public focus.
But that relied on India making the runs.
England won't care, of course. Amid all the criticism of their slip catching, selection policy, allrounder obsession and top-order malaise, the home side have dispatched of the world's No.1 team with a Test to spare.
Essentially, in the games which have come to tip the balance of the series - at Edgbaston and here in Southampton - Joe Root's men have been the better at holding their nerve.  
In the first encounter, 194 proved too steep but only after England had been saved by a 20-year-old in his second Test.
At 86 for six in the first innings at the Ageas, India let their hosts back into the game once more, again spurred on by Sam Curran. And then there was the feeble-sounding fizzle of a position of promise dribbling away into the this Sunday's sunshine, spearheaded by another excellent performance from Moeen Ali.
Moeen, who collected four more wickets in the second innings to go with his five-for first time around, bowled with rhythm and guile and characteristic flight, again outshining the supposed No.1 spinner in the side, Adil Rashid.
His one-on-one with Kohli on the fourth afternoon - a dramatic mini-series which ought to interest producers at Netflix - was a compelling spell of tactical, technical brinkmanship. The sort of thing you'd happily binge-watch on a lazy weekend morning.  
Ultimately, Moeen won the contest, shrugging off the disappointment of having two marginal lbw decisions go in the Indian's favour and having his man dropped at short leg to claim the golden wicket.
Kohli, a proud and fiercely competitive man, will be hurting tonight. This was his year yet, somehow, it has turned out to be England's.
Virat Kohli made 51 but could not steer his team home
The hosts returned to the crease on the fourth morning of the game hoping for an hour of bravado from Curran and the tail. Instead, they got 20 blunderous minutes.
Stuart Broad went to the first ball of the day, wafting at Mohammed Shami, while Curran was run out attempting a second to fine leg which probably still wouldn't have been there had he not slipped before setting off.
The target, therefore, was somewhat smaller than they might have hoped, yet not really small at all. A successful chase would represent an Indian record in England and their second highest ever outside Asia and, for all India's batting talents, completing it would be no mean feat.
That was proven within an hour, as the visitors lost three quick wickets.
Broad bowled KL Rahul with a snorting shooter that barely got 10 inches off the floor, Jimmy Anderson collected his first wicket of the match by trapping Cheteshwar Pujara lbw and England's record wicket-taker then squared up Shikhar Dhawan, with the edge finding the diving hands of Ben Stokes in the gully.
India were 22 for three and in very real danger of swallowing themselves whole. Kohli, of course, had other ideas.
There were moments of concern, as you would expect even of the world's best. England were adamant that the Indian captain was lbw to Moeen on 15 but, after being denied by umpire Kumar Dharmasena, TV replays proved inconclusive.
Third umpire Joel Wilson appeared to gloss over Kohli's bat scraping his pad - a possible reason for a spike on Ultra-Edge - instructing Dharmasena to stick with his original decision and leaving England's players incensed.
A few overs later, England thought they had their man again when Moeen got another to rip devilishly out of the rough, striking Kohli low on the pads. Dharmasena was unmoved, DRS showed the decision to be a good one with the batsman having shifted himself outside the line of off stump.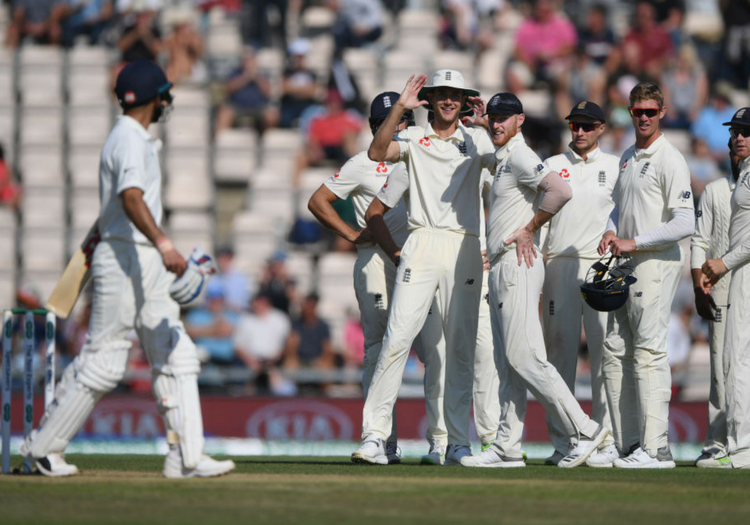 Kohli and Stuart Broad exchange words after the India captain's dismissal
Those moments of excitement, though, masked another supreme knock from Kohli. A master manipulator, he wore England and the majority of the crowd - barring one particularly vocal pocket of Indian supporters - right down to the bone.
Rahane, who also benefited from DRS when he was granted a reprieve after being given out lbw on the field to Curran on 12, stuck with his skipper manfully.
The diminutive No.5, calm, composed and compact at the crease, channelled military discipline in the way he batted, steadfastly refusing to give England anything to get excited about.
Kohli and Rahane have a happy habit of turning century stands into something much, much bigger - prior to Sunday's play five of six 100 partnership between the pair had gone on to total more than 150, with two double-tons and a triple - but here they were sawn in half at 101.
The ball after being dropped by Cook at short leg - a difficult chance off the face of the bat - Kohli leant forward in an attempt to smother a delivery from Moeen Ali but saw the ball leap off a length, take his glove and loop up into the waiting hands of England's veteran batsman.
It was the beginning of the end and Kohli must have known it, spurning a review surely only out of desperation.
Hardik Pandya completed a wildly ineffective game with a duck, edging Stokes to Root at second slip, while Rishabh Pant's counter-attacking 18 was ended when he slapped a lofted drive to Cook at deep cover.
Rahane became the latest in a long line of leg-before victims, unable to keep out another massive turner from Moeen, and in trying to save himself with a review used up the visit to the TV official which Ishant Sharma required to prove that his own dismissal, to Stokes, was heading over the top of the stumps.
From 120 for three, India were 154 for eight. Game over.