Knives out down under
Captain, coach, performance manager, chief executive, chairman, two more board members… JAMES COYNE reflects on the continuing fall-out from Australia's ball-tampering furore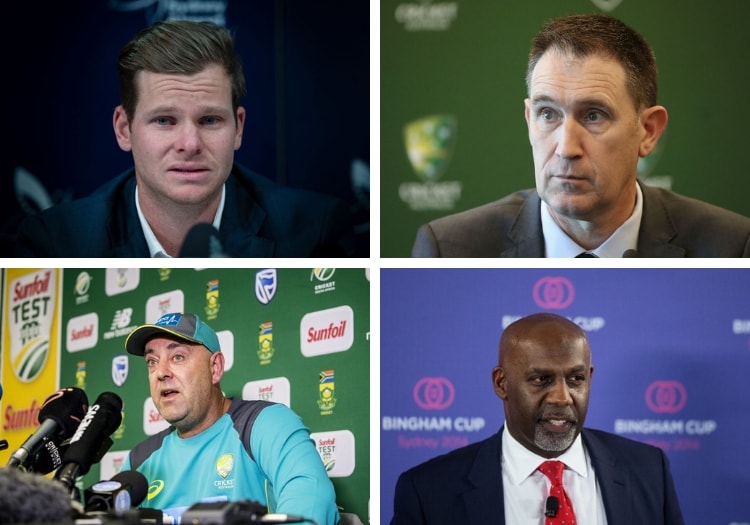 From the day Cameron Bancroft was chosen to rough up a cricket ball with sandpaper at Newlands on March 24, there has followed a sequence of bloodletting to disgrace the House of Borgia, let alone the supposedly staid world of cricket administration.
The latest bout of upheaval at Cricket Australia stemmed in part from the decision by chairman David Peever to release the findings of two "cultural reviews" into Australian cricket to the six state associations an hour and a half after they had re-elected him for a second term.
Peever claimed that was because the reports had not been finished, but according to the well-informed Daniel Brettig of ESPNcricinfo, the Longstaff Review by the Ethics Centre had reportedly been with board members for two days.
The 147-page Longstaff Review set out 42 recommendations. CA accepted 34 as worthy of implementation or already in place, were to consider seven more, and rejected just one out of hand – to excuse players from T20Is to play Shield or grade cricket – as it would be demeaning to T20.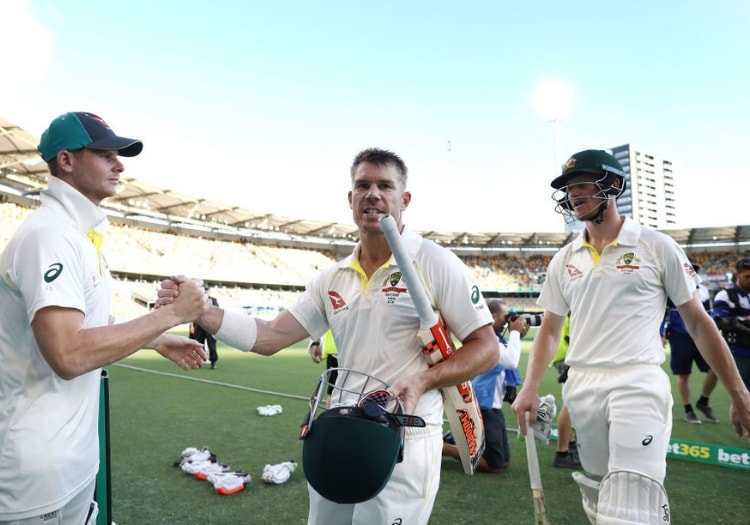 Left to right: Steve Smith, David Warner and Cameron Bancroft
There was a concurrent players' review led by the former Test opener Rick McCosker, resulting in a 'players' pact' announced by Australia captain Tim Paine and Josh Hazlewood. But only 24 per cent of Australian players responded to surveys handed out as part of the review process.
Longstaff found there had been "strong systemic and organisational input" by CA which led indirectly to the ball-tampering affair. The report read: "The most common description of CA is as 'arrogant' and 'controlling'. The core complaint is that the organisation does not respect anyone other than its own. Players feel that they are treated as commodities."
After the reviews were published, Peever appeared evasive in a televised grilling by presenter Leigh Sales on ABC. He did, though, "accept our share of accountability", for the events in Cape Town, which he described as "a hiccup".
Having taken their time to digest the reviews, John Knox, chairman of Cricket New South Wales, the most powerful state association, called Peever to let him know they could no longer support his chairmanship. Peever fell on his sword.
CRICKET AUSTRALIA DEPARTURES

Steve Smith (captain)

banned for one year March 29

David Warner (player)
banned for one year March 29

Cameron Bancroft (player)
banned for nine months March 29

Darren Lehmann (coach)
resigned March 29

Bob Every (board member)
resigned May 6

James Sutherland (chief executive)
served notice June 5
left October 26

Pat Howard (team performance manager)
served notice October 24
sacked November 7

David Peever (chairman)
resigned November 1

Mark Taylor (board member)
resigned November 5

Ben Amarfio (general manager of broadcasting, digital media and commercial)
sacked November 7
Peever, the former mining executive, was replaced as chairman by Earl Eddings, a risk management guru and long-term sports administrator. There were some calls for former Australia captain Mark Taylor to take the role, but instead the longest-serving CA board member decided to step down – as he said he almost had during the fractious 2017 player pay dispute.
Taylor hoped an ex-cricketer would take his place on the board. At present, just one board member, Michael Kasprowicz, has first-class playing experience amid a range of corporate and business expertise.
That is a recent trend. The Liberal Party politician and former South Australian administrator Ian McLachlan said he was not keen on the fully independent nine-person structure, and said the six state associations should each appoint a member again.
That will make interesting reading at the ECB, who this year implemented their own board fully independent of active county officials, meaning they "exceed the minimum standard required for national governing bodies set out in Sport England's recently-published code for sports governance".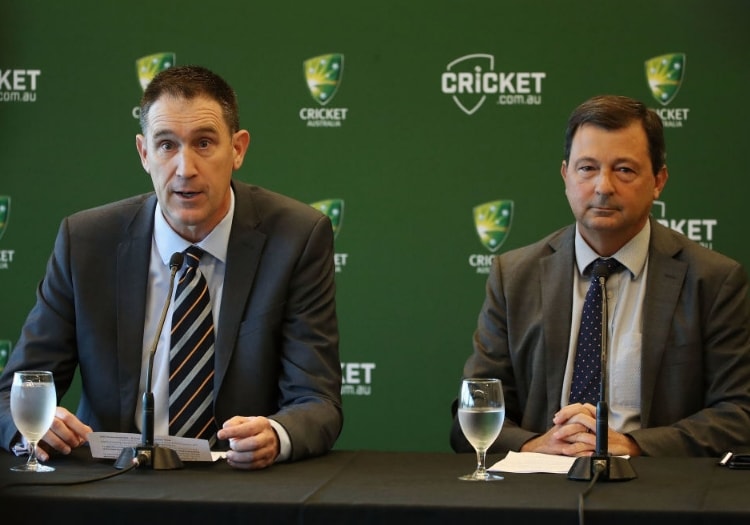 Left to right: James Sutherland and David Peever
With James Sutherland standing down as expected after 17 years as CA chief executive, the task of cleaning up Australian cricket fell to Kevin Roberts, 46, a former New South Wales batsman, who has a spell on the board and, as chief operating officer, led CA's negotiations in the players' pay dispute.
His first major move as CEO was to sack Pat Howard, the national team performance manager, and Ben Amarfio, the general manager of broadcasting, digital media and commercial who had struck CA's bumper new A$1.2bn broadcasting deal.
Reading Gideon Haigh's new book, Crossing the Line: How Australian Cricket Lost Its Way (which will be reviewed by Paul Edwards in the Christmas edition of The Cricketer magazine), it is clear just how much since 2015 that CA has hired more and more staff with negligible cricketing background. It makes sense to bring in the best brains from all walks of life, but this not-for-profit organisation has developed a tendency towards vacuous corporate jargon and references to "the business".
A day after Peever's downfall, Anthony Everard, CA's events and leagues general manager, tweeted an image from inside the dressing rooms at the first ODI against South Africa at Perth Stadium, emblazoned with slogans including 'Elite Honesty'. It was widely lampooned. The new players' pact proclaimed: "Compete with us. Smile with us. Fight on with us. Dream with us."
For all that, Everard has done strong work with the Big Bash, and now finds himself in charge of a rejigged fan engagement department taking in Amarfio's old team. Amarfio was reportedly frogmarched out of CA offices by the head of security.
Howard – appointed in the aftermath of the Argus Review of 2010 – was perhaps the most polarising figure. Nothing was likelier to get the backs up of past Australia greats than the idea that data and analytics can replace gut-feel and a cricketing eye. Worse still, he played rugby for Australia, not cricket. It was the Aussie equivalent of Sir Clive Woodward being appointed performance manager at Southampton.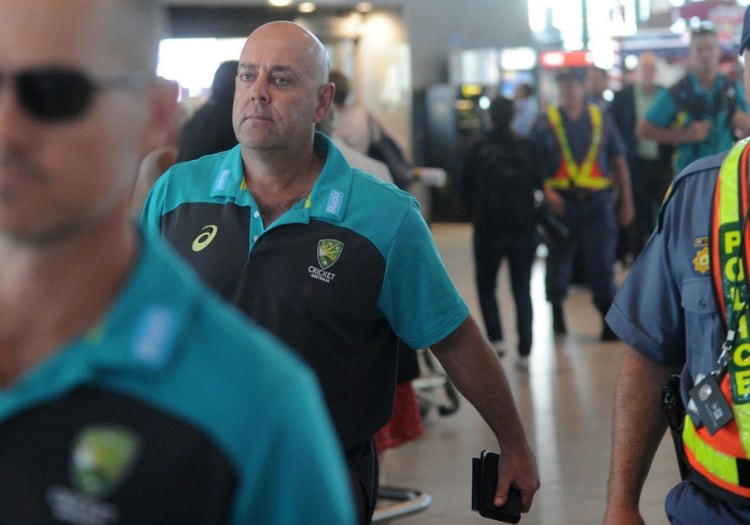 Former Australia coach Darren Lehmann
In Crossing the Line, Haigh writes: "Howard's advocates saw him as a Billy Beane, a challenger of the pieties; detractors regarded him as Alden Pyle, Graham Greene's quiet American, bringing disaster on the innocents with indisputable sincerity."
But there was no doubting Howard's problem-solving abilities. He had struck the previous pay deal, and a negotiator for the Australian Cricketers' Association told Haigh that had Howard been representing CA this time, a deal might have been struck in a fraction of the time.
And Trent Woodhill, the Sydney-based coach who has worked extensively with David Warner and Steve Smith, told The Cricketer that the perception of Howard being data-obsessed was wide of the mark: "That was an unfair stick to throw at Pat. It was the counsel he was taking that was the problem, from [interim selector] Greg Chappell and [past selector] Rod Marsh – blokes who played 30 years ago.
"I enjoyed my chats with Pat, but never once did he ask me what I might have learned about coaching – from being in India, or New Zealand, or Pakistan. CA care only about control."
The ACA would like the Newlands trio to have their bans lifted in light of the reviews, but at a recent meeting the CA board stuck by the original decision. Bancroft is free to play in all forms of cricket from December 29; Steve Smith and David Warner are eligible to come back from March 29, ruling them out of the rest of the Australian domestic season.
They have, though, been playing in grade cricket. Warner walked off midway through a successful innings for Randwick-Petersham in response to sledging from Western Suburbs' Jason Hughes, the brother of the late Phillip.
Smith's return to the captaincy at some stage is seen by some as inevitable, but his past mentor Woodhill is not so sure: "I'm not sure if he'd want to. Why would he want to put his family through all that? He might just want to keep his head down and play cricket.
"I have spent a bit of time with David Warner recently. I know what they were asked to do, in order to win, win, win. It comes back to the great era, when Australia were used to winning.
"I think David realises that he was asked to be the attack dog. They started calling him 'The Reverend', because they didn't feel they were getting enough out of him."
This article is an updated version of the original, published in the December edition of The Cricketer