Justin Langer at 50: "I will never forget how hard the game is"
SAM DALLING - EXCLUSIVE: Langer has spent his life in cricket: first, as a run-machine at the top of Australia's order; now, as head coach of the world's top-ranked Test team. On his 50th birthday, he opens up on the philosophy that governs his world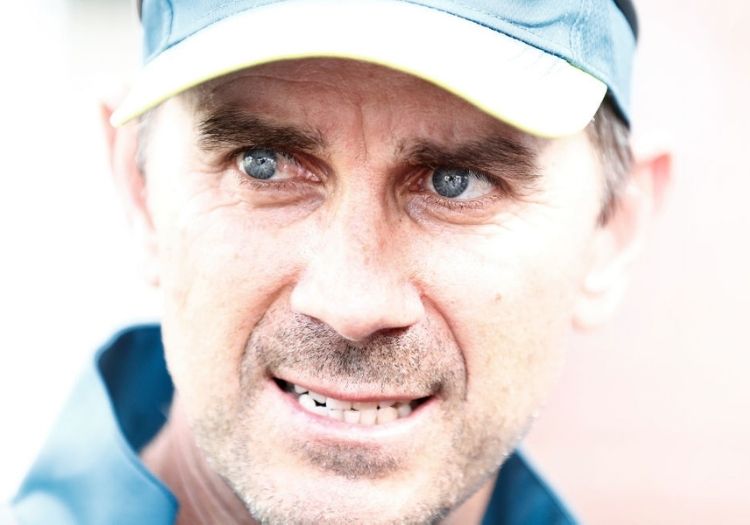 All is going swimmingly but then suddenly Justin Langer dips out of shot. The stomach sinks; as reactions to questions go, it is not a great sign.
Relief comes a split-second later when the Aussie accent returns; "I will show you – hang on, I will find the letter, one sec. I have never shown anyone this."
After a few more moments Langer reappears clutching a handful of double-sided note paper; "I wish I had a contract which ensured that I played cricket for Australia one day," he begins. "I know it is not that easy but imagine if someone would give me a contract and I played for Australia and was involved in Australian cricket for the rest of my life."
The words are his own. He is reading part of a letter he addressed to himself. It is retrieved from a gargantuan memory-laden scrapbook in response to a vaguely-worded question concerning almost three decades at the forefront of Australian cricket.
Langer had just turned 18 when he wrote it. Today he turns 50 – an eye-opener for those of us who spent many a hungover Sunday glued to the '05 Ashes boxset.
"I had some friends over last night for my birthday and was telling them about the first time I came to England. I was a kid - a 16-year-old on a schoolboys tour - and I scored a hundred at Lord's.
"I do not remember anything about the cricket, but I remember running around to this red phone-box and reverse-charge calling my mum and dad. That call has stuck with me for the rest of my life. Making my family proud of me has stuck with me for the rest of my life."
Langer is a disciple of the written word. His desk is stacked with journals brimming with his musings and there are apparently others floating elsewhere.
He has penned five books and this week a children's book, Cricket – The Aussie Way, was released – in which he is the protagonist who shares advice from his cricketing journey with a junior side. His caricature is recognisable on the cover.
It includes the true tale of when he wrote to Sir Donald Bradman for advice and received a response within 48 hours.
At the back of Langer's home is a room plastered with "quotes, scripts and writing".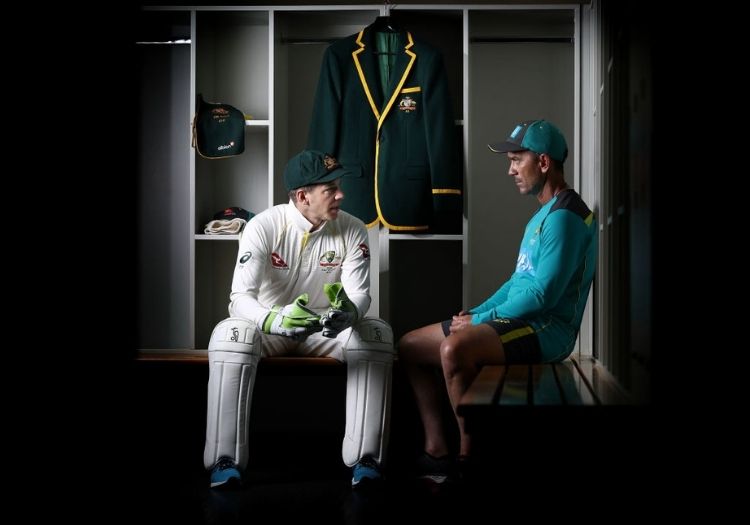 Langer and Tim Paine have led Australia back to the top of the Test rankings
"I say to kids all the time; you have to dream, set goals and write them down. I talk about it a lot and people think I am crazy. I do not know the science behind it but writing down your goals is really powerful. A lot of people say: 'Ah whatever,' but it is a lesson I have learned. You write down your goals. It is incredible that they come true."
That is the theory. Then comes the evidence. "In my third Test I was batting with Allan Border when he scored his 10,000th Test run. After that, I wrote down the number 10. I thought if Allan Border can do it, why shouldn't I do it? Now, I did not score 10,000 Test runs but I came close and still had a good career. So the point is if you write your dreams down, maybe you don't achieve them to the letter, but my gosh…so powerful."
Putting pen to paper is enshrined in Langer's daily routine; meditate when the sun rises and reflect when it falls.
"I write my gratitude journal at night. Every single night. I write down everything I have done during the day and you go: 'How cool was that?' It could be a little thing like planting something in the garden, walking the dog or having a coffee. And you just say: 'Great day, thank you,' and then you go to bed. It is magic, eh?"
Langer has spoken openly about treasuring elements of lockdown. He is always mindful of the tragedy unfolding worldwide, but after more than 300 hotel breakfasts last year, a silver lining of the pandemic has been an extended period with his family.
And for all the pearls of cricketing wisdom garnered in the colours of Australia, Western Australia, Middlesex and Somerset, some of his greatest lessons have come closer to home.
"I have got four daughters who come from the same place and had the same upbringing, but they are so different, every one of them," he tells The Cricketer. "They have different like and dislikes – some like to read, some don't; some like to write, some don't; some are sporty, some aren't. So, you have to treat them differently. And you love them for what they are you know? That is something I have learned for coaching as well.
"Therefore, if my kids are all different, my players will all be different. A lot of coaches do not get that or do not want to put in the time and effort that it takes. They just want to have a blanket rule. If you want to have blanket rules as a coach or a parent, you can. It is easy but it does not work."
Fatherhood has also led to a growing acceptance that everyone must be free to navigate their own path. Some will find their way instantly; others may dilly-dally for a while; there will be those who will never get there. And that is okay.
"It is their journey. It is their life. I have got to a point where it is like: 'If you do not want to do it, that is fine; you just will not be in the team,'" he explains. "Different people perform differently and that is cool. It is your journey, not mine. It is your life, not mine. I am living my life – you have got to work it out and live yours. You tell people that and they say: 'You can't talk like that; it is too simple.'"
Surely simplicity is to be savoured in a world that hurries onto the bat more quickly than a Jofra Archer bouncer?
"I have learned in life that no matter what they do, the great performers simplify things. Every great sportsperson, every great musician, every great writer, they know the recipe and they stick to it. They do not complicate it and because of that it does not take up as much energy. They become like zen masters. They concentrate on the only thing that matters, whether it is the ball, on seeing it out of the fingers or on Glenn McGrath hitting one spot. That is called simplicity. It is almost boring.
"Compartmentalising is really important and concentrating on the moment and what is important right now. There is so much out of control, you have to have the courage and the wisdom to know what is important otherwise you go crazy."
Langer's stellar playing career is well-documented; the proud 354th wearer of the Baggy Green; a veteran of 105 Test matches; 23 Test hundreds; 100 professional centuries.
No Australian has scored more first-class runs and he will go down as a great. "I don't think I was a great player, I think I was a good player," he adds.
Distilling the thrills and spills of almost 20 seasons into 40-odd minutes is impossible. He speaks passionately throughout that time. Considered, articulate, and there is something about his mannerisms that draw you in. But when he recalls time in the middle the twinkle in his eyes would be visible from Jupiter.
His Test debut came against a ferocious four-pronged West Indian express attack. Curtly Ambrose, Ian Bishop, Kenny Benjamin and Courtney Walsh – might as well die trying.
He made 20 first up and then a battling 54 in the second dig, occupying the crease for more than four hours, only for his side to fall agonisingly one run short in their victory pursuit. Post-match, David Boon told Langer it would not get any tougher.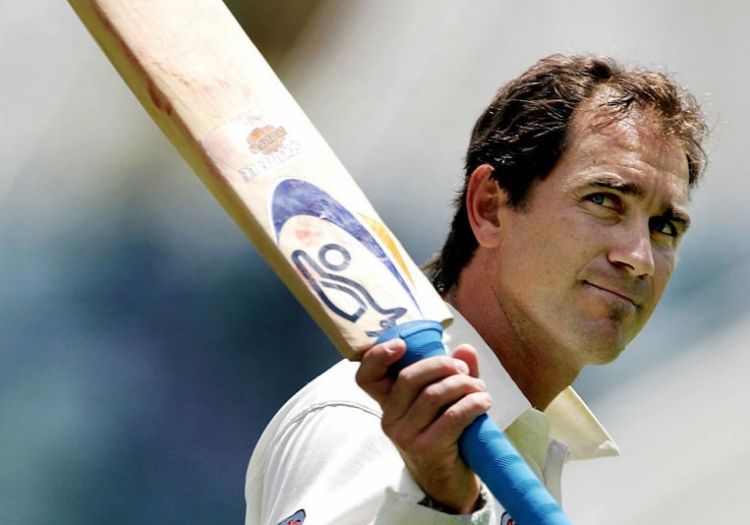 Langer hit 100 professional centuries
"I look back on that first Test match and I think he was right," he says. "I have told the story at corporate events probably 500 times, and my first ball goes on for about 25 minutes now, I reckon! I got hit in the head by Ian Bishop and I literally got the wobbly legs like a boxer. If that that happened now you would be subbed out and I would not have played the next Test.
"But that is just how it was. I got battered and bruised. You have to have the courage when it is tough to keep standing up to it. Gosh, that was a horrific baptism of fire. Am I glad I have been through it? Absolutely, absolutely. Here I am talking about it now 27 years later – incredible."
From there, his reputation as a fighter blossomed. He was one to stare down a challenge, rather than shy away – no bad thing either, given how few sail through a life in professional sport without a little wing-clipping.
Dropped by Australia several times, he came famously close to calling it a day during the 2001 Ashes. Out of form and out of the side, skipper Steve Waugh gave him a call and told him he would open in the final Test.
Langer protested he was in worse form than Andy Caddick but went on to make 102. The Langer-Hayden axis flourished beyond belief, but the left-hander will never lose sight of what came before.
"I will never forget how hard the game is and I think because of that I am quite compassionate. I have great empathy for my players. There is hardly anything they can experience that I have not experienced. I often remind our coaches and the media: never forget how hard the game was. And I will never forget how hard the game was. It was a really hard game. It was tough. I would not be the person and the character I am without having lived through it."
The twilight of Langer's career was spent at Somerset. It was his second stint in county cricket, having enjoyed three fruitful seasons at Middlesex in the late 1990s. He was supposed to be there for just six weeks, largely as T20 cover for compatriot Dan Cullen.
Three years, 133 appearances and over 6,000 runs – including two triple centuries - later, he left the field for the final time.
He left a lasting legacy at Taunton, having pulled an ailing club up by its bootstraps. It was his first step towards where he stands now.
"It was the end of my international career, so it was a great project. I saw a club that was really struggling. We had the chairman – Giles Clarke – uber-ambitious, Richard Gould, what a guy, a great friend of mine. So intelligent and a good vision for the club. Brian Rose was director of cricket and so passionate about Somerset. Andy Hurry was the coach – he and I were like soulmates. I love everything Sarge is about.
"I was captain and then two pretty impressive guys in Marcus Trescothick and Caddick. The core of the leadership was so powerful and we were all going in the same direction. I learned that if the leaders are all on the same page you can create miracles.
"Hopefully we had an impact in changing it around There is nothing I didn't like about my time at Somerset. I loved every single minute of it. My kids loved it. My wife would go back to Somerset to live tomorrow."
Not quite everything though, Langer is reminded. The pitches at Taunton were quite different back in 2007, and a contest against his old club early in his time in charge yielded 1,659 runs and just 13 wickets.
"I just got 300 in my very first game as captain and I went up to my first committee meeting," he recalls, grinning. "They all said: 'You got 300, you must be so happy.' I said: 'I am not happy because we cannot win the Championship playing on this wicket.' 'But the groundsman gets awards every year,' they said. 'That might well be,' I replied, 'and he is a great groundsman, but we are not going to win the Championship if you cannot get 20 wickets.'
"One of my pet hates in life is flat wickets – and I was a batsman. They are the death of the game but if you have a wicket that is a contest between bat and ball, cricket will never die. Keep it flat and it is just a run-fest and that is just boring. And that is me saying that as a batter, probably a boring batter."
A decade has passed since his retirement and Langer has built a coaching reputation to match his batting prowess.
He cut his teeth as a batting coach for the national side before taking the reins at his home state Western Australia in 2012.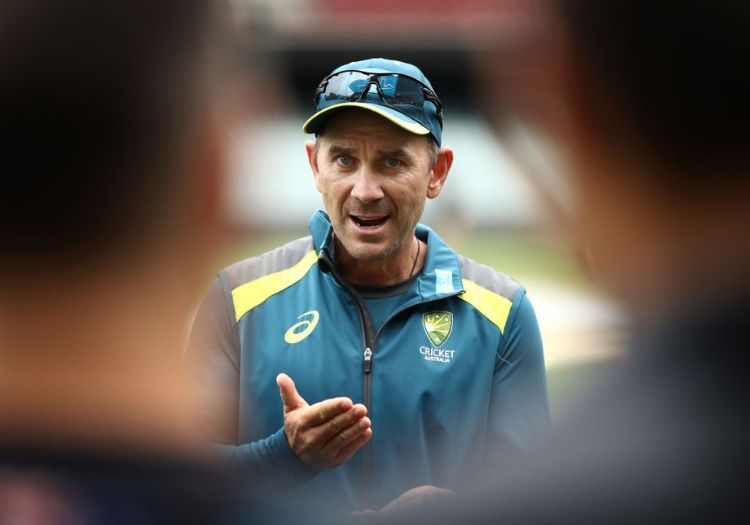 Langer's Australian side face India in five Tests
The Warriors were in turmoil on and off the field but by the time he departed nearly six years later, they had secured the one-day title – their first silverware in a decade and they twice came up just short in the Sheffield Shield. He also led the Perth Scorchers to three Big Bash tiles.
He believes his serenity to be a vital asset.
"The beauty of sport is that it conjures emotion," he says. "Whether you are a spectator, a coach or a player, it conjures emotion. The trick is not to get too emotional. There is a big difference. You have to use the emotion. In sport you win and lose, sometimes you are happy sometimes you are sad. As a batsman sometimes you get a duck sometimes you get 100. The trick is to try and stay as calm as you can for as long as you can."
Throughout the English summer, the cameras would pan to Langer and his poker face. "Smile Alfie," former teammate Shane Warne would laugh on commentary, but the expression never changed.
"When I was at the Scorchers, my kids would ask me all the time how I stayed so calm. Truth is, I was nervous, I was churning on the inside, but I had to put on the poker-face. I do not want to get too emotional or too up. That is no good for my players. I am not a player anymore."
"I am happy. I have the best perspective on life of anyone I have ever met, I reckon. I am the happiest person in the world. But I deliberately try and stay as calm as I can. Then if I get angry, the players go: 'Okay, he means it.'"
Like when you kicked the bin during the Test documentary that was a lockdown staple for all cricket-lovers?
Grinning, he begins, "It is funny. Do I regret that moment? I regret losing control for that millisecond, but I recognised it straight away. Four or five of us were allowed to watch it before it came out, and I told them they had to take the bit out where I kick the bin. 'What do you mean? We have to keep that!.' 'Mate people will think I am crazy – Nathan Lyon has just missed an easy run out, we are going to lose the Ashes and I have just kicked a bin.' 'It is about what you did next.' 'What do you mean?' 'You picked up all the rubbish – one of the values you talk about to the guys is humility; that is humility right there. You are walking the talk.'"
That documentary charted the early days of Langer's time in Australia's most prestigious role. The team were at a low ebb, the events of Cape Town still open sores.
The talk focused on shifting the culture of Australian cricket but Langer believes that was misleading, highlighting that the bans imposed by Cricket Australia far exceeded those handed down by the ICC.
But he knew his side faced an uphill battle to win back respect. And to do that, actions would speak louder than words.
"We had to earn respect of our opponents and make Australians proud again. The most-asked question when I first got the job was: 'How are you going to change the culture of the team?' And I said it comes down to behaviour. It might be one behaviour, a thousand behaviours, a million behaviours. You can talk as much as you want but it is what you do on and off the field that will hopefully get the end result of earning back some respect."
Two and a half-years on, and pride has been restored. As has their status as the top-ranked Test side in the world. But right now, that comes second.
"I was angry at the time, like all Australians, and that is why we had to change. When Steve Smith walked off at the Oval in that second innings when he got a standing ovation, that was a really heart-warming moment. The level of abuse those guys got in England during the World Cup and in the Ashes, I have never seen anything like it, frankly. For him to be able to turn around the masses the English public was a sign to me we were starting to make inroads into earning back respect.
"One of the most heartening things is that not once publicly or privately have I talked about performance. That we are the No.1-ranked Test team at the moment goes to show you can have both."
A good chunk of the Test documentary focused on India's last tour down under in which they claimed victory in both the Test and ODI series. All being well, the next few months will give Langer's side a shot at redemption.
There has been much clamour for 22-year-old batsman Will Pucovski to open up. Joe Burns, the incumbent, made a laboured start to the Sheffield Shield season while Pucovski started life at the top of the order with back-to-back double hundreds (255 not out and 202).
The poker face returns.
"Because we named the bigger squad, some people might argue that we are not sure what we are trying to do. But that could not be further from the truth; we are very, very clear about our first XI. I have always said that competition is really helpful and for us to name young guys in squad is a nice position to be in. They're in there not because they are young, but because their performances have been outstanding."
Having reached yet another half-century, like any batsman worth his salt, Langer will want to continue to make hay. For wife Sue's sake, just hope he retires not out before reaching century number 101.
Gift a subscription to The Cricketer this Christmas and choose your free gift (a £20 John Lewis gift card or copy of Bob Willis: A Cricketer & A Gentleman). Subscribe here
Somerset
|
Features
|
1Banner
|
Australia
|
Please ensure all fields are completed before submitting your comment!