James Tredwell: "It was a strength of mine that I was able to separate myself from cricket"
T20 BLAST FROM THE PAST: KISHAN VAGHELA talks to the Kent stalwart about his fleeting experience as England captain, the 2013 Champions Trophy final and the changes spinners have had to make as the 20-over format has developed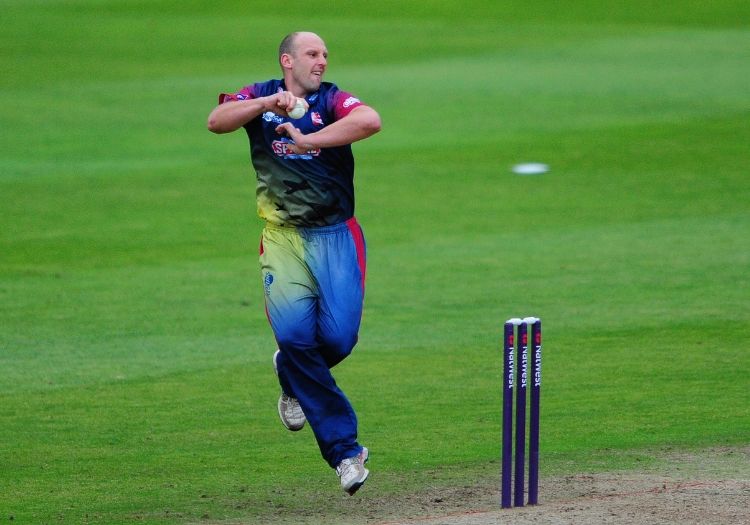 "It can be a really difficult position to be in. So far I have loved it, but when the scrutiny gets a bit more intense then maybe it won't quite be the case."
James Tredwell's assessment of his time so far as part of the ECB National Umpires Panel somewhat resonates with his playing career.
Put into the bracket of contenders to succeed Graeme Swann as England's leading spinner labelled him as something that he wasn't necessarily comfortable with, but regardless of whether he was representing Kent or England (or Sussex during his loan spell at Hove in 2014), there was pride in what he did.
Scrutiny of the England cricket team reached its peak in the aftermath of the 2015 World Cup, and Tredwell was one of the victims of the new white-ball direction, while he played just twice for his country in Tests.
Off-the-field pressures rarely attract the detractors quite like displays out in the middle, but Tredwell's overall demeanour means he looks at his time with England with the same unassuming portrayal he gave on the field.
"During that period, I never saw it that way," he told The Cricketer. "Swanny was a great bowler and was hugely successful so I had to wait in the wings.
"I did get my little bit of moment in the sun when he stepped away from ODI cricket, so in that regard, I had my period. In the longer form of the game maybe I could have had a couple of extra games along the way, even alongside Swanny at times, we could have maybe played another spinner at some points.
"I was very lucky to have the involvement that I did and there were times where my performance outside of England probably wasn't where it needed to be in terms of fulfilling the role at the right time when those opportunities became available.
"I can't really argue with the opportunities that I had and I am very grateful for those."
Rewards for demonstrating that sort of gratitude are very rarely handed out willy nilly, but Tredwell's came in a rather peculiar situation, with an equally bizarre outcome.
England's T20 captain in 2013, Stuart Broad, and replacement Eoin Morgan were both unavailable through injury for the second T20 against New Zealand in June, which led to the offspinner being granted the privilege of leading the side.
An England captain he became, but he remained so for just two deliveries. Michael Lumb had nicked Mitchell McClenaghan behind off the second ball of the match, and immediately afterwards the showers came at The Oval and no further play was possible.
Tredwell rather bluntly remarks: "Tossing the coin was about the only thing I did as captain on that day because of the rain."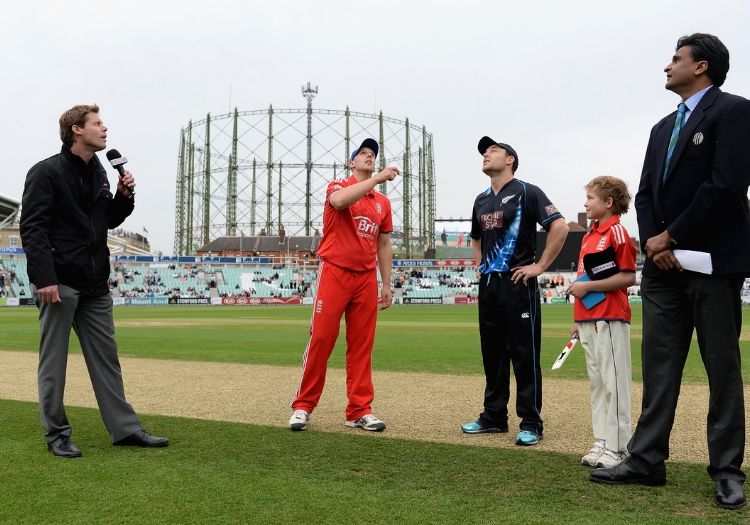 Tredwell was named captain for the T20I at The Oval after injuries to Broad and Morgan
But on a more serious note, he continues: "To be thought of in that way was first and foremost the biggest compliment you can get from people around the team.
"It is something that I can look back on very fondly."
However, four days previous Tredwell had experienced a less pleasant experience in England colours at Edgbaston.
The Champions Trophy final had been reduced to a 20-over game and MS Dhoni's India had managed to put just 129 runs on the board.
But England suffered one of their ill-fated collapses after Morgan and Ravi Bopara were dismissed by Ishant Sharma in successive balls. It all boiled down to the final delivery, where England required a six from Tredwell off the bowling of his India counterpart, Ravichandran Ashwin.
"I was not overly confident of hitting the six," Tredwell explained. "One of the best bowlers in the world was bowling at me and that was quite a daunting thing, but I was caught in the moment.
"I was just trying to pick an area and try to watch the ball as hard as I could and get some bat on it.
"Unfortunately, I did not get any. Stuart [Broad] and I had got to a point where we could win the game which, when we came together, looked relatively unlikely.
"We were quietly confident of getting there before the last over. I tried to do the best that I could but unfortunately, it was nowhere near good enough."
That feeling of inadequacy was the overwhelming result of England's 2015 World Cup humiliation, which signalled the end of Tredwell's ODI career.
The offspinner's only appearance in the tournament in Australia and New Zealand was in a dead-rubber group game against Afghanistan, but given this summer's success, he holds no grudges for not being given a longer run in the side.
"I probably suffered a little bit on the back of the 2015 World Cup, having gone into that tournament on a pretty big high," the 37-year-old added.
"I was sitting 10th or 11th in the rankings in terms of ICC ODI bowlers, but unfortunately that was the start of the reshuffle when Eoin Morgan came in as captain to replace Alastair Cook.
"He had ideas of how he wanted the team to look in that World Cup. I only played one game, the last game of that tournament which turned out to be seen as quite disastrous and on the back of that changes were made.
"Having not really done anything wrong I was one of the casualties, so in that regard, it was slightly disappointing but equally if you have a look at what they have done since that tournament, you cannot really complain.
"I would like to have played more but the time I had was pretty successful and I can look back very proud."
Kent supporters would feel similar pride and warmth when Tredwell is mentioned, and with performances such as an unbeaten County Championship century against Yorkshire and figures of 6-47 against Surrey in 2007 just some of his most notable contributions, it is evident why.
Think of Somerset and Marcus Trescothick and James Hildreth spring to mind. Longstanding stalwarts may soon become a thing of the past, but Kent and Tredwell will seemingly hold a relationship with great seminal value, despite slight temptations to leave the county during his career.
"I came up through the Kent system and was with them since the age of nine," he explained.
"I always had a huge affiliation with the county. I grew up in the county and played in the Kent league, so I was extremely proud at whatever was going on at Kent.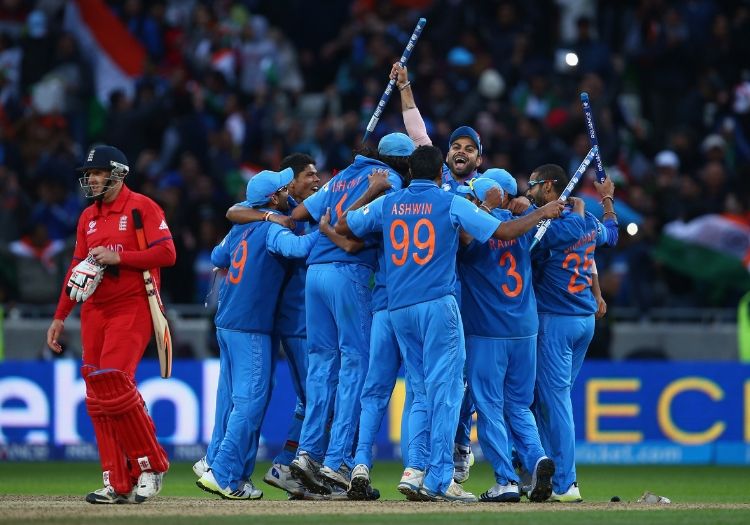 Tredwell couldn't see England over the line in the 2013 Champions Trophy final
"There comes a time though when as a professional sportsman that you may have to move to further that career.
"There were times at the back end of the 2000s when I was on the England radar and was starting to go on the odd tour that I thought about it. Kent were beginning to struggle financially in Division Two, and you think 'hang on, do I need to move on to make sure I still can still fulfil my international ambitions'?
"But then I looked at it and I was happy living where I was, so I don't regret staying and fighting through that difficult time for the county, which was good for me. I still had the loyalty towards the club, so it never really was a serious thought although it did cross my mind."
Those aforementioned notable contributions not only demonstrate his worth to the county throughout his career but also his all-format capabilities with both bat and ball.
Sent in at No.3 by Kent during the early years of the T20 competition in England, Tredwell made his name in the limited-overs game. But it is in the red-ball arena that he believes he honed his skills.
"The longest form of the game is the greatest test really, hence its name.
"I think that does challenge you and your skills to the upmost degree, you are pitted against your peers and you are tested from first ball to last over a long period of time. As a player, if you can be successful at that level and in that situation then it is proof of you being quite good at what you do.
"That is the difference with T20, you can have your day in the sun swashbuckling and swinging hard or getting your yorkers and slower balls in which is highly skilled but with the increased risk to the game, you can sometimes be successful without necessarily doing it well.
"That is where the longest form is still the true test of you as a sportsman. As a player, I saw that as the true reading of me as a cricketer, but equally now the crowds and the media hype attached to T20 means it is a huge draw and for me as a player when it first came and started to kick-off, to go The Oval or Lord's in front of 25,000 people gave me a great buzz as a normal domestic cricketer."
A normal domestic cricketer with a pretty standard action for an offspinner, little appeared to change in terms of approach to the game for Tredwell, but this unoriginal description of him fails to explain the upheaval of spinners' game as T20 cricket has evolved.
The eye-line is a recurrent theme in batsmen's vocabulary, but it also helps explain what batsmen's capacity to strike at a relentless, unchartered rate has altered for spinners.
"When it first came in, we as spinners were able to bowl in that middle part of the innings and tighten the screw and take the pace right off.
"Obviously you have got a lot that was made of Jeremy Snape and his 'Moon Ball' but there were a lot of spinners that were able to do that and take the pace off because batters weren't necessarily regularly clear the ropes, so you could deceive them in the air and have them caught in the outfield.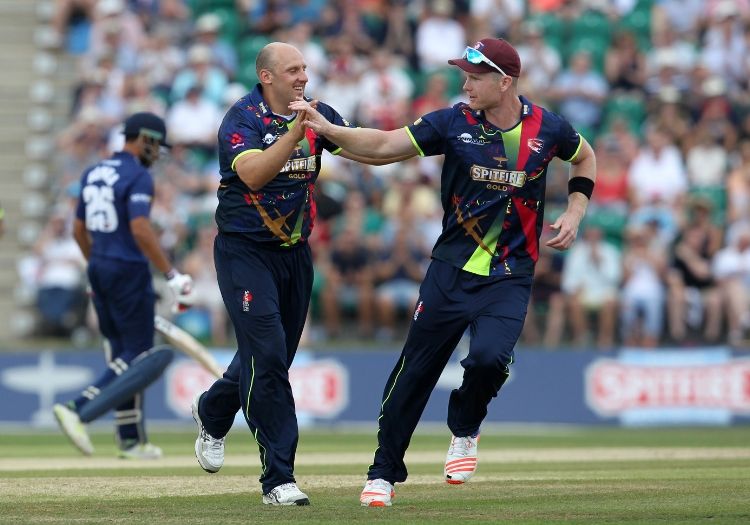 Tredwell won the English domestic T20 competition in 2007
"However now there are a lot more players that can ably clear the ropes more regularly so the spinner has to be a bit smarter and try and not and get hit as opposed to actually deceive batsmen in flight, because getting the ball up above the eye is probably riskier now than it was in the first few years of T20.
"The way of going about taking wickets is a lot different to how it was. The first few years of T20 you were able to really toss a ball up and get it above the eye and beat batsmen in the air.
"Now you are seeing the spinners such as Rashid Khan who tend to be quicker, flatter spinners that maybe spin it either way where back in the first few years people like myself were able to deceive them in the flight and get them down the wicket through lack of pace and defeating people in the air.
"The batters have to put all the pace on, and while the batting has improved as they are now trying to hit the ball in the middle period as well as at the start and at the end and go aggressively throughout, spinners are now wicket-taking options because the risk is higher."
A problem however that he could not risk was what he describes as the "wear and tear" with his shoulder, which forced him into retirement in 2018.
However, a man who could hold many gripes presents himself as a calm, composed figure, whether on the field or as an umpire, and it is that characteristic which is Tredwell's most overlooked yet subtly critical quality.
"I think it is each to their own really. If you try and be something you are not I think that can actually hamper your performance because you are taking yourself away from who you are.
"That was one of my strengths, I just continued to be who I was. I didn't try and do anything different and didn't let any difficult situations affect me as such. An increased media presence can sometimes get to you and lead to you being someone that you are not.
"Thankfully that was a strength of mine, that I was able to separate myself from cricket. That is the same for someone like Ben Stokes, Stuart Broad or whoever it might be in terms of different characters. You have to be who you are, and while that can change over time you have to stay true to yourself as that gives you a better chance of performing."
Please ensure all fields are completed before submitting your comment!