Jade Dernbach feels wanted again
NICK HOWSON: The former England bowler returns to international cricket with Italy after a seven-year absence. The intervening period has been filled with injuries, surgeries, rehab, abuse, doubts and contemplation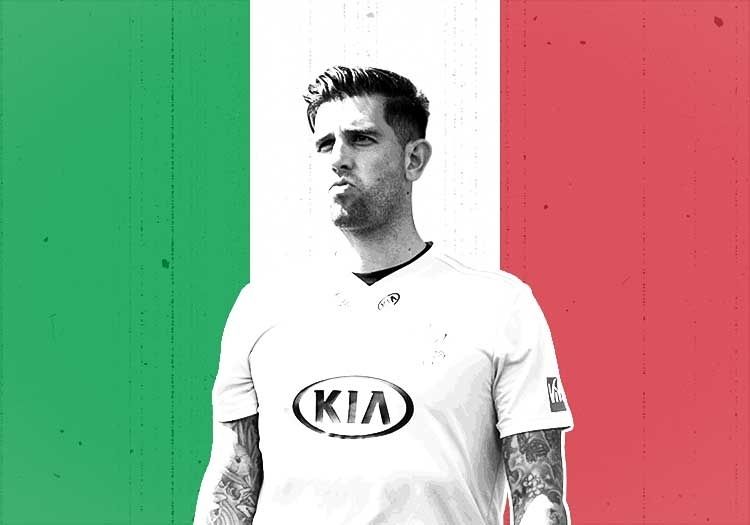 As the Women's Big Bash League kicks off, the 14th Indian Premier League prepares to reach a climax and the men's T20 World Cup comes into view, Desert Springs CC will host one of the more modest events on the calendar, but no less important.
While the best cricketers in the world assemble in Tasmania, Dubai, Abu Dhabi and Sharjah, a few miles in off the coast of the Alboran Sea sits a resort that will play a role in determining the line-up for the next men's T20 World Cup in Australia in 2022.
Jersey, Italy, Denmark and Germany face-off in a double round-robin for two berths in the global qualifying events in February and May 2022. The main party is within a hop, skip and jump.
The landscape is changing. T20 status, official rankings, a genuine World Cup pathway and an Olympic bid in the pipeline, these kinds of competitions have long-term meaning and value.
Nothing reflects this better than the assorted cast. Dieter Klein, Craig Meschede and Michael Richardson will turn out for the Germans and the Danes are calling on Amjad Khan. Italy meanwhile are led by captain and coach Gareth Berg and assistant Owais Shah.
None, however, can rival the name of Jade Dernbach. Capped 58 times by England, a stalwart at Surrey for 19 years and with appearances in the BBL, PSL and CPL he is a headline name on the associate cricket scene.
Born in Johannesburg, Dernbach qualifies through his mother and has an Italian passport. Seven years since his last international outing, he's been eligible for the Azzuri since 2017 but was only approached prior to Berg's appointment as head coach in January.
"He sold me the Italian dream," Dernbach told The Cricketer. "He is a passionate guy at the best of times so hearing him speak about what he is looking to do got me enthusiastic about it.
"For anyone who is trying to push something you need to love it and believe in what you're trying to achieve and that enables you to do what you can to help that journey.
"He picked up the phone and he outlined what he was looking to achieve with Italian cricket and where he thought I could fit in on that journey. He gave me some glowing reviews in terms of what it could be like for me, what I could add.

"It was nice to be wanted by someone."
Despite being born in South Africa, playing much of his cricket in south London and representing England, Dernbach has never had any trouble tapping into his Italian heritage.
"Certainly, my love of food, absolutely my number one passion, and how expressive I am with things I am interested in and cricket being the main one," he explained. "I am extremely passionate about it. I wear my heart on my sleeve and I guess that is how Italian sports teams are viewed across the world. I'd like to think my brand of cricket is Italian inspired.
"When I first discussed it with (my mum) I just saw her face light up immediately. She's super proud and so are the rest of my family. The fact I'm going to get the opportunity to pull on the jersey and contribute in one way or another is going to be a proud moment for my family for sure."
Taking a step towards Australia might not necessarily register in a country that has enjoyed a stellar sporting 2021, with the men's football European Championships, Marcell Jacobs' Olympic men's 100 gold medal and a European Volleyball Championship double stealing the limelight.
But there is nothing fair-weather about Dernbach's Italian jaunt. Qualifiers for the 2023 50-over World Cup resume in Hong Kong in December and Uganda next February, not to mention the next step on the World T20 pathway. He's invested in the journey, partly due to being sold a long-term project. But also, because this is part of something much bigger; this is about being coveted and having a purpose, which hasn't always been the case.
**
Chattogram, Bangladesh. South Africa. The 2014 World T20. A performance described in at least one quarter as a "calamity cameo" as AB de Villiers dispatched Jade Dernach's slippery changeups to parts of the Zahur Ahmed Chowdhury Stadium few had previously investigated. The nadir was a nine-ball 18th over which included a single, a no-ball, two wides, a two, a pair of fours and sixes. In a three-run defeat that sent England crashing out of the competition, it can accurately be described as a turning point.
"I think about that game all the time, to be honest," admits Dernbach. "The overriding feeling from that fixture was I came up against the best white-ball player of our generation, who took the game away.
"He and (Virat) Kohli are the only two players who I have bowled at who for everything you try they are always one step ahead of you. We know that because they're the two best white-ball players we've seen.
"The fact he took me down and that was essentially the end of my international career, I can live with that side of things. In terms of who I came up against, I was beaten by the better man on the day and that ended up being the end."
That would be the end of Dernbach in an England shirt. Not that the country he served had the courtesy to tell him.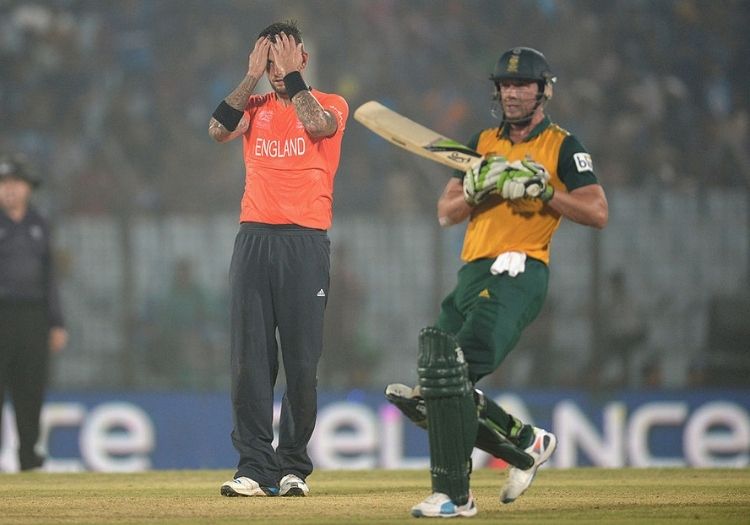 Dernbach reacts as De Villiers lays into England
"I had a feeling (that was the end). We came home after that, and Ashley Giles was no longer in charge. Peter Moores took over and we went back to Loughborough (to train).
"I was involved in that, we had conversations and was under the impression I was going to be selected for the next squad (vs Sri Lanka). That was my understanding. I had some time away from the game and to do some homework on my own game and I felt in a good place at that point.
"Low and behold they picked the squad, and I wasn't even informed of it. That is how it ended. It took me a while to get over that to be honest. It was a huge blow to the ego, I had to rediscover my love for the game and get back to where I am."
If Dernbach wasn't taking the new ball - as he did in 23 of his 33 T20Is - then he was a regular at the death. His economy rate of 8.71 (at the time the highest of any bowler to deliver 300 deliveries, since been overtaken by 22 players), an average of 26.15 and the tap he would take wasn't always viewed in context.
"I left some games out there that's for sure but that is all part and parcel of it," he concedes. "I may have come a bit too soon because we didn't understand the shorter format in the sense of impact players, when you're bowling at the start and end of innings and how that reflects on figures and runs-per-over which I think the games looks at a lot differently now.
"You look at all the best death bowlers in the world now they would hover in the eight, eight-and-a-half-an-over. Whereas in that time it wasn't seen in that manner. We rested too much on runs-per-over rather than what impact players were having on games. The mindset has changed now.
"What is his strike rate or how many times did he win games for us? These are the sorts of questions you want to ask of the people who are going to bowl at the hardest time of the game. I am perfectly happy to know I did that every time I stepped up and bowled in those critical times and hopefully, I made people's jobs easier."
The significant impact of dew in Bangladesh nullified Dernbach's controlled variations, namely his slower ball out of the back of the hand. That resulted in a beamer during that infamous 18th over against The Proteas, a delivery which can be traced back to what he believes was a distinct lack of planning.
"What I felt I probably could have done more was in Bangladesh dew was such a big factor," he added. "It took my best ball out of my armoury because the ball was so slippery. I wish I had prepared properly, and trusted other balls more than I did. I kept trying to go back to something that wasn't going to be effective. That was the learning side of that.
"You couldn't just turn up and expect to do well. You have to make sure you are ticking off every box. That is as simple as 'I am playing in dewy conditions, wet the ball and practise with that'.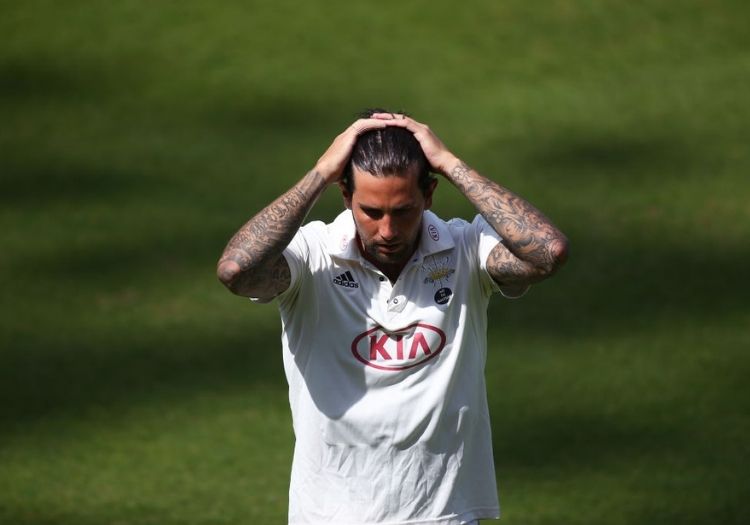 Dernbach leaves Surrey after a 19-year association with the club
"I know now if I am going to go to a certain place these are the things I am going to come up against and I am going to practise that to ensure I am comfortable when it happens. I don't look back and go 'oh no' or go to the next game and brush it away. There are learning experiences everywhere and I continue to do that now.
"Whenever we went to the subcontinent, we were always reminded of how poorly we played in the subcontinent. We didn't give anyone any reason to believe anything other because we did struggle.
"You can mentally prepare as much as you like but until you're out there you don't really know what you're going to face. We came up against some better sides, we played some poor cricket.
"Could we have prepared better? Of course, I'd be a fool to say no because otherwise, we would have progressed. There were other factors. Bangladesh is not the easiest place to tour at the best of times, particularly during a World Cup when you're not playing your best cricket. I fully hold my hands up I wasn't good enough on that tour to help the team."
**
"No would be the simple answer."
Jade Dernbach doesn't have to think particularly hard before responding. In the last two years, he's torn nearly as many groin muscles (four) as played senior cricket matches (five). He's been an afterthought on the treatment table and in the nets. Unable to obtain peak fitness or prove himself on a regular basis when he has.
It was while playing for Jamaica Tallawahs in the 2019 CPL that Dernbach's injury hell began, tearing his groin which limited him to four outings. He underwent double hernia surgery but returned to discover that was causing his adductors to tear. He went under the knife again and was forced to rehab at home as the pandemic hit. Shortly before the start of the T20 Blast in 2020, he re-tore his groin in training, forcing the skipper to miss the run to the final. Doctors then detected scar tissue from previous surgeries which required injections.
A breakthrough was reached last winter, but you'd never have known. Dernbach had to wait until June 21 for his first of two outings for Surrey against Essex Eagles. A loan spell at Derbyshire Falcons doubled his tally, before a single outing in The Hundred for London Spirit at Welsh Fire.
Naturally, the journey forced Dernbach to consider whether it was all worth it. He makes no secret of completely falling out with cricket, not to mention ambitions of working in the city, enter the recruitment world or pursue a coaching career having started his badges.
"That certainly crossed my mind from time to time," he admits. "There were certain points where I was willing to chuck the towel in. I couldn't keep putting myself through that.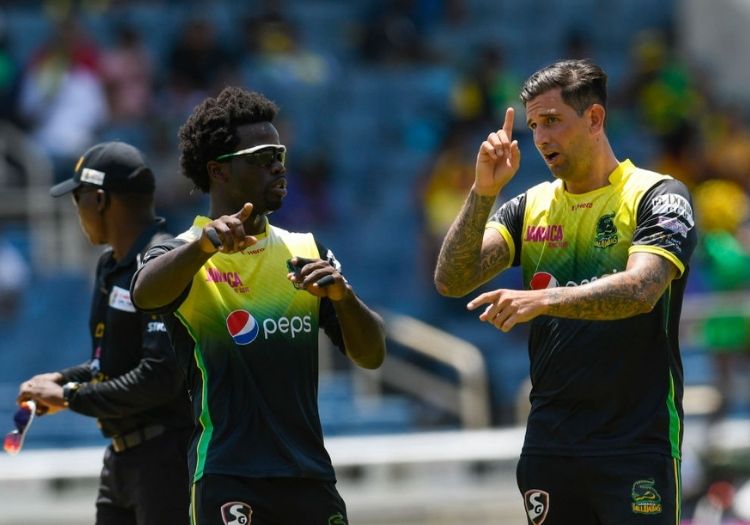 It was at the CPL that Dernbach's latest injury nightmare began
"I said to myself that once we'd figured out what the issue is, I had these injections, changed my training programme and I said to myself I'll give it one more go and if it tears again, you know that it might be time to call it a day. But it ended up being ok."
But two years is a long time in cricket. Surrey had moved on, recruiting Jamie Overton and Reece Topley, bringing through and giving prominent roles to Gus Atkinson, Conor McKerr, James Taylor, Ryan Patel and Nick Kimber. All that before Chris Jordan returns next season. The decision he would not be among them beyond the end of this season was hardly a surprising one.
"It came to the point where they no longer needed my services and that is what it is," Dernbach, who took his leave with Rikki Clarke, observed. "Do I feel like I could still add? Absolutely. The fact they don't equally I can understand.
"I am a 35-year-old cricketer who has not played a lot in the last two years. I get it from both sides. I am not bitter. I have no ill-feeling towards anyone. I understand both points of view. From a playing stance do I wish I'd had more of a chance? Yeah of course but if you ask any player who gets released from a county."
Dernbach leaves The Kia Oval with his enthusiasm for the game re-established. Two matches at Derby, before their Blast campaign was curtailed, and an appearance in front of nearly 10,000 at Cardiff in the 100-ball competition relit his fire. A white-ball deal for 2022 and beyond is now the focus.
"It was getting back to the big time again, somewhere where I hadn't been for a number of years," Dernbach said. "My last game was in the CPL, and I was thinking 's**t is this going to be the last game of my career?'
"To get that opportunity to play in The Hundred, in front of a big crowd. I only got the one game in the end, but at least it was one game, and I knew I was still capable of doing a job at that level on that stage having been out of the game for two years.
"I was bowling at the end, I didn't win the game for us but equally I delivered everything I wanted to deliver and it was just a feather in the cap for me for all the hard work I had put in to know I could still do it."
"History suggests if I am on the field for long enough, I am going to contribute in a good way. It did relight that fire."
**
If Dernbach does leave professional cricket behind there will be one aspect of living in the public eye that he won't miss.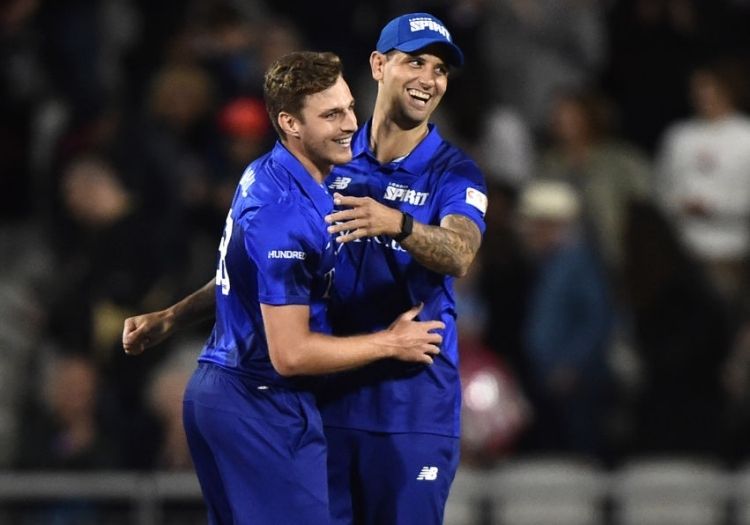 Returning to the big time: Dernbach in action in The Hundred
The right-arm seamer was an earlier convert to social media than most, joining Twitter in December 2010 and Instagram a few years later. He's lived some of the most important moments of his life through its toxic prism, not least his entire England career and the death of friend and teammate Tom Maynard in June 2012.
The use of social media by sportspeople was brought under a fresh microscope after Ollie Robinson's suspension for historic racist and sexist tweets and ECB investigations into the conduct of other players.
But the other side of the coin also requires attention.
Over the early May Bank Holiday weekend, sports bodies and teams boycotted social media to draw attention to online abuse. Not that it appears to have made much of an imprint, after England footballers Marcus Rashford, Jadon Sancho and Bakayo Sako as well as seven-time Formula One world champion Lewis Hamilton were all subjected to abuse across the summer.
Dernbach is no stranger to being persecuted on the internet, the pinch point coming after that South Africa T20 World Cup match.
"When I started out it was at the height of my international career. There was no scrutiny on what people sent to you, no ramifications for anything. If you got abuse that was your own business. There was no one to talk to.
"After we lost in that World Cup, it was not long after the MH370 flight went missing. People were sending me tweets saying they wish I was on that flight after losing the World Cup game.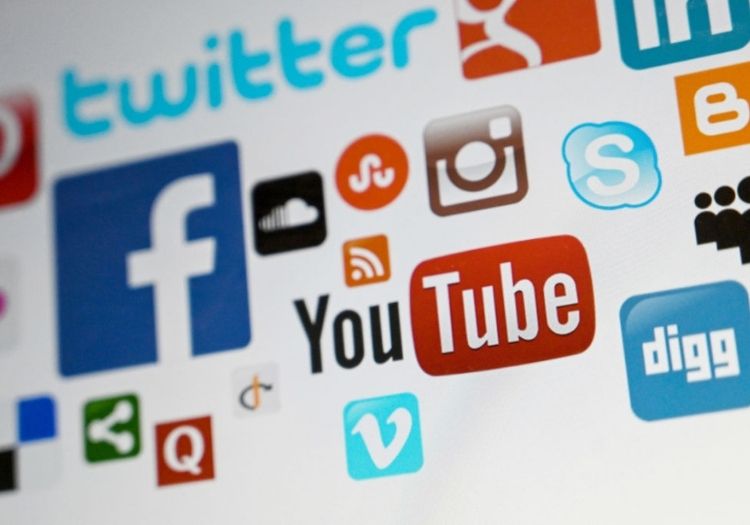 Social media companies have been slow to react to online abuse
"I thought 'I'm playing a game of cricket, and this is the stuff that I am dealing with?' When the news of me playing for Italy came out I had a look at the comments: I'm not even relevant anymore and people are still attracted to abuse. Nothing you can say can affect me. But to young kids it isn't."
Obsessed with online reactions, Dernbach would search for positive comments and become fired up by the negatives.
"It certainly affected me. You're always searching," he said. "' Let's go through Twitter, Facebook, I'm sure there is someone who is going to think I am good.' You keep reading the abusive stuff and that is all you hear. Then you start believing it.
"I started getting angry about it. 'The next time I am going to show you!' You've got the press and presenters saying horrible things about you. I was playing in India (for England in 2013) and I was getting a load of abuse because I wasn't bowling particularly well. Pundits were on my back.
"I ended up putting undershirts on and writing 'I've shown you now'. I was going to put on a performance and then take my shirt off and show you that. Like that would do me any good?
"That was the place I was in. We were touring for ages, having our pants pulled down but I was so embroiled in the social media aspect of what people were saying about me instead of concentrating on my performance."
And he only sees it going one way. "I think you're going to find guys shy away from social media. I think you're going to find very soon guys are going to take themselves off it completely. There is no upside to young athletes being on social media unless it is from a commercial point of view. You're not even getting the interactive side because you've got someone else running it for you and that is not why social media started.
"You're going to see a drop-off. You're not going to see that interaction or support because it is not going to be them on the other end. There is always someone waiting to catch you out. When you're got a 16-year-old saying something you don't understand anything about, you had one or two many drinks and you click your finger. I just don't see any upside."
Surrey
|
International
|
Features
|
England
|
County Cricket
|
1Banner
|
Please ensure all fields are completed before submitting your comment!