India cut out the slip-ups at last to take position of control in third Test
JAMES COYNE AT TRENT BRIDGE: India have become the world's No.1 Test side even with a shoddy record of slip catching… but after lunch at Trent Bridge they started clinging on to everything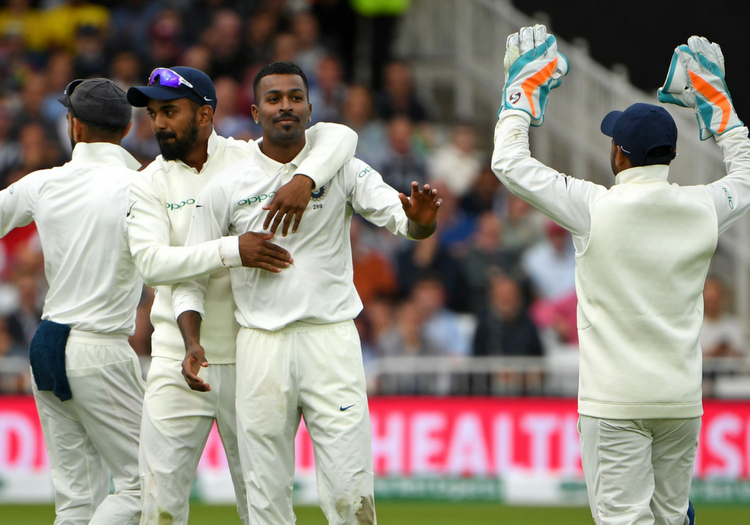 Slip catching is a mighty difficult skill to master. It is not an exact science. Just ask the average club cricketer, who doesn't have hours and hours to practice it.
And, on surfaces like the excellent one we have for this Test at Trent Bridge, and in these kind of atmospherics, the game can make even the best look silly.
The new ball darts around both ways, springs off the surface and flies off the edge, often too quick for the wicketkeeper and slips. Batsmen are turned square, and all you can do behind the wicket is react. When Ravichandran Ashwin flashed one over the slips early on the second morning Jos Buttler looked like he was taking evasive action from a falling bomb.
The early portents in this department were not promising for India, either. They are the world's No.1 Test team in the rankings, by some way. And yet, according to the stattos, over roughly the last five years, India have grassed more than 120 opportunities at slip; their success rate is fluctuating at just under 50 per cent.
Through the first two Tests of this series, the positioning of their slip cordon has been met with bemusement. Three changes to their team here – for the 45th Test in succession India had tinkered with their XI – meant yet another alteration.
They dropped their experienced wicketkeeper Dinesh Karthik – who was short of runs – and replaced him with the youthful verve of Rishabh Pant. Presumably the Indian think-tank chose not to show Pant the stat about the number of byes in recent matches at Trent Bridge…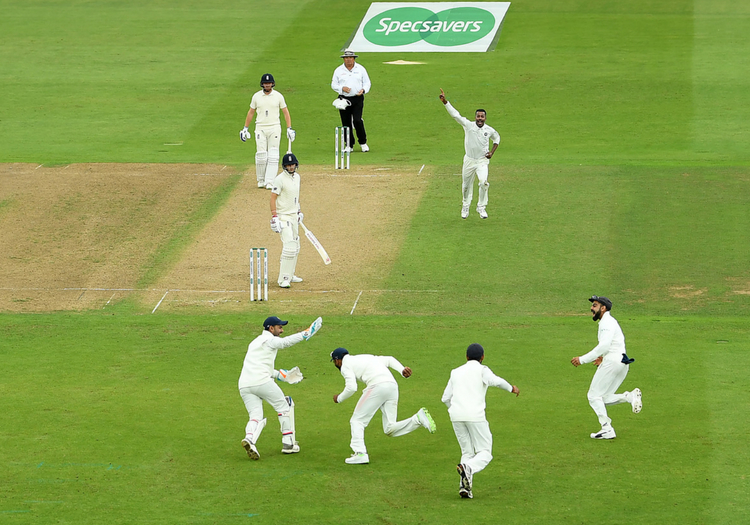 India celebrate the wicket of Joe Root
So all eyes were on India's cordon when England began their first innings and Jasprit Bumrah took the new ball from the Pavilion End. Bernardo Bertolucci once said that what made John Ford and Sergio Leone's Westerns better than others directors' was the way they filmed the horses from behind, displaying their arses in full glory.
Well, India's slip fielders were crouched so close together that they resembled an overcrowded corral.
At one point, Virat Kohli's right foot at third slip was almost directly in line with KL Rahul's left at second slip. They could probably smell each other's cologne. In turn, fourth slip Ajinkya Rahane was obliged to move finer.
The ball was thick-edged by Keaton Jennings to the left of Rahane, just about where he might have been if the slips had been standing the distance you might expect. Michael Holding, commentating on Sky, said that although there were four slips, they were so close to each other that they covering the ground of only three men.
Bumrah was bowling round the wicket, so the slips would naturally be a little finer compared to if he was sending the ball across from over the wicket. And India did seem to be applying the kind of tactic from a low, slow pitch at home, where slippers would naturally be closer to the stumps – and therefore closer together too.
But there was excellent pace, bounce and carry here – nothing like the awful pitch which these sides found here four years ago, when ankle-biters grubbed through to Matt Prior and had him standing up to Stuart Broad's bowling at times.
It was all going wrong for India before lunch, as England raced to 46 without loss. Cheteshwar Pujara dropped one at first slip when Pant began to dive across the gaping distance between them. The slips looked at each other's toes, and twitched as they went down on their haunches.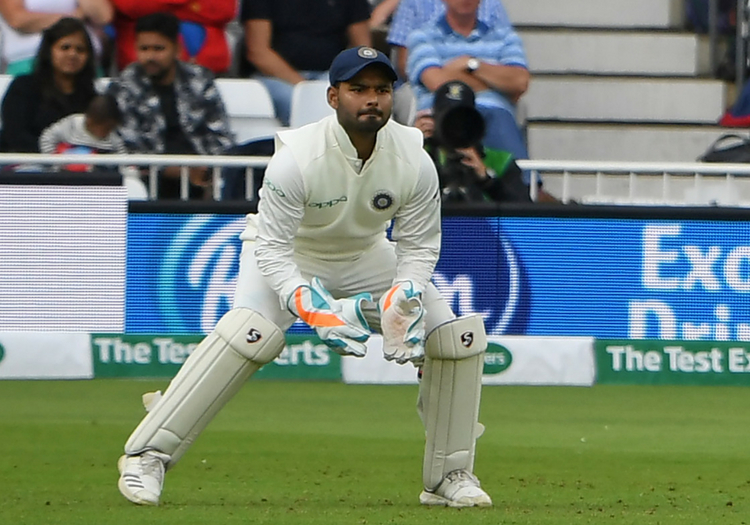 Rishabh Pant claimed five catches behind the stumps
Pant, though not completely smooth in all his handiwork, looked athletic and full of beans. He will surely feel more confident for having kept wicket in this country on the India A tour which began back in June. (Will the BCCI heed the example, and begin giving their full teams a proper warm-up schedule again?)
It was not as if Pant had natural outswing bowlers that he could just set himself for with the new ball. Bumrah's natural angle slants into the right-handed batsman; Ishant Sharma was sending down booming inswingers.
At one stage Pant was wrong-footed down the legside and saw an edge by Ollie Pope go between him and first slip.
But then, suddenly, it all started coming together. India tightened up their lines and lengths. On came Hardik Pandya, an out-and-out outswing bowler, who gained extravagant movement, with just the right angle that the right-handers nicked it either to Pant or straight into the hands of Rahul at second slip.
How quickly the game can turn: after Lord's there had been vociferous calls for Pandya, damned as a bits-and-pieces cricketer, to be dropped; in the space of 29 balls in Nottingham he had his maiden five-wicket haul in Test cricket.
Pant, flinging himself down leg or clinging on to fliers, was the youngest keeper to take five catches on Test debut. England lost all 10 wickets in a session at home for the first time since Leeds in 1938 – and the series was alive again.
In many ways, the slip fielding in this series says much for the exciting but unrealised state of Test cricket right now. Both teams have had an unsettled batting order, and the uncertainty for many of the batsmen spreads to the cordon.
No one is terrible in there. But, in England's case, there is doubt about whether they have the right personnel in there; surely Joe Root has to be. Alastair Cook, who has dropped a few in there over the last couple of years, shelled a toughie low to his right late in the day. And how many times has Pope fielded there for Surrey in first-class cricket?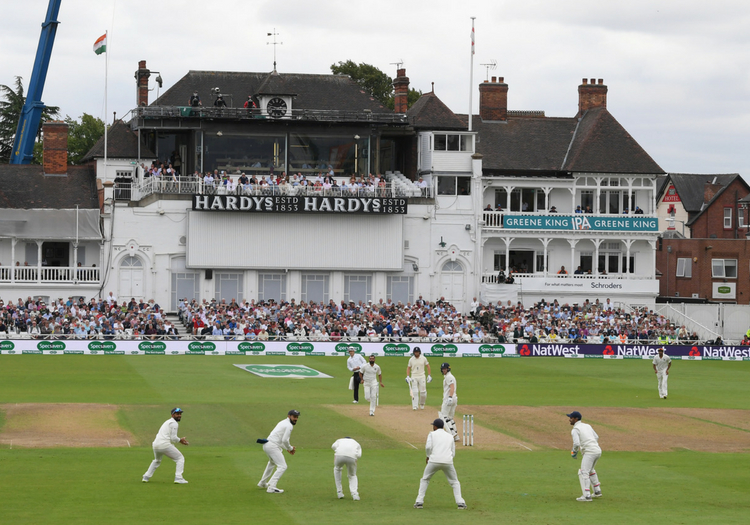 Ben Stokes is caught by KL Rahul
In fact, England have dropped enough in the cordon over the last few years that they have slid beneath Australia and South Africa (who apparently miss around one in seven) in terms of chances snapped up.
Australia have traditionally produced the world's finest slippers, but they are set to be without the banned Steve Smith and David Warner for their season's Test series, and it will be interesting to see how they fare.
The solution is not especially sexy. Conventional wisdom suggests that a settled team and solid preparation will lead to more reliable slip fielding. But no one is realistically saying you pick a player based on his ability at slip.
Familiarity may breed contempt in many walks of life, but not when it comes to slip catching. A well-honed cordon get a sense for what each of them is going to do before anything happens. Think back to the great Test sides: West Indies in the 1980s, Australia in the 1990s and 2000s – both teams had iconic slip catchers who fielded there for years, and did not carry many passengers.
There is more white-ball cricket now, and therefore not the same time in first-class cricket to hone the techniques and tics of a cordon. On the flipside, the general standard of fielding is better.
The message for both countries should be – try to find a more consistent side, play more warm-up games, and practice, practice, practise. The slip catching should gradually take care of itself.
If India can start to crack it, then they will take a big step towards the overseas victories that Kohli craves. Because this fine bunch of seamers are certainly creating the chances.