India continue World Cup whitewash of Pakistan in highly-anticipated anti-climax
SIMON HUGHES AT OLD TRAFFORD: In the field the Pakistan players didn't match the commitment or optimism of their supporters. In truth they haven't for some time. Their bowling was largely mediocre and some of their batting wasn't great either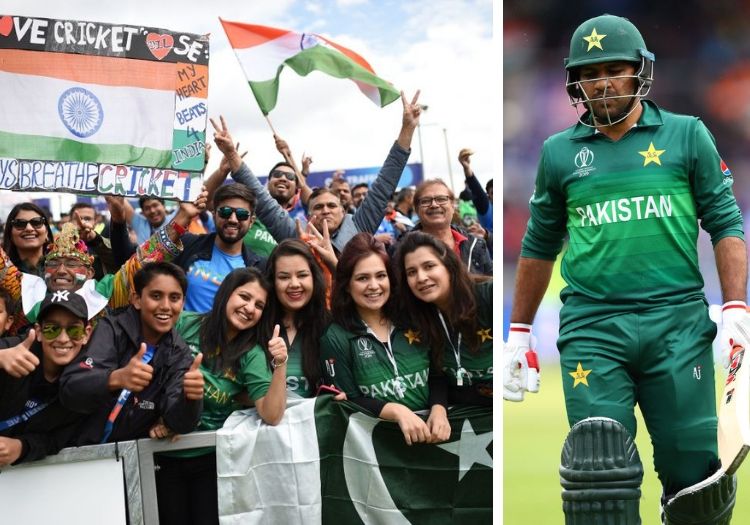 Scorecard | Ratings | Talking Points
Imran Khan, the Pakistan prime minister, was in town. Pakistani fans were out in force at 8am trying to pick up any spare tickets for upwards of £400. Wasim Akram, local hero, couldn't even get his wife a ticket.
The effort the fans went to dress and colour themselves appropriately and sing and chant was tremendous for this greatly anticipated encounter. They would have known that Pakistan have a superior record over the history of their one-day encounters with India.
But in the field the Pakistan players didn't match the commitment or optimism of their supporters. In truth they haven't for some time. Their bowling was largely mediocre and some of their batting wasn't great either. Perhaps they suffered stage fright. 
Pre game India looked focussed, determined, assured. Virat Kohli jogged about expectantly. Sachin Tendulkar, here as a commentator, offered him encouraging words. Pakistan looked nervous.
This can happen especially on a big occasion when your captain wins the toss and decides to field. Immediately the bowlers, players who usually like to postpone the inevitability of performance, are under the spotlight. With the exception of the excellent, fiery Mohammed Amir, their control was shaky, their discipline absent.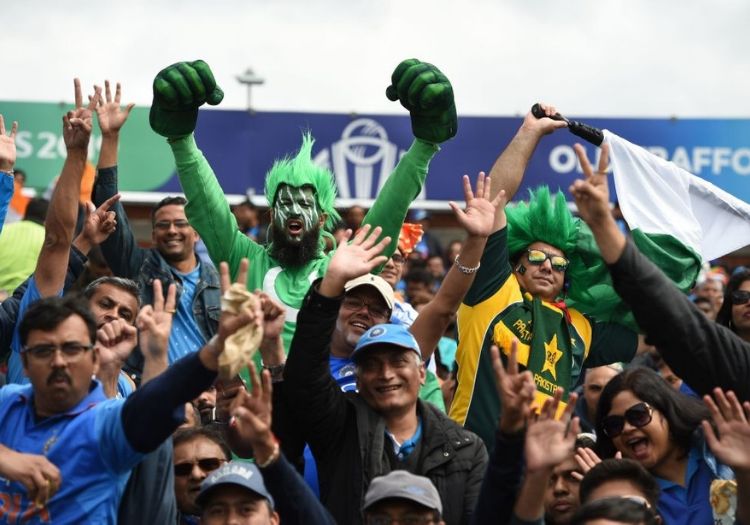 Pakistan fans inside Old Trafford
Hassan Ali began with an ordinary over, costing nine, and by the time he'd bowled 18 deliveries, four of them had disappeared to the boundary; two half-volleys, an inside edge and a wide long hop which was smacked for four by Rohit Sharma. He had conceded 26 from his first three, failing to back up the probing Amir who had conceded just six. 
India were up and running. Because of the leakage from Hassan's end, the Indian openers could play Amir more cautiously and respectfully and wait for him to be removed. And the Pakistan spinners did not back Amir up either.
Shadab Khan dropped horribly short and offered Rohit a filthy full toss which he gleefully deposited 10 rows back. The offspinners were creamed over the top by both openers. 
India's progress was relentless and uninterrupted - 53 for 0 after 10, 105 for 0 after 20. Rohit brought up his 24th one-day hundred on the stroke of the 30th (172 for 1).
With Kohli looking typically hungry, there was no way back for Pakistan. Even though they did manage to 'restrict' India to 88 off the last 10 overs, if that's not an oxymoron, still they were requiring the highest ever score by any team to win a World Cup match.
Despite a useful 104 partnership between Fakhar Zaman and Babar Azam, the probing accuracy and subtle variations of Yuzvendra Chahal and Kuldeep Yadav (and eventually the oppressive Manchester weather) never allowed them to break free.
India were allowed to make light of the loss of Bhuvaneshwar Kumar to some kind of hamstring strain. They don't play again now until Saturday - and that is against Afghanistan - so Kumar can rest until June 27 (v West Indies), or even June 30 (v England) before he is properly needed. 
Maybe then summer might have made a belated appearance. The rain and Pakistan's disappointing showing made this fantastically anticipated encounter an anti-climax. But nothing dims the enthusiasm of these passionate fans and they were still singing and dancing amid the late afternoon showers.
Whether they thought it was worth £400 is another matter... and as far as World Cup encounters goes, it is now India 7 Pakistan 0. Even Imran hasn't been able to influence that.
Our coverage of the ICC Cricket World Cup 2019 is brought to you in association with Cricket 19, the official video game of the Ashes. Order your copy now at Amazon.co.uk
Please ensure all fields are completed before submitting your comment!