How cricket is cleansing hearts and minds for people on the inside
SIMON HUGHES: With sport linked to reducing the rate of re-offending among released inmates, Feltham Young Offenders Institute is using cricket as a vehicle for change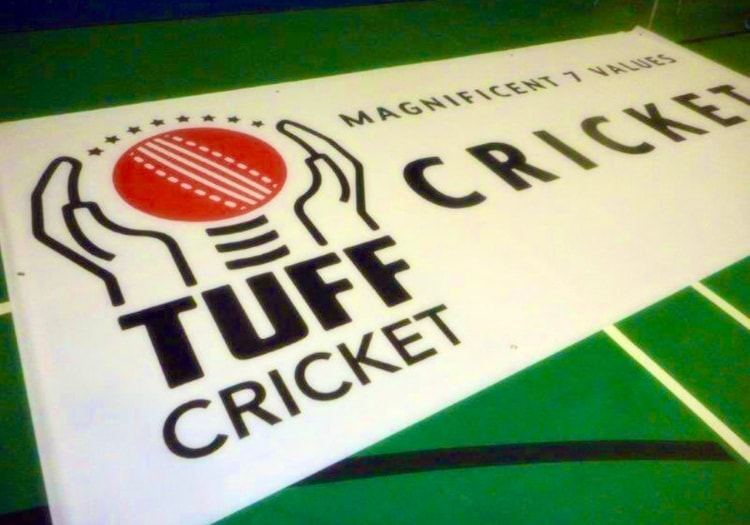 I have played cricket in some unusual locations. On a frozen lake in St Moritz. A golf course in Connecticut. On Copacabana beach in Brazil. On a sandspit in the middle of the English Channel. Down the Kings Road (at 4am) after my stag night. But never in prison.
I have now. I took part in a cricket session run by The Unity of Faiths Foundation (TUFF) in Feltham Young Offenders Institute last week. It was part of a 10-week course offered to inmates who had behaved 'well' and earned the opportunity to participate.
It costs the government an eye-popping £97,000 to imprison a young offender for a year. Even more shockingly 67% of those re-offend within a year of being released. But the statistics indicate that the number drops to around 20% when inmates are exposed to some kind of sports coaching.
Hence the enthusiastic response to the TUFF cricket programme from the Feltham governors. The idea is to introduce the sport to a collection of 18-21-year-olds to give them a sense of the game and a steer towards a potential social network (i.e a cricket club) when they are released.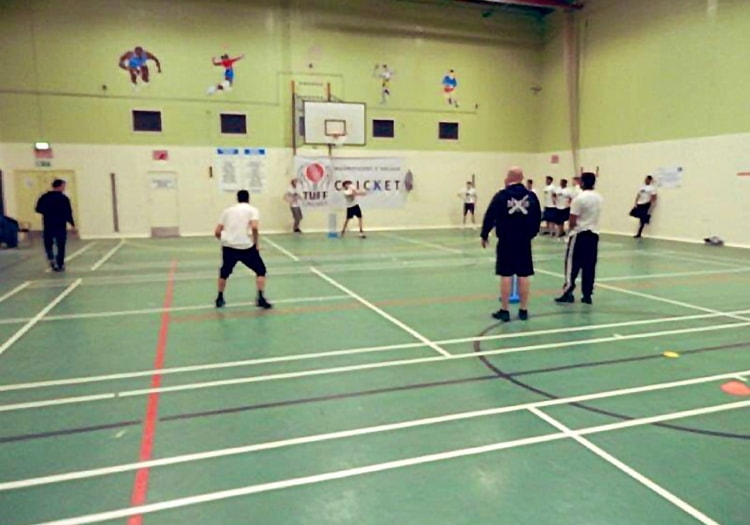 Inmates of all backgrounds are invited to play - based on their recent behaviour
So every Thursday morning three volunteers, Rev Chris Kennedy, a cricket-loving local curate, Dr Shamender Thalwar, one of the TUFF founders and John Reeve, chairman and coach of Acton CC, gather at the heavily reinforced door of HM Prison Feltham and make their way to the institute's sports hall.
There are a series of security doors and checks to negotiate, and metal encased corridors looking onto overgrown grassy areas to navigate, with warnings about drug-sniffer dogs on patrol at every door. No sign of any prisoners though, or the sound of bars being rattled. This was far less Reservoir Dogs, it felt more like being on a slightly run down 1960s university campus.
Quite a hubbub was emanating from the prison gym, however, which when entered, turned out to be a surprisingly large and well-equipped sports hall with a climbing wall, basketball hoops, dive mats and cricket netting drawn back against the wall. There was even a bowling machine though you wouldn't necessarily want that in the hands of a 20-year-old imprisoned for GBH.
The noise is coming from a gaggle of young men gassing about a football match they've played the night before. One or two are hobbling from hard tackles. But as soon as Reeve initiates fielding practice they form two orderly lines and take (or miss) a few catches.
The group are from a variety of backgrounds. Andrew, a skinny man from Jamaica, takes a sharp catch nonchalantly and flings a return to me right over the stumps and does a self-satisfied jig. But Jo-Jo, a stocky Bajan who is apparently the prison 'bossman' lazily doesn't get down to the ball and boots it back to me.
And Ethan, a white man with a scarf on his head, seems keen but a little uncoordinated. "He didn't like something his girlfriend did, so he set fire to her pet-rabbit hutch," Dr Thalwar, a psychologist, tells me later. "Then he saw the rabbit trying to escape so he freed it, and somehow the fire spread to the patio and the back of the house. He was imprisoned for criminal damage." Ethan uncomplainingly answers to the nickname of 'Flames.'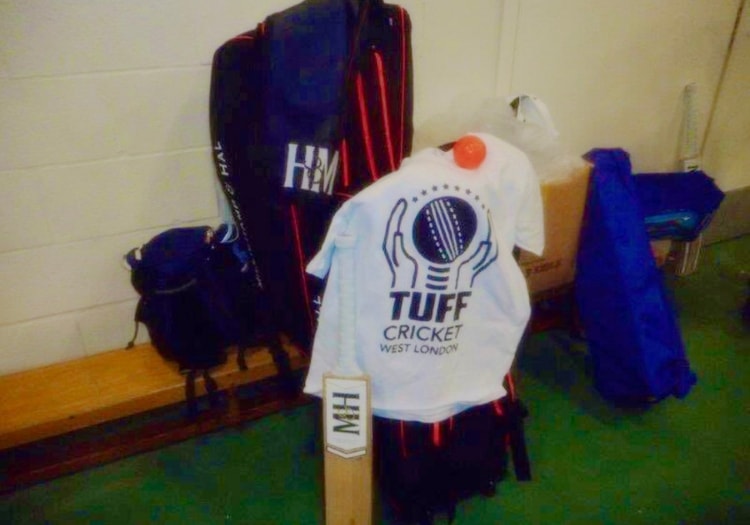 TUFF Cricket and Acton CC united for the initiative at the start of the year
Reeve forms them into two teams to play a hybrid game that is a cross between cricket and baseball. While one batsman faces the (slow) bowling, the rest of the team have to run around the three bases (positioned at extra cover, midwicket and behind the bowler) to register a home 'run.' If anyone is not on a base when the bowler receives the ball back the whole team is out.
The atmosphere is lively and competitive, but co-operative too. When Joey, a serial offender for drug dealing, is given out (by me) for straying off the base, he accepts the decision and bows his head apologetically.
Charlie, who stabbed someone who slapped his girlfriend, hits a glorious cover drive, but then drags a sweep gently into his stumps. When I point out that he is out, he obediently hands the bat over and walks. "I used to play cricket for Upminster as a colt," he says, "but I think they thought I was trouble." He says he'd love to re-engage with the club when he's released. Jo-Jo, a scary-looking hulk, sees the injustice of an opponent being accidentally nudged off the base by a fielder and agrees the batsman is not out.
An hour of lively activity and some powerful shots - especially by Ricky, who used to play for Acton CC until he was convicted of robbery - ends in a tie. There are claps, slaps and high fives and no rancour. The atmosphere is like a boisterous youth club. They gather around a banner on the wall after the match. On the banner is written CRICKET in large capitals.
This is the essence of the session. The programme is called 'the magnificent 7', relating to the seven human values associated with cricket. Each begins with one of the game's letters: Character, Resilience, Integrity, Confidence, Knowledge, Education, Trust. It is using cricket as an educational conduit.
Every week a letter is selected, and participants are asked to nominate a word beginning with that letter that encapsulates their personality. These are written on the banner. So under C is competitive, calm, concentrate, courage as well as confidence. Below R is respect, rules, reward, reliable and under I is ideal, improve, intelligent, injustice.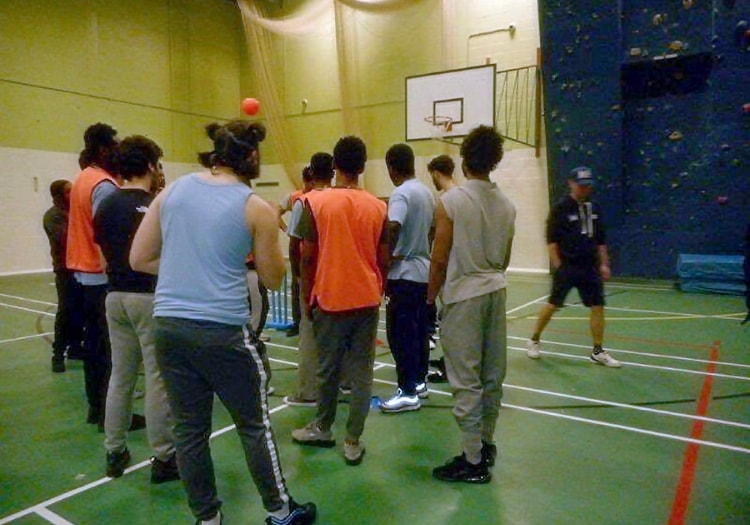 Inmates immediately become engaged when the sport begins
This week they are focussing on the letter K. "Knowledge" offers Charlie, "I'm really learning some new skills." "Kindness" says Ossi, a benign 20-year-old who looks like Balu the Bear. Karim offers "Kindred spirit." "Kick ass" says Andrew, the wiry Jamaican athlete, and jogs another player good-naturedly. Dr Thalwar writes all these words on the banner.
Afterwards, they all thank me enthusiastically for coming and shake my hand or give me a high five. Ricky says he wants to get back to playing for Acton when he's out. Reeve has promised him a groundsman's job. I notice a tattoo of a cross on Ricky's arm with names scrawled beneath. "That's my mum - she's dead," he says. "And that's my brother - he's also in prison." He sounds apologetic.
What you realise is that few of these men are intrinsically bad people. They lack a support network - a family - and they've made some bad choices or suffered a moment of madness. You feel that most, given the chance and some direction - a goal of some sort and a mentor to guide them - could live normal, fruitful, lawful lives. In the past, they have had nothing much to look forward to when they get out. Now, with the help of cricket and TUFF, they might have.
Please ensure all fields are completed before submitting your comment!