When the recreational game returns, don't forget the volunteers who have kept your club going in this year of all years
NICK FRIEND: If you couldn't catch pre-pandemic, expect normal service to resume. And as for the batting collapses, prepare yourself. But most importantly, friendships will still be friendships and cricket will still be cricket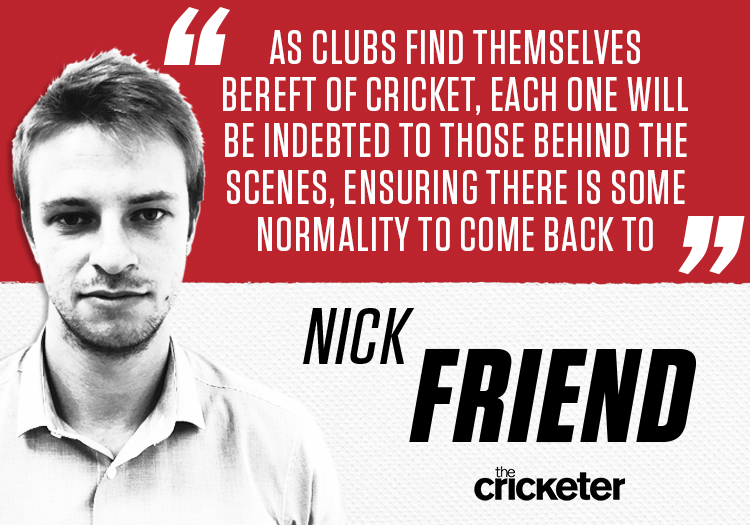 In a normal year, this weekend would be our mid-season barbecue: a chance for everyone from across five senior teams and beyond to convene for the evening following the conclusion of various fixtures.
In truth, it formalises what we do at the end of every other matchday, milling around with food and a drink – first in congregations on the outfield, and then up into the pavilion as dusk sets in, the sun drops and the urge for warmth becomes too great to ignore.
Instead, on Saturday we will continue to roll into the ground to train in our groups of six and then to sit around in our socially distanced circles, still laughing, joking and enjoying each other's company. But nothing can quite fill the void with which we are currently living.
And that, really, is where I want to get to here. I don't particularly want to debate the rights and wrongs of the current impasse nor join an argument over why X should have done Y to facilitate Z. For that, I would push you in the direction of Sam Morshead's piece from earlier this week. We are where we are but, yes, I would like my club cricket back whenever that might be.
I'm not going to lie, life as a committee member in amateur cricket in recent months has been difficult, exhausting, frustrating – all three and in no particular order. I predicted as much in a column at the beginning of lockdown, writing then about the responsibilities I felt lay at my feet as we – as local clubs and community pillars – lost a large wad of our raison d'être.
Volunteering, I said on that occasion, was the wrong word – too official a term for something that comes naturally. That sentiment rings true even now; it remains something I do because I love it and because it simply feels like an inbuilt part of my existence.
You'd think that in this time without cricket, there might be little to organise, less to stress over, a waiting game perhaps. Yet, it has been the total opposite. And every committee member at every amateur club across every amateur sport will have the same story to tell. The email chains have lengthened by the day, multiplied by the week; the meetings have no time to tread back over old ground; Zoom has become a trusted, overused companion.
Mine is a role I enjoy, though many others do much more and have done for longer. We have run weekly quizzes and virtual pub evenings – a bit of contrived competition and a chance for members to come together. They have more than served their purpose, providing people with a vehicle for some kind of social interaction. Messages have been sent to check on teammates who have gone quiet, while others have taken it upon themselves to visit those who are at home shielding. We have a responsibility to look out for our own.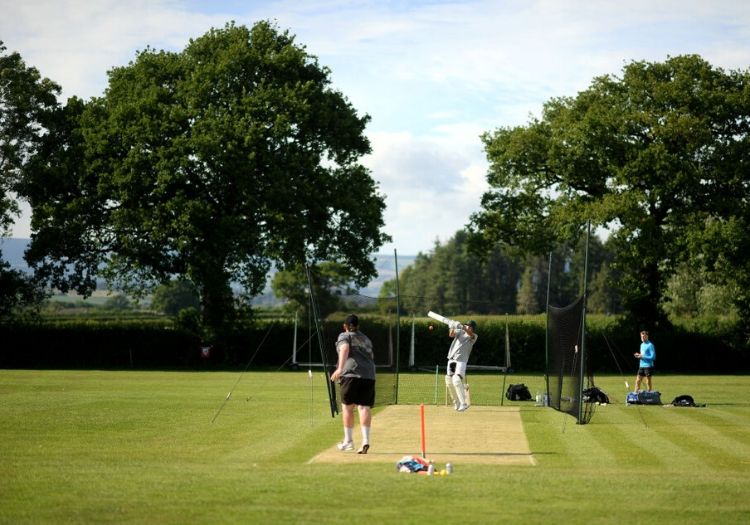 Players have long since been able to return to netting
Ever since this period begun back in March, a principal concern has been the mental health of a community for whom Saturday – and summer – means cricket. I'd like to think we have done all we can to keep that thought at the forefront of our minds, but even if the recreational game is given the go-ahead in the next fortnight, our job will not be done.
We will have players – just like every other club – who are unable to join us, either living with susceptible family members or themselves vulnerable. Others will take a gaze at the bigger picture of this virus and the havoc it has wreaked, deciding that they are not yet comfortable with taking part or with car-sharing, public transport and long-distance travel. Those decisions must be respected. And when I say respected, I mean that they must be understood, unchallenged, not pressed into changing their minds.
These conversations have all been had – among many others. What of CricketForce Day, postponed by lockdown but now an important precursor to any cricket that will take place? How about the considerations around reopening the bar – discussions on the safety and sanitisation of jugs and glasses? Thoughts on a one-way system in and out? These are just three questions among many more. Risk assessments need updating and rewriting. None of these are insurmountable, but they take time and commitment from volunteers that often go unnoticed.
Sign-up for net sessions has become a new norm: an additional spreadsheet on top of all else. For many clubs, reserve lists have been created, such has been the demand among willing trainers. That thought in itself might historically have been scoffed at – certainly halfway through a season once the novelty and initial excitement has worn off to be replaced by a run of low scores.
And then, there is the task of keeping your players updated. One of the great fears around clubs this summer has been of what happens next. Retaining engagement levels is central to offsetting that concern with a positive answer. It has been a challenge, though. Leagues understandably have been reticent to say too much without having their own clarity or certainty of what playing conditions and start dates might look like.
Likewise, clubs have been wary of promising too little or too much, but aware at the same time that members need to know something. When the prime minister misspoke last week about his "vector of disease" comments, players needed reassurance.
Last week, we published – at a delay of a couple of months – our annual yearbook. Normally, it would double up as an almanack of fixtures. This year, those pages are missing. We briefly wondered whether to go ahead with it at all, but we felt it important to document these times – the season that wasn't, so to speak.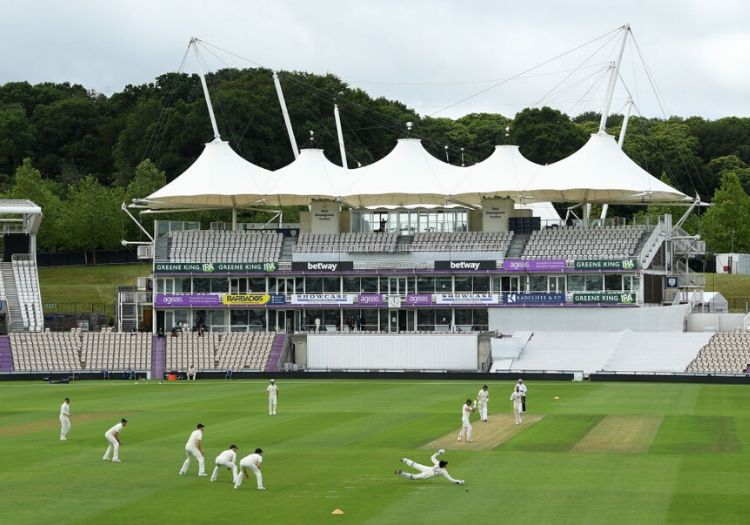 Saqib Mahmood bowled the first ball of England's practice match... it disappeared for four byes
Even that little publication – and it is hardly a centimetre thick – is the labour of a willing volunteer. And I guess that is the point of what I'm trying to say here. I'm certainly not putting this together for personal acclaim, but to highlight that even as clubs find themselves bereft of their primary function, each one will be indebted to people behind the scenes who are ensuring that there is something resembling normality to come back to.
The Cricketer's Lockdown Heroes initiative has been a tremendous vehicle for recognising the thousands who do so much for their clubs up and down the land.
When the amateur game does return, and it will do in the near future, offer out your elbow in Covid greeting and thank them.
Every club will celebrate the occasion differently. And then will come that first ball. Whoever bowls it and wherever it lands, it will mean that little bit more. Depending on how rusty those shoulders are, it might just be hilarious. Just ask Saqib Mahmood who, entrusted with the first ball of England's summer, hurled it away for four byes.
Quickly, though, routines will return as if they had never once disappeared. If you missed straight ones in the past, the chances are you will again in the future. If you couldn't catch pre-pandemic, expect normal service to resume. And as for the batting collapses, prepare yourself. But most importantly, friendships will still be friendships and cricket will still be cricket.
Save 30% when you subscribe to The Cricketer's print & digital bundle. £35 for 12 issues
Opinion
|
Grass Roots
|
1Banner
|
Please ensure all fields are completed before submitting your comment!