Graham Gooch tackles the James Anderson conundrum
HUWZAT ON WEDNESDAY: Will both England's record wicket-taker and Stuart Broad go to Australia, asks the batting colossus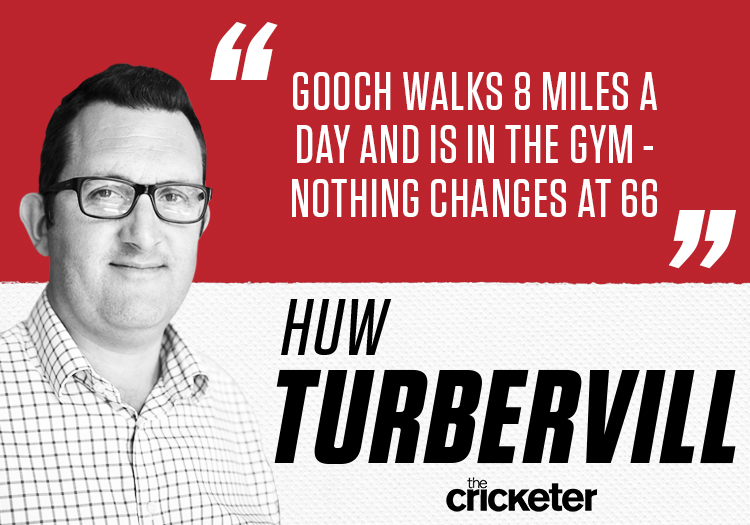 "What do you think will happen with James Anderson?"
Well that put me on the spot.
I was expecting Graham Gooch to answer my questions. But Goochie is like that. He makes you feel special.
As if my opinion counts for something!
Occasionally he calls me 'maestro'. Oh the irony.
You can imagine how good that makes you feel.
I caught him on his daily walk, ostensibly to talk about his 333 against India at Lord's 30 years ago – what a Test that was: I had the pleasure of attending day four (see ticket). Gooch made another century in that second innings, plus there was Kapil Dev's four successive sixes to save the follow-on, Sachin Tendulkar's wonderful catch and much more.
That interview is in the June edition of The Cricketer magazine, out this week.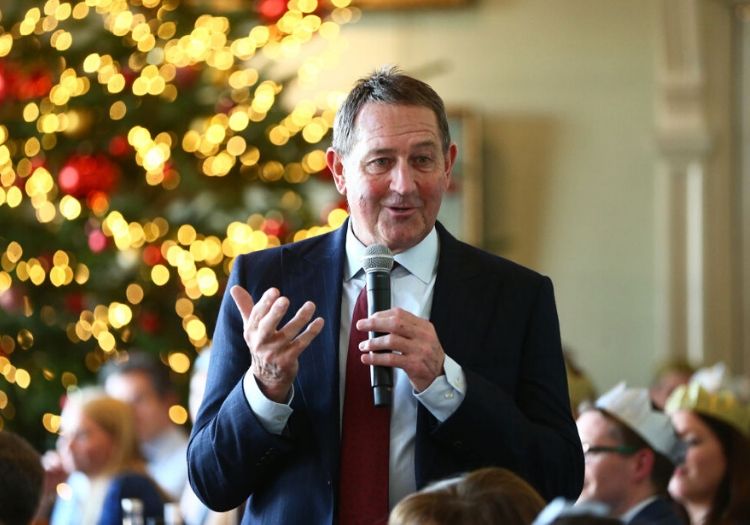 Former England captain Graham Gooch
Today Gooch is walking from Ingatestone to Brentwood, an eight-mile round-trip, to buy some fresh produce at a garden market. He's also been in the gym. Nothing changes at 66 – fitness first!
After he checks his compass and map we return to Anderson, 38.
We spoke before the bio-secure Test plans were unveiled for this summer, and the prospect of any cricket looked iffy.
"A year off might do Jimmy good," says Gooch; "recharge his batteries. He will be 39 when England go to Oz in October 2021. Will Stuart Broad and Anderson both go? I'm not writing Jimmy off. He can come back. He's still brilliant. But we will need some hit-the-deck bowlers [Jofra Archer and Mark Wood?]… and spin is a worry too, especially after they went after Moeen Ali and Graeme Swann on the last two tours, and Phil Tufnell before that. The Australians attack spinners mentally. You need to be quite strong to last over there as it doesn't spin much until late on."
Despite no longer being part of the national coaching set-up, Gooch seems as engaged about England cricket as ever. I still think he would be a great Test coach/tactician, or chairman of selectors.
Despite some indisputable highs – India 1984/85, the 1985 Ashes, Australia 1986/87 – the 1980s was a period of chronic underachievement, considering the talent available.
Gooch put England on the road to improvement, with central contracts in 2000 also pivotal of course.
Before the Test series against India 30 summer ago, Gooch led England to West Indies the winter before. We'd become used to a firm spanking against them, in 1984, 1985/86, and 1988. Gooch presided over a dramatic improvement. England actually nearly beat them, and could well have done if it wasn't for some time-wasting in the third Test.
England needed 151 to win the Test and make it 2-0, but the hosts reduced the over-rate to about 10 an hour, and England ended on 120 for 5.
"No one gave us a chance in that first Test," says Gooch "Did West Indies underestimate us? I don't know. But we outplayed them in Jamaica. In that second Test at Port of Spain the pitch turned a bit spiteful on a length towards the end. I said to Wayne [Larkins, his opening partner] that we had to try to get up their noses a bit, walk down the wicket, cajole them into bowling short. Every now and again one popped up at you, as it did when Ezra Mosely broke my hand."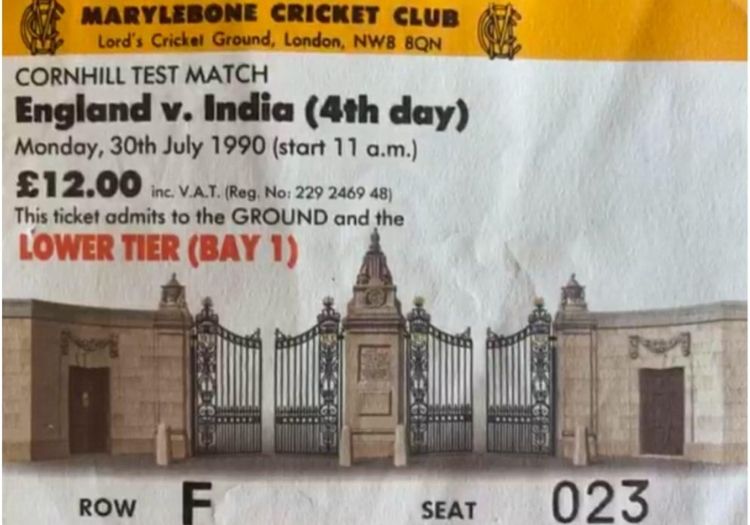 Huw Turbervill's ticket to day four of the 1990 Lord's Test against India
Without Gooch England eventually lost the series 2-1, but that was a huge improvement.
"In the subsequent home series against New Zealand I was out to Sir Richard Hadlee to the first ball of the summer. That was a bit embarrassing… but yes we won that series, and things were definitely on the up!"
P.S… Gooch used to train with West Ham United to be ready for the cricket season if you recall.
And news greets us that Crystal Palace FC are training at Kent CCC's facilities at The County Ground, Beckenham.
I tell my mate David, a The Cricketer subscriber.
It's almost too much of him.
The great loves of his life, intertwined.
"I'm in heaven," he says.
"Would it be too much to ask for Roy Hodgson to be umpire and Jennifer Aniston to be there serving the tea?"
Save 30% when you subscribe to The Cricketer's print & digital bundle. £35 for 12 issues
Features
|
1Banner
|
Please ensure all fields are completed before submitting your comment!