Get ready for a feast of fast bowling
JAMES COYNE: Anrich Nortje to Jos Buttler in the IPL was spellbinding, but Australia and India are about to raise it to another level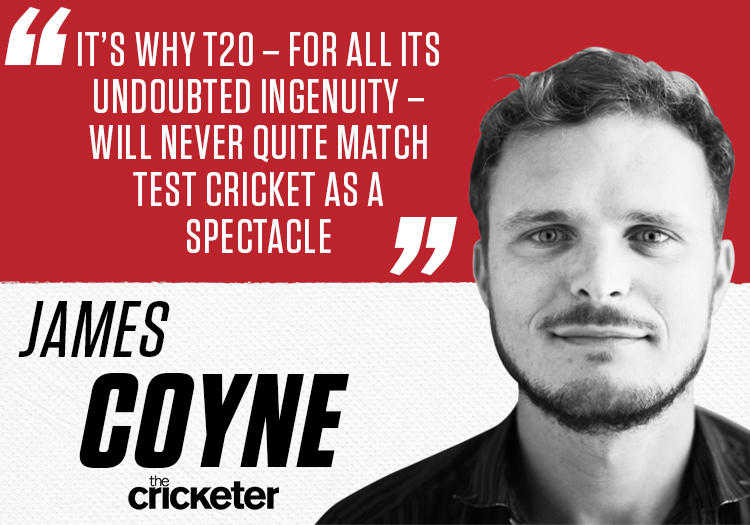 Jeff Thomson selected his 10 top fast bowlers this week. And he's talking about genuine fast bowlers. Australia's Daily Telegraph were delighted to declare it "a Pom-free zone". Not an Englishman among them.
He might have a point. You can only fit 10 into a top 10, after all. And it's fair to say that, traditionally, Australia and West Indies have tended to lead the way in out-and-out quick bowlers, as it's what their conditions dictate.
Besides, I'm not going to quibble too much with someone who was possibly the fastest bowler of all time – and if you don't believe me, read Christian Ryan's unforgettable piece 'Jeff Thomson is Annoyed' from Wisden 2012.
The lush green lands of England tend to breed clever seam and swing bowlers who can make the ball dart this way and that. And, even if someone does bowl genuinely quick, it might be something they can do for just a few years at their peak, before all the hard yakka forces them to become cannier.
But it does make it all the more special in England when someone does come along to break the mould. Inevitably, people under a certain age will be skewed towards the bowlers who operated in the age of regular live television coverage, as otherwise we are relying on the written word.
Recently I was interviewing Harold Rhodes, an express pace bowler for Derbyshire in the 1950s and '60s, who would surely have played more than two Tests were it not for establishment concerns about the legality of his action.
Rhodes reckoned Frank Tyson was the quickest bowler he has ever seen – from anywhere. He and others can only imagine how fast Harold Larwood was, based on the slim footage and reportage available, but he must have been quick for the time.
There was TV coverage by the 1970s, though, and it is intriguing to watch footage of John Snow in 1970-71 Ashes series – kudos, once more to Rob Moody (aka @robelinda2) for digging it up. Snow bowls quite chest-on in quite a modern way, at what looks to me a nudge above Stuart Broad at top pace, and with disconcerting lift.
And just imagine this was before the arrival of helmets at the end of the decade, later complete with grilles, which has changed the way batsmen are able to play fast bowling. Batsmen don't duck short balls anymore; they pull or hook it.
On the flipside – and older bowlers may not like to hear it – but with all the dietary, medical and fitness advances, surely it stands to reason there are more of these 90mph bowlers kicking about?
There certainly are in India, anyway. A country which once had Sunil Gavaskar trotting in to knock the shine off for Bedi, Prasanna, Chandraskehar or Venkat now has probably the best all-format fast bowler in the world in Jasprit Bumrah, even if his danger lies more in the angle he slants the ball in at, rather than persistent assaults on the body.
More than any other ingredient, even Virat Kohli, he's the one who gives India a chance of winning Test series in England and Australia, though Cheteshwar Pujara's runs did quite a bit about that two years ago.
In the upcoming Test series in Australia, India look likely to field three of the quickest bowlers they have ever produced in Bumrah, Mohammad Shami and either Umesh Yadav or Mohammad Siraj, who has been clocked at 149mph (92mph) and bowled well – albeit with plenty of change-ups – in the IPL for Royal Challengers Bangalore.
It's incredible to think of the advance in Indian cricket from 20 years ago, when their Kiwi coach John Wright had to beg the BCCI for a fitness trainer for 18 months before they gave him one. Up to then, he told me, "our fast bowlers were 130s [in kph] most of the day, then down to 120s after tea."
Australia, by the way, will have Josh Hazlewood, Mitchell Starc and Pat Cummins. First reserve is probably James Pattinson.
The hope is that, after this strange nine months, all these fast men have been playing a fair amount of T20 cricket, and Starc some Sheffield Shield, but not so much that they have been flogged into the dirt by the relentless schedule which calls itself the Future Tours Programme. (Which should actually be called the Market Forces Programme – as it's determined not by what is good for cricket and cricketers, but by the coffers of the boards.)
There's always been something spellbinding about watching cricket from Australia – the brighter light, the ball leaping off the surface just that big more, the wicketkeeper taking the ball with his fingers pointing up. The way the possession of a genuinely fast bowler usually makes the difference between winning and losing a Test series there.
"More fast bowlers, in both the men's and women's game… maybe all this existential concern for cricket's future is just a little misplaced"
Well, this Australia v India Test series could be as fast as it gets.
Now all this might be confused as some kind of boyhood obsession with speed, or a desire to see blood spilled at the crease. But it isn't really about that.
It's the possibilities that fast bowling opens up. The moment you possess someone quick, beating a batsman for pace or hurrying them, it increases the number of things a batsman has to worry about – both in terms of protecting themselves and their wicket. And it opens up so many options to the captain.
It's why T20 – for all its undoubted ingenuity and all it has brought to the game – will never quite match Test cricket as a spectacle.
Anrich Nortje's spell to Jos Buttler in the IPL was electrifying, but it lost a bit of its power when you knew anything other than a tiny nick would have flown over a vacant slip area for four. Nortje had little option but to target the stumps, so Buttler knew where he was going to bowl. It's a tribute to Buttler that, until he was bowled, he was middling or scooping everything – which tells you about the clean hitting in modern batsmanship.
It's why the emergence of a fast bowler like Issy Wong in women's cricket is so exciting. I know comparisons to men's cricket aren't always helpful, but it seems churlish to reject what could be a new dimension in the game. Captains will have the option to attack with slips in, which you don't see all that often in women's cricket; you could argue the dominance of T20 hardly allows for it.
However, an instance in the Women's T20 Challenge final in Sharjah did jump out at me. The Trailblazers scored 118 batting first. The Supernovas left-arm spinner Radha Yadav had just taken 5 for 16 on a pitch turning considerably.
Trailblazers needed wickets at the top, and so captain Smriti Mandhana opened the bowling with Sophie Ecclestone – not a fast bowler, of course – but still the best bowler in women's cricket.
Ecclestone was turning it and their team needed wickets, but it didn't seem to occur to Mandhana to put a slip in. Lo and behold, Jemimah Rodrigues edged her first ball through the vacant position, and Taniya Bhatia her second, much to Ecclestone's annoyance. The slip finally appeared.
Trailblazers won the game anyway, so you can argue that Mandhana knew what she was doing and that I'm talking bollocks. But I'm sure if there was less of an emphasis on containment in women's cricket, she wouldn't have hesitated about putting that slip in right away.
(As it happened, the first edge by Rodrigues actually led to one the many brilliant things we now see in the women's game: Nattakan Chantam raced down to the third man boundary and leapt forward to pull off a stupendous leaping save.)
It's a bit of an educated guess, but I sense that the emergence of quicker bowlers will be the next great advance in women's cricket, of which there have been many on and off the field in the last few years.
Up to lately, cricket hasn't been a mainstream sport for girls – in England, at least – so the game has only been scratching the surface in terms of the talent it could harness. But as a higher percentage of girls come into cricket at our schools and clubs (or even initiatives like the ACE Programme), and train at it from a younger age, it stands to reason that we will produce better athletes, and unearth more women and girls who can bowl quick naturally.
More fast bowlers, in both the men's and women's game… maybe all this existential concern for cricket's future is just a little misplaced.
Opinion
|
1Banner
|
Please ensure all fields are completed before submitting your comment!