For the generation who missed out on Pakistan playing at home, England must tour if they can
NICK FRIEND: One particular encounter has remained with me from my visit in January; Abdul – a promising, teenage leg-spinner – approached me on my final day. "I hope you enjoyed Pakistan," he smiled. "Thank you for coming to my country."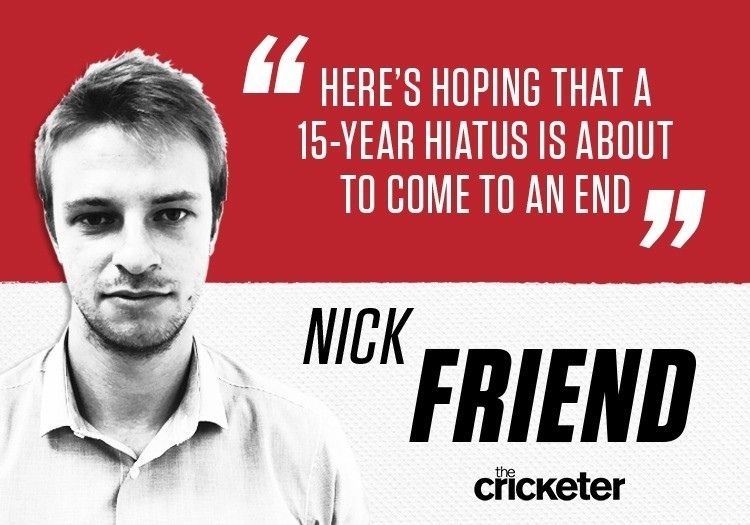 In the grand scheme of all that has happened since, it feels like a lifetime ago that I had the fortune of spending a week in Pakistan in January.
I had been invited out to Lodhran, a rural outpost in South Punjab, to watch the work of the Tareen Cricket Academy in full flow. The initiative, set up by Ali Khan Tareen – co-owner of the Multan Sultans franchise in the Pakistan Super League, provides elite coaching to aspiring young cricketers from an underrepresented part of a proud nation.
Ever since then, one particular encounter has remained with me. As the final day of the trip was drawing to a close, Abdul – a promising, teenage leg-spinner – approached me.
"I hope you enjoyed Pakistan," he smiled. "Thank you for coming to my country."
In recent days, with the offer of a three-match T20I series on the table from PCB chief executive Wasim Khan and a first visit from England since 2005 a real genuine possibility, memories of that moment have sat firmly at the front of my mind.
Mehboob Ahmed, an 18-year-old off-spinner I met with a picture-book action and aspirations to replicate Nathan Lyon, has never even been in the same country as his idol, who has 420 wickets for Australia but made his Test debut two years after international matches in the nation were suspended.
Over the course of the last decade, an entire generation of cricket-loving youngsters have missed out. Pakistan never stopped playing, with United Arab Emirates becoming a de facto base after a deadly attack on the Sri Lankan team bus in 2009, but the ability to inspire was compromised. Supporters could no longer reach out and touch their heroes.
Gradually, however, cricket has returned: Zimbabwe, Bangladesh Women, a World XI, Sri Lanka, West Indies, West Indies Women, Sri Lanka once more and, most recently, Bangladesh.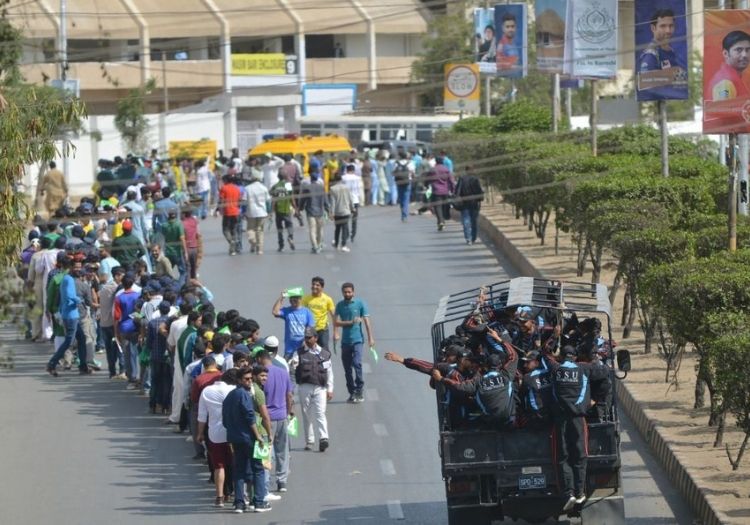 Supporters queue for miles ahead of the 2018 PSL final in Karachi
In between each tentative step, the PSL has made increasingly large strides: the final was staged at Lahore in 2017 and then Karachi in 2018, before the last nine matches came home in 2019 as the precursor to 2020's landmark competition.
Until the coronavirus brought the latter stages to a halt, the tournament – played out entirely in Pakistan across four venues – had passed without a hitch. And with each passing success, more overseas players have followed, including 15 Englishmen in this year's event.
For Mehboob, it meant a belated opportunity to take in elite cricket first-hand.
"Because it's happening in Pakistan now, we'll get to see what they do before the match now – the things they do in the warmups, the stretches they do, what planning and field changes they make," he told me.
"Right now, we can't see that when we watch them on TV. We will learn these things. I want to see how they are publicly and how they interact with other people."
They are the things we take for granted here. "I think it's huge," Adnan Malik told me ahead of the PSL. Malik is a filmmaker who was working on a documentary at the academy while I was there.
"I used to go to the Pindi stadium and watch games. I saw a lot of my heroes play. There's something about being in a stadium and watching a game and also owning it. In the last ten years, that really hasn't happened. Now that cricket is coming back, it's exciting."
There has been talk of England owing Pakistan on the back of their summer visit at the height of the Covid-19 pandemic. And while there is certainly some moral truth in that, Khan has been quick to downplay the suggestion that any such reciprocation deal was part of the original series.
Rather, he said: "There's a huge will from the ECB to come and do this. They know the importance of this for the global game, but also for cricket in Pakistan.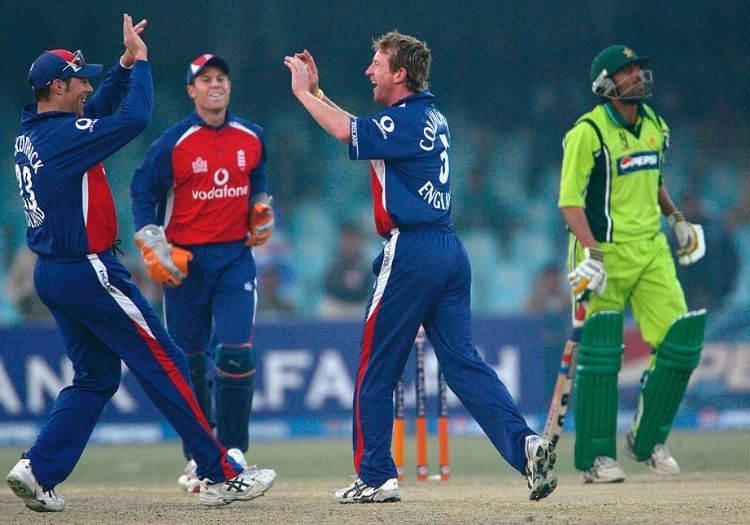 It has been 15 years since England last toured Pakistan
"When people say: 'Is it safe?', my response has always been that it's as safe as anywhere else in the world.
"A huge amount of work has happened here in Pakistan over a long period of time to clean the country up, clean the whole security element. We have evidence now over a period of time right back form 2015 onwards that the security operation we put in place is second to none."
Should England's landmark tour go ahead, they would be following Zimbabwe and South Africa in this winter alone.
The country to which they would be returning after 15 years away is an altogether different land from the one England last toured. Lahore, in my brief experience, is a tremendous, bustling heartbeat of a city.
Warwickshire seamer Olly Hannon-Dalby was part of the MCC squad that visited in February. His experience was mine a month beforehand: a country desperately grateful for your presence, keen to show itself off to the world once more, full of hospitality and good grace.
He told me: "You think to yourself: 'We are not this important!' Don't get me wrong, it was a little bit daunting when you get off the plane and you get into an armoured vehicle with an armoured guard. And you're thinking: 'Oh my gosh, why do we need this?' You go into the hotel and there's an armoured guard, but pretty quickly you realise that they're just trying to be so secure."
The levels of security were briefly unnerving, but only until you remembered that they were present for your own reassurance. It was typical of the regal treatment I was afforded; the entire experience was an unrivalled privilege – from the food and the culture to the landscapes and the people. I would return in a heartbeat.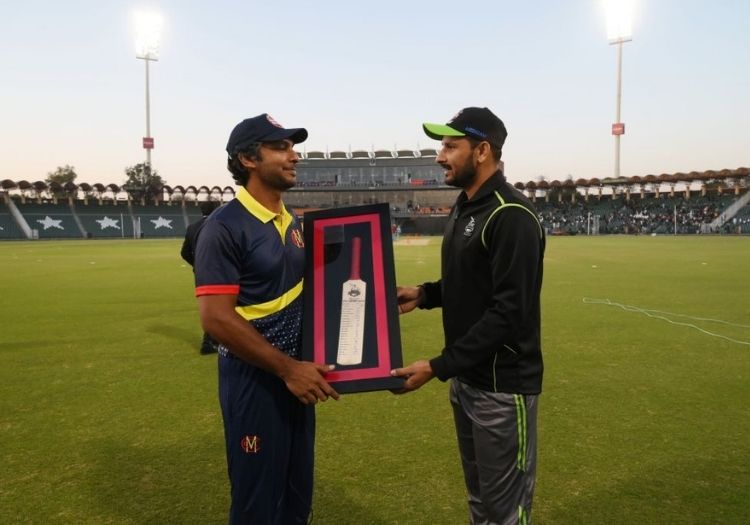 Kumar Sangakkara led an MCC side to Lahore in February
And, I get the sense that I'm far from alone in that sentiment. I asked Hannon-Dalby how he would report back on his time in Lahore.
"If anyone asked me, I'd just be honest and tell them what my experiences were," he said. "I was a bit worried at first, thinking: 'Oh, Pakistan.' I was a bit nervous when I got off the plane, but pretty quickly it was fantastic. I'd definitely go back.
"We couldn't leave the hotel, but so many people – staff, cleaners, members of the public – just said: 'Thank you so much for coming to Pakistan, thank you for being here, thank you for coming to play cricket here.' It was a lovely, lovely thing to be part of."
He was initially convinced to take John Stephenson up on his offer by Paul Farbrace, Hannon-Dalby's boss at Edgbaston, but also Sri Lanka's assistant coach when disaster struck a decade ago.
"As soon as I got the opportunity, Paul Farbrace was on the phone, saying: 'You've got to go. What an opportunity,'" he recalls. "And Farby was involved in the attack – he got shrapnel in his calves. If he's saying that, we had to go. Why wouldn't we?"
And so, I return to Abdul and Mehboob and every other cricket-obsessed child in a cricket-obsessed country that has grown up without access to their national side.
Should an ECB recce prove that a sufficiently secure bio-bubble can be put together, then 'Why wouldn't we?' will be a question without an answer.
Here's hoping that a 15-year hiatus is about to come to an end.
Pakistan
|
Opinion
|
International
|
England
|
1Banner
|
Please ensure all fields are completed before submitting your comment!