Gareth Batty shows his ageless worth as Ravi Bopara goes berserk at The Oval
NICK FRIEND AT THE OVAL: There was a different era, a time when – as Graham Napier said last week – senior pros viewed the abrupt arrival of T20's chaotic razzmatazz "as a bit of a joke competition." And yet, here Batty is. And here Bopara is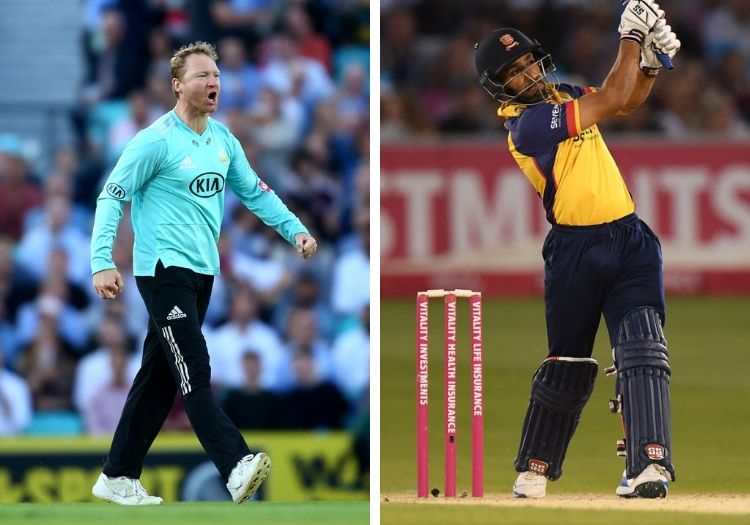 Two years into his fifth decade, 5,921 days since his T20 debut, Gareth Batty remains as wily as ever.
A glare and a stare, a growl and a howl, an unfailing feistiness that has never been absent. The Yorkshireman is what he is and he has never claimed otherwise.
His debut in the game's shortest format came, unsurprisingly, in the year of the competition's inception; then of Worcestershire, he took on Northamptonshire under the captaincy of Ben Smith. He lined up with Graeme Swann as his opposite number, with Andre Nel – another man of competitive zeal, shall we say – racing in with the new ball.
And as is Batty's predictable wont, he remains the last man standing. Twenty-two men took part that day, only Batty continues to fly his flag.
Mike Hussey, Phil Jaques, David Sales, Gerard Brophy, Ricaldo Anderson for Northants; Andrew Hall, Kadeer Ali, Steve Rhodes, David Leatherdale alongside him in the home dressing room.
Matt Mason, a List A batting average of just 7.21 and a man known almost solely for his bowling, found himself in the top four. The game was new. Innovation was the order of the day. Batty himself opened the batting that night.
A different era, a time when – as Graham Napier told The Cricketer last week – senior pros viewed the abrupt arrival of T20's chaotic razzmatazz "as a bit of a joke competition." And yet, here Batty is. No jokes, that much is for sure.
To a degree, it is a unique testament to a game that was initially derided and written off among some of Batty's older peers that here he is – 41 years old, still as competitive, as hard-nosed, as confrontational as ever. One of two spinners in this Surrey side, he and Imran Tahir boast a combined age of 81. Young man's game? As if.
There are few quirks to Batty's game. If there were any, those have been ironed out. He is a wonderfully one-dimensional cricketer; that is by no means a criticism, but a recognition of a man who has honed the bluntest of skills. He is a craftsman – not of modern art or any romanticism, but of realism. His off-breaks do what they say on the tin. In fact, they may well be the tin itself.
In a must-win game for Surrey, he was all of this: pumped, gnarly, stingy, ungenerous. Jade Dernbach is his captain here, an equally combative character. The pair will be mightily frustrated at how their campaign has subsided.
For Surrey to have qualified, they would have required here not a freak result, but a result that would have had to give way to a freakish set of circumstances. They have left their run too late, having begun their campaign in a state of lethargy.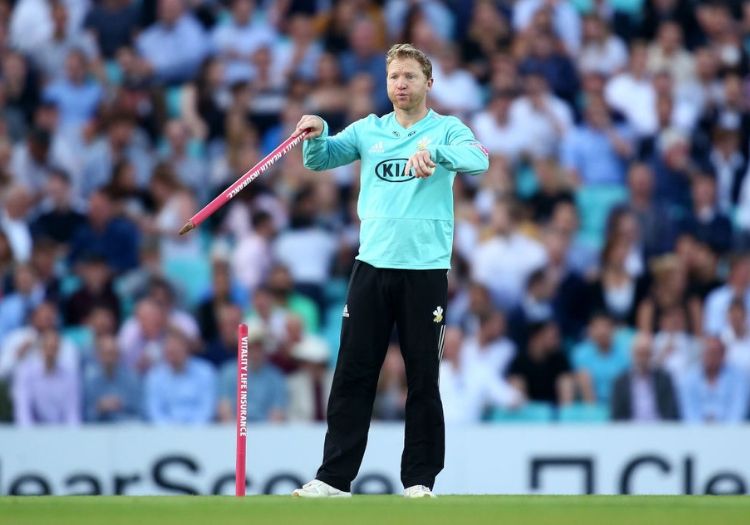 Gareth Batty bowled beautifully for Surrey
Coach Michael di Venuto acknowledged as much. "It has been a very disappointing campaign, especially in the first half of the group stage," he admitted after the game. "It took us a long time to get going in this competition but it has also been quite frustrating in the last few weeks to see what we could do if we played good cricket."
The same Essex side that would ease past them on another near-capacity night at The Oval had begun the Blast with an extraordinary victory over the charges of Aaron Finch, Batty and Dernbach.
Cameron Delport did the damage on that occasion, flaming his way to 129 runs in double-quick time. Only the frankly rancid weather of July, which led to a shortened game, stopped Essex from rollicking towards the Blast's highest ever total.
But then, ifs and buts have been the story of much of Surrey's year. Absences at various times and of varying lengths – of Jason Roy, of two Currans, of Ben Foakes, of Ollie Pope – have not helped. Nor has an overreliance, at times, on Finch's runs and Tom Curran's seamers.
Here, they were outgunned almost in spite of themselves. A game lost in the death overs and then in the opening six.
Finch, Sam Curran and Mark Stoneman all picked out fielders after Curran's left-arm angle was feasted upon by an Essex side that had, for long periods, been relatively tied down – by Batty, at least.
Surrey only came relatively close because of Jordan Clark's ball-striking. One maximum in particular was enormous and was caught by a fan called Arhant, winning him £1,000 courtesy of the Kia Catch initiative.
Batty's spell was extraordinary, not because he beat the bat – he may well have done so on a single occasion, but because he operates without surprise, without mystery, without any of the finger-flicking deception of the other slower bowlers on show.
Imran Tahir and Adam Zampa have their boxes of tricks. Simon Harmer's additional height gives him an immediate benefit – especially as the dew took its hold and the ball began to skid on late on.
Batty, meanwhile, plugged away as he did 16 years ago at Worcester, and as he did tonight. When Tom Westley threatened to improvise, his punishment was the loss of his wicket; he reverse-swept to short third man.
Nineteen boundaries were plundered in 20 overs, none off Batty. As a batsman, you wouldn't dare. Not with that snarl. He bowled straighter then wider, fuller then shorter, slower then flatter.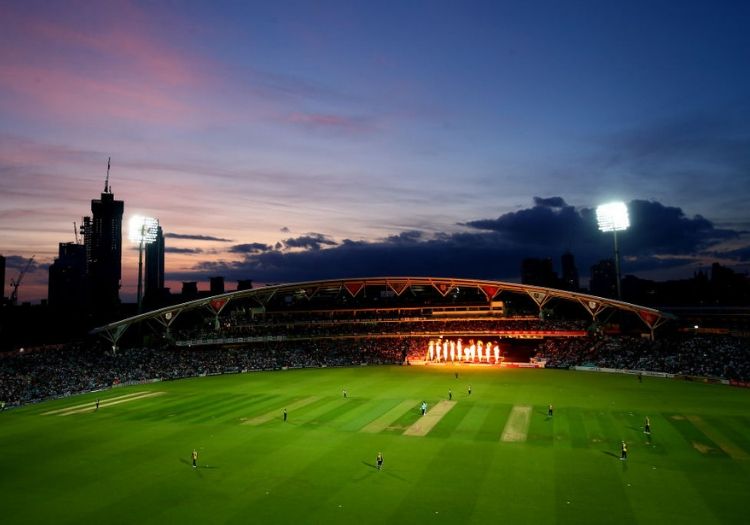 Surrey will finish a disappointing Blast campaign in eighth place
But then, as one veteran finished his work, another began. Down at six, Ravi Bopara looks – on a scorecard, at least – almost wasted. By his own admission, he is a slow starter. He eases himself into his work – not at a strolling pace, but at a gentle saunter.
Whatever the situation, however urgent the call for arms, give him time. Not because he needs it, though he may well do, but because he wants it and because he knows his game.
Batting is a comfort game: find that cozy zone and the blue touch paper is lit. But rush yourself, skip that initial stage, and do so at the expense of oneself. Cricket is a simple game when you give yourself the greatest opportunity.
And in Bopara, there lies a prime example. As a fielding team, you have 20 deliveries – maybe fewer in this format of the game. He is an unusual beginner of an innings, never actually appearing scratchy, for that is simply not his way. He is a level of languid to which few can aspire.
Here, he tiptoed through that first period. The runs came at the other end, where Ryan ten Doeschate accelerated through a slow start for his side. When the Netherlands international passed 50, Bopara had just 21. As the pair later waltzed off the field, Ten Doeschate had contributed just five more. Bopara, on the other hand, was unbeaten on 70.
It was a unique assault – rare for its effortlessness. When the former England man bats like that, it is hard to argue with the idea that international cricket might never have seen the best of the likeable Essex stalwart.
Here, as he stationed himself at long-on late into the evening, fans chanted – and slurred – his name. In England colours, there were glimpses: a 27-ball unbeaten 65 came in vain against Australia. That, perhaps, might have been the closest the world saw to the ambush he laid on Surrey.
For a while, the home side were in charge. Batty was running the show. When he finished, Bopara took over. The game turned.
Two veterans doing their thing. Once upon a time it was just a bit of fun. Not now.
Please ensure all fields are completed before submitting your comment!