Freya Davies: "You got picked on merit and gender was irrelevant"
Despite being only 24, Davies is already 10 years into her senior cricket career. The England seamer talks to ED KRARUP about the lessons she has learnt along the way, with several taking place during a two-year stint at Brighton College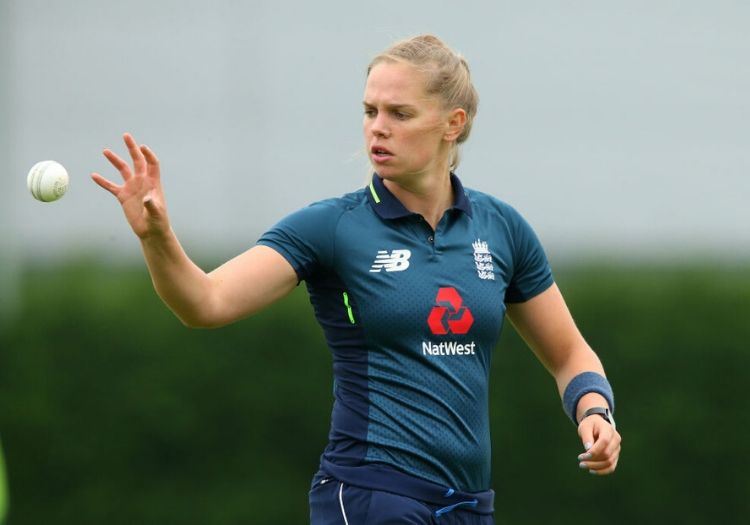 For Freya Davies, her cricketing education started early - outside of her comfort zone, learning lessons that has helped her ever since.
"I was always used to being the only girl in the boys' teams," the England seamer tells The Cricketer.
"My dad and brother played for Chichester, our local club, and I could either just watch or I could join in."
She plumped for the latter and at the age of 11, she joined Sussex's junior set-up. Three years later, she had made her senior bow while still a 14-year-old.
"It was pretty scary making my debut," she remembers. "But luckily I had Sarah Taylor behind the stumps."
Taylor's presence was a safety net for many a bowler, let alone one trying to deal with debut nerves. A day later, her maiden wicket for the county arrived, and it was a big one. Charlotte Edwards was playing what would ultimately become a match-winning innings for Kent, but it was Davies who sent her back to the pavilion, albeit with a little help from Taylor.
"Sarah took an unbelievable catch," Davies recalls. "Nobody else would have got anywhere near it. She wasn't the worst wicketekeeper to have out there!"
Dismissing the former England captain and an icon of the women's game, was an emphatic way to announce herself, but this was only the start.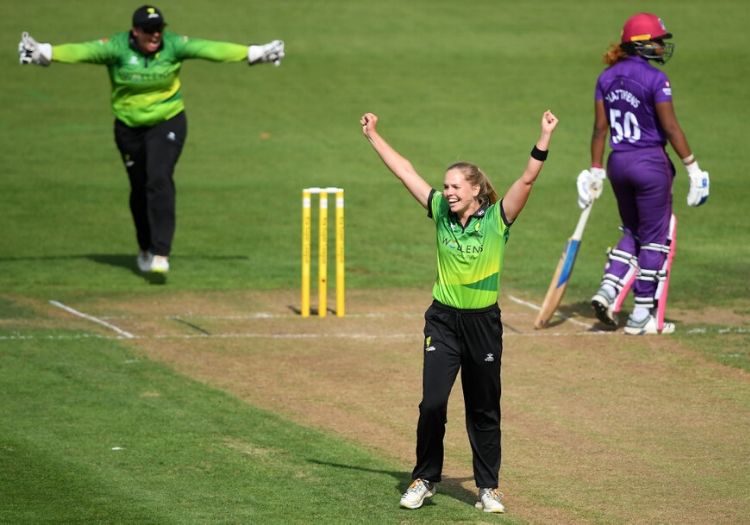 Davies was the leading wicket-taker in the 2019 KSL
At the time, Davies was a pupil at Chichester High School for Girls, a strong state school but unfortunately not one with a cricket team.
Brighton College, who regularly feature in The Cricketer Schools Guide, came calling and offered Davies a sports scholarship to attend their sixth form. The school clearly knew her potential, hardly surprising when you consider that Brighton's head of cricket was Alexia Walker, who had captained Davies on her county debut two years earlier.
"It was really good to have her around when I first joined, both as a friendly face but also as a female head of cricket, something I imagine not a lot of schools had at the time," Davies explains.
"The biggest thing for me was that they let girls play in the boys' teams. So I played for both the boys 1st and 2nd XI during my two years there."
Walker moved on after Davies' first year, being replaced by ex-Lancashire bowler Mike Smethurst and leaving behind a thriving girls' cricket programme.
"It was great to have the girls' sides because some of the girls just wanted to play cricket," Davies adds. "Some of the younger ones understandably didn't want to play in the boys' teams as they felt slightly daunted by it. We played a lot of schools who were setting up girls' teams for the first time and it was nice to show other schools that girls could play cricket as well. It didn't have to be just a boys' sport anymore.
"Cricket was also available to girls in P.E. lessons which was something I wasn't able to do at my previous secondary school. The programme at Brighton was definitely ahead of its time."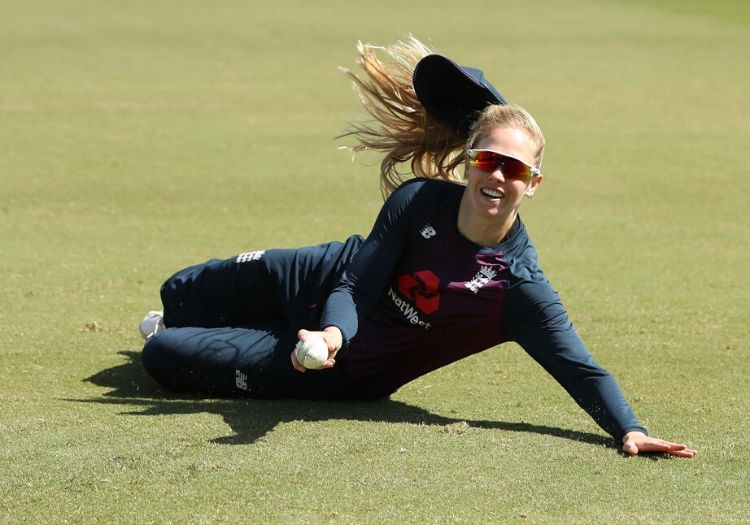 Davies is one of several England Women's internationals to have attended Brighton College
The quality of the girls' cricket at the school, in terms of facilities, emphasis and opportunity means that it is little shock that among Brighton's alumni lie so many legends of the women's game.
Taylor kept wicket for the school, while former England spinners Holly Colvin and Laura Marsh also attended. Davies' current Sussex captain Georgia Adams was a couple of years above.
The first girl to play in the boys' 1st XI was Clare Connor. The former England captain is now the managing director of women's cricket at the ECB, tasked with leading a major restructure of the game throughout the country.
A common thread runs through them all - from Connor and Colvin to Taylor and Davies: Brighton College.
"Sarah used to hate it when we talked about going to Brighton because it made her feel very old!" Davies says.
"Perhaps it was even more strange to other schools for a girl to play in boys' teams during her time there but Brighton have always been brilliant at giving opportunities. You got picked on merit and gender was irrelevant. I was really proud when I was picked because I knew it was because of my ability rather than being the token girl."
Davies credits her time playing in the boys' sides as an integral part of her development.
"Boys' cricket pushed you because they were naturally stronger. I had to really focus on my other strengths. I wasn't as quick as the other bowlers so it was about using my skills rather than speed.
"The biggest thing about playing boys' cricket was how much of a challenge it was. It took me out of my comfort zone." And Davies is still doing that now, getting better and better at executing her skills, regardless of her environment.
In March 2019, she made her England debut in a T20I series in Sri Lanka. Conditions in Colombo are a world away from those of Sussex, yet in the three-match series she maintained an economy rate of just 4.58. Hardly a run was offered to the opposition.
This attitude, as well as a desire to place herself in the most testing of circumstances, has resulted in a seriously impressive cricketer with a long career ahead of her.
And Brighton College's confidence in a teenage seamer to perform when called upon must take some credit for that.
The Cricketer would like to thank Durant Cricket for their ongoing support of our schools cricket coverage. For more on Durant Cricket, including booking a site visit, please click here
Women's Cricket
|
Schools
|
England Women
|
1Banner
|
Please ensure all fields are completed before submitting your comment!