Eyewitness: Wingers Diggers' unholy plan
SCOTT OLIVER: The story behind an extraordinary over by Dorset's Graeme Calway, which went for 60 in a Minor Counties match at Sherborne School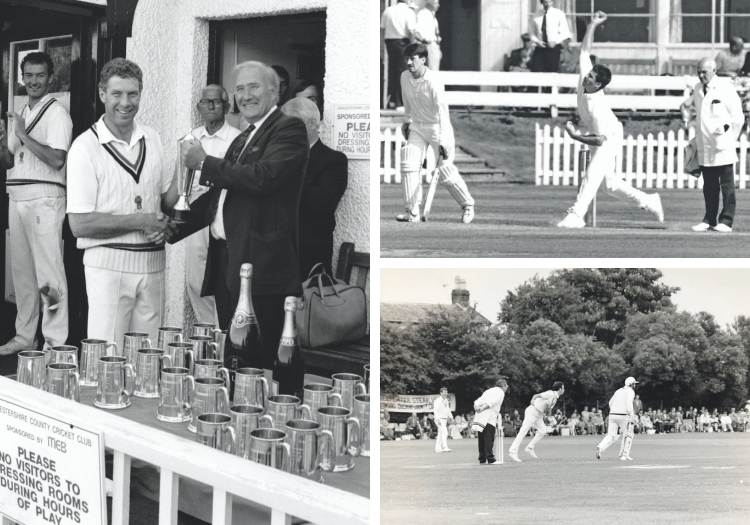 On August 1 1988, the second and final day of a Minor Counties Western Division match against Cheshire at Sherborne School, Dorset's Graeme Calway sent down one of the strangest overs in cricketing history. It cost 60 runs. Both counties had come into the game on the back of notable successes: a week earlier, Dorset had won the Minor Counties Knockout Trophy final, beating Cambridgeshire in a low-scoring thriller to lift the county's first ever trophy; while in mid-June Cheshire had shocked a Northamptonshire side that had made both the previous season's Lord's finals in the opening round of the NatWest Trophy, winning by one wicket with one ball to spare.
John O'Brien: (Cheshire spinner) I was the non-striker when, with three needed, Alan Fox nicked the penultimate ball to third man, which thankfully went for four. We should have beaten Derbyshire in the next round, too: we were about 80 for 3 chasing 191 when it rained for two days. We got back out on the second reserve day, with the pitch juiced up, and Ole Mortensen bowled a spell of 4 for 1 to skittle us for 104.
Cheshire had travelled to Dorset sitting top of the division and seized early control of the game, with leg-spinner Simon Dyson taking 7 for 39 to dismiss to Dorset for 133.
J O'Brien: Simon bowled in the style of Anil Kumble: very flat, very fast, extremely accurate leg-breaks. He had come to the north-west from Surrey, posted by IBM, and finished top of the Minor Counties averages that year, his only season with us. It wasn't a raging turner, though, as I only bowled one over!
Neil O'Brien: (Cheshire captain) I bowled 28 overs [of seam] straight through, which was a normal spell for pros in the northern leagues. It probably explains why I didn't bowl a ball in the second innings, though. I was knackered.
Thanks to a nuggety, unbeaten 32 from Liverpool CC allrounder Geoff Blackburn, Cheshire edged past Dorset's total, nine down, to collect the first-innings bonus points, and promptly declared, effectively making it a one-innings shoot-out. Dorset then chiselled out 202 in 78 overs, to set the visitors a victory target of 201, while giving themselves just under 60 overs to end a run of four draws from their four games. Cheshire soon collapsed to 49 for 6, with former England batsman Barry Wood completing a pair (a feat he would repeat over the next two days against Wales Minor Counties, to record an 'Audi' for the south‑west tour).
N O'Brien: At that point we shut up shop. The Sherborne wicket was generally pretty flat and the game meandered towards a draw.
Neil Taylor: (Dorset seamer) It was slow-paced and batsman-friendly, so it was always fairly difficult to get people out there.
With 110 required from 11 overs and Blackburn and former Essex keeper Neil Smith looking untroubled, Dorset's captain, the Rev Andrew Wingfield Digby, hatched an unholy plan...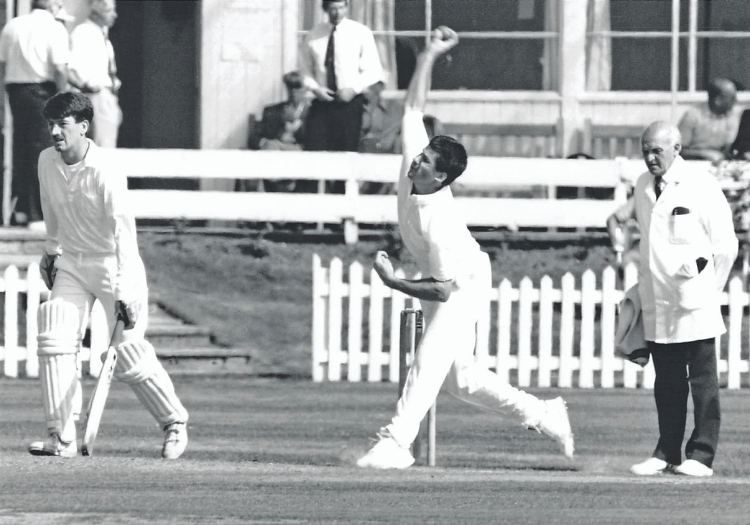 Neil Taylor bowling
Wingfield Digby: I approached both batsmen and said: "If we can get you to five an over, would you go for it?" They said they'd need to consult the captain. So they called for a drink and set off towards the pavilion.
J O'Brien: The game stopped for about 10 minutes. Geoff was a bit of a wheeler-dealer: he owned his own company fitting bedroom furniture, so he was his own man. He actually left the field and came into the dressing room to look for Neil [O'Brien] to ratify it, but he wasn't around. He'd disappeared into the back of the club. But if someone says they'll give you 50-odd runs and you'll need five an over off 11 with four wickets left, you're going to go for that, aren't you? It was a good deal from our point of view. So everyone said: 'Yeah, we'll go for it.' The Scouse contingent, mainly.
N O'Brien: I'd retired to the shower to prepare myself to drive over to Cardiff. I remember someone came in to say, "Wingers wants to know, if he gives you some runs do you want a game of cricket?" We were pushing for the Championship, so why not? But I didn't agree to any specific figure.
Wingfield Digby: When the batsmen told me they'd go for it, I said: "Oh has Neil agreed?" They said: "No, because he was locked in the loo..." They then said: "How are you going to get us down to 55?" If we'd bowled lobs, which was the normal thing to do, and let them score 50 runs quickly, that would take two or three overs and I didn't think eight overs gave me a realistic chance of bowling them out. The only way that I thought we could have a chance of winning was to have 11 overs left to bowl at them, which meant bowling deliberate wides.
Step forward the 22-year-old Calway, who four years later took three top-order Pakistani wickets in one over during a famous Minor Counties XI win at Marlow.
J O'Brien: They wanted someone prepared to bowl the wides, but who wasn't going to go for another 20 in the actual over afterwards, which would have ruined the equation.
Calway: I had to bowl 14 balls that had to go to the boundary for four – in those days it didn't count as five – and then I had to finish the over properly.
Taylor: If someone had asked me to bowl 56 wides, I'd have told them to go shove it.
"Five an over off 11 with four wickets left was a good deal from our point of view. So everyone said: 'Yeah, we'll go for it.' The Scouse contingent, mainly"
Calway: I had no problem with it. I was mainly just a club bowler at that stage. For me it was turning a potentially boring endgame into an exciting finish. I was all for it. I just made sure I bowled well outside the return crease and fast enough that it reached the boundary, because I was bowling up the hill.
Wingfield Digby: Being a jovial chap, the wicketkeeper, Barry Lewis, went and stood by the sightscreen and kept rolling the ball back. It did bring the game into disrepute in the sense that the fielders were stood around giggling. It became slightly farcical.
Taylor: I remember someone down at third man diving over the ball in mock effort as it went past.
J O'Brien: The spectators were completely bemused, then apoplectic. It was quite a genteel crowd down in Dorset. The scoreboard was ticking over like mad and they'd have thought they were just giving us the game.
Taylor: There was a lot of consternation. Quite a few people were vocally disapproving of it.
Wingfield Digby: The scorers lost count, which was quite amusing. They emerged from the scorebox onto the outfield to enquire from the umpires how many wides had been bowled and what the score was. That was one of the more unusual moments in the somewhat unusual events that unfolded.
N O'Brien: The Cheshire chairman wasn't very impressed by it at all. Once it got to the stage of the wides being bowled, I was in no position to do anything. If it had been the last game of the season and they were going for the title, I certainly wouldn't have agreed to it. Or if it had affected another county.
Wingfield Digby: Cheshire were well clear at the top of the league at that stage. In a sense they had nothing to lose, really. It wasn't the end of the world for them, losing a game. For us it was a really big deal to win a game because it gave us much more chance of a NatWest Trophy game next year.
Taylor: Cheshire had the upper hand in terms of the negotiations because we needed the result more than them. But the deal was that they'd have to go for it whatever, even if they were nine down needing 30-odd. To their credit, they held up their part of the bargain.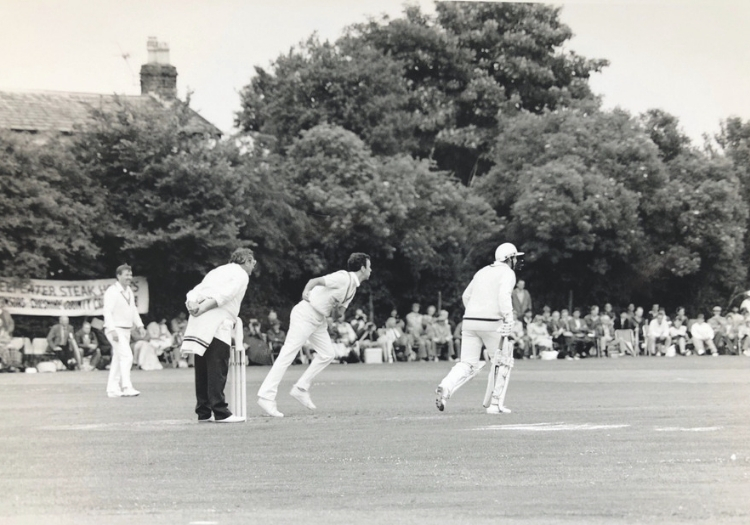 John O'Brien bowls for Cheshire against Derbyshire in the 1988 NatWest Trophy. Geoff Blackburn is at extra cover
With five dots and a four off the final delivery, Calway's over re-set the chase at 50 off 10 overs. Wingfield Digby's seamers returned to the attack...
Wingfield Digby: I went for 17 in my over, so they needed 33 off nine and we were in desperate trouble. I thought: "This really does look like a bad move: not only am I going to be in trouble for doing it, but we're also going to lose." The players had lost a bit of confidence in the skipper at that point, I can tell you.
However, off-spinner Chris Stone and paceman Taylor rattled through a lower order morally obliged to keep swinging and, after a flurry of wickets, Neil Smith was snared at slip by Calway. Dorset had won by 18 runs.
Wingfield Digby: Everything happened pretty quickly. The game seemed to be suddenly over. We all got into the dressing room and there was a kind of stunned silence. And then one by one people began to laugh. I think there was an element of elation and a slight element of embarrassment. I was a mixture of feeling pleased with myself and wondering what the repercussions would be. Captains often tried to keep a game open but what I did here was extreme. I don't think I'd do it again, although I wasn't the first: Hertfordshire skipper Frank Collyer had done it a few years earlier.
N O'Brien: Wingers played the game in the old-fashioned way. When I first started and Freddie Millet was the Cheshire captain, he always had lunch and tea with the opposing captain, often with a G&T. He'd come into the dressing room and say: "Right, they're going to get so many and we're going to go for it all the way." The game had been organised because there wasn't enough time to take 20 wickets.
Wingfield Digby: The bloke who wrote on Minor Counties cricket for The Times, Mike Berry, never came to Dorset but with Cheshire top he happened to be at this game and so it got far more publicity than it otherwise would have. He wrote it up in a big way the next day.
J O'Brien: Wingers became chaplain for the England cricket team a few years later so it can't have done him much harm 'upstairs', as it were.
Taylor: I think Dorset got a snotty letter from MCC, saying it wasn't in the spirit of cricket.
N O'Brien: There were a few mutterings at Lord's, but that was all.
All was well that ended well. Dorset went on to finish third in the Championship table, which meant NatWest Trophy qualification the following season (they lost by 198 runs to Kent), while Cheshire topped the division and secured the Minor Counties Championship title by beating Eastern Division champions Cambridgeshire at Worcester.
As for Calway, he left Sherborne having entered the Guinness Book of Records, becoming the answer to one of cricket's more obscure trivia questions.
This article was published in the July 2010 edition of The Cricketer - the home of the best cricket analysis and commentary, covering the international, county, women's and amateur game - interview by Edward Craig
Save 30% when you subscribe to The Cricketer's print & digital bundle. £35 for 12 issues
Features
|
1Banner
|
Please ensure all fields are completed before submitting your comment!