ENGLAND'S TEST OPTIONS: Our writers pick their XIs for the first game against Sri Lanka
England take on Sri Lanka in the first of three Test matches in Galle next week. Here, SIMON HUGHES, HUW TURBERVILL, JAMES COYNE, SAM MORSHEAD and OWEN RILEY select their touring teams for the game...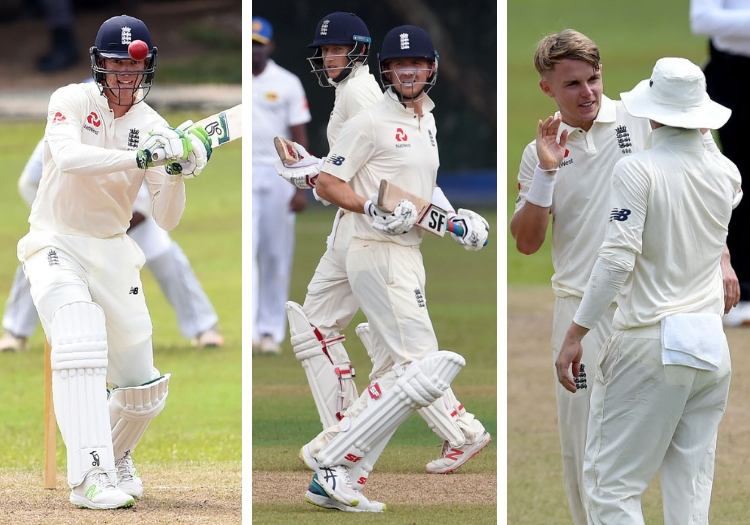 SIMON HUGHES
I am assuming Jonny Bairstow is not fit so would replace him with Joe Denly (an automatic swap at No.5). I would have Joe Root at three, as batting in the top three, is the best place to bat in Sri Lanka (ie as the ball gets older it becomes increasingly harder).
For that reason I would also have Stokes higher, at four. The choice of bowlers depends slightly on the pitch but assuming it's a spinning track in Galle I'd pick only two main seamers - Jimmy Anderson and Sam Curran for his different angle and the way he looks to pitch the ball up and threaten the stumps (and his batting too, of course).
Seamers who mainly move the ball away and target the edge of the bat are a waste of time in Galle. The edges never carry.
That enables three spinners - two finger spinners, Moeen Ali and Jack Leach - essential on a turning track for control - with Rashid as more of a luxury third option.
My XI: Burns, Jennings, Root, Stokes, Denly, Buttler, Moeen, Curran, Rashid, Leach, Anderson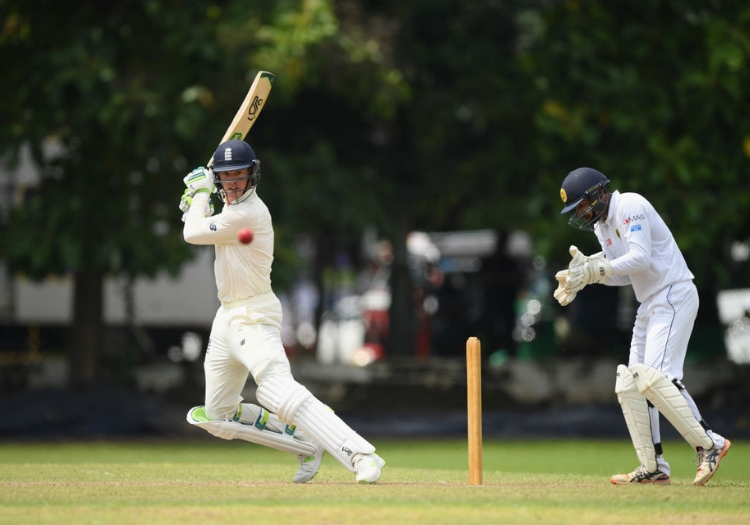 Keaton Jennings in action
HUW TURBERVILL
If Rory Burns is denied his first Test cap this time there will surely be riots on Epsom High Street.
Personally I would go for Joe Denly alongside him. The right/left combination is desirable, and his leg-spin could come in handy. But I suspect the selectors will give Keaton Jennngs one more go (or possibly two). Let's hope he can flourish on the subcontinent, as he did on debut in India.
I expect Moeen Ali to continue as England's stop-gap No.3 all winter.
Joe Root is at No.4 obviously, then Ben Stokes and Ollie Pope at five and six, where they could do some damage if they can get themselves in.
Then Jos Buttler at seven, keeping with Jonny Bairstow injured.
Adil Rashid is my No.8, then the old guard Stuart Broad and Jimmy Anderson, a sensible policy to start the series, with Jack Leach at 11, completing England's spin pack.
It's a bit harsh on Sam Curran, but he could/should get a go some time in the series, possibly to rotate one of the two vets.
It might be worth unleashing Olly Stone at some stage as well, although the surfaces are not expected to reward pace.
My XI: Burns, Denly, Moeen, Root, Stokes, Pope, Buttler, Rashid, Broad, Anderson, Leach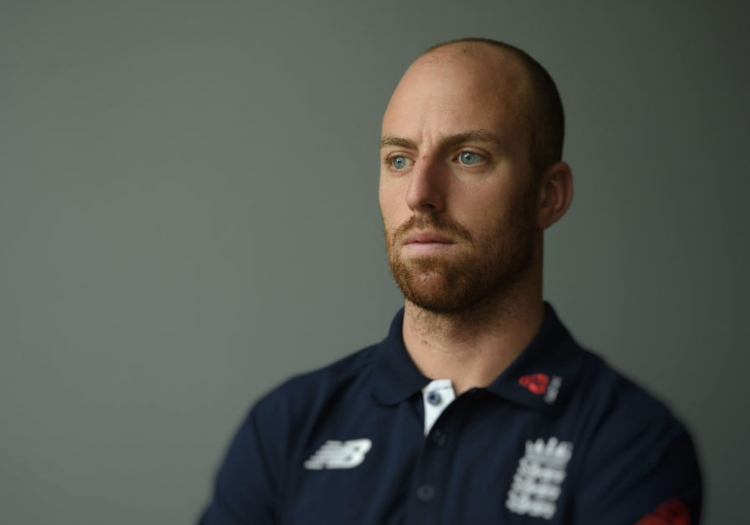 Jack Leach is a spinning option for England
JAMES COYNE
In the first Test of the winter, England may as well shake the snowglobe and see what happens – so unsure are we about their batting.
Weight of runs and confidence from the English season would suggest that Rory Burns will open, probably alongside Keaton Jennings as the man in possession, and someone who scored a Test hundred in India, after all. If he fails to contribute a meaningful score or to a stand, there will be a clamour for Joe Denly. I would probably pick all three anyway first up, but I am sure that England will keep Moeen Ali at No.3. Having read his autobiography I am sure he will consider it the realisation of a childhood dream, and he certainly has the range. But does he have the temperament? We will all be willing him to crack it, as he is such a wonderful cricketer and it would solve a multitude of England's problems.
Much depends on Joe Root coming good with match-defining innings. Jonny Bairstow's injury is a big miss, and will probably open up a chance for Ollie Pope. Perversely, batting at No.6 could prove tougher than at No.4 – a reverse of the case back home.
England will likely revert to three seamers, and Stuart Broad would be furious to be dropped. I have a funny feeling that his canniness might be exactly what England need on Sri Lankan decks, but if he does badly he could have few complaints about being dropped for someone with a point of difference overseas – whether left-arm swing (Sam Curran) or quicker (Olly Stone).
Assuming Galle is a raging turner produced for Rangana Herath's swansong, I would pick three spinners, with Jack Leach expected to provide the bulk of the control, and Adil Rashid to potentially mop up in the second innings. But England need to score enough runs first.
My XI: Burns, Jennings, Denly, Root, Stokes, Buttler, Ali, Broad, Rashid, Leach, Anderson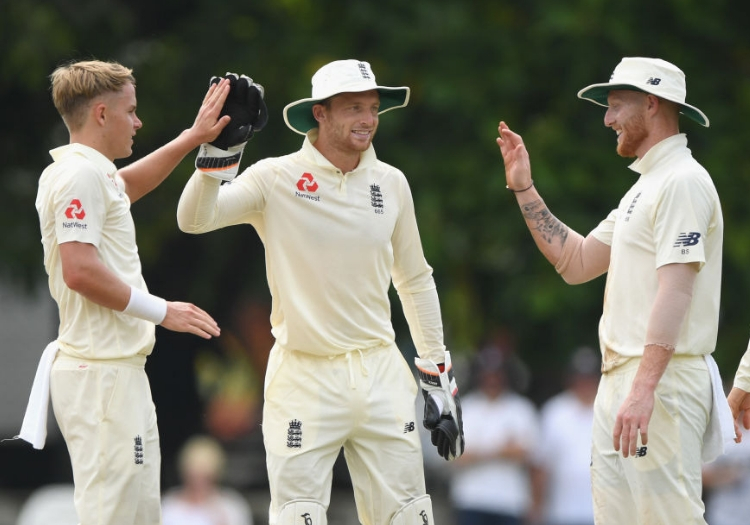 Will Sam Curran get a summons?
SAM MORSHEAD
If the warm-ups have taught us anything (and what can't you learn from rain-affected, 14-a-side, bat-a-day-bowl-a-day fun?) it is that Sam Curran makes sense in these conditions and, for now, Keaton Jennings is a better option than Joe Denly.
There's a lot of inexperience - in terms of Test caps - in this squad, and given the stop-start nature of preparations it seems sensible for now to not go for an all-new partnership at the top of the order. Jennings remains, therefore, with the acknowledgement that he has at least made some runs on the subcontinent previously. Obviously Rory Burns plays. Obviously.
Moeen Ali at three is a wildly unpredictable proposition, like using a magic eight ball to decide your every life choice. It could be a masterstroke, it could prove self-defeating but, let's face it, it's always going to be fun. That leaves the captain at four, where he feels he most belongs. Let's see Ollie Pope at five, with Ben Stokes and Jos Buttler interchangeable at six and seven, depending on the state of the game - Stokes showed towards the back end of the summer a new, conservative approach to Test-match batting and against the turning ball it feels like that way of playing might suit the task of shepherding the tail a little better than the bombastic Buttler.
Sam Curran has all the jiggery-pokery to cause trouble among Sri Lanka's top order and plays instead of Chris Woakes, while Jimmy Anderson is a must-have. Jack Leach, despite a lack of gametime, gets the nod to do the bulk of the bowling. So that leaves a three-way toss-up (hush, pedants!) between Adil Rashid, Stuart Broad and Olly Stone, a decision which will be largely impacted by the state of the pitch in Galle. Personally, with Stokes in as a third seamer there seems little need for a fourth.
My XI: Burns, Jennings, Moeen, Root, Pope, Stokes, Buttler, Curran, Rashid, Leach, Anderson
OWEN RILEY
Assuming Rory Burns is in and Keaton Jennings retains his place, it could be a three-way battle for two opening births if England opt to offer Joe Denly his Test debut. Jennings will hope he can rediscover some form on the subcontinent but if the bat doesn't talk, the Lancs batsman could soon find himself on the sidelines. After taking a career-best 4 for 19 in the T20 at Colombo, Denly offers England another handy option in the spin department.
The engine room will be without Jonny Bairstow. Jos Buttler to take the gloves for now. If Jennings struggles, I would drop him, bring in Ben Foakes at No.7 (if Bairstow is still crocked) and send the nomadic Moeen back to No.3.
They are likely to be rested at some stage of the tour, but I would lead with James Anderson and Stuart Broad for the first Test of the series. If the experienced duo are rotated, then hopefully we get to see what Olly Stone can do in a white shirt.
Jack Leach and Adil Rashid come in to give England - with Denly and Root - five spinners at Galle.
My XI: Burns, Jennings, Denly, Root, Stokes, Buttler, Moeen, Rashid, Broad, Anderson, Leach