England's fast start, Mendis the Audi and the curious case of Lahiru Thirimanne... TEST MATCH TALKING POINTS
SAM MORSHEAD looks back on events on day one at Galle as England took control of the first Test against Sri Lanka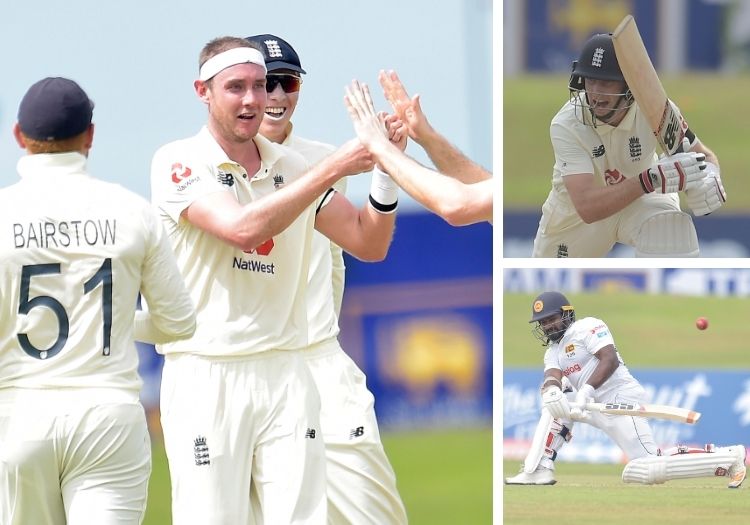 Sri Lanka v England: 1st Test scorecard
Hussain: "That was the most farcical 47 overs of Test cricket I've seen"
Uncharacteristic England
This year promises to be a decisive one for the captaincy of Joe Root, and it could not have got off to a better start.
Root will make his 100th Test appearance this summer and is set to surpass Sir Alastair Cook's record for matches in charge of the side come the Ashes next winter, while in 2021 he has the ominous task of presiding over as many as 17 five-day games. 
With so much to contemplate, the skipper would have been praying for his side to come uncharacteristically quickly out of the blocks in Galle, and he got his wish.
Under Root, England have been frequently ponderous and slovenly in the early days of Test series - they were steamrollered for 58 in New Zealand three years ago, they have lost all but one of the opening games in away series since then (with the trip to Sri Lanka in 2018 the exception), and fell to defeat in the first match of last summer against West Indies. 
Root was acutely aware of the issue, and discussed it with the media earlier this week.
"We've started series poorly and if we are to keep improving as a team we can't be behind the eight ball going into the second Test match of every series. We are very keen to start off strongly and to get ahead," he said. "The way we are going to do that is by scoring big first-innings runs and controlling the game".
Though the game did not follow quite that pattern, by the end of day one Root and his team were certainly in control.
Kusal Mendis was undone by a rollicking legcutter - camouflaged so effectively it could have passed for black ops
Helped plenty by Sri Lanka's harakiri - at least four dismissals in their 135 all out were mindlessly dimwitted - England still had to make the most of their hosts' rank decision-making. And early on, before the home side lost all sense of reason, it was the intelligent captaincy of Root and the sheer efficiency of Stuart Broad which opened the door to a collapse.
Broad rocked up at Galle on Thursday with a red-ball record in Sri Lanka of 3 for 249 from 82 overs. In nine terrific overs, he doubled his wicket haul on the island. 
A clever collaboration with Root snared Lahiru Thirimanne, caught by Jonny Bairstow at leg gully the ball after Bairstow had been moved by the skipper from silly mid-off, while Kusal Mendis was undone by a rollicking legcutter - camouflaged so effectively it could have passed for black ops. 
On a pitch which offered the seamers the sort of scant support usually reserved for freelancers in a pandemic, Broad then came back in a second spell to remove the ever-dangerous Angelo Mathews, caught by Root off a thick edge at first slip.
It was not quite a trademark Broad blitz, but in the circumstances his three wickets were worth a whole lot more. Sri Lanka's top order, on their own turf, blown apart by a touring quick. That's a rarity. But then, so is a fast England start under Root.
The captain's mind was sharp - in addition to masterminding Thirimanne's exit, he encouraged the short-pitch rapid-fire from Mark Wood which troubled Mathews (who was dismissed twice by short deliveries on England's last tour of Sri Lanka, requested a chest guard on first sight of Wood and proceeded to be struck on the shoulder by the Durham paceman), and was both alert and confident enough to swap out Dom Bess for Jack Leach after just one over and despite Bess having taken a wicket, with two right-handers at the crease.
At stumps, he was unbeaten on 66. There have not been many better days for the Yorkshireman as captain of his country overseas.
Joe Root enjoyed one of his finest days as England captain overseas
Lahiru Thirimanne is a curious Test cricketer.
The 31-year-old has played red-ball cricket for his country, as a specialist batsman, in all but two of the past 11 years, but has never looked particularly comfortable.
It cannot help that he has been dropped and recalled with relative abandon by the selectors - of the 93 Tests Sri Lanka have played since his debut, Thirimanne has been included in just over a third (37) - but that shouldn't excuse an extraordinarily mediocre record for a man with more appearances for his country than all bar 27 men.
His latest meagre dismissal, caught at leg gully off Stuart Broad for 4, means he now has a Test average of 22.4 from 71 innings, with one century. With stats like that, Thirimanne's continued inclusion is so generous it might even warrant its own charity number.
Against England, across 11 innings, his record is even more dire. Thirmanne averages 10.68. Only two top-six batsmen with 10-plus knocks against England - Australia's Charlie Turner and New Zealand's Bill Playle - have averaged less. 
His record is a reflection of the difficulties facing Sri Lankan cricket. A career first-class average in excess of 40 simply is not translating into the elite arena, regardless of whether the selectors turn him inside out, upside down or try to bash him into the hole with a hammer, yet they continue to bash away. 
"We have survived by producing some very talented cricketers. Suddenly, when you don't have that coming through the production, you see the cracks and they are just getting bigger and wider"
In resource-rich cricketing nations, a top-order batsman with as shallow a pool of runs would have been fortunate to get a third of the number of caps before being put out to pasture. Or put down.
Sri Lanka's issue - touched on by Kumar Sangakkara during a candid summation of his country's troubles - is the lack of depth in the system. 
"The malaise runs deeper than some people think," the great batsman said, reflecting on his compatriots' capitulation with the bat. 
"This is definitely not a one-off, this is a symptom of what I would say is a lack of quality of cricket at first-class level.
"We have survived by producing some very talented cricketers. Suddenly, when you don't have that coming through the production, you see the cracks and they are just getting bigger and wider.
"For too long we've been relying on talent and potential without really (developing) it."
How Sri Lanka move forward in the multi-day game depends on finding better alternatives to the likes of Thirimanne. Right now, the evidence suggests that could be quite a challenge.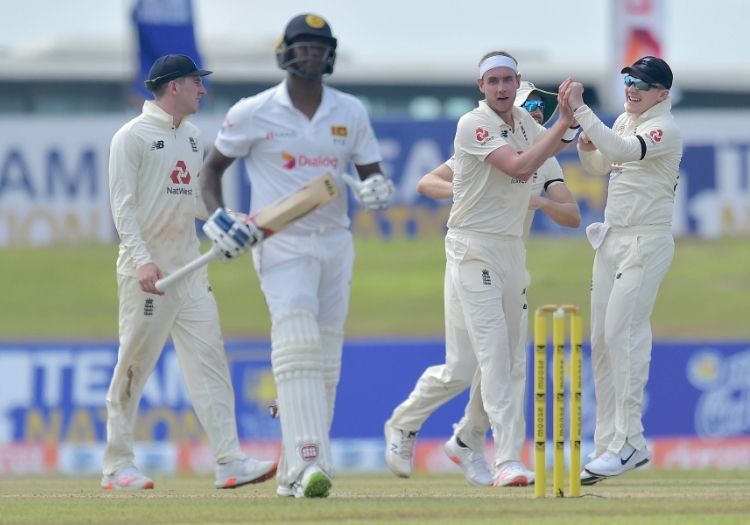 Stuart Broad celebrates Angelo Mathews' dismissal
Vorsprung duck technik
When Australia toured Sri Lanka in 1992, Mark Waugh bagged consecutive pairs, first at the RPS in Colombo and then at Moratuwa. 
The run of zeros earned him the nickname Audi among his teammates, such did his form resemble the logo of the German car manufacturer. 
Poor old Kusal Mendis might just find himself branded in similar fashion, after emulating Waugh on Thursday with his fourth straight blank.
Mendis, who has been drawing more blanks than a Nish Kumar set at a Lord's dinner of late, retained his place in Sri Lanka's starting XI once Dimuth Karunaratne was ruled out with a thumn injury, and on home turf he might have seen today as the prime opportunity to knock himself back into a rhythm following a wretched time in South Africa.
But just two deliveries later he was dragging his bat on the long walk back to the pavilion, caught behind by Jos Buttler off a Stuart Broad legcutter. Mendis was trapped in No Man's Land, leaning for balance and a feel of the ball when he would have been much better served leaving it well alone.
As Nasser Hussain said on commentary: "You want to get off the mark. You want to feel bat on ball. Your brain is scrambled. If you're 20 not out, you leave that."
Mendis has now been dismissed five times in his last 13 Test deliveries, and he is the first top-four batsman in Test cricket to have registered four ducks in a row since Pankaj Roy of India in 1952.
It is a miserable streak, and it is hard not to feel sorry for the beleaguered Sri Lankan; after all, we have all been through wretched stretches at one time or another.
Waugh self-deprecatingly suggested that another failure at the time would have seen him transition from Audi to the Olympic rings. Mendis will be desperate to avoid that fate in the second innings. Perhaps a new bat or fresh set of gloves are in order; progress through technology.
New year, new environment, same old cricket.
Despite fans being locked out of the game, broadcasters left to cover the game from attics and front rooms, and the absolute bare minimum number of potential interruptions allowed inside Galle's famous stadium, this Test still managed to find a way of delaying itself in the first hour.
First, for old time's sake, the automatic sightscreen malfunctioned and had to be draped in an oversized bedsheet. 
Then, advertising hoardings - which for no particular reason had been placed in the eyeline of the batsman beyond the bowler's arm - had to be covered up.
Then, one ball after Mark Wood was introduced into the attack, Angelo Mathews decided he needed a chestguard and promptly had to get re-dressed at the crease.
With an hour of the match played, and with a bleary-eyed bunch of cricket fans back in England moaning ever louder on social media, just 9.1 overs had been bowled. Naturally, it was time for a drink.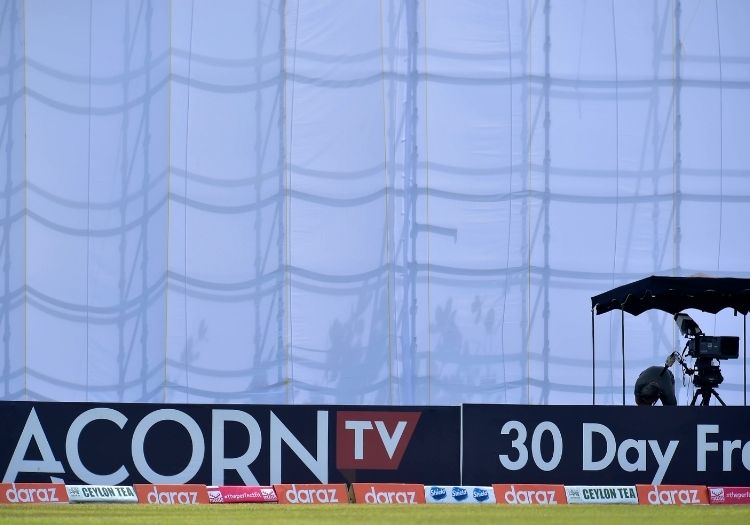 The sightscreens played up in Galle
Story of the superfan
Rob Lewis flew to Sri Lanka last spring to watch England play cricket.
When the pandemic hit, and the tour was abandoned, he hung around, expecting the matches to take place after a brief delay.
Working from hotel rooms and on the beach, Lewis has remained on the island for the past 10 months, patiently waiting for the action to start. 
On Thursday, his was the sole voice booming out a rendition of Jerusalem from the ramparts atop the Galle fort overlooking the cricket ground, his patience duly rewarded.
Or at least it was for a short while, until Sri Lankan authorities hurried him along and pulled down his banner. 
Luckily for Lewis, by the middle of the afternoon session he had been able to return, no longer dressed in a replica shirt and Barmy Army hat but instead in a high-vis vest and hard hat.
"Back on the fort because I work here now," he tweeted. 
Enjoy the game, Rob! You've earned it.
And one more thing…
Cricket has a wonderful habit of generating obscure trophies for largely peripheral series, and the monstrosity created for this two-Test clash between England and Sri Lanka is no different.
All hail the Moose Cup Powered By Daraz (Moose is a clothing company, Daraz an online clothes shop) - a golden ball on a three-foot plinth, topped off with a fetching pair of antlers.
More on the randomness of cricket trophies right here.
All pictures courtesy of Sri Lanka cricket
Sri Lanka
|
International
|
England match centre
|
England
|
1Banner
|
Please ensure all fields are completed before submitting your comment!