Vaccines, Vipers and me: Ella Chandler is not your average 20-year-old
SAM DALLING: As well as appearing for Hampshire in the women's County Championship, Chandler has enrolled as a paramedic science student and joined cricket's efforts to fight the pandemic, administering the jab to friends, family and strangers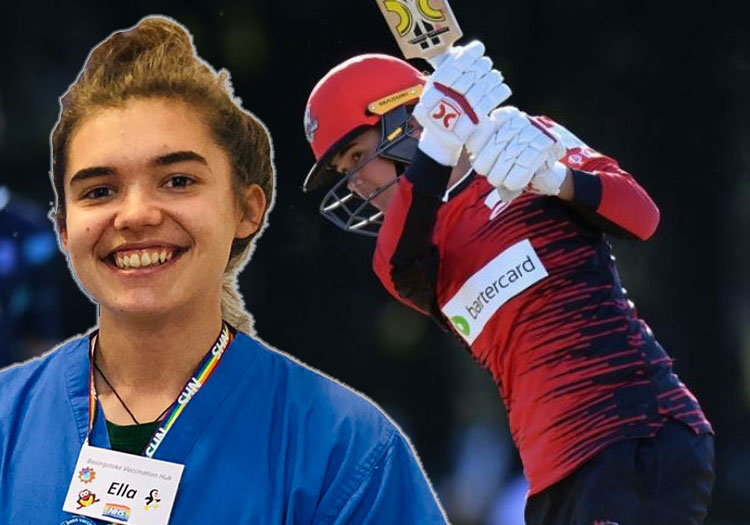 Southern Vipers: 2021 Team guide
If you want a job done properly, ask a busy person. Like, for example, Southern Vipers allrounder Ella Chandler.
On Saturday, her team begin their Rachel Heyhoe-Flint Trophy title defence against Lightning. Until then she will continue to volunteer at a coronavirus vaccine centre, before beginning a summer-long work placement with the London Ambulance Service two days after the game.
"I recently put up a big calendar on my room to track everything that's going on," she says, laughing. "I was like 'wow, I'm actually quite busy.' I can probably count my days off this summer on one hand although I don't like to vocalise that! I prefer to be busy. Once I start on with the Ambulance service it will be all guns blazing, although I'm hoping to get the weekend of June 21 off: I'm down for night shifts on that one!"
Chandler's use of the future tense suggests she's been idle since last year's tournament. The truth is quite the opposite: as well as appearing for Hampshire in the women's County Championship, she enrolled as a paramedic science student and joined cricket's efforts to fight the pandemic, administering the jab to friends, family and strangers at Basingstoke Fire Station.
"I thought 'well I'm not doing that much at the minute so why not put the few skills I've learned already on my degree to good use," she explains. "It's so rewarding – I get to see so many different people and hear their stories. I never know who is coming in and even had an old Hampshire cricket coach the other day.
"And I've been exposed to midwives, doctors, pharmacists, cabin crew - people from all walks of life. Getting to work with them is really fun but is also there is also a second hand benefit to my paramedic training. I feel quite proud to be part of it... contributing to the country hopefully getting back to normal. It's something a little bit good in what has been a rubbish year."
It is not just the last 12 months that have been eventful for Chandler. Far too modest to admit it, her bulging CV is much broader than you'd expect from a 20-year-old.
Growing up in Farnham she started at Aldershot CC.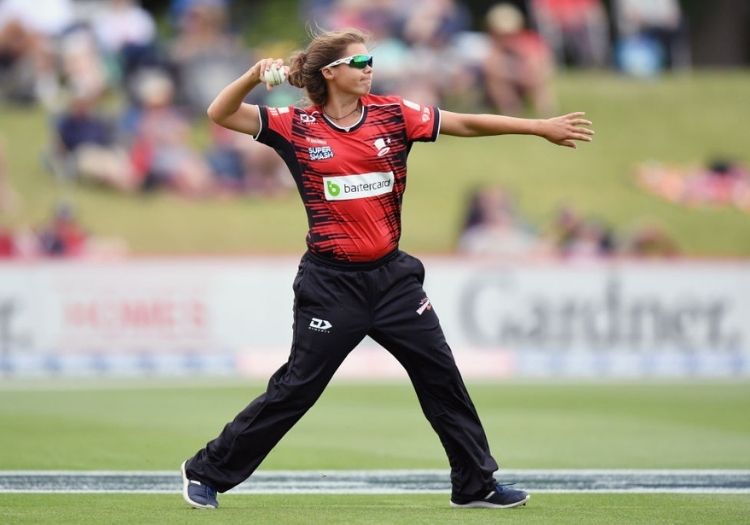 Ella Chandler in action in New Zealand
"There was never women's cricket on TV when I was younger so there wasn't that exposure," she recalls. "The only cricket I ever watched was my dad's horrendous Saturday league games. I just got to sort of rough around with them and the boys would bowl at me after the game. But then I got along to Aldershot who already had a girls' set-up thanks to the amazing work Malcom Kerry does with Chance to Shine."
Soon Chandler was representing Hampshire in youth cricket, before making her Royal London Women's One-Day Cup debut as a 15-year-old in 2016. She started with 58 against Leicestershire and been a regular ever since.
Two seasons later a maiden Championship crown was secured, Hampshire having only been promoted to the top-tier that year. New Zealand star Suzie Bates was integral to that success and a budding friendship led Chandler to Canterbury in late 2019.
Initially there to play for St Albans CC – a set-up that has nurtured 25 White Ferns over the years including three captains - within a week, she found herself in the Canterbury Magicians squad for both the Hallyburton Johnstone Shield (50-over) and the Dream 11 Super Smash (T20).
"It was unbelievable - I only anticipated playing club cricket but I got invited to a couple of warm-up games and training sessions straight away. Then two of the current White Ferns – Amy Satterthwaite and Kate Ebrahim – became pregnant. They are both batting allrounders like me.
"They wanted someone who had played at a half decent level to take their place and asked if I could commit to being a Magician for the year. Obviously I jumped at the opportunity. It was all very rushed but getting to rub shoulders with so many White Ferns and established domestic players was really, really fun. Their T20 competition is all on Spark Sports, and playing in front of 4,000 people live on TV was a fantastic experience. I had no background out there so it quite nice to be judged on the here and now. I had to perform or I was going to be chucked out!"
The world changed at the end of Chandler's time in New Zealand. She had previously altered her flights to appear in a club cup final, meaning she had to wait until April for repatriation. On making it home, Chandler occupied herself fruit picking, while waiting anxiously on Vipers selection.
"I remember getting the email from Adam [Carty] to say I'd made the squad - it was right after a club game on a Sunday evening. We knew we'd be told that day and I'd apologised in advance to a few of the girls for being a bit off with them. I was sure I wouldn't get selected. And then I found out while still at the club and there were these mad celebrations. I was the first professional cricketer Aldershot ever had and everyone was so proud."
When Georgia Adams and Charlotte Taylor led the Vipers to last year's title, Chandler played just once, although did make it onto the field for a short while during the final. "I stood at first slip for a couple of overs when Georgia Adams had to go for a wee! It was a fantastic day and just to be around that environment well…there are lots of players who have never experienced a final like that."
And being Viper is about far more than runs and wickets anyway.

"We've all experienced not having role models so we know how important it is that we actually be those figures," she explained. "The 'Vipers' Way' as we call it is drilled into us and so it becomes second nature. Those who have gone before us like Charlotte Edwards and Danni Warren worked really hard, and now we get to reap the rewards of it.
"There's a lot of progress still to be made, but we are a lot closer to drawing level with the likes of Australia and New Zealand. Girls starting cricket now have got relatable female role models. It's so different to when I was growing up and is only going to get better from here.
"You see in the Big Bash and in the Super Smash that the players stay behind long after the game to sign autographs. That way people start to know who you are as a person respect you for that. That is something we want to thoroughly embrace and want to do well. We want to make sure if people want to talk to us, they can."
Away from cricket Chandler has an equally packed schedule. A Torquay United fan, she plays for Woking FC and is also a qualified referee. However, she no longer officiates, in part due to a lack of time but also because of an unsavoury incident in 2018. She was verbally abused by a manager and, disheartened by a lack of support from her local FA, she retired the whistle. She remains in football as a female ambassador for Ref Support UK, a charity which provides support and advice to referees at all levels.
Her altruism does not end there: Chandler is actively involved in Cricket Without Boundaries, working globally to combine cricket coaching with sexual health education. Through the charity Chandler has already visited Rwanda twice, flying out for her first trip on the day of her 18th birthday.
"We raise awareness of HIV and AIDS but also look at how we can engage and empower females through sport. It is a match made in heaven - I get to combine my love for cricket with my interest in healthcare.
"Rwanda is a country quite close to my heart now and I still speak to a lot of the women out there. Even if it is just sending them a couple of videos of what I am up to. I get videos back of them copying drills. It is those small things that can keep the links strong and that makes it really, really rewarding.
"It's such a small part of my time and it can create such a positive environment. You can see the amount of change and difference you can make. We organize festivals where they get to showcase their skills at the end of the week. Rwanda Cricket Association, who are ICC recognised, come along to that.
"We do a lot of work supporting children who test HIV positive, trying to re-enforce the message that it is ok because there is treatment and they can carry on a normal life. It is an incredible charity doing amazing work that goes under the radar a bit sometimes."
Ahead of the Rachel Heyhoe-Flint Trophy, Chandler was a key part of the Hampshire women side that finished third in the Women's County T20 South East Group. After starting with a pair of defeats against Middlesex, they achieved back-to-back wins over Sussex, and victory over Surrey. The weather checked their momentum, causing both games with Essex to be cancelled.
"It's a shame as we were just getting into the swing of it. We had quite a lot of experience players but were able to bed in a lot of younger girls who had worked really hard in the EPP programme at Hampshire. They were just starting to find their feet and we were putting in some, really, really good performances. Against Surrey we clawed back a difficult start to win. That was like 'wow, Hampshire women are back'. That is the level we expected of ourselves. It would have been nice to have carried on but actually lots of people got to put some good performances."
On a personal level Chandler was in good touch, although was struck by a short-ball from Tara Norris against Sussex, and she admits there remains some apprehension: "It was important to get back on the horse and not let that affect me. I had a net with Lauren Bell this was and was still thinking 'oh is she going to bounce me'. She is someone who can still get it up at your head! I enjoy the challenge. If you get hold of it,you can hit four or six. I've been hit a couple of times but also hit it 100s of times. It's all about risk versus reward."
And the bouncer is something Chandler has been dealing with since a teenager: "When I was 14, I was playing for Hampshire against Surrey and Lea Tahuhu continually bounced me for probably four or five overs. She was the fastest bowler in the world then and probably still is: I was terrified.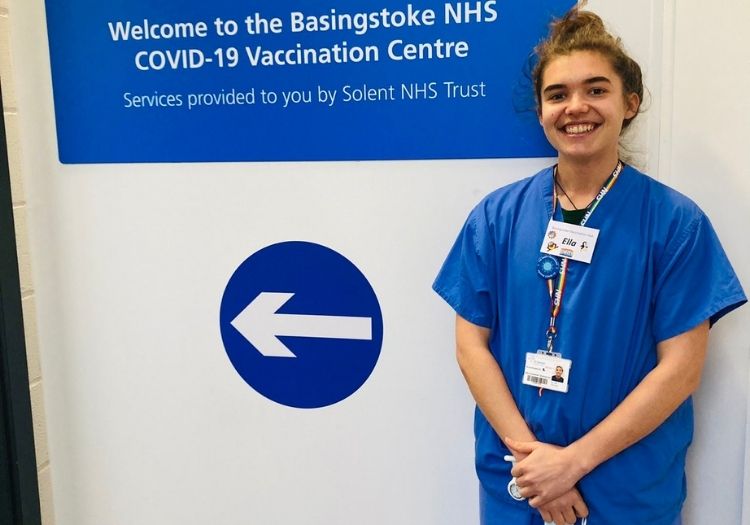 Chandler has been volunteering in the NHS vaccination programme
"Now that has become a running joke. I played with Lea in New Zealand I played with her and Frankie McKay had spoken to Charlotte Edwards who had told her about it. It gets brought up a lot: there are always giggles in the nets and anyone who bounces me is Lea 2.0. That will stay with me for the rest of my life, although now it should perhaps be Lea 3.0!"
As to the future, the first aim is for the Vipers to defend their crown. "We are going to relish," it she says. "We will go to every team, every ground all guns blazing. We have a trophy to defend and we aren't going to go down lightly."
Then, having tasted life as a professional, Chandler's next task is to win herself an ECB domestic contract.
"It's a cliche but it's so nice to be paid for something you love. That has been a goal and I got a sniff of it in New Zealand. Nobody can ignore you if you're scoring runs, taking wickets and making unbelievable stops in the field. It is on TV and someone will see it. You will be rewarded with opportunities if you do well. Now I want to work really hard so that I can make it in the UK as well.
"You can now have those aspirations to play professionally without playing for England. Realistically England is not going to happen for me but to have another separate goal that is achievable really encouraging."
It is little surprise either that she is plotting a New Zealand return.
"I've already been researching paramedic roles out there. I've got quite an interest in helicopter emergency medicine and they do quite a lot of that in New Zealand because it is spread out there. That would be cool!"
"Full speed ahead" she says before heading off to a shift in the afternoon and a Hampshire Academy game the next day. Foot down.
Southern Vipers preview podcast
Southern Vipers: Player profiles, ground guide, key stats
Women's Cricket
|
Southern Vipers
|
Regional T20
|
Heyhoe Flint Trophy
|
Features
|
1Banner
|
Please ensure all fields are completed before submitting your comment!