Do cry for me, Argentina: The extraordinary story of Clem Gibson
JAMES COYNE and TIMOTHY ABRAHAM tell the remarkable story of the Argentine aristocrat who ran through a great Australia side 100 years ago, turned down an Ashes tour… and was almost bumped off by the Perons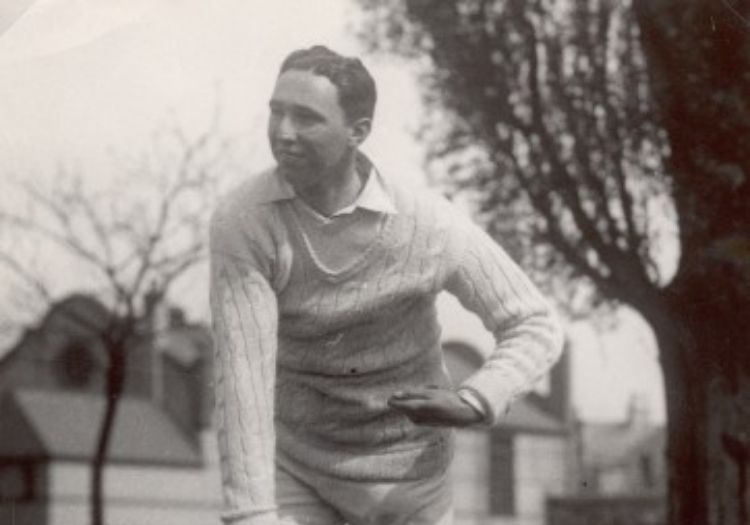 I had packed my bag and sent it to the railway station; there was an express train to London at one o'clock. I went to the Saffrons once more on this Monday morning in August 1921, for sentimental reasons. [Archie] MacLaren had gone in first on the Saturday evening. I wished to look on him as he faced, for the last time, an Australian fast bowler. He was bowled straightaway by the lovely panther [Ted] McDonald.
As MacLaren came from the wicket, grey-haired and stooping, I slowly began to walk round towards the exit gate… By the time I had reached the exit gate, I had seen enough. I retraced my steps a little; I got on a bench facing the pavilion. I did not go to London that day. Or the next. I stayed at Eastbourne. I saw [Aubrey] Faulkner and Hubert Ashton make a great stand. I saw Aubrey Faulkner's last great innings. And next day I saw C. H. Gibson of Cambridge University skittle out the Australians; MacLaren won by 28 in a scene of heartbreak and shouts.
Neville Cardus in Autobiography on Australia's defeat by an all-amateur England XI at Eastbourne, 1921
***
In July 1920 a photograph was taken in one of the leafy gardens surrounding Lord's. It's of the Oxford and Cambridge XIs together, in the days when the Varsity Match was one of the premier events of the English summer.
The faces that jump out are of three men who would captain England in Ashes series between the wars. Arthur Gilligan, his sullen eyes sunken into the face of a man three times his age, is sat in Cambridge light blue to the right of his older brother Frank, who never would play a Test, but captained and kept wicket for Oxford.
Stood on the row behind is Percy Chapman, a popular, fun-loving England skipper. On Chapman's right shoulder is Douglas Jardine.
Posterity would rather cruelly come to define this trio as the fascist, the alcoholic and the one who almost lost a dominion.
Directly above Chapman and Jardine on the back row is a fresh-faced figure altogether more fey and elegant, his hands resting on a bench obscured by Jardine.
Had history run just a little differently – and to Archie MacLaren's liking – Jardine might have been deploying this man as one of his major weapons against Don Bradman in 1932/33. Seeing as Clem Gibson was a master of swinging the ball rather than banging it in, it is safe to assume he wouldn't have been bowling bodyline.
Instead, this charming, debonair young man, slicker in silk neckerchief and suit than most of the other 21, came close to ending his life buried three feet underground in an isolated corner of Argentina at the behest of a Latin American regime.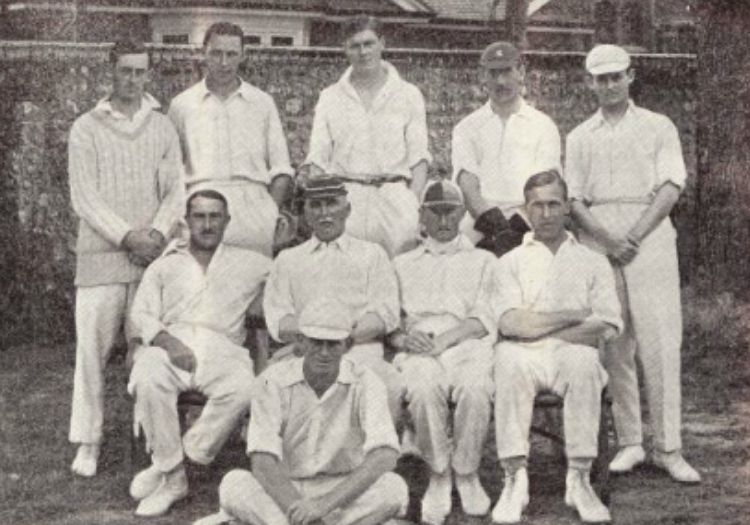 The Cricketer magazine's report on the England XI's momentous win over the Australians at Eastbourne, August 1921, featured an image of the team, with Gibson second from the left on the back row
***
The Gibson family had been landowners and breeders in Argentina since the early 19th century, when thousands of enterprising Brits sailed out to make their fortune in the vast newly independent lands of South America.
Cricket clubs started wherever the British settled – in suburbs, next to railway terminals and in private residences. By 1887 there were cricket and polo fields at the Gibsons' windswept ranches. At the time, the Argentine agricultural powerhouse put the country among the richest in the world in terms of GDP per capita – several times wealthier than Japan.
Herbert Gibson's service on the Royal Wheat Commission, where he negotiated extremely favourable prices for the Allied cause in the First World War, made him the most respected 'Anglo' in Argentina. It earned him a knighthood from the British, an overseas baronetcy, and the soubriquet 'Don Heriberto' from Argentines.
While war was raging in northern France, Herbert's second son, Clement, began starring with the ball on the fields of Eton. Clem was in the Eton College 1st XI for four years and captain for two, hoovering up 122 wickets at less than 11 – much of it while battling appendicitis.
In the absence of any first-class programme between 1915 and 1918, public schools cricket was judged by the blue-rinse authorities to be the most important in England, and Sydney Pardon, editor of Wisden Cricketers' Almanack, named Gibson and four other schoolboys the Five Cricketers of the Year for their achievements in 1917.
In the Eton v Harrow match of 1919, when the fixture returned to Lord's after four years of wartime austerity, only to be marred by fighting between rival top-hatted supporters, Gibson took 9 for 30 in the match and was presented to King George V.
Gibson went up to Cambridge, and seems to have spent most of his days on Fenner's sward and his nights dining and dancing in top and tails. He won his cricket Blues in 1920 and 1921, which in time would be judged among Cambridge's finest XIs.
"While looking a trifle simple he was most deceptive as he could do a bit each way and very late," said Hubert Ashton, who roomed with Gibson when Cambridge toured the counties. "I do not think that I can ever recall his bowling badly."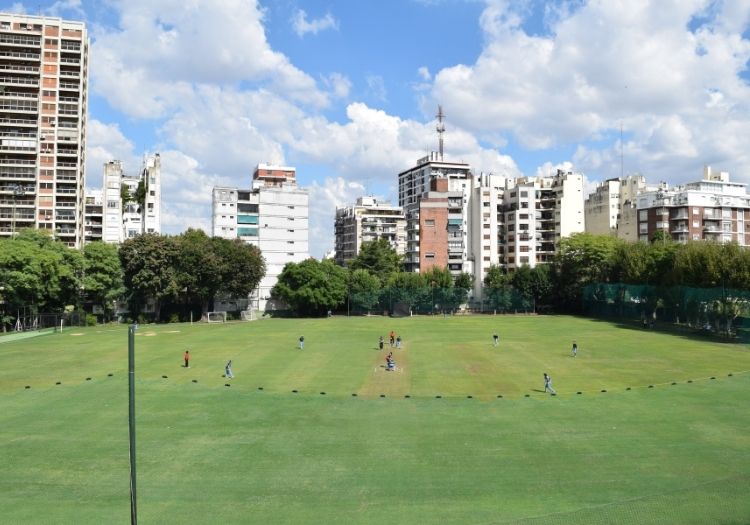 The modern-day backdrop at the Belgrano Athletic Club, in the Buenos Aires suburbs, where Clem Gibson bowled in many a game (Image credit: Timothy Abraham/James Coyne)
Ashton remembered "a man of great charm, tall, elegant, good-looking, immaculately-dressed… I remember vividly what shrewd judgment of people he had – sometimes a little barbed but never unkind". Not quite like Jardine, then.
Even considering the tendency to talk up an upper-class amateur, the evidence supports Ashton's assessment of "a great cricketer", if an unrealised one. The Manchester Guardian's young cricket correspondent Neville Cardus noticed a delivery "which is a good imitation of [SF] Barnes's famous ball, the one that pitches on the leg stump and swings away to the off".
But, as warm weather swept in on the Gulf Stream, England was in a drought – and not just in the meteorological sense. Warwick Armstrong's side had whitewashed England 5-0 in Australia in 1920/21. And, on their return tour the following summer the Australian tourists swept up three more Tests out of five, the other two drawn. By the August bank holiday Australia were unbeaten through 34 matches of their British tour.
Still, Archie MacLaren, pushing 50 and looking not much at all like the youthful Prince of the Golden Age, declared he could assemble an all-amateur England XI to beat the colonials at Eastbourne. It sounded like sentimental claptrap. Gibson had pitted himself against the Australians twice already, for Lionel Robinson's XI at Old Buckenham Hall and for Cambridge, and made the cut in MacLaren's XI.
As a favour to his great hero MacLaren, Cardus gave Middlesex v Surrey at Lord's – the County Championship decider, no less – a miss, and took a train to Eastbourne.
MacLaren's idea was in tatters when the England XI were bundled out for 43 in the first innings by McDonald and Armstrong. Then came an epic comeback. In their second innings Aubrey Faulkner's heroic 153 left the Australians a difficult 196 to win. The moment which started their slide from 52 for 1 was "a glorious ball" from Gibson to left-hander Warren Bardsley, pitching on off and moving back through the gate to take out leg.
When Gibson bowled McDonald to seal it, giving him 6 for 64 in 22.4 overs, the crowd charged the field and the graduate was carried into the Saffrons pavilion. The fact this was not an official Test match has consigned the occasion to some obscurity, but it was a huge moment in English cricket at the time.
Plum Warner gently chided the England selectors in The Cricketer for not having picked Gibson and his new-ball partner Michael Falcon in the Tests.
But the war effort had taken a lot out of the family business, and Clem dutifully sailed back that winter to head up the offices of Gibson Brothers at 296 Calle San Martín, Buenos Aires.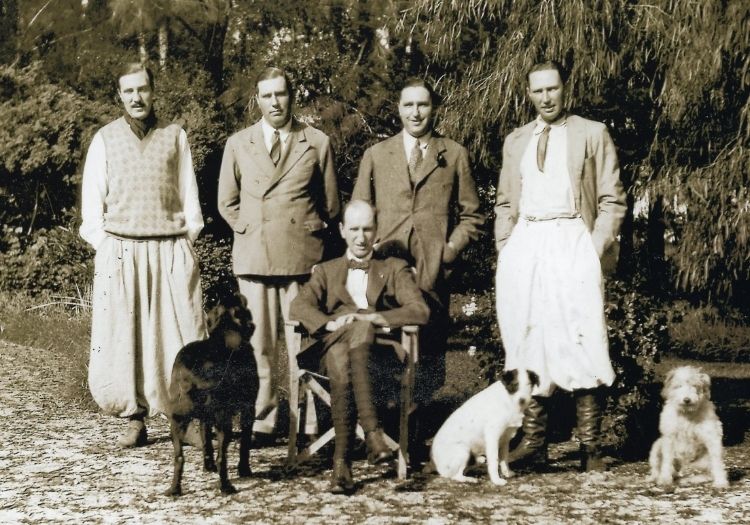 The Gibson family on one of their estancias, with Gibson furthest right in the picture in his baggy white gaucho bombachas (Image credit: Courtesy Thomas Gibson)
***
There was, back then, a serious cricket scene in Argentina. MacLaren knew all about it from begging his way on to Lord Hawke's 1911/12 MCC tour of Argentina and Uruguay. (This despite the pair falling out in 1902 when Hawke's selection panel famously picked the uncapped Fred Tate for the Old Trafford Test, prompting England captain MacLaren to exclaim: "My God, look what they've sent me.")
When MacLaren began his South American tour with four ducks in a row, he declared the Argentina national side would have beaten most of the first-class counties.
Gibson could spare the time to turn out once a week for the Hurlingham Club in the Argentine Championship, and for Argentina XIs in periodic adventures out into the pampas or to Brazil and Chile, sumptuous occasions taking in mouth-watering asados and four-course meals.
MacLaren was clearly besotted with young Gibson – presumably in a platonic sense. Though dogged by rheumatism brought on by his excessive drinking, and prone to letting his MCC membership lapse, MacLaren organised a non-Test MCC tour to Ceylon (now Sri Lanka), Australia and New Zealand in 1922/23, and managed to coax his apprentice from the isolation of South America to take the new ball. Gibson's haul of wickets on the tour was second only to Tich Freeman.
MacLaren kept lobbying at Lord's, and Gibson was picked for the 1924/25 Ashes tour, led by his old Cambridge mate Arthur Gilligan. In the days when pale Englishmen rather wilted in the southern hemisphere heat and Australia played eight-ball overs, there was some logic in choosing a skilful new-ball operator who bowled long spells in the enervating sweat of South America. Equally there was widespread consternation at the selection of a man who had not played a first-class season since 1921.
Gibson agonised… and cabled back to Lord's that regrettably he would have to decline. Was it, as widely reported, business commitments as dictated by Sir Herbert? Or fear at not being able to cut it on the grandest stage after such time? Or the simple fact that he wouldn't have made the long boat journey from Buenos Aires to Sydney in time? That was the explanation given to us by Clem's son, Thomas Gibson, at his art gallery in Piccadilly a couple of years ago.
Whatever, England ended up terribly over-reliant on Clem's Sussex team-mate Maurice Tate, and lost 4-1. "Granted the paucity of the attack that did go," reflected the historian David Kynaston, "it is just arguable that Sir Herbert cost England the Ashes."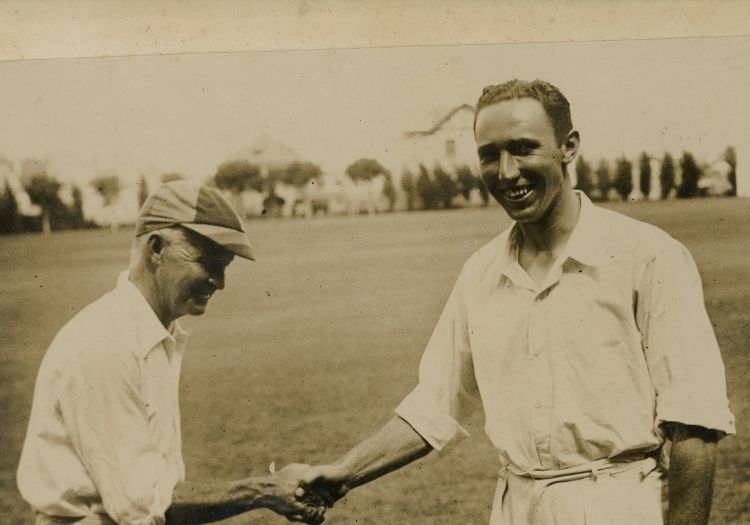 Plum Warner, captaining MCC, and Clem Gibson, leading Argentina, toss up at the Hurlingham Club, Buenos Aires, during MCC's 1926-27 first-class tour of Latin America (Image credit: Courtesy Thomas Gibson)
The Saffrons Slayer returned to Sussex in 1926 for another Ashes summer, and was the talk of the sports pages. MacLaren wrote in the News of the World: "Someone once told me he had not been getting his share of wickets in the Argentine, and that he did not always start the bowling. This all sounded rather amusing to me, but I told my friend that he was essentially a bowler to get the high-class batsman out with the red ball swinging away, and it would have surprised me had the Argentine batsmen played well enough to touch the ball... I have always given Gibson the new ball, no matter who else was on my side."
Twice Gibson bowled the great Jack Hobbs in the Championship match at The Oval, and he was the best of the South's bowlers against the Australians at Bristol. He was picked for The Rest in the Test Trial at Lord's… only for him to strain a fetlock on the eve of the game in a jazz-hat outing for Free Foresters.
Sliding doors… the bowlers who took the Test spot instead were Fred Root, practitioner of 'leg-theory', fast-medium inswingers on the leg stump; and Harold Larwood, the 21-year-old strike bowler in the Nottinghamshire team led by the new England captain Arthur Carr.
Gibson had missed his last chance, and he sailed back to the obscurity of the River Plate, his name reduced to a footnote, one of the great lost bowlers of English cricket.
Except, that is, for one last hurrah in 1932, when Gibson captained a South American party to England – a never-to-be-repeated collection of 10 Argentines, three Brazilians and two Chileans who ran some counties close.
Argentina was probably closer to Test standard than any other nation at the time – if only countries from outside the Commonwealth had been allowed to join the ICC (then the Imperial Cricket Conference).
***
A certain strongman didn't help Argentine cricket either. After his election as Argentina's president in 1946 Juan Perón embarked on a wave of nationalisation designed to rid the country of foreign capitalist dominance as embodied by such dynasties as the Gibsons. There wasn't much cricket in the poorer barrios of Buenos Aires – an indictment of the Anglo-Argentines' failure to spread the game outside somewhat exclusive members' clubs.
As part of the social and economic overhaul the president's glamorous wife, Eva, launched her own Social Aid Foundation. This was ostensibly to funnel much-needed funds to the poor, though she dismissed bookkeeping as "capitalistic nonsense" and began using the foundation to demand that companies and societies pay up or face the consequences.
So when in July 1947 the Buenos Aires Cricket Club refused to hand over their muddy field in the Palermo parklands for a social function, Evita had the old wooden pavilion burned down.
Six years later it was the turn of the grander Buenos Aires Jockey Club. Gibson and three friends dashed there with shotguns to guard the entrance, but a waiter let the arsonists slip through the back. Fifty thousand books and priceless works of art, including an original Goya, went up in smoke.
Gibson took up a senior directorship at Quilmes, the biggest brewers in Argentina, where he too was pressured to pay a backhander. When he refused, Evita put a hit out on Argentina's most illustrious cricketer.
He fled to the safety of the family's northernmost ranch, riding around the wild lands in his baggy white gaucho bombachas rather than his trim white cricket flannels. Two sets of hitmen were despatched to bump him off, but none of them ever made it back to Buenos Aires; it seems they ran into Gibson's loyal and fearless gauchos.
One of the last acts of a proud cricketing life was to be huddled in a shack on his northern estancia, frantically fiddling away on his wireless for the frequency of the BBC World Service for hourly updates on Clem Jr's progress in Eton v Harrow.
Clem Gibson's world may have been passing, but for a few years he cut quite a swathe through it.
Main image credit: Sussex CCC
This is an adapted extract from Evita Burned Down Our Pavilion: a Cricket Odyssey Through Latin America by Timothy Abraham and James Coyne, published by Constable and available to buy now by clicking here
Global Game
|
Features
|
1Banner
|
Please ensure all fields are completed before submitting your comment!