Cricket fans ready to be welcomed back to matches with Covid-19 testing ready to be rolled out on mass scale
NICK HOWSON: Prenetics, the company behind the testing process which has helped the sport return, are ready to oversee a testing process which could allow for crowds to return
After successfully helping to deliver the return of professional cricket, the company behind the thorough Covid-19 testing process is ready to help fans return to stadia across the country.
Prenetics, the leading global health company, have assisted the Premier League, professional boxing and now English cricket resume thanks to a digital health passport which monitors an individual.
Though the technology is only being used on a small scale - 702 tests were administered between June 3 and June 23 according to the ECB - Prenetics are confident that once government restrictions are sufficiently lifted, technology can be rolled out on a mass scale to end the sight of empty stands.
Avi Lasarow, Europe, Middle East and Africa chief executive, told The Cricketer: "Are we as a company ready to support getting fans back to stadiums? Absolutely. The next stage is biometric access to get people into stadiums within the context of social distancing."
An exhaustive process could include biometric data being submitted when buying your match ticket which automatically links it to your digital health passport contained on your smartphone. Once at the stadium all the information must tally up before you gain entry. Testing could even take place on the gates, which could result in you being turned away.
Lasarow added: "Could it happen in the coming months? Absolutely. (Not being admitted) would be no different to the event being cancelled. They are going to become the normalities. Things are not going to be the same."
As things stand, all future international matches scheduled for this summer will be played behind closed doors, exclusively at the biosecure venues at The Ageas Bowl and Emirates Old Trafford. Outdoor performances are slowly being phased back but stadium events are not yet permitted.
The ECB are the first body to attempt to stage an international team sport during the coronavirus pandemic. Global administrators will have a beady eye on events in Southampton this week with a view to trying to replicate their success.
While staging a series between two sides who are effectively locked down in venues perfectly suited for the circumstances has been pulled off, a tournament format presents different challenges. While the men's T20 World Cup in Australia is likely to be postponed, the BCCI are pressing on with plans to stage the Indian Premier League, while the women's 50-over World Cup remains in the pipeline in February and March 2021.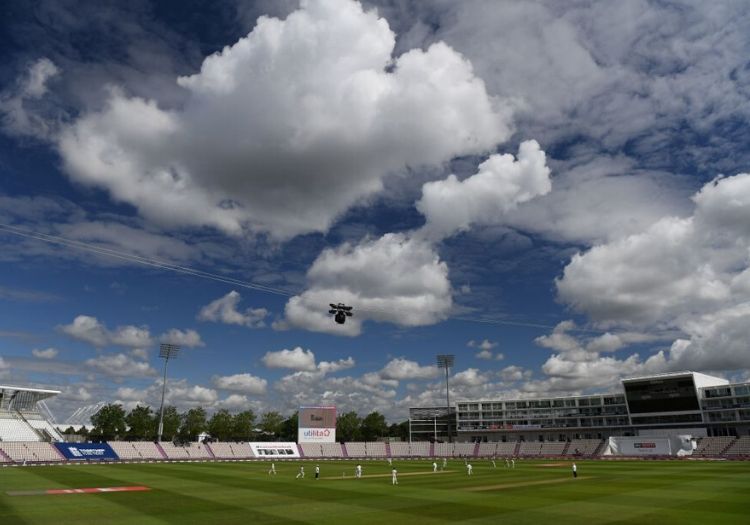 Fans are scheduled to be absent from matches throughout the international summer
"In the three months from the time we started operating our Covid-19 solutions in the UK to where it is today so much has happened," added Lasarow. "We don't just want to bring that to cricket in the UK but to world cricket.
"As a company, we're talking to numerous employers. We have core competence in the UK in sport. Through that alone we have enquiries from around the world on how we deal with Covid-19 in sport.
"Yesterday we had a global broadcaster ask us 'how has the UK been dealing with sport so much successfully than the US?' What we learn in developing this solution with the ECB we can then apply that back into cricket globally."
There is more certainty over the message to sport: What on the face of it is an unsettling process is here to stay. "It's becoming the norm rather than a disruptive process."
Save 30% when you subscribe to The Cricketer's print & digital bundle. £35 for 12 issues
Features
|
1Banner
|
Please ensure all fields are completed before submitting your comment!