Kemar Roach's career-best return leaves Hampshire lucky to have come second
SAM MORSHEAD AT THE OVAL: Surrey may have benefited from the better of the overhead conditions, but labouring the point would be to underplay the majesty of Hashim Amla, the skill and ferocity of Roach, and Hampshire's three-day writer's block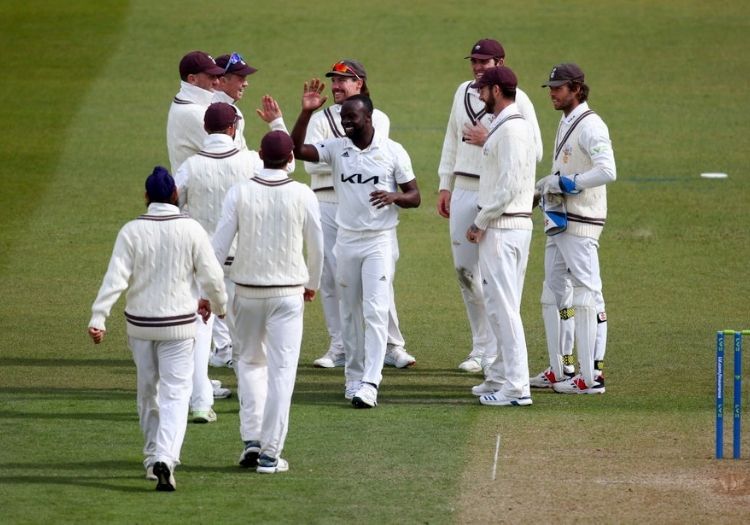 The Oval (third day of four): Hampshire 92 & 179, Surrey 560-7d - Surrey won by an innings & 289 runs
Anyone interested in competitive cricket will have done well to steer clear of the live stream from the Kia Oval this week.
In less than three days, Hampshire - until Thursday the stand-out side in this year's County Championship - have been summarily dismantled and sold for parts by a Surrey team which had hitherto been all teeth and no bite in 2021.
Two miserable batting performances, the second sparked by a distinguished performance of swing bowling by Kemar Roach, sandwiched a 143-over grind in the field to leave the away side contemplating their largest innings defeat for 110 years.
For Hampshire, the exercise at the Oval was not totally pointless - Scott Currie's dismissal of Ollie Pope 23 balls inside the 110-over cut-off on Friday providing consolation so scant it might have passed a politician's lips - but they will take few positives from the experience. Actually, they can count themselves a little fortunate to have come second.
On a pitch which for nearly two days after heavy-roller treatment had behaved politely for Surrey's batsmen, the hosts can perhaps be said to have benefited from the better of the overhead conditions.
But labouring the point would be to underplay the majesty of Hashim Amla, the skill and ferocity of Roach, and Hampshire's three-day case of writer's block.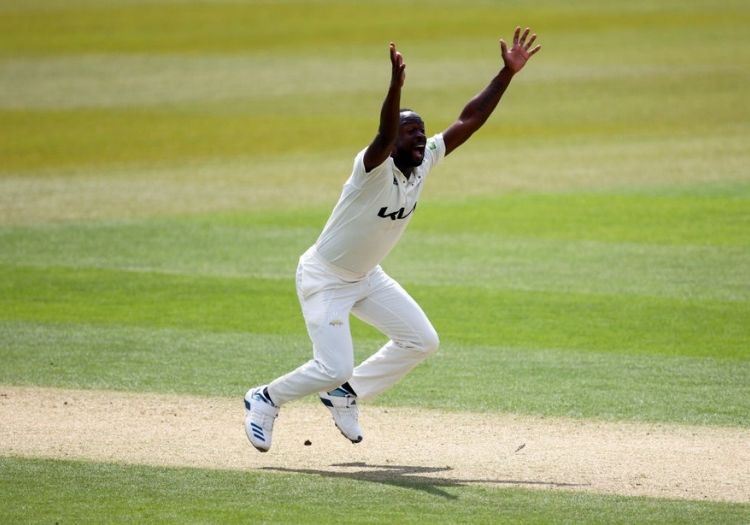 Kemar Roach claimed second-innings figures of 8 for 40 against Hampshire
Amla's double-century, after a run of three ducks in five innings, put the home side in an unassailable position on Friday, and on the third afternoon Roach put in the sort of shift Surrey's management will have been craving to ram the advantage home.
Roach, who had season figures of 2 for 223 before this match, bowled with characteristic rhythm and beautifully crafted swing to scythe through the Hampshire batting order and collect his first five-for for the county. Benefiting from tactical advice from teammates who were more clued up about the technical intricacies of Hampshire's batsmen, and making the most of a slightly looser grip on the ball, he finished with 8 for 40 - the best haul of his first-class career. The return could have been much more miserly had he not seen chances dropped at third slip and gully.
"That's one of the best [spells] I've bowled for a year. The ball came out extremely well. I got some assistance from some of the guys. I thought the guys gave me good information and we executed it well," Roach said afterwards.
"To get the rewards at the end is always heartfelt. I'm happy to do it and hopefully I can do it again very soon."
Having been bowled out for 92 in their first innings, Hampshire found themselves 60 for 5 second time around and, though Lewis McManus and Liam Dawson hung around long enough for Hampshire's hotel staff to start preparing the bedsheets, Roach returned for a third spell to ensure another night in the capital would not be necessary.
A little before 5.30pm, as Ben Foakes claimed a tidy catch down the leg side from McManus to give the West Indies international his eighth, Surrey could celebrate their first win of the season, and their biggest innings victory since 2006.
For Hampshire, the inquest begins.
Amla seemed to have decided before the start of play on day three that the match was as good as over. Having accumulated 215 not out, the South African did not appear at the resumption. Surrey cited a "stiff neck", presumably sustained checking his progress on the giant electronic scoreboard at various points on Friday; frankly, he would have been forgiven for considering the job to have been done.
He did not miss a great deal.

With Amla resting, and Surrey still not declaring despite leading by 421 overnight, the first hour of the day quickly became something of a nonsense.
Surrey lost wickets at regular intervals, James Vince spread Hampshire's field to the rope, his bowlers adopted negative lines - presumably in an effort to buy time, and the game fell flat.
At times there was more hustle and bustle in the queue for the Montgomery Hall vaccination centre, a stone's throw from the Oval on the Harleyford Road, than among the grazing Hampshire boundary-riders, hands-in-pockets, watching the run deficit continuing to rise.
It's just as well there weren't many people in the ground whose time could be wasted by the 50 minutes of bilge that preceded a declaration.
Once Rory Burns had decided enough was enough, his team led by 468.
It was always going to be too much, but Hampshire would have hoped to have put up more of a fight.
The opening pair of Joe Weatherley and Ian Holland were both pinned lbw, before Sam Northeast threw his hands at his third delivery and was caught in the cordon by Rikki Clarke off Roach.
Tom Alsop followed in near-identical fashion, albeit playing a little more conservatively, for six, and when James Vince nicked off to Clarke, Hampshire were staring at the very real prospect of twin scores in the double digits.
That fate was avoided when Dawson and McManus put on 54 for the sixth wicket and with the pair together at the crease, Hampshire did show some signs of life, only for Dawson to be sawn off lbw when it appeared he had a good case for the ball angling down the legside, especially given Roach's wide position on the crease at the point of delivery.
Kyle Abbott hung around for more than an hour - a demonstration to his top-order teammates of what might have been possible - but once he was gone, snared again by the Clarke-Roach combination, Surrey were able to rattle through to victory.
The next time Surrey are in action at The Oval, fans will be allowed back through the turnstiles. They are unlikely to be treated to a spectacle quite as lopsided.
Surrey
|
Hampshire
|
County Cricket
|
County Championship
|
1Banner
|
Please ensure all fields are completed before submitting your comment!