Anrich Nortje: "I don't want to be known as a one-dimensional bowler"
ROHIT SANKAR: The 26-year-old quick has risen to the top of South Africa's attack after just six Tests, but "The Dutchman" is not yet content with the grit and fire that saw him flourish in defeat to England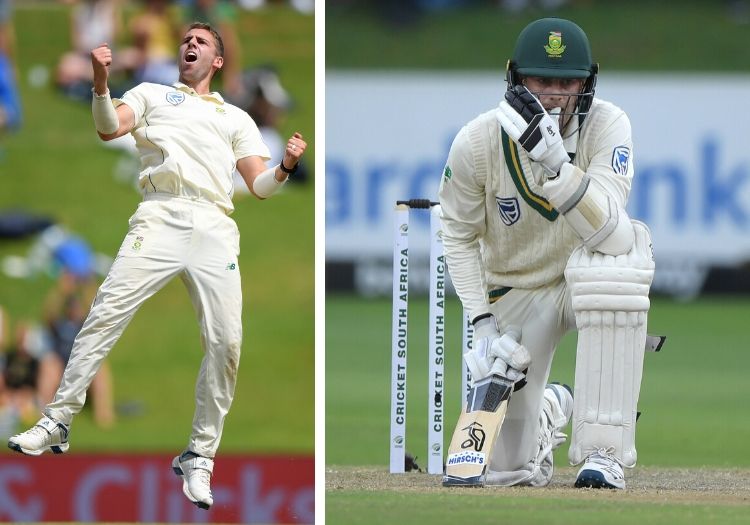 Bat grounded on the pitch, padded knees sunk into the crease, gloved left thumb parting his lips and eyes beneath the helmet grille staring into the distance. The image of a distressed Anrich Nortje at St George's Park oozes the aura of a Test match lost, and a series for that matter. It is no less evocative than Dale Steyn on his haunches at Eden Park five years back.
Yet, this was not a match-defining moment. It was not even a series-defining moment either. It was merely an image of a dismissed tail-ender, posing as a nightwatchman, covering up for the faux pas of a disheartening top-order.
But why the disappointment? Nortje had walked in at No.4 the night before and just stayed put for 136 balls – his second vigilant effort of the England series – even as the remainder of the top six each folded to the seemingly innocuous off-spin of Dom Bess. Called upon three deliveries before bad light and rain put an end to day two, Nortje's resistance included 59 from Bess alone, yet he remained unbeaten to him on a turning surface.
As he eventually fell to Ben Stokes for 18 some 45 overs after coming to the crease, the nightwatchman had completed another immensely successful blockathon, but genuine remorse at having given his wicket away showed in his reaction. Even as he speaks to The Cricketer with the benefit of hindsight, discontent remains clear: "I didn't score as quickly as some of the other guys," he states.
Of course, that may be, but he faced more balls in that innings than anyone bar Quinton de Kock. He spent a little more than three hours on the wicket where only one player actually picked for his batting (again, de Kock) could even manage two. His innate quality as a gritty fighter came to the fore with the bat, both in Port Elizabeth and earlier on with an 89-ball career-best of 40 in the second innings in Centurion – but Nortje is far more pleased with and focused on his bowling efforts.
With 18 wickets in the series – only his second in the Test arena, after two games during South Africa's dismal trip to India in October – Nortje found himself topping the wicket charts and the standout bowler from either side thanks to his maturity and composure. After being on the receiving end of two erratic beamers from Jofra Archer and a slew of short balls from all his England counterparts, Nortje's efforts were never misdirected.
For a pacer who can consistently break 90mph and generate natural lift off the surface, it's easy to get carried away and aim for the throat of batsmen. However, that is just not how Nortje sees himself as a Test bowler.
"For me, trying to make the batsmen play more is important. Of course when the captain needs you to bowl short or bounce batsmen, you do. But generally, hitting the top of the off stump and making the batsmen play just around that line reaps better rewards," Nortje says.
"I am not someone trying to make a career out of short-pitched bowling at 150kph (93mph). I just want to be consistent and find the right balance – when there's an opportunity for the short ball or a spell where you need to intimidate batsmen with bounce, I don't want to miss out either.
"I don't want to be known as a one-dimensional bowler. When you did see me bowl short in this series, it was mostly to a plan."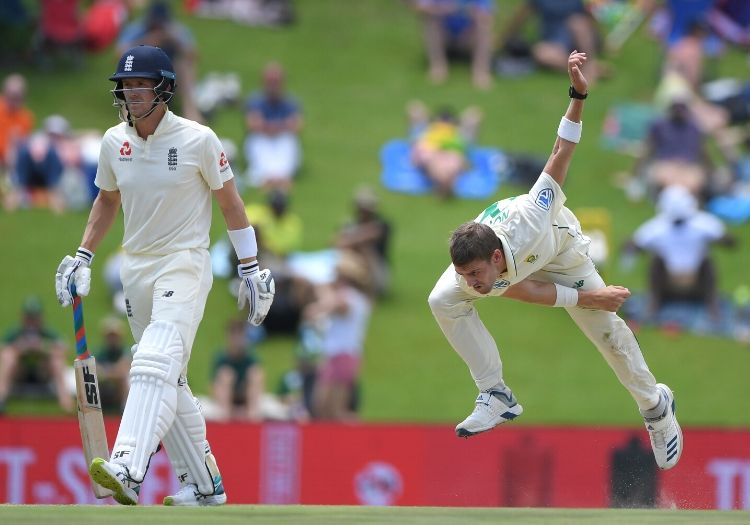 Ferocious bowling saw Anrich Nortje finish his maiden home Test series as the leading wicket-taker on either side
Two of those planned short-ball spells came when Faf du Plessis wanted his change bowler to go for the heads of England batsmen. In the first innings, Nortje sent Joe Root packing with a snorter that climbed on the batsman at 92mph and rapped his gloves before finding Quinton de Kock behind the stumps.
He recounts: "There was one [spell] in Cape Town and another at the Wanderers. Faf wanted me to bowl short and we also got wickets. The plan again was to mix it up. Once we found breakthroughs with the short ball, we went back to bowling fuller and got more wickets.
"It reinstates my point again. You can't be one-dimensional and think you will get away with it because you have pace. You see what's happening with the pitch or the batsmen. You judge and then decide what to bowl. We quickly changed to normal lengths when we saw the new batsmen weren't too comfortable with it."
Two balls before the dismissal of Root in that Cape Town innings, Nortje had found an edge from the England captain's bat only for first slip Rassie van der Dussen to spill a catch after de Kock – for the third time in the series – jumped in front of him. Nevertheless, Nortje proved Root's nemesis right through the series, claiming his wicket on three occasions and delivering 95 dots in the 136 balls he bowled in the Yorkshireman's direction.
"I was sticking to the plan [against Root]. I felt my natural length and bounce troubled him a bit. That helped of course. Maybe that's something which worked to my advantage. I don't think I did something the others didn't do," Nortje remarks.
"There were a few special moments in the series for me with the ball. The five-wicket haul was indeed special. But one dismissal that stood out for me was Joe Denly's at Cape Town in the second innings.
"We were sort of trying to find a wicket. We were running in as hard as possible to find a breakthrough after Denly and Sibley got together, and we finally got him with a short ball – something he was good at putting away. To get that wicket after a tiring spell was rewarding."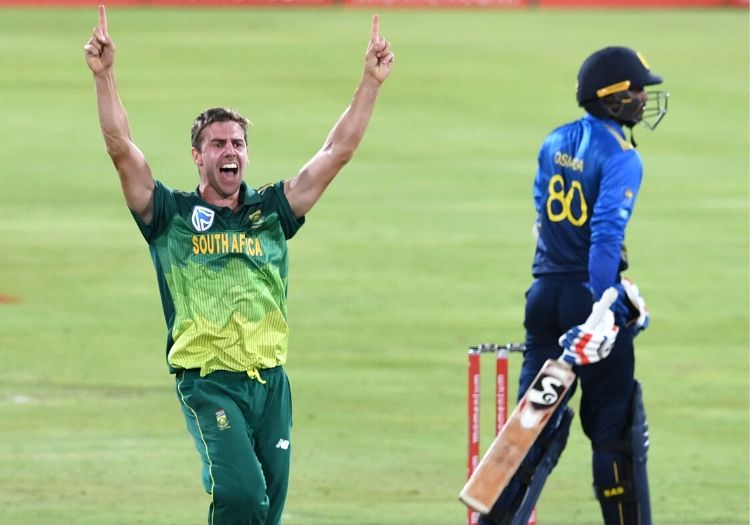 Nortje broke into the Proteas Test team in October after previously impressing on his ODI debut in March
Mixing up his length and making batsmen uncomfortable seems to come naturally to Nortje. He shot into the limelight and earned praise from opposition skipper AB de Villiers for a searing spell in the inaugural Mzansi Super League match in 2018, and before long was publicly identified as a prospective Proteas player and given a shot at making his mark, first in green and gold and later in whites.
The standout quality in the pace bowler that came to the fore is an undying ability to run in all day long, which prompted bowling coach Charl Langeveldt to bring up a nickname which refers to fight and persistent aggression: "The Dutchman".
Nortje sent down several long spells in the series, but one that particularly made an impact came in the first innings in Johannesburg to close it. With Joe Root and Ollie Pope running away with the game along England's new script of putting up big first innings totals, Nortje steamed in and bowled eight overs on the trot, consistently clocking 87mph or more. He not only broke the stand by sending back Pope for 56, but also dismissed Root and Sam Curran off successive balls to bring the Proteas back into the game.
The bowler himself, however, plays down his efforts in delivering long spells. "It's about rhythm and what the team needs then. I think that was one of the longest spells I bowled in the series. On the day, if everything is going my way or I feel the rhythm is fine, I am definitely up for long spells when the captain needs it. That spell, everything clicked in sync and I felt I had the right momentum to keep bowling."
"I have bowled long spells at domestic level. I love running in when the rhythm is right or when the team needs you. It's definitely something I am up for. If the team needs a wicket and if the captain thinks I am the guy to do it, I'll do it all day long," Nortje says earnestly.
The Johannesburg spell was particularly notable as Nortje found himself the spearhead of the attack in just his sixth Test, following the suspension handed down to Kagiso Rabada. That he stepped up to shoulder the workload so soon into his Test career demonstrates his dream qualities for a captain, and he insists that du Plessis can call on him whatever the situation.
"For me, I need to keep my mind clear to execute well. Missing Rabada in the side was a big blow, but my plan – or the team's plan for me – wasn't too different. I saw it as an opportunity to put the team in front and step up," he reflects.
"I don't mind taking the new ball or running in and bowling an eight-over spell with the old ball. I am really comfortable with trying to execute whatever role the captain wants me to take on."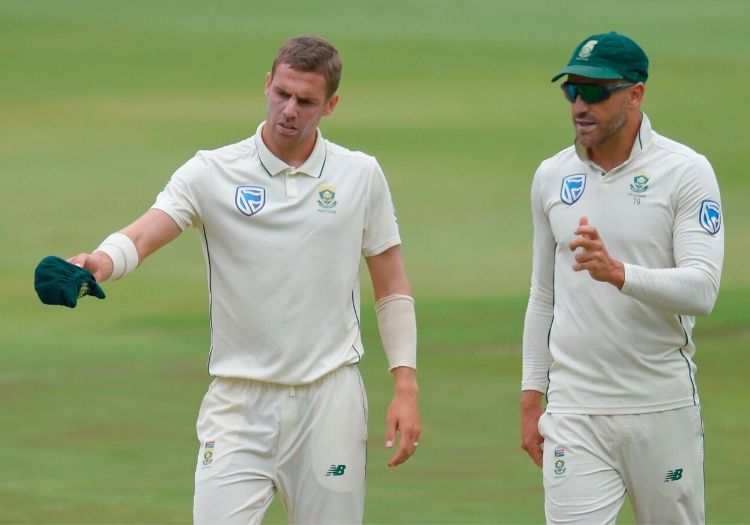 Nortje says captain Faf du Plessis can call on him for whatever the team needs
Nortje also recalls discussions with teammates Rabada and the now-retired Vernon Philander in the two very different Test series he has played a part in to date: touring India in October, where a South African side in turmoil fell to a pair of innings defeats to open his career in the format, and on home turf against England.
"The major things we discussed were about not changing too much of what we generally do as a fast bowler, [focusing on] what our natural strengths are and not seeing what the next guy does and sticking to your strength. We worked on a few specific things too but it was about executing the basics right mainly," the paceman says.
These discussions perhaps helped him stay grounded even as Jofra Archer and Mark Wood – the other outright "pace" bowlers in the series – went mainly for the helmet rather than the off stump. Nortje, though, is not ready to accept that he bowled better than the two England quicks. "Their role in the side could be different from mine. Both got five-wicket hauls in the series. In general most of the guys knew where to bowl after a spell at least. It was about sticking to that and I thought Wood and Archer bowled well, as did most England bowlers."
The Proteas ultimately fell 3-1 across the four games, failing to add to their spoils after taking the opening Test in Centurion, and the scoreline perhaps does not quite reflect the bowling effort the hosts put in during the series. Nortje is quick to point out that his team is in a transition phase and was clearly "aware of what we were getting ourselves into" when playing a strong Test side like England.
"To get a win at the start was good, but there were still a lot of things to work on and a lot of experience to pick up on the go," he admits. "We knew they were going to come back at us strong. There were a lot of new guys in the setup. Things aren't going to happen overnight. It is going to be a bit of a process. We'll come around."
The trend in South African cricket circles, especially around pace bowlers, has been to make a statement in Test cricket and then vanish to England with a Kolpak deal in their kitty – think Marchant de Lange and Glamorgan, Kyle Abbott and Hampshire, or Duanne Olivier and Yorkshire – but Nortje rubbishes any such possibilities ("Never a Kolpak").
As if his performances had not already exemplified it enough, in Nortje South Africa have a proper fighter, and one capable of stepping up and bowling through a 10-over spell or giving the batsmen some perfume balls when the chips are down; of frustrating the opposition with a three-hour vigil at the crease when the team is down and out; and of answering his skipper's call on a hot afternoon when a 200-run partnership is tiring the team out. A "proper Dutchman" indeed.
South Africa
|
International
|
Features
|
1Banner
|
Please ensure all fields are completed before submitting your comment!