Salvaging a lost summer: How academy cricket survived its toughest season
NICK FRIEND: During the initial lockdown, it looked as though academy youngsters at a crucial stage of their development might miss out on vital cricket. By autumn, however, major crisis had been averted. This is the story of how it was achieved
There was a point during the early throes of summer at which the thought of any cricket at all looked a fairly unlikely prospect.
The case was made early on – and in pretty blunt numerical terms – for the importance of the international game, with the bare facts stating quite frankly that an abandoned season would have severe, wide-ranging repercussions further down the ladder.
"At one point I got myself into the mindset – intentionally – of not thinking we were going to play any cricket here," recalls Elliot Wilson, head of Worcestershire's academy, "because it just wasn't necessarily on county cricket's radar to get academy cricket back.
"The financial impact is only a negative one. What are you playing for? What's the reason to do it? What are you going to gain from it? At one point, you kind of felt like we weren't going to get anything back, but then all of a sudden we were given this two-month window of cricket and all hell broke loose."
Positive hell, though. Hell that the game at that level could scarcely have done without. A lost summer is a summer without development, a summer where enthusiasm might wane and where a generation on the cusp of its graduation might find itself marooned, with players released through no fault of their own on the back of little opportunity to press for retention or promotion.
All of that featured in a worst-case scenario that was very much alive when recreational cricket first shut down on March 18 and the professional game followed suit two days later.
But crisis was ultimately averted and so, this is the story of the academy summer, told through the eyes of academy directors at four different counties.
It looks back on the initial lockdown period and how the best was extracted from a miserable situation, before focusing on everything since: how watching over the emotional wellbeing of their prodigies became more vital than ever, the impact of the absence of second team cricket, the frustrations at a lack of red-ball action – the result of restrictions around multiday activity, the satisfaction of watching young players take their chance in the Bob Willis Trophy, and why – for the most part – this year shouldn't be consigned as a write-off. Above all, though, there is an overriding sense of relief.
A relief engendered by the work of Professional Cricketers' Association that guarded against youngsters falling out of academies unjustly.
A relief that rookie contracts can be extended into 2021.
A relief that the County Partnership Agreement has been altered to allow for summer contracts next year.
A relief that they, as decision-makers, weren't forced to make impossible calls on individuals' futures and shatter dreams without a body of recent evidence.
A relief that academy cricket was given recreational status when sport was allowed to return – rather than elite, which would have restricted them to first-class venues and added further red-tape to an already complicated, truncated window.
A relief that by September, players and coaches alike could look back on a half-season cobbled together in double-quick time.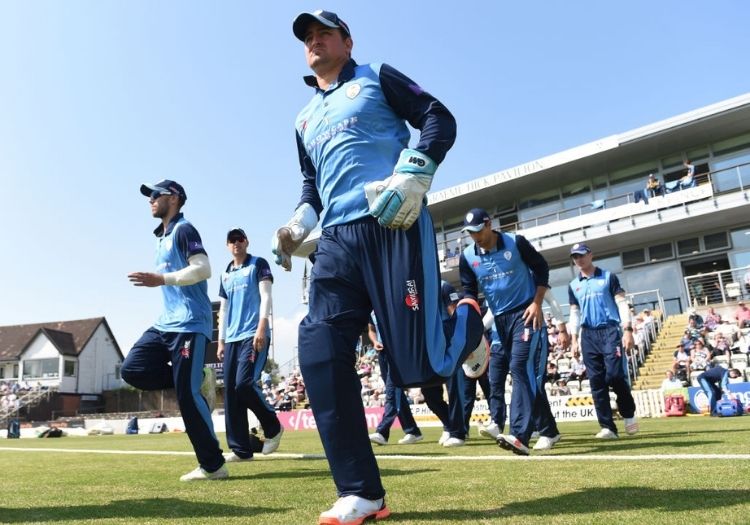 For Daryn Smit, who retired from playing in 2019 to become Derbyshire's head of talent pathway, this summer was a challenging start
"Imagine if we'd had to make a call on someone's career after having one month of cricket this year," says Daryn Smit, who leapt into a baptism of fire in his first year as Derbyshire's head of talent pathway.
"If he hits a bit of bad form, which happens to everyone, or a couple of games get rained off and he only plays two or three, then you're making a call on someone's career based on that. It's very tough, so those moves from the PCA were huge."
Under Smit's watch, Nick Potts was one such player. The 18-year-old seamer has since signed a rookie deal – a rarity among his peers at the end of a strange, whistle-stop campaign. The decision to reward him with the certainty of a contract came on the back of a call-up to an England Under-19s' training squad and the subsequent acknowledgement that a growing reputation would turn heads at other counties.
But in a normal year, the summer would have been his last chance to impress as an academy prospect, with the club then having to make a call on him. The adjustments brought in by the PCA, however, meant that even if he hadn't been offered a rookie contract, Potts would have had the opportunity to remain on the programme for another year.
Players in the final year of an academy deal have been permitted to sign extensions, while rookie contracts – which otherwise would have been upgraded for 2021 – can also be extended, starting at £16,000 for 18-year-olds. For their futures' sake, this year has effectively been disregarded.
Smit adds: "He had the peace of mind, knowing that in the worst-case scenario that the club don't offer him something, he can be on the academy again and have a full year to impress. All that anyone wants in life is a fair opportunity."
Wilson concurs. "Those guys will hopefully not get disadvantaged because of one abnormal year. I'm really pleased that the ECB and PCA have done this.
"What I'm trying to make sure is that people's opportunities aren't disadvantaged because we've lost a year, in essence. We've retained people on the academy this year who might have moved on.
"I've kind of gone down the route of sticking with the status quo for everybody unless I've got real sound reasons to promote or deselect.
"Otherwise, there was so little cricket and so little opportunity that it's not the right thing to do. It might mean that we have a couple more cricketers than we'd ideally want to have in programmes, but I think that will work itself out naturally and I think it'd only be the right thing to do."
"From a learning perspective and a decision-making perspective, not having second team cricket as a bit of a benchmark for these kids is a big miss"
All four academy directors to whom The Cricketer spoke confirmed that they were taking similar approaches; in the main, the only players leaving programmes are those who were heading to university or were too old to continue. Where that means younger players have missed out on promotion by consequence, there is an awareness that some fluidity will be necessary.
"The challenge is to have a structure which makes sure that while individuals might not have that [academy] tag, they are still benefiting from the programme and being supported," Wilson explains.
"I've always said to the families of the players who aren't formally on the academy: 'If you are performing better than the person who's on the academy, you will get picked in games ahead of that person.' Just because they're on the academy, it doesn't necessarily mean that they're going to be a foregone conclusion to be selected. I'm confident that no one will be compromised in their ability to progress with Worcestershire because of this year."
In 2019, a maximum age of 18 had been announced for academy players, only for circumstances since to see that decision reversed, at least for the time being – a move that finds favour with Wilson, whose club's first team benefits from its academy graduates more than most.
"I get the fact that we don't want 19-year-olds being taken advantage of," he says. "But also, if a lad is on his on his gap-year before going to university and he wants to play cricket for the summer and you want to try to look after him and support him, it was made a little bit harder for us to do that. I believe that having the guys on for an extra year will be great for them to give them a real opportunity."
"It might be that we've fallen on something," adds Northamptonshire academy director Kevin Innes.
"When they leave school at 18, they've potentially only played a handful of second team games, so it's really hard to give them a rookie contract. If they have that one more year in the academy system up to 19, I think we can make a fairer judgement on all these players.
"I think this hopefully will throw up that academy players still on the academy at 19 will get a fair chance of playing in the second team. We promised to keep everyone on the programme – we didn't think it was fair to take anyone off."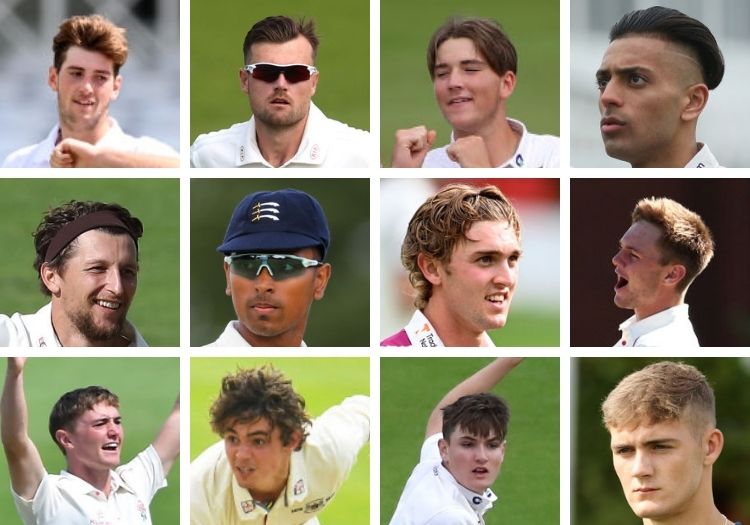 30 players made their first-class debuts in the Bob Willis Trophy
The uncertainty that has accompanied this year has acted as a further reminder, if it were needed, of the fragility of mental health and the importance of looking out for anyone who might be struggling.
In the case of academy cricketers, that means keeping an eye on youngsters in their late teens, who know they face a crucial time in their bid to make it as professionals. For the majority, it is all they have ever known or thought about doing and, in the short term at least, it is why the PCA's moves were so crucial.
"We have a duty of care here," Smit says. "We're not just worried about producing good cricketers, we want to produce good human beings. We want to treat people fairly and we have to understand that at a young age, some players are very volatile and there are mental health issues.
"Sometimes, it's difficult for them to understand the bigger picture. They might think: 'If I don't succeed, then I'm a failure,' or 'If I don't get a contract, I'm giving up cricket because I'm not good enough.' I think we have to tiptoe around that very gently because players develop at different stages. It is a challenge and it's not just black and white."
Rory Coutts, Middlesex's head of youth cricket, would call his players during the initial lockdown period with their parents' approval. "I just wanted to catch up with them individually just to see how they were getting on," he explains. On another occasion, he gathered the group's parents together on a video call "to see if they had any concerns on what they felt was going on".
At Northamptonshire, whose under-17 team won the national one-day tournament in 2019 and had ramped up their pre-season academy work with a tour to the Cayman Islands shortly before the virus spread globally, the club chaplain was on hand for the players as a source of welfare.
Innes also rang to check on their wellbeing, while keeping players up to date with any information from the governing body.
"We had some younger players who wouldn't have the fear of coming off a programme," he says, "but we also had people who were 18 and with the fear of falling off programmes. That was a real concern at first.
"Probably one of the main things on top of that was just literally hitting balls and being part of a team and being part of sport, that was more my concern. I thought we could get through with the PCA with all those other concerns. Then, it was more to do with these players not engaging anymore with other people as much.
"We have a lot of players who like to hit hundreds of thousands of balls a week. With them not doing that, I just tried to curb that with our chaplain, psychologist and myself, just speaking to them and seeing if they were all right and keeping them busy. I think that was my concern – that they'd lose their drive and interest. When that happens, anything can happen from there, can't it? But when we came out of that, I think I saw more of an appreciation from the players.
"If we hadn't played those games [at the back end of the summer], I think I would have been worried about the mental health of our lads. It was really nice to get those two or three months in."
"Imagine if we'd had to make a call on someone's career after having one month of cricket this year"
When academy cricket did return, it came back mainly in the guise of under-18 fixtures, with an emphasis on white-ball formats. In part, because it facilitated a greater maximisation of playing days, but also as a result of the barriers put up by the pandemic protocols. Red-ball cricket was difficult to arrange, given complications around travel, overnight accommodation and in-game catering.
Coutts reckons that his group ultimately played close to 25 days of competitive cricket. Yet, he lists the lack of second team cricket and "the small amount of red-ball cricket" as "two of the big areas that were lost this summer".
For all the value of academy-level cricket, second team success is a significant barometer. "I'd be lying if I said it wasn't a hole in this summer," Coutts admits. "I think from a second team perspective, it affected the real top-end academy lads. They will perform in age-group cricket, but that step-up is the challenge for them."
Earlier this summer, teenage Sussex seamer Henry Crocombe made his first-class debut in the Bob Willis Trophy, having emerged from the academy with only six second team games under his belt. The speed of his ascent has given him a detailed insight into the magnitude of the step-up.
At the time, he told The Cricketer: "If you bowl a bad ball in an academy game, you might get away with it. It's a lot easier to get wickets in academy stuff as well. Bowling at pace in academy cricket, you can rush players. In this, you're not going to. You have to do something different and learn other skills to worry batsmen.
"If you can bowl 80mph in academy cricket, you're pretty quick. You go to first-class cricket and that's a medium-fast bowler; they're not going to worry at all about that. You have to use your bumper a lot more effectively, you can't just not worry about your length. You have to get it right."
His experiences are also evidential of the challenges offered up by the make-up of this season – he was one of 30 first-class debutants, many of whom might have had to wait longer for their chance in a different year.
Prior to his retirement from playing, Smit had spent his latter years at Derbyshire captaining their second team as a senior head to nurture a fledgling era of youngsters.
At a county like his, run on a modest budget with a small first team squad, several of his academy charges would have been given the chance to test themselves in the second string – coached by former England batsman Mal Loye, especially since it was revealed in February that all trialists were to be paid a daily rate. "That was my message to all of the academy boys at the beginning of the year: 'There will be opportunities.'"
Smit describes the standard as "bridging the gap between the academy and the professional game". But without the presence of that middleman, it was difficult to make sound judgements.
"There would have been no way of making a call on whether to give someone a rookie contract if they didn't play a lot of second team cricket," Innes says. "And because there was no second team cricket available last season, that just wasn't there." Northamptonshire did, however, play games against Bedfordshire, Buckinghamshire and Huntingdonshire's men's teams. They also faced Leicestershire, with a couple of older players included to up the stakes.
Worcestershire played their final game on September 20, and so Wilson doesn't "feel that lads were significantly disadvantaged with the shortness of the window". He adds, however: "From a learning perspective and a decision-making perspective, not having second team cricket as a bit of a benchmark for these kids is a big miss.
"We've got guys who are a little bit younger and aren't yet coming towards the end of their academy time, who you want to expose to it nice and early so that they can get a feel for what it looks like. They've not had that exposure this year.
"Then, you've got the older guys, who are thinking: 'Well, where's my opportunity to show you how good I am?' They've had that exam taken away from them in terms of not having that dress rehearsal or big performance stage where they can go: 'This is what I can do in second team cricket. If I can do this in second team cricket, then maybe you'll give me more opportunities moving forward and I can push for rookie contracts.'
"So, it has been very difficult for guys to push for rookie contracts based on the fact that there has been a lot less second team cricket."
"We have a duty of care here. We're not just worried about producing good cricketers, we want to produce good human beings"
By extension, the shortage of red-ball matches has also impacted player development – Worcestershire played a single two-day game against neighbours Warwickshire because they were able to travel to the ground each day. "The three-day games help both develop players and identify the talent," Wilson explains. "I think if you're going to get exposed, you're going to get exposed in a longer game rather than a shorter game.
"You can cover up rough edges in a short-format game and get away with things but in a three-day game you get found out if you're not quite where you need to be. Second team cricket is similar; it helps you find out a lot about people very quickly."
It is why he points to the importance of amateur league cricket as a useful indicator for him and his colleagues. Simply coming up against adults rather than age-peers can act as an eye-opener. Zain ul Hassan, Jacques Banton (brother of Tom) and Xavie Clarke (brother of Joe) all came off Worcestershire's academy at the end of 2019, before performing well in the Birmingham and District League during the shortened summer.
In many ways, they represent an age-group that has suffered more than most from events of the last year. The trio came into 2020 hoping to use the summer – their first since formally coming off Worcestershire's youth programme – to play second team cricket in the hope of earning deals of some description. Those opportunities never came.
Wilson, though, is keen that they don't miss out and that this need not represent the end of the road. "I've had to sit down with them and say that everything has gone back a year," he says. "Their time will come in 2021 rather than in 2020. We've just had to press pause and we'll give it a go next year. Subject to selection and availability, they'll get their chances and we may well have quite a large group of 19-years-olds and 20-year-olds that are all pushing for contracts."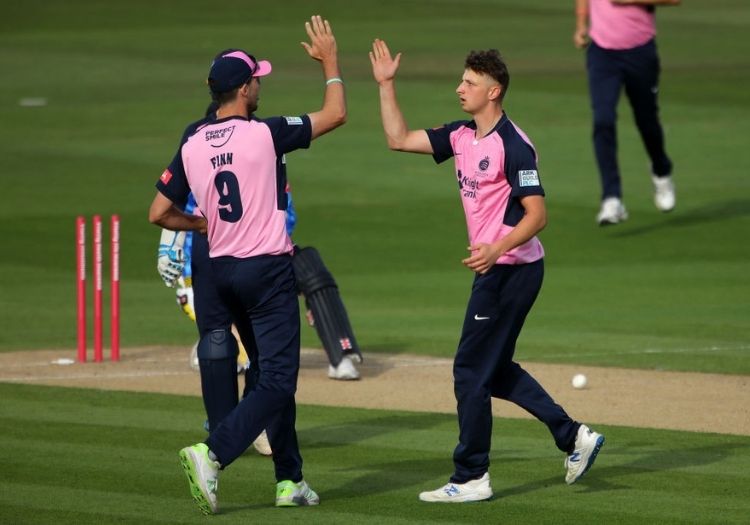 Middlesex academy product Luke Hollman made his T20 Blast debut this year
The unique circumstances of the year made the amateur scene interesting, with the majority of leagues doing away with promotion and relegation because of the squashed period at clubs' disposal. The upshot, with less on the line and the financial implications of the pandemic reducing the number of paid pros on show, was that the door opened to more youngsters.
Derbyshire, Smit explains, are looking to put in place a new scouting programme, "which will make sure that league and age-group cricket have eyes on them". He highlights Tom Wood as one example of a player whose weekend displays have earned him a chance in the county game. The 26-year-old signed a short-term deal ahead of last season on the back of his club exploits, having previously fallen out of the system. He has since agreed a one-year extension.
"Once it becomes common knowledge that we have our eyes on league cricket and want to give them opportunities, hopefully word spreads," Smit says. "There's nothing more demoralising for someone who's really desperate to make it than when they think that the door's shut and there's no way in.
"Likewise, for the guys in the system, they need to know that if they don't pull their weight, we are looking at other guys."
Middlesex signed England Under-19s seamer Blake Cullen to a rookie contract in February, ahead of the coronavirus crisis, and Josh de Caires – son of Michael Atherton – in late August, while Joe Cracknell, Luke Hollman, Jack Davies and Thilan Wallalawita all made professional debuts.
"One of the challenges in my role is to hopefully get us to the point where we've got a good core of homegrown players, who represent the club," Coutts explains. "I think the figure is getting up there – in most of the selections this year, 50 per cent of first team places went to homegrown boys. It's exciting for what the next few years could be.
"It was brilliant for those guys to be able to sign rookie contracts and, equally, for the lads who we wanted to keep on, it is great to be able to have the option of that under-19 academy year because it would have been a real tough call for lads who didn't get to play much cricket at all levels.
"I know our jobs are tough because we have to make some tough decisions, but it gives that option. I think the relief is there, but I think the lads know – whether they're 16, 17, 18 – at the end of a summer, it could be your last summer, if you know what I mean. It's not the easiest industry in the world."
From that perspective, Coutts reflects with significant pride on the programme put in place through the initial lockdown months. He was one of few academy directors in the land who went through that period without spending any time on furlough. "I think what we tried to do was look at it as a kind of positive," he says. "We can't hit balls but what can we do?"
"It forced them to chat about cricket. That was a huge plus of what we did - they had to look at their development differently"
The result was a regular schedule completed over Zoom, with an array of sessions ranging from physical home-gym work, running competitions and pilates to discussions on field placement and virtual social gatherings.
They also enlisted volunteers from the first team to lead Q&As, as well as looking at the psychological side of the game and holding cookery challenges driven by strength and conditioning coaches.
"We just focused on all the other aspect that you probably don't spend as much time on normally because you're batting, bowling and playing games," he says. "By the time the 12 weeks had gone, we looked back on it and we'd covered an immense amount of stuff. You looked at it as a coach, just taking out the bat and the ball and working out how you could help them to become better cricketers."
He is convinced it worked. "I don't think it was a year lost in any way. The way they adapted and we got through it and then the way they hit the ground running in the summer, I was really surprised at how well they were able to pick up from where they were.
"I genuinely believe that keeping them engaged mentally and physically in the game meant it wasn't like cricket was out of sight, out of mind. They were still thinking about their cricket. Even when we weren't on the chats, they would go and think about the game because they knew they had a session coming up.
"I think there was an importance from a mental aspect that we were ensuring that we were giving them the support, but what everyone craved during that period was the balance of getting a bit of exercise but also a bit of routine in their week. And a lot of them – and their parents – commented at the end of the summer how important that routine was in what they did.
"I think it was also framing it in their head: we can either sit on our arse here and do nothing or we can actually look at a different way of developing ourselves and think about the game.
"It forced them to chat about cricket. At the start, you probably had a third of them who were confident speaking, then halfway through you had two thirds, but by the end of it they were all sharing. That was a huge plus of what we did – they had to look at their development differently.
"The other thing – that was evident across the whole country – was them realising how much they love it. Look at how many people were playing club cricket, how many people wanted to access the game when the shackles were let off. That showed people how much they love the game, which certainly resonated with our lads. It showed everyone that it's not just about batting and bowling, but it's about so much more.
"That's such a powerful message for all of them; we can't manufacture more hours in a day, but we can use our time wisely. It's not just the bowling, batting or fielding that gets you to improve. It's all the other bits that play a massive role in it. That period has made that point very strongly for our lads.
"We covered so many areas that you wouldn't have spent much time on; generally when you have three hours of cricket, you spend two hours playing cricket and an hour doing physical stuff. That's the session. Whereas, some of the other stuff that we've covered will set them up over the next few years."
So much so, in fact, that Coutts plans to revisit some of the most successful strands of that emergency programme again in normal times.
Wilson's sense of satisfaction is similar, having made the best of a less than ideal scenario. "I felt that we provided enough opportunities and we got to see what we needed to see to know whether people had evolved, developed, improved or gone backwards," he reflects.
And there is a hope across the board as well that the success of young players in the Bob Willis Trophy, notably Somerset's Tom Lammonby and Surrey's Dan Moriarty, might persuade counties to provide more early opportunities in future years, especially with the Kolpak loophole having now closed and finances likely to be tight as clubs move forward into uncharted territory.
Of course, there is also an understanding that the makeup of academy programmes might have to be tweaked slightly in the short-term as the game recovers from the hit of this year.
But by the end of a summer that began in a state of significant peril, academies could look back on it all with a mixture of pride and relief. All was not lost. The class of 2020 will come again in 2021, with the next generation perhaps more important than ever.
Gift a subscription to The Cricketer this Christmas and choose your free gift (a £20 John Lewis gift card or copy of Bob Willis: A Cricketer & A Gentleman). Subscribe here
Features
|
County Cricket
|
1Banner
|
Please ensure all fields are completed before submitting your comment!