The story of Dennis Lillee's ComBat
HUW TURBERVILL: England expected fireworks from Lillee with the ball on their 1979-80 trip to Australia, but did not expect him to make headlines with the bat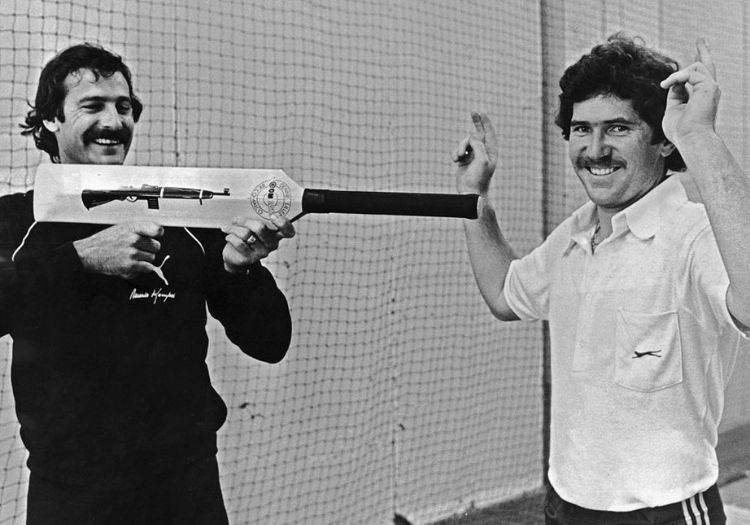 England made a rapid return to Australia just a year after their last Ashes tour there – although this time the urn was not at stake – and came face to face with Dennis Lillee, who had missed 24 official Tests after his two-year spell in Packer cricket.
England expected fireworks from Lillee with the ball on their 1979-80 trip to Australia, but did not expect him to make headlines with the bat. A friend had persuaded Lillee that an aluminium bat could be an innovation for cricket however, after seeing how metal baseball bats had become popular in the United States. So Lillee gave his new 'Combat' an outing in the previous Test, against the West Indies at Brisbane.
No one seemed to notice the difference though: for he lasted only seven balls before being dismissed for a duck. Now he was using it against England at the start of day two of the first Test at Perth, and they did notice. He drove the third ball of the morning through the covers for three runs, and it should have gone for four. "Dennis Lillee played a magnificent cover drive and there was this awful noise," said John Lever. "Bonk!"
The bowler, Ian Botham, and his captain, Mike Brearley, protested to umpires Max O'Connell and Donald Weser. "I didn't even know what it was, to start with," said Brearley. "It just sounded like an odd, old bat that made a funny noise."
Bob Willis agreed with his captain's decision to complain. "Mike decided, quite rightly, that the bat was damaging the ball," he said. "It wasn't ripping it to shreds or anything, just bruising the surface." Lillee was told the 'Combat' would have to be retired, and he did not take kindly to the instruction.
Play was held up for ten minutes, and Australia's 12th man, Rodney Hogg, was sent out by his captain, Greg Chappell, armed with wooden alternatives. " could see myself on national television, before a packed ground, and Dennis hitting me between the eyes with his metal bat," said Hogg. "I told him to buzz off," said Lillee.
Lillee tossed the bat away in frustration
"Then Greg came out, grabbed the bat off Hoggy and marched towards me. I knew I was in trouble. Greg wouldn't allow me to use that bat, for the sake of good relations and the game itself. I'd checked with the authorities before I played in Brisbane and they told me there was nothing in the Laws to say I couldn't use it. The bat was covered with enamel and our tests showed it did not damage the ball.
"That bat was not designed or made for first-class cricket. At half the price of a willow bat, we thought it would be useful for schools cricket, nets and for underdeveloped countries.
"People have asked me why I used it in a Test – it was a marketing ploy. I'm not ashamed of that. We wanted the bat to get some exposure for Christmas sales. Mike Brearley stuck his nose in when he shouldn't have."
That charge was refuted by Brearley, who said: "That bat had made more of a mess of the new ball than an ordinary one would. It was a huge tantrum on Lillee's part."
"He hurled the bat into the air like a helicopter – it went about 20 metres," said Lever. "We all fell to the floor, crying with laughter. Geoff Miller said: "It landed about three yards from me. I have talked to him about it since. He was very disappointed he wasn't allowed to use it as he now has a garage full of aluminium bats. It made a clang, and the ball didn't go very far. It was just a gimmick."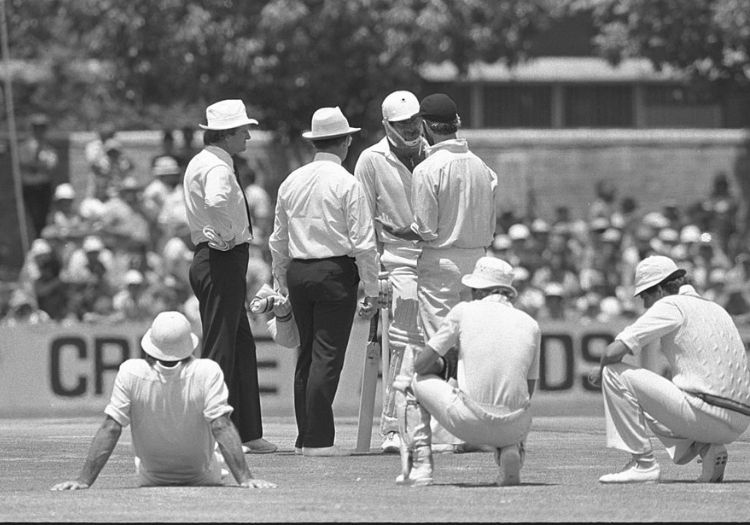 A long discussion took place between umpires, captains and Lillee
After his anger had subsided, Lillee reflected: "I now hold the record for throwing an aluminium bat the furthest in a Test, and I know it will stand for ever. Greg admitted later that he used the situation to wind me up, knowing I would be bowling soon afterwards. I regret now holding a Test match up for so long, but at the time I was determined I was in the right and I was being set up.
"At the end of the game I got each side to sign the bat, and Mike Brearley wrote, 'Good luck with the sales'. But we didn't sell a single bat because they were banned."
Lever was still laughing about the incident more than 30 years later. "The idea was quite good," he said. "These bats did not break as easily as wooden ones, according to the theory, and it was a way of getting cheap bats into schools.
We said to the umpire that we thought the bat had damaged the ball. We lodged a complaint, but it was slightly tongue in cheek – we weren't too bothered." Lillee was slated in the media, with Bobby Simpson saying he had "breached perhaps the most sacred code amongst cricketers by which the captain basically runs the team."
He was severely reprimanded by the Australian Board, and, in 1980, the Law was changed, decreeing that the bat "shall be made of wood".
From The Toughest Tour: The Ashes Away Series Since The War, by Huw Turbervill
Please ensure all fields are completed before submitting your comment!