Wright and Hildreth star as Sussex beat Somerset
SAM MORSHEAD AT TAUNTON: How unfortunate those children were not to have been introduced to the duo before. How lucky they are that, somehow, both are only 33 years old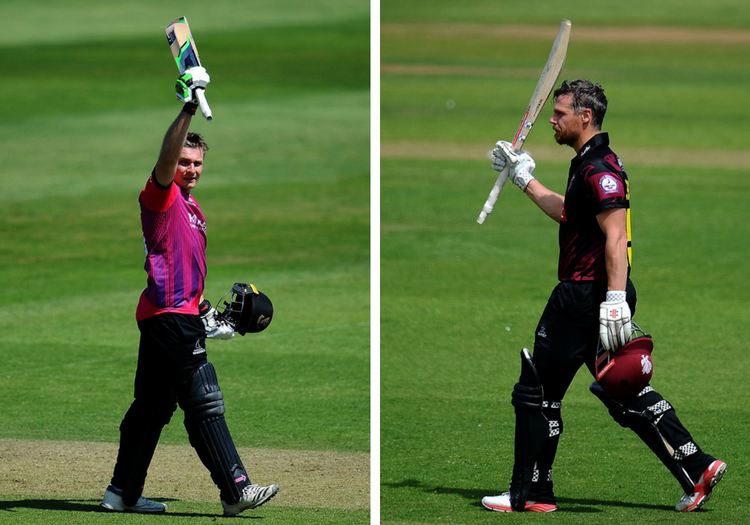 Luke Wright, left, and James Hildreth
Taunton: Sussex 341-7, Somerset 266 - Sussex won by 75 runs
On the day Taunton threw open its doors to local schools, two of county cricket's great modern entertainers quite literally showed the kids how it's done.
For those attending Somerset's annual Schools Day - and there were 1,000 such youngsters in the crowd on a particularly sunny Tuesday - this might have been their first glimpse of an innings from James Hildreth or Luke Wright.
How unfortunate those children were not to have been introduced to the duo before. How lucky they are that, somehow, both are only 33 years old.
Between them, Hildreth and Wright have accumulated more than 12,500 List A runs over the course of their careers - with 17 centuries to boot. International cricket did not quite got the best out of the latter, while the former, some might say remarkably, never got the chance to even audition.
Still, that has been the county game's gain.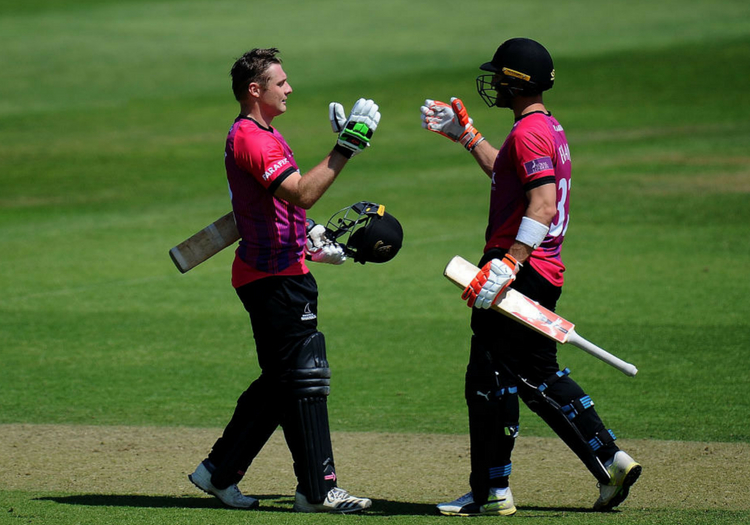 Wright made a century for Sussex at Taunton
While their batting styles share as much in common as the architecture at either end of the County Ground - Hildreth the stylish inventor, Wright the rugged enforcer - the duo share a mighty high entertainment value.
And when either finds a rhythm, you know you are in for a treat.
Here, both did. And boy did that mean excitement.
Wright got the better of his contemporary on this occasion, fizzing and swatting his way to a 10th one-day century in 78 balls to set up Sussex's imposing total of 341 for seven and, ultimately, a comfortable victory.
But Hildreth, coming into the game off the back of an unbeaten century at the weekend, was in fine fettle too, stepping in and out of his crease like the most hyperactive of hokey-cokeyers, finding space more regularly than the Apollo programme.
His wicket, for 87, was celebrated wildly by the opposition, and with good reason. They knew its importance, just as we should always note the importance of players like Somerset's middle order mainstay and his Sussex counterpart.
It's men like these who make county cricket what it is.
Having won the toss and elected to bat, Sussex lost Luke Wells cheaply early on before Wright and Harry Finch dug the foundations for their side's sizeable total.
Driving aggressively, Finch made his way to 35 before stepping across his stumps to Max Waller and leaving umpire Chris Watts with a simple lbw decision.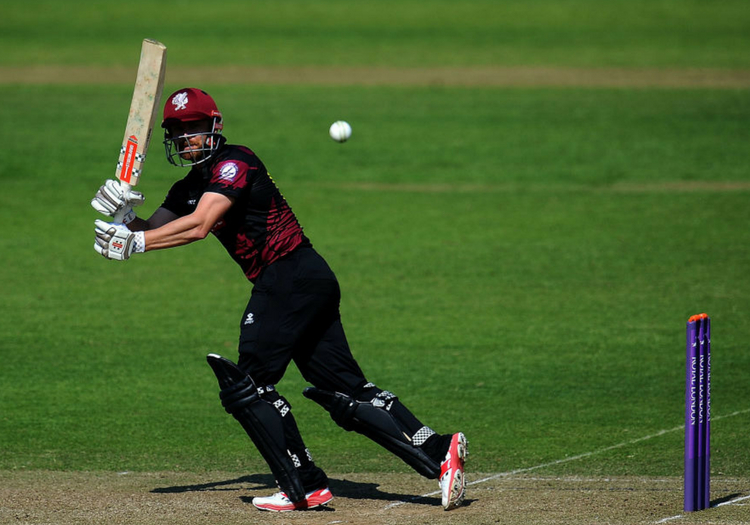 Hildreth was in excellent form for Somerset
Captain Ben Brown had made just eight when he nicked behind to Davies off Tim Groenewald and, momentarily, Somerset looked as though they may have been able to contain their visitors.
To do so, however, they would have needed to be rid of Wright, who by now was picking the boundary with ease. The former England international charged to his century with almost 20 overs of the innings remaining and, given he has a T20 150 to his name, that could have spelled disaster for Somerset.
Thankfully for the hosts, Wright perished soon after, picking out Tom Banton in the deep off Waller, who then collected the wicket of Laurie Evans to finish with a highly respectable 3-52 from 10 overs of economical legspin.
Still, there was time for a last hurrah from the Sussex lineup, thanks to Michael Burgess and David Wiese.
The pair added 103 together for the sixth wicket in a shade over nine overs, peppering the wide midwicket boundaries.
In reply, Somerset lost three of their top order - Johan Myburgh, Peter Trego and Tom Banton - for just 17 between them.
A battling half-century from wicketkeeper Steve Davies offered some hope before he was cruelly bowled in bizarre circumstances, the ball looping back over his head off a glove from an attempted hook and landing on his off stump.
Overseas batsman Matt Renshaw - in at six in a mistake which will surely be rectified the next time Somerset take to the field - contributed 55 in 51 balls before nibbling Wiese to Brown behind the stumps.
There was still a chance for the hosts, with Roelof van der Merwe combining well with Hildreth, but when the latter got a leading edge back into the hands of bowler Danny Briggs, it was effectively game over.
Somerset lost their final five wickets for 26 runs and that, as they say, was that.