Lord's finally throws its doors open to women's domestic cricket... and 5,000 schoolchildren
CARLY ODELL: In the second match Middlesex women played on the main square at the home of cricket for the first time, facing an MCC side led by former England captain Charlotte Edwards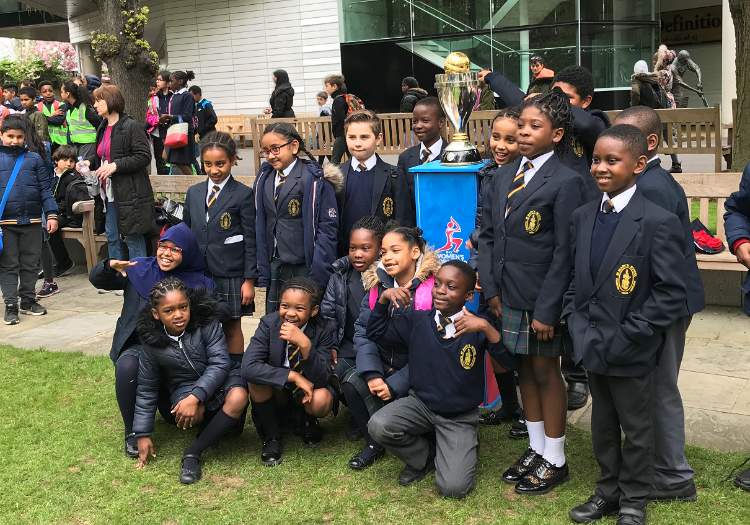 Some of the thousands of schoolchildren to attend the MCC Women's Day
MCC embraced the women's game with a T20 double-header today as the world's most famous cricket club looks to build on the triumph of last summer.
More than 25,000 turned out to watch England capture the women's World Cup in dramatic fashion in the final against India last July. While the crowd today was about a fifth of that, featuring a lot of local schoolchildren, it was still believed to have set an official record for a women's domestic match. The previous attendance record was set at last year's Kia Super League final at Hove, when 3,400 people turned out.
In the second match Middlesex women played on the main square at the home of cricket for the first time, facing an MCC side led by former England captain Charlotte Edwards; she was joined by World Cup winners Sarah Taylor and Georgia Elwiss. The earlier clash was between teams called Marylebone Maidens and Lord's Ladies.
Head of women's cricket for Middlesex and MCC, Danni Warren, said: "Some male professionals won't ever play at Lord's so this really was a fantastic opportunity for our players but also for women's cricket as a sport.
"Women's sport is an exciting thing at the moment and the aim of today's event was to show people that women's cricket is a good thing to be involved in and to follow."
The day was designed to promote how exciting women's cricket is and to get more people involved in the sport, which the MCC timed perfectly by hosting it on the same day as their annual school engagement day.
Tennis ball darts, coconut shys and a catching net were additional attractions for youngsters.
There was also an opportunity to pose with the Women's World Cup in the Coronation Gardens.
The ground was filled with excited shrieks from enthusiastic youngsters, which got louder when something of note happened in the games. A sea of children in different coloured hi-vis jackets would erupt with cheers and waves of the NatWest boundary banners when a four or six was hit. Taylor's pull shot for six which landed in among them was a particular crowd pleaser.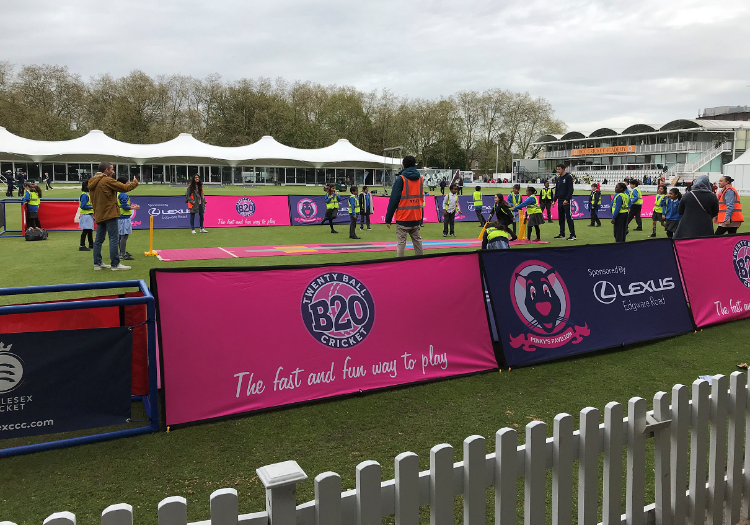 Youngsters enjoy a game on the Nursery Ground
Also at the historic occasion were former England and Middlesex opening batsmen Clive Radley, and Test Match Special commentators Alison Mitchell and Dan Norcross.
Lord's Ladies chased down the Marylebone Maidens' total of 81 all out with six wickets and 2.4 overs to spare, former England batsman Claire Taylor making an unbeaten 33.
The second game – which was of a much higher standard – saw a crowd-pleasing, tight finish. MCC posted a total of 145 for 3, with Alex Rogers making 72, Elysa Hubbard 39 and Sarah Taylor 18 not out. Edwards did not bat. Middlesex produced an upset, however, captain Natasha Miles making 38. Maia Bouchier's last-over cover-drive for four, taking her to 39 not out, helped her team to a six-wicket win. The day also saw four female umpires in action.
Warren said: "We wanted today to showcase that there is a really strong pathway within women's cricket, and that's not just for players but for officials too. We wanted to show that women can get involved in the game in other ways than playing."
The MCC Women's day will hopefully become an annual event to give women a regular opportunity to play at the home of cricket.