ECB to introduce Rooney Rule as part of drive to engage with South Asian community
A research party, led by head of strategy Vikram Banerjee, interviewed more than 600 South Asians around the country to find out the barriers between the groups and further participation in cricket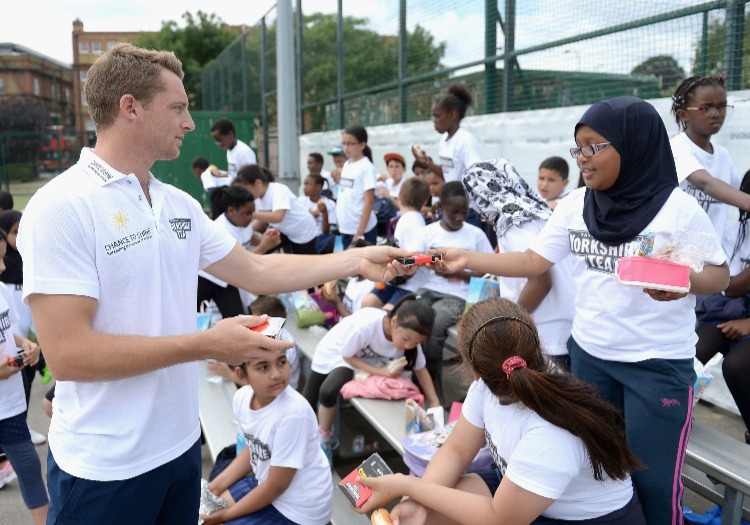 Jos Buttler at a Chance to Shine event in Kennington
The ECB is set to implement the Rooney Rule during the application process for all coaching roles.
As part of an initiative to engage further with minority communities in the UK, the governing body has committed to ensuring that at least one black, Asian or minority ethnic candidate is interviewed for all advertised positions in the future.
The Rooney Rule was first adopted in the NFL 15 years ago and is named after the gridiron league's diversity committee chairman Dan Rooney.
The ECB's decision to follow suit comes in the wake of a major study into cricket within South Asian communities.
A research party, led by head of strategy Vikram Banerjee, interviewed more than 600 individuals around the country to find out the barriers between the groups and further participation in cricket. The ECB say participation levels among the South Asian demographic in England and Wales are currently at 30 per cent.
Subsequently, 10 "core cities" were identified, with Birmingham, Bradford, Kirklees, Leicester, London, Luton, Manchester, Sandwell and Slough home to 61 per cent of the South Asian community.
These regions will test out a two-year pilot scheme, named the Action Plan, which is designed to make the sport more accessible through the provision of coaching and facilities.
"The passion South Asian communities in the UK have for cricket remains high but, over 50 years later, there is still so much untapped potential. This plan will help to change that – starting today"

Lord Patel
Furthermore, an 11-point agenda was drawn up by the Action Plan project team, including the implementation of the Rooney Rule.
Other notable recommendations include the creation of more than 20 new so-called "Urban Cricket Centres", the development of over 1,000 non-turf pitches and 100 turf pitches by 2024, the award of bursaries to young South Asian players and the delivery of 6,000 Chance to Shine sessions to schools in deprived neighbourhoods by 2019.
ECB chief executive Tom Harrison said: "Cricket is a force for good in society and our job is to ensure that it makes a positive impact on as many people's lives as possible.
"Whilst we've long acknowledged the passion for the game in South Asian communities in the UK and had the best intentions, we have never fully understood how to engage with South Asian communities. This report gives us a road map to change that.
Lord Patel, the ECB's independent board director who was a leading figure in the Action Plan team, said: "As a British Asian who grew up playing cricket in the streets and on the pitches of Bradford in the 1960s, I have first-hand experience of the enormous benefits of our sport. Cricket gave me the confidence, connections and opportunities to meet new people outside my community, as well as develop life-long friendships.
"The passion South Asian communities in the UK have for cricket remains high but, over 50 years later, there is still so much untapped potential. This plan will help to change that – starting today."
NOW READ