FIVE OF THE BEST: AB de Villiers' great international knocks
The South African superstar is the blueprint for the modern cricketer, and sportsman, and he will be sorely missed. Here are five standout innings from as astonishing international career...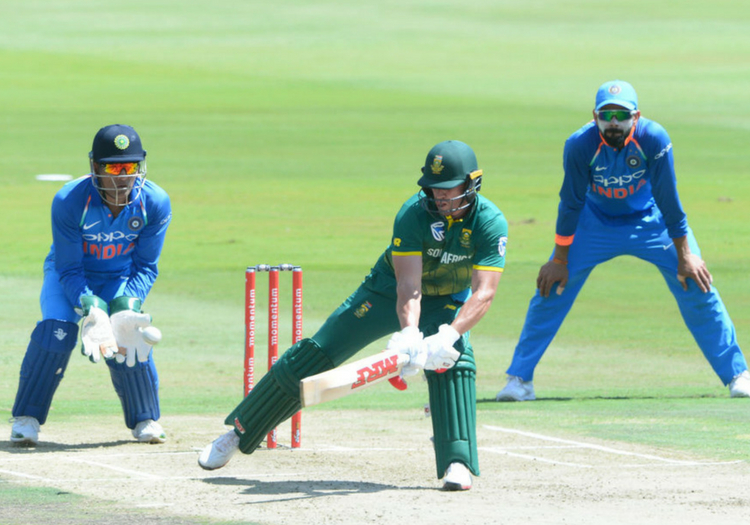 Cricket fans the world over wished this day would never come but it was inevitable.
The great AB de Villiers, in announcing his immediate retirement from all forms of international cricket, leaves behind him a great vacuum  in both South African cricket and the sport in general.
The ultimate 360-degree player, de Villiers was truly a man for all seasons and one of the greatest batsmen of the modern era. He could play Test matches, one day internationals and T20s and thrive in all of them. The South African superstar is the blueprint for the modern cricketer, and sportsman, and he will be sorely missed.
Here are five standout innings from as astonishing international career...
The most astonishing knock of them all
149 vs West Indies, Second ODI, Johannesburg, 2015
44 balls. 149 runs. It sounds ludicrous, it sounds impossible, but one man made it so. Against West Indies in the second ODI of the series in 2015 at Johannesburg a certain AB de Villiers blasted his way to the fastest ever one-day international hundred in an astonishing 31 deliveries, in doing so breaking Corey Anderson's 36-ball record. This record still stands today of course.
It was not just the sheer feat that mesmerised but the consummate ease with which he did it. 16 sixes were smashed over the boundary rope as de Villiers had his way with the West Indian bowlers, and then some, equalling the record number of sixes hit in an individual ODI innings. The Wanderers as a ground is known for its run-making potential but take nothing away from one of the greatest 50-over innings ever seen.
Destroying the Windies once again
162 vs West Indies, World Cup match, Sydney, 2015
Poor West Indies. After being destroyed by de Villiers a mere forty days previous, the South African was at it again during the 2015 World Cup in Sydney as he helped his side to a crushing 257-run victory over Jason Holder's side in Group B.
With South Africa 146/3 in the 30th over, and despite feeling "flat" by his own admission, de Villiers teed off reaching his 50 in 30 balls. He only needed another 22 deliveries to reach another destructive hundred. To round it all off, his next 14 deliveries were dispatched for an unbelievable 57.
The range of his blows, as ever, were as impressive as the amount that he cast off of his bat, firing shots to all parts with no concern for convention or orthodoxy. 
Dig in
33 off 220 balls vs Australia, Second Test, Adelaide, 2012
Showing both sides to him, de Villiers could also stick it out with the best as he displayed to consummate perfection during the second Test against Australia in 2012.
Chasing 430, and staring down the barrel of defeat when resuming on the final day at 77-4, de Villiers curbed all his aggressive tendencies by batting for 246 minutes to a 220-ball score of 33, devoid of a single boundary.
In helping his side survive and secure a draw, de Villiers was at his stubborn, defensive best.
It showed that, for all of his shot making ability, he could also do a selfless job for his team under extreme pressure. Sharing a stand of 89 over 67 overs on the final day with Faf du Plessis, who scored a brilliant hundred, this innings was as impressive as any he delivered throughout his Test career.
Record chase
106* vs Australia, First Test, Perth, 2008
He had not only the durability but also the flair under pressure. In 2008, de Villiers helped steer South Africa to the second highest successful run chase in Test history. Set 414 to win by the hosts, de Villiers batted superbly after the visitors lost both Graeme Smith, who scored 108, and Hashim Amla, who scored 53, in the space of just seven balls.
Strong hundred plus run partnerships with Jacques Kallis and JP Duminy saw de Villiers, and his South African side, rack up the runs and edge nearer and nearer to the target to the dismay of the Australians, who struggled to extract much from a final day surface.
Seeing his side over the line, de Villiers scored an unbeaten 106, one of his best ever centuries given the match situation and pressure.
Saviour
278* vs Pakistan, Second Test, Abu Dhabi, 2010
The expert at changing a game and fighting against the tide, de Villiers helped not only rescue South Africa but turn the momentum in their favour against Pakistan in Abu Dhabi in 2010. Arriving at the crease in the first innings with his side struggling at 33-3, he set about rebuilding and slowly, but surely, nudging the scoreboard on.
One he was through, de Villiers had batted for a marathon 601 minutes and scored an unbeaten 278 runs, his highest score in Tests and the then highest by a South African in Tests, off of 418 balls, hitting 23 fours and six sixes along the way.
With de Villiers at the crease he took his side from 33-3 to an imperious 584-7 declared and, despite the Test ending in a draw, the batsman made a clear mark on the game.