How Alleyne turned Gloucestershire great and why the one-day master wants Test cricket to survive
SAM MORSHEAD: Mark Alleyne worries about cricket becoming one-dimensional. "I think it would be a regression to go back to a one-format game again. Even though it's shorter, I think people will get tired of it," he says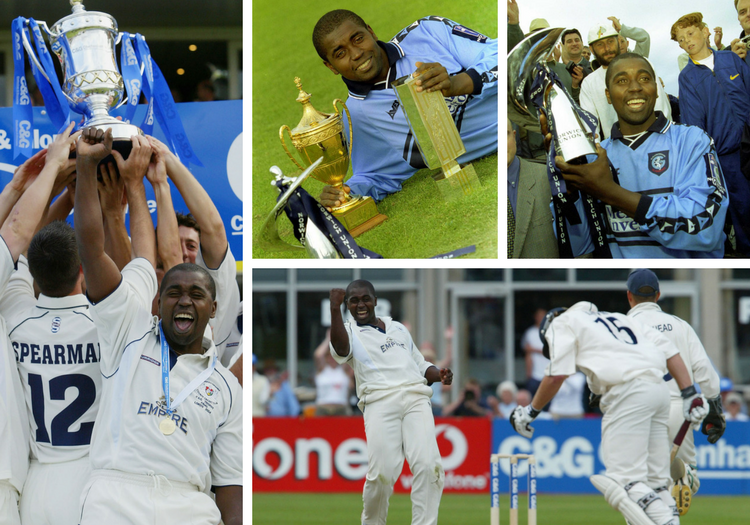 The man who led one of county cricket's finest limited-overs teams is concerned about a crisis of confidence in the red-ball game, both in the UK and around the world.
Mark Alleyne, who won seven domestic one-day titles with Gloucestershire during the late 1990s and early 2000s, could perhaps be forgiven for placing the shorter format on a pedestal given the success it afforded him.
Instead, he's worried.
He's worried that in embracing Twenty20 to the point of obsession, cricket will lose its nuance; worried that a decision to walk away from four-day matches would damage youth development; and worried that T20's dominance could make the sport poorer - metaphorically, if not in terms of bank balances.
"It (red-ball cricket) needs to be preserved," Alleyne tells The Cricketer.
"What the Twenty20 game did, and what the 50-over game did back in the day, is offer up a variation to the game that kept it interesting.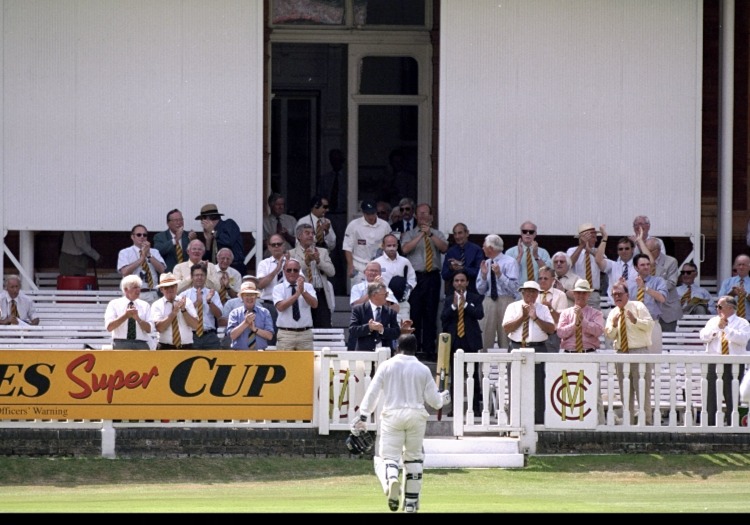 Mark Alleyne walks off the Lord's outfield having hit a century for Gloucestershire
"I think it would be a regression to go back to a one-format game again. Even though it's shorter, I think people will get tired of it."
These are not the hysterical mumblings of a man with both feet in the past - Alleyne was a 'one-day innovator' well before the occupation became fashionable and his all-conquering Gloucestershire were well ahead of the curve when it came to limited-overs stratagem.
And his fears are not based on hearsay either.
Alleyne has worked with young players - in his capacities as MCC head coach and cricket professional at Marlborough College - since 2009. He believes that cricketers will only improve if there is variation in the sport.
That, he says, requires some corporate responsibility on the part of the men and women who run the game.
"The short answer is, commercially, you haven't got a massive argument," he says.
"You're playing four-day cricket for longer and making less money. All the commercial boys will be around the table saying 'why are we discussing this… are you guys joking?'
MARK ALLEYNE: CAREER STATS

First-class: 328 matches, 14,943 runs, ave 30.81, 72 50s, 22 100s, 432 wickets, ave 32.90, 272 catches, 3 stumpings

List A: 436 matches, 8,308 runs, ave 27.23, 33 50s, 5 100s, 415 wickets, ave 29.55, 176 catches, 1 stumping

T20: 18 matches, 159 runs, s/r 122.30, ave 31.80, 10 wickets, eco 7.62, ave 42.30

International: 10 ODI appearances
"So it's got to be a bigger decision than just about commercial motives.
"I coach scoring efficiency. I want people to stay in and score quicker so I'm getting greedy but they do have to manage their risks a bit.
"If you don't go back from taking too high a risk I think the bowling quality will deteriorate because you don't need to be that good to get someone out because they're taking high-risk options.
"The formats need to live together."
As a teenager, Alleyne never saw himself as a cricketer, let alone a coach or captain.
When he returned to the UK at the age of 15 it was to establish the residency he needed to be able to apply for a university grant, with the grand plan of becoming a chartered accountant.
Yet he fell into the sport after accompanying his brother to a trial at Gloucestershire - and the combination of his love of maths and natural leadership qualities, perhaps inspired by his time at the Harrison College in Barbados which has produced five of seven Bajan prime ministers since 1966, turned him into one of county cricket's most successful one-day captains.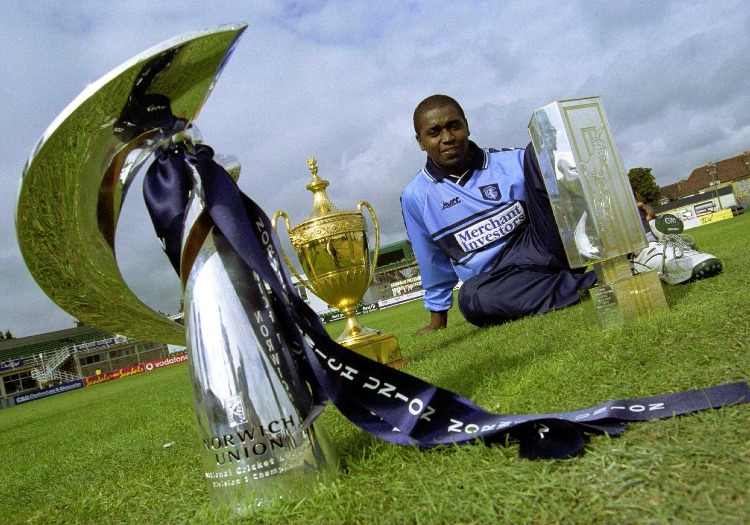 Alleyne enjoyed tremendous one-day success at Gloucestershire
T20 was not even a sparkle in the ECB's eye when Alleyne was appointed as Gloucester skipper in 1997 in a move that proved to be the catalyst for a period of unprecedented success.
Together with John Bracewell - the self-defined "mad scientist" coach - he quickly evaluated the state of the club, what it was doing wrong and where it had to improve.
The squad's fielding was scrutinised - "we wanted to treat ourselves like athletes" - then Alleyne focused on aggression.
"We wanted to be really in opponents' faces," he remembers.
Next, the bowling unit became regimented. Scoring against Alleyne's Gloucestershire was neither easy nor much fun. Scoring big was rare.
Sports psychology was treated with intrigue rather than disdain - the team's ranks included a certain Jeremy Snape, now a prominent performance psychologist - as Alleyne looked to "embrace success".
"The West Indies lost a lot of their best players because the board couldn't satisfy their one-day itch and because they haven't got a pro game that could support families... If county cricket can't support them, we will lose them altogether"
"We were very familiar with fear of failure," he recalls.
"But there was also the fear of success and the thought of having to do it all again. We spent time on that subject and made sure that we weren't scared of doing it all again.
"You've got teams who sit back on what they've achieved and think 'we'll be okay for two or three years before someone puts pressure on us to win something else'."
The process was, back then, a step ahead of its time and, for half a decade, practically flawless from a tactical point of view - Alleyne's team lost just seven of 37 matches between 1999 and 2002, winning all bar two of their matches at Bristol in that period. Yet his team was so much more than the sum of its parts.
Kim Barnett was the top-order pivot around which Matt Windows, Tim Hancock and Robert Cunliffe rotated; occasionally Ian Harvey would pinch-hit; Alleyne and Snape, along with Jack Russell, would see them home.
The process was simple - calculate a par score as quickly as possible and strangle an opposition with intelligent and adaptable field placement, and a cool-headed bowling attack comprising of James Averis, Mike Smith, Jon Lewis, Harvey, Snape and Martyn Ball.
One-day cricket 101. 
Alleyne made 10 ODI appearances for England
Perhaps that is why Alleyne is confident that his team would have been able to adapt to the invention and intensity of the modern day had they been transplanted into a different era.
"I don't think we could play the same game as we did back then because batsmen are much more aggressive against the new ball now," he says.
"We probably relied on people being a little more tentative early on in their batting innings.
"Teams playing against us now would try to get at us early in the innings, which would put us under a little more pressure.
"We were good enough to be able to adapt to that but we would have had to have changed our game a little bit."
The role of the club's overseas players - Courtney Walsh and Harvey being the two stand-out names from Alleyne's time in Bristol - was unlike anything seen in today's game.
And the current status quo of imports coming and going at scattergun moments across a campaign is, Alleyne feels, not wholly beneficial to counties and county cricket in general.
"If you can get eight to nine games out of them it probably feels like they're there for life," he says.
GLOUCESTERSHIRE'S GLORY DAYS

1999: Benson & Hedges Cup, Natwest Trophy

2000: One-Day Cup, C&G Trophy, Benson & Hedges Cup

2003: C&G Trophy

2004: C&G Trophy
"A lot of these guys probably wouldn't even recognise what shirt they have on at the time. It's like 'let me go to the wardrobe and guess who I'm playing for today'.
"The approach is totally different and it's more about hired-hand-type jobs, which is excellent for the supporters in some ways but we always thought the high-profile guys needed to impact the development group.
"Ideally you'd have them around for longer, share their experiences with the group, show people their practice ethic. Most of these guys, as exciting as they look on the pitch, have a fantastic practice ethic and that's why they're so good.
"That can be invaluable for a club, if you get it right.
"If you see the best working at their game, the youngsters have no excuse."
As a captain and a lower-order batsman, Alleyne would have fitted into modern limited-overs cricket nicely.
However, though he may have been one of the more progressive English one-day cricketers at the turn of the millennium, and to emphasise the point he remembers a dispute with then-chairman of selectors David Graveney about the necessity of a 'finisher' in the England setup, Alleyne says he would have been "too scared" to take the white-ball only route being explored by Adil Rashid and Alex Hales in 2018.
Instead, he values the County Championship highly and sees Test cricket as integral in the future prosperity of the sport.
"The West Indies lost a lot of their best players because the board couldn't satisfy their one-day itch and because they haven't got a pro game that could support families they had to go to the T20 franchises to be a professional cricketer," he says.
"If county cricket can't support them, we will lose them altogether. They'll do exactly what (Chris) Gayle did, what (Kieron) Pollard did."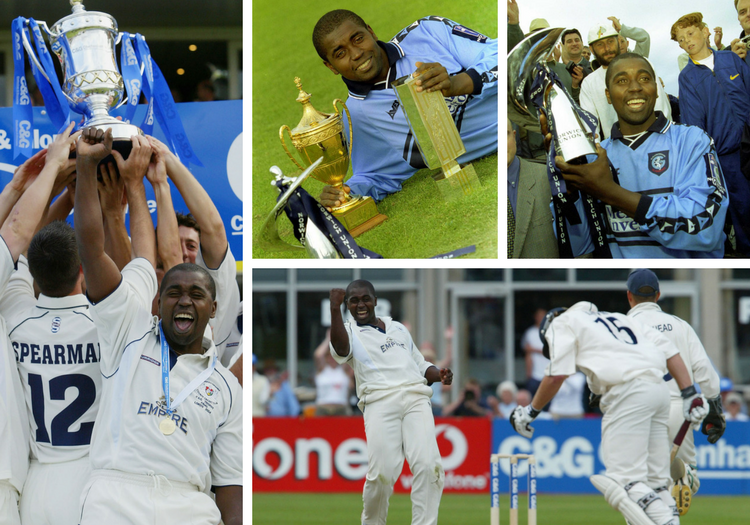 Alleyne won seven domestic one-day trophies in five years with Gloucestershire
Essentially, Alleyne thinks Test cricket is doing itself a disservice. He feels it is becoming too "choreographed" through long sessions of pre-planned field placements and rigid tactics.
"Every hour seems to be a little predictable whereas one-day cricket can be more frenetic, so captains have to think on their feet more, which makes it more interesting," he says.
"Now, you see as soon as some batsmen come in, irrespective of how the pitch is playing, fielders are moved to certain positions. 'This is what we said we'll do so this is what we'll do'.
"Steve Smith, for instance. We over-played it. We almost got too strategic. I know that sounds crazy and they'll all be shouting at me.
"(But) the pace of the five-day game is lending itself to captains over-strategising."
Reports in the national press this week suggest the ECB are supporting plans promoted by Cricket West Indies which aim to revitalise red-ball cricket around the globe - including a limitation on the amount of franchise T20 cricket played by players under the age of 32 and the creation of international cricket windows each year.
Harmony is the ultimate aim - to create an environment in which no single aspect of the sport dominates.
"Without being an old fart or anything, T20 hasn't got the subtlety of the longer game, which is a massive part of the sport. I'm not ready to get rid of that just yet," says Alleyne.
"It's a part of the game I really love - the stick or twist moments. T20 is like injury time in football, with the goalkeeper coming up for the corner.
"It's the 'we're going to score at all costs' attitude, irrespective of what happens.
"Although you might get more goals that way, it's not that interesting. I like the breakdown of people, working people out, exploiting their weaknesses and taking charge of those who are having a bad day.
"I like that rhythm to the game.
"T20 has its excitement but it only satisfies a certain part of me."
As part of Marlborough College's 175th anniversary celebrations, the Lord's Taverners Celebrity XI will play two matches at the Wiltshire school, where Mark Alleyne is cricket professional, on Saturday, May 26, 2018