COUNTY DIARY: England are unlikely to get a cheer from Glamorgan's squad this World Cup
The Cricketer's county diary takes readers inside the lives of pros on the Championship circuit. This week, CHRIS COOKE of Glamorgan talks about cricket's football habit, superstitions and cup cakes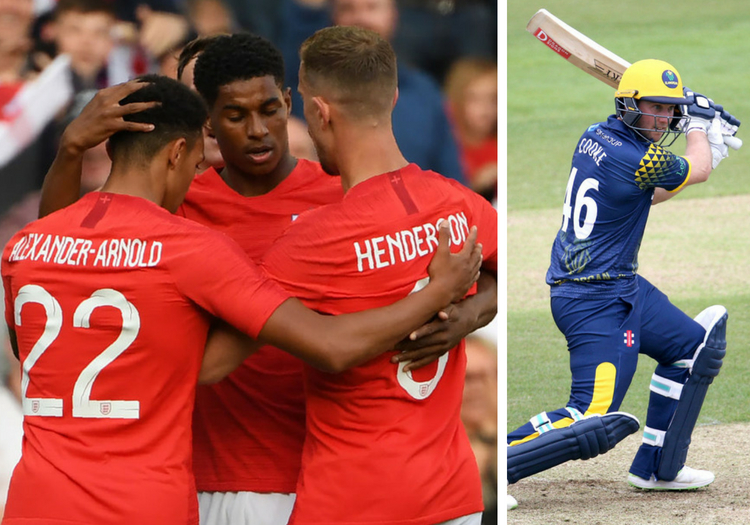 Chris Cooke, right, says Glamorgan's squad won't be showing too much support for England
The football World Cup isn't too far away now and despite England taking part, I can't see many of the boys in the Glamorgan dressing room supporting them.  
We actually don't have a massive, passionate football dressing room. There are a few guys - people like David Lloyd, who is a huge Wrexham fan - but otherwise the guys are quite into sports like rugby union rather than football. Most of them are Welsh after all!
I'm a massive Chelsea fan and there's not a lot of banter going on with that, which is just as well after the season we've had.
Robert Croft's got about three teams he supports - Liverpool, Swansea and Real Madrid, probably - so he's a bit of a shocker but generally there aren't too many big fans.
That said, the football element is still the most popular part of the warm-ups. It's probably the highlight of the day. If they were to take football out of the warm-up, there'd be some seriously upset people.
We usually go old versus young so there's plenty of rivalry and history in the game. I've got my 'old' hat on these days. I'd like to say I've only joined the team recently but it's been a few years. We've got such a young side at the moment that if you're 25 you're probably in the oldies.
I'm well and truly in that camp now.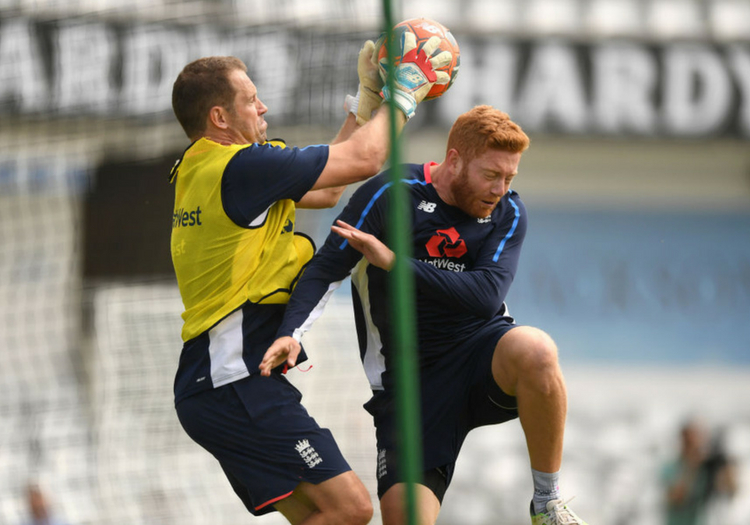 Football warm-ups are an essential part of the day, according to our diarist
It's by far the best way to kick off the day and, you know what, if there are a few injuries I think it would be worth it. The game is good for morale, especially when you've lost a few games. When you know you've got a big football game in the morning, it helps you get out of bed and get ready.
We've not had any injuries from our football warm-ups, anyway, and if you ask any professional cricketer they'd say it's worth it.
There are guys who are great with ball at feet and there are those who aren't.
David Lloyd is probably our best player and we have a guy called Jack Murphy, who is playing in four-day stuff at the moment, who is an absolute rock at the back. He's six-foot six, has a hell of a left peg on him and is pretty hard to get round.
"Timm van der Gugten has to go on the field last. I've been trying to hide behind the kit bag, trying to catch him out"
Our statistician, David Harrison, usually plays up front for the oldies and he misses sitters every single game. We try to avoid passing to him.
As for me? I wouldn't say I'm the best by I've got a good work rate and I put a shift in.
Away from the football, I was asked recently about superstitions in cricket, and who has the quirkiest ritual in the Glamorgan dressing room.
Timm van der Gugten has to go on the field last. I've been trying to hide behind the kit bag because he has a look around to make sure he's last on, trying to catch him out. I got him the other day and I don't think he was too impressed.
I just try to anger him before he takes the ball, to get him bowling even quicker.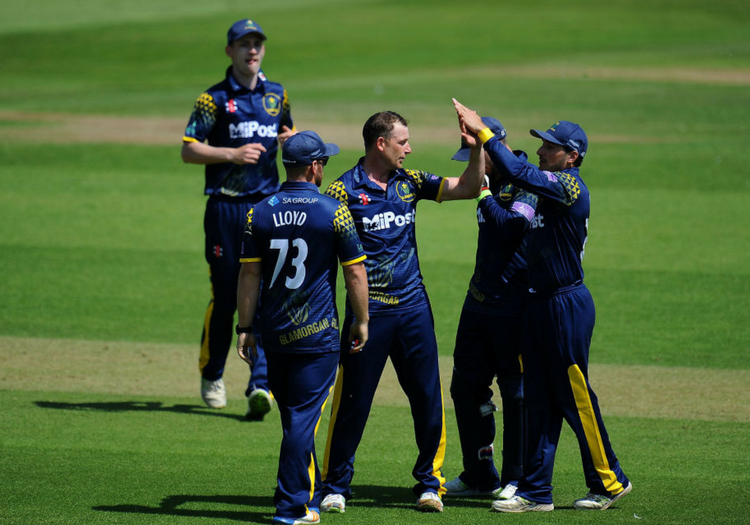 Glamorgan played on Cooke's birthday recently
There are a few other interesting one I've encountered during my career, the most memorable being Neil McKenzie, who had to put down all the toilet seats in the dressing room before he went out to bat!
I've never had anything too extreme. You get into habits - last year I always wore a cap before going out to bat in the T20 Blast, for instance - but that's just natural.
Finally, it was my birthday recently.
I was lucky enough to get a card this year, which I think someone picked up in one of the service stations on the way to Chelmsford and was filled with comments mocking how old I am, but I wouldn't have it any other way.
Andrew Salter also recently had his birthday and we got a load of cakes from his mum - cupcakes with his face on, which was a bit extreme. But most go unnoticed.
Playing on your birthday is a mixed experience - I remember being 12th man at Northants, which wasn't great, but also getting 60 not out to win a game - but this year it wasn't great. Being beaten isn't the best way to spend your birthday.
It's one month to go before Glamorgan's first home match against Sussex Sharks in the Vitality Blast. The team can't wait to get started and tickets can be purchased by clicking here