Zimbabwean bowler Vitori suspended by ICC over illegal bowling action
Brian Vitori sparked delirious scenes on Tuesday after dismissing Afghanistan's last man, Shapoor Zadran, to hand the host nation a two-run victory in the World Cup Qualifier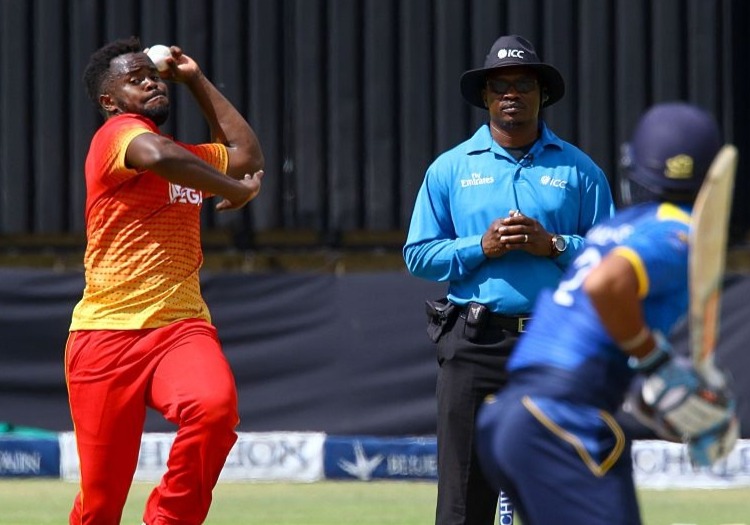 Brian Vitori, pictured in action in 2016
The bowler at the heart of the drama which saw Zimbabwe beat Afghanistan in the World Cup Qualifier has been suspended by the ICC after his bowling action was deemed illegal.
Brian Vitori sparked delirious scenes on Tuesday after dismissing Afghanistan's last man, Shapoor Zadran, to hand the host nation a two-run victory but he will not be allowed to take any further part in the tournament after being banned by the international governing body for the third time.
Vitori was reported by officials following Zimbabwe's victory over Nepal on Sunday and two members of the ICC's panel of human movement experts subsequently reviewed the footage before ruling that the action was illegal.
He claimed 2-32 during the win over Afghanistan but has now been replacd in the squad by Richard Ngarava.
An ICC statement read: "As per Article 3.6.2 of the ICC Illegal Bowling Regulations, Vitori's bowling action was filmed in the next match he played after being reported, which was against Afghanistan on Tuesday, and the video footage of his bowling spells were provided to the Event Panel of Helen Bayne and Mark King, who are both members of the ICC Panel of Human Movement Specialists, for analysis and assessment.
"Following its review, the Event Panel concluded that Vitori employs an illegal bowling action, and, as such, in accordance with Article 6.5 of the regulations, he has been immediately suspended from bowling in international cricket.
"Vitori's suspension shall remain in place until such time he submits to an assessment of his bowling action at an ICC approved Testing Center and the assessment concludes that his bowling action is legal."
Vitori's action was first picked up on by administrators in January 2016 but he was allowed to return in June 2016 following an independent assessment.
Following a one-day international against Sri Lanka in November 2016 he was reported again, leading to a 12-month suspension.
He was only permitted back into the fray by the ICC in January of this year following another examination of his action at the High Performance Centre in Pretoria.